Be sure to check out all the posts, giveaways, and sponsors in the HELP! for the Homeschool Mom series!
Just click the image below.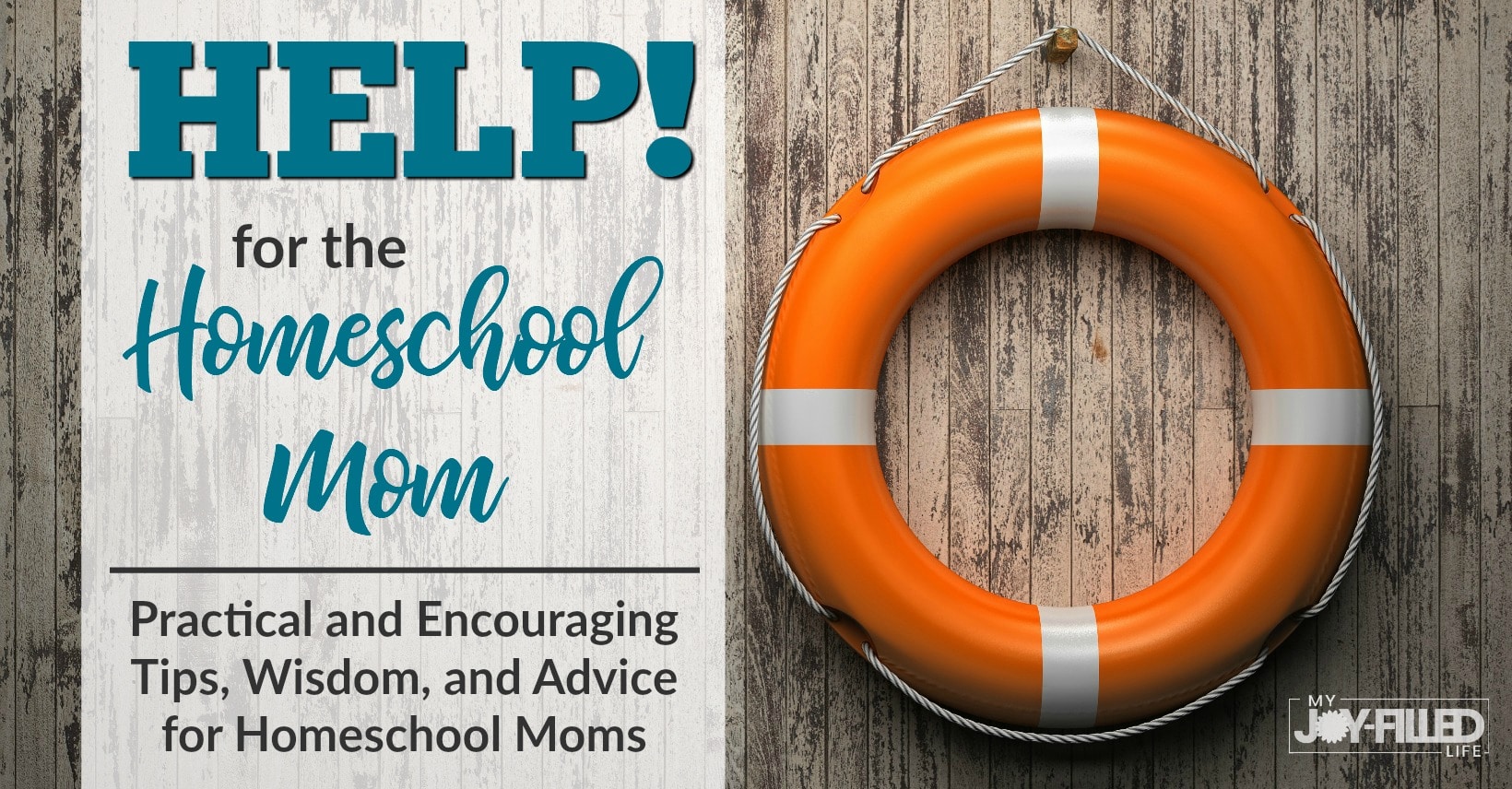 As a homeschooling mom, there are likely two things that dominate your time . . . homeschooling the kids and time in the kitchen. Educating your children is a wonderful experience and very worthy of your time. What if you could spend more time with them, and less time in the kitchen? You can, and it all starts with keeping meals simple.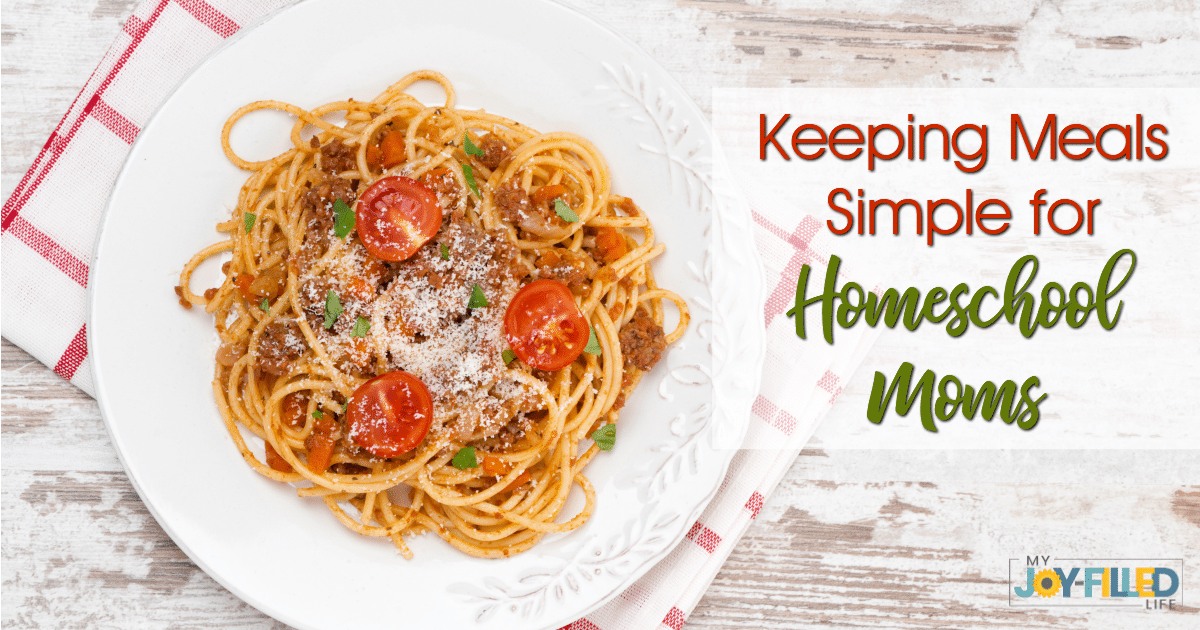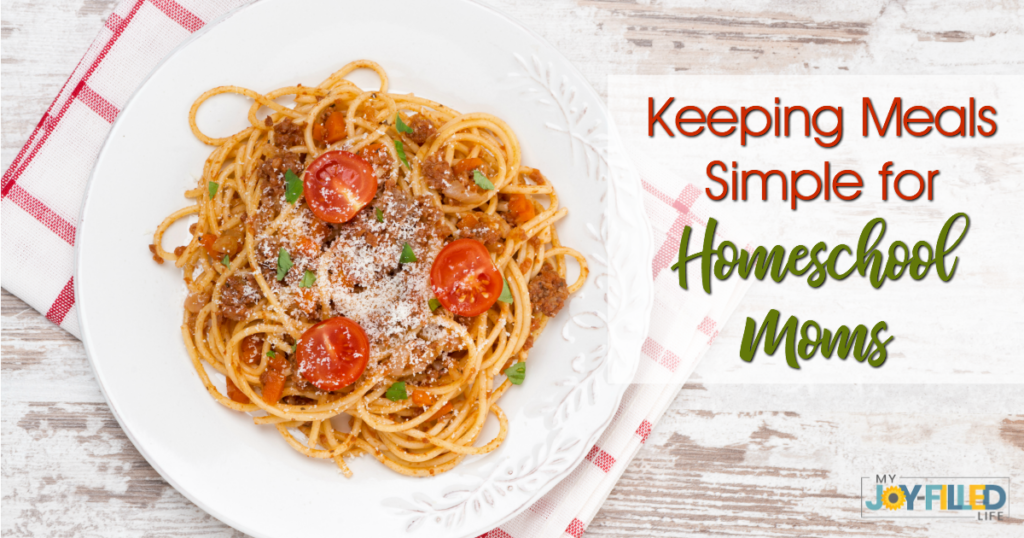 Keeping Meals Simple for Homeschool Moms
Here are five tried and true tips for keeping meals simple, and you out of the kitchen.
Prepare ahead of time
Preparing ahead is the number one way to stay ahead of the game. Take a look at your calendar each night after supper. If you know you're going to the park tomorrow, pack the lunch tonight.
Or, if you know you'll be out of the house most of the day, throw together a slow cooker meal and set the crock in the fridge overnight. That way, you just have to put it in the shell and turn it on in the morning.
Another great way to prepare ahead is to do an overnight breakfast, like egg casserole, baked french toast, or oatmeal.
Plan your meals
Having a meal plan will save you time, money and frustration. To plan your meals, simply take inventory of what you already have, and then see what you can add to that to make meals. This way you're not buying extra or letting food go bad.
Keep a menu posted in the kitchen. Having a menu will remind you to take protein from the freezer and it will keep the "what's for dinner??" questions to a minimum.
Use your slow cooker
Using your slow cooker is a fantastic way to save time in the kitchen. Slow cookers save you time during those crucial early evening hours when everyone is hungry and you're trying to get the house somewhat cleaned up before daddy gets home.
The slow cooker really is convenience cooking at its best.
Make double so you have extra
Freezer cooking is one of the housewife's greatest discoveries. By simply making double of a meal and then freezing the extra, you've made supper for two nights instead of just one. So later when you don't feel like spending time in the kitchen, you can just grab your pre-made meal from the freezer, and Bob's your uncle, you've got a delicious homemade meal ready to go in the oven!
Having extra meals in the freezer are also handy to share with friends or family who just had a baby or is having a rough time.
And don't think you can only make suppers ahead of time, you can do pancakes, cookies, smoothies, lunch meat sandwiches . . . freezer cooking is only limited by your imagination (or Googling abilities).
Keep a supply of shelf-stable staples
Just in case you don't have a meal plan, you can throw together a healthy meal quickly by using some shelf stable staples. Rice, beans, canned tomatoes, jars of healthy pasta sauce, and pasta are all great starters for pantry meals.
Toss some cooked pasta in butter and garlic powder and you've got Butter Noodles. Cook up some rice and beans with your favorite Latin spices and you've got a delicious high fiber, tummy-filling meal!
Keeping meals simple isn't hard, but it does take some time to get your plan together, however, it's time well spent.
Thank you to our featured sponsors!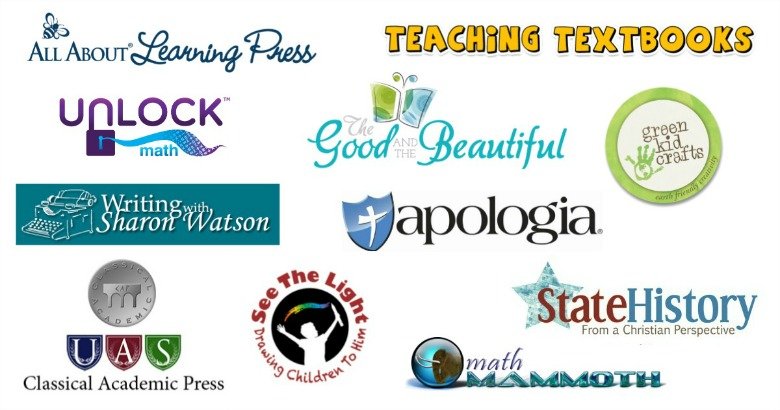 Don't forget to check out ALL the helpful posts in the series
and enter the giveaways (over $2000 worth of prizes)!
>>> CLICK HERE <<<
---
Jeniffer is a homeschool mom of six who focuses on collecting memories instead of things. Her minimalist attitude helps her keep the house somewhat clean, and delicious food on the table without breaking the bank. She stretches every penny, makes every moment count, and is never far from a good book and cup of coffee. You'll find her journey of frugal living and homeschooling her brood at Thou Shall Not Whine. Connect with Jeniffer on Facebook, Instagram, and Pinterest. If you're a frugal mama, Jeniffer's Large Family Frugal Living Facebook Community!