Thank you to Teaching Textbooks for sponsoring this post.
Contrary to what some people might think, homeschool moms are busy people. Like really busy! Between parenting, housework, meal planning and prep, errands, co-op, sports and music lessons, church, AND homeschooling, it's a wonder how homeschool moms find the time to sleep. And that doesn't even include making time for your marriage and yourself.
With hiring a personal assistant being out of most homeschool budgets and cloning yourself pretty much impossible, homeschool moms have to get creative when it comes to saving time so that they can get it all done, or at least most of it done.
We are going into our 13th year of homeschooling and I have learned quite a few ways to save time as a homeschool mom. Below is a list of ways I have saved time in my home and homeschool over the years; some of these time-saving tips I use most of the time and some of them only worked for me for a season. Hopefully you can use some of the ideas below to help you be more productive and efficient in your home.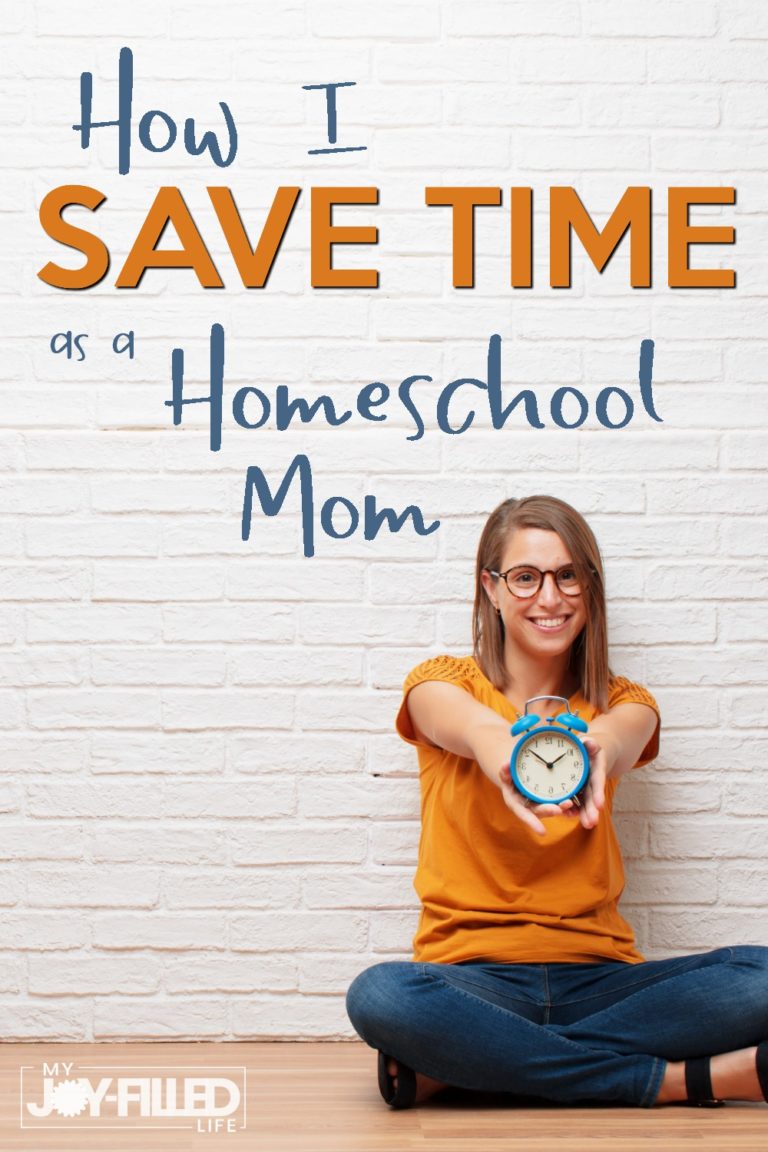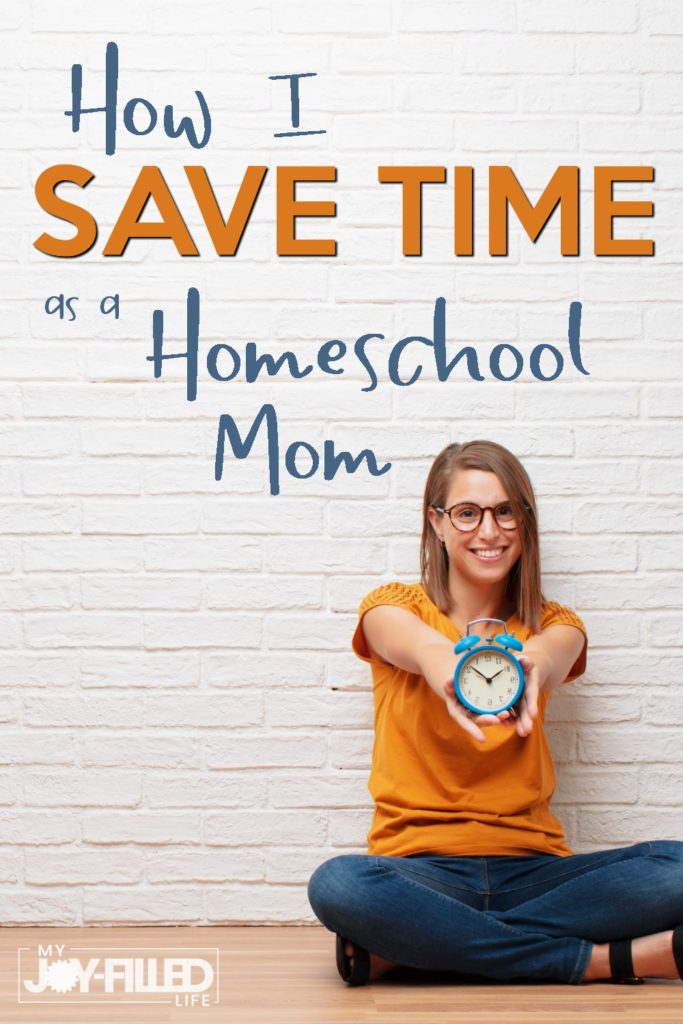 Prioritize
Plain and simple, you might just have too much on your plate. You'll need to make a list of all of your obligations and commitments and decide which ones are a priority.
This is never easy, especially when you have multiple kids wanting to do multiple things. There was a season when between 7 of our kids we were running between hockey, soccer, archery, and play rehearsal. We had something (often multiple things) every day of the week. It got exhausting. We had to make a change because we couldn't go on like that for the long term.
We do want our children to partake in activities that they are interested in or are talented at, so we only allow a child to be enrolled in one activity at a time, and we encourage siblings to do activities together so that lessen the amount of running around.
We've also had seasons when we just said 'no' to everything, except for church activities. It's such a refreshing break to not have tons of commitments weighing you down.
Co-op
Joining a homeschool co-op pretty much saved my homeschool last year. There is no way I could have homeschooled all 6 of my school-aged kids without outside help, at least not with my sanity intact. My 4 oldest kids all took science and history at our co-op, so that was a huge load taken off of my shoulders.
If there aren't any homeschool co-ops in your area, maybe you could start one, or at least find another homeschool mom or two with kids similar in age and swap teaching. For example one of you could teach science, one could teach history, and one could teach art. My sister-in-law and I used to do this when our kids were younger.
Independent curriculum
When choosing our homeschool curriculum, I look for curriculum that doesn't require a lot of teacher involvement. So for the older kids (like middle school and up), I prefer courses that they can do mostly on their own and I just have to oversee things and help as needed. For the younger kids, I will obviously have to do the teaching in most cases, but when that's the case, I need open and go and not a ton of prep work.
Teaching Textbooks has practically taken teaching math off of my plate. We have been using Teaching Textbooks in our homeschool for over 8 years now. Once my kids hit 3rd grade, they begin math instruction using Teaching Textbooks (3rd grade is the lowest grade Teaching Textbooks offers). Teaching Textbooks provides online math instruction, correction, AND grading! One of the things that takes up A LOT of my time when it comes to homeschooling is checking and grading my kids' work. Not having to do this task for math is a HUGE time saver for me!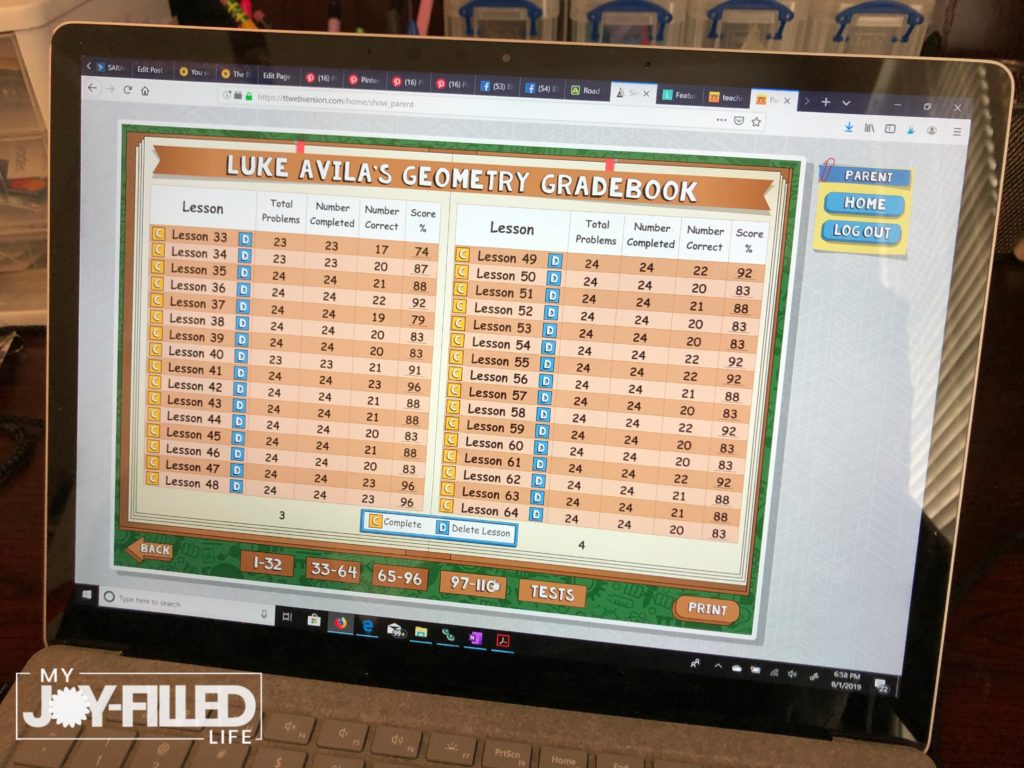 I don't do any of the teaching unless a child is struggling with a concept or topic and then my husband or I will go over the lesson with them that they are having trouble with. This isn't needed often though because after every problem is answered (whether right or wrong), Teaching Textbooks gives the student the option to see how the problem is solved.
You can read my full review of Teaching Textbooks 3.0, here. You can also try out Teaching Textbooks for FREE! Teaching Textbooks allows you to try the 3.0 version before you buy it! You can try lessons 1-15 in any of the levels of Teaching Textbooks 3.0 absolutely FREE. And, this trial never expires, so take your time. If you decide to buy, the lessons that were completed in the trial will be transferred over to your account so that no information or grades are lost.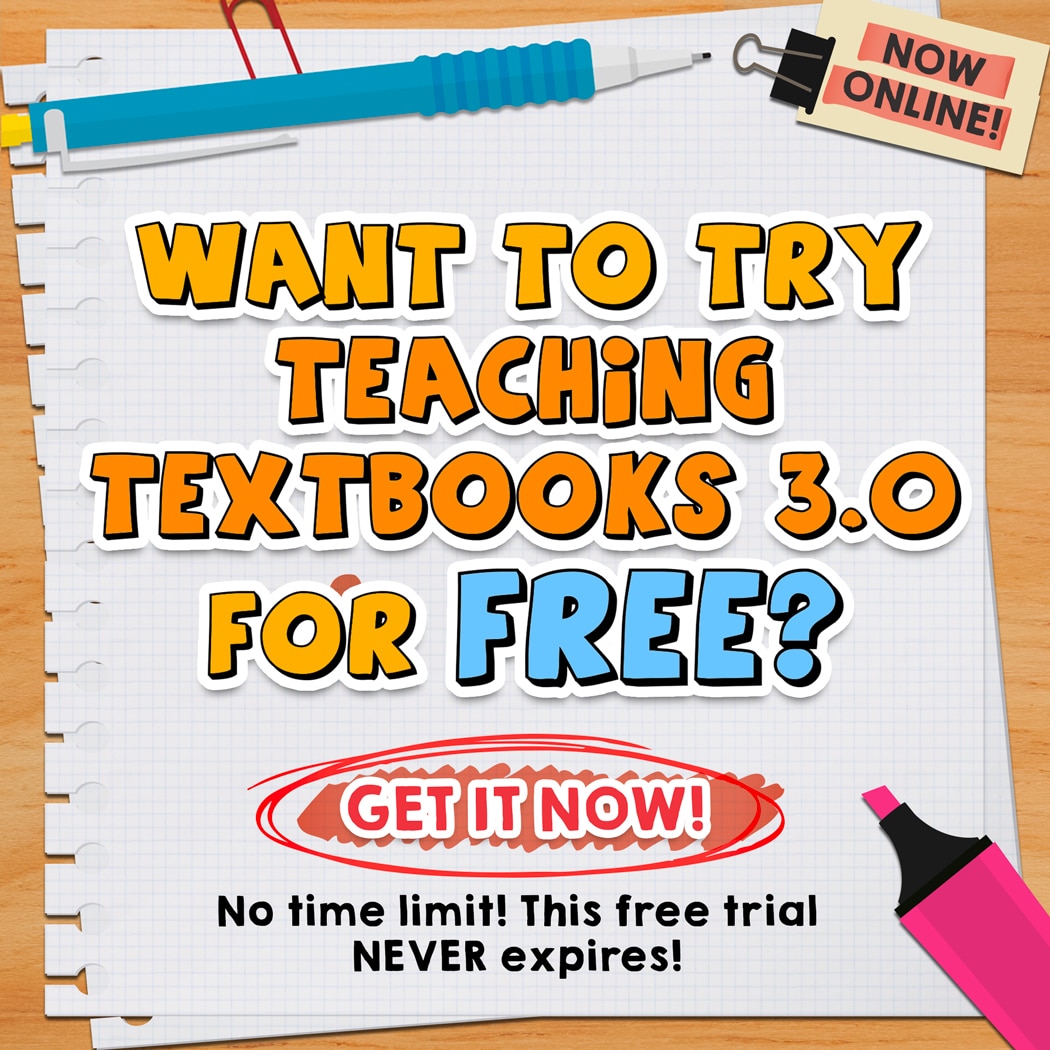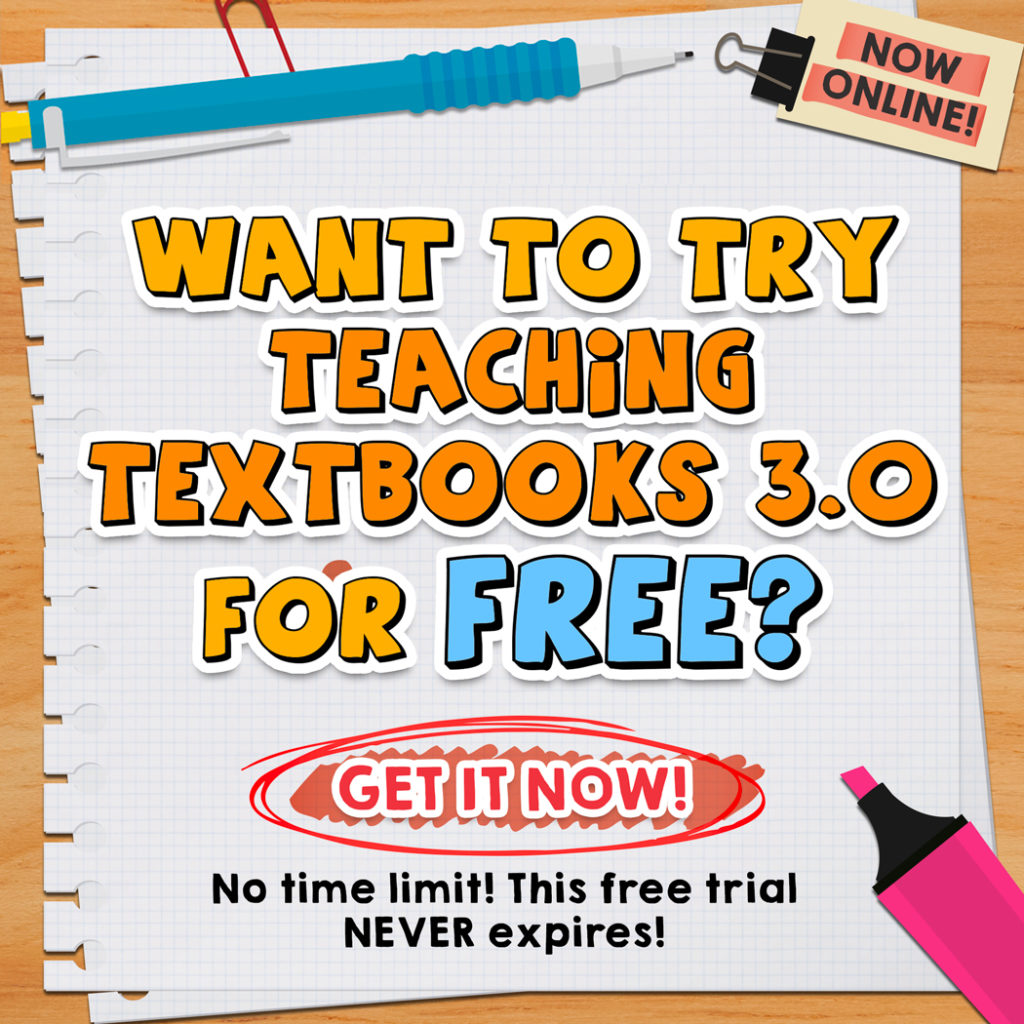 If you have questions about the free trial, click here. If you have additional questions about Teaching Textbooks in general, click here.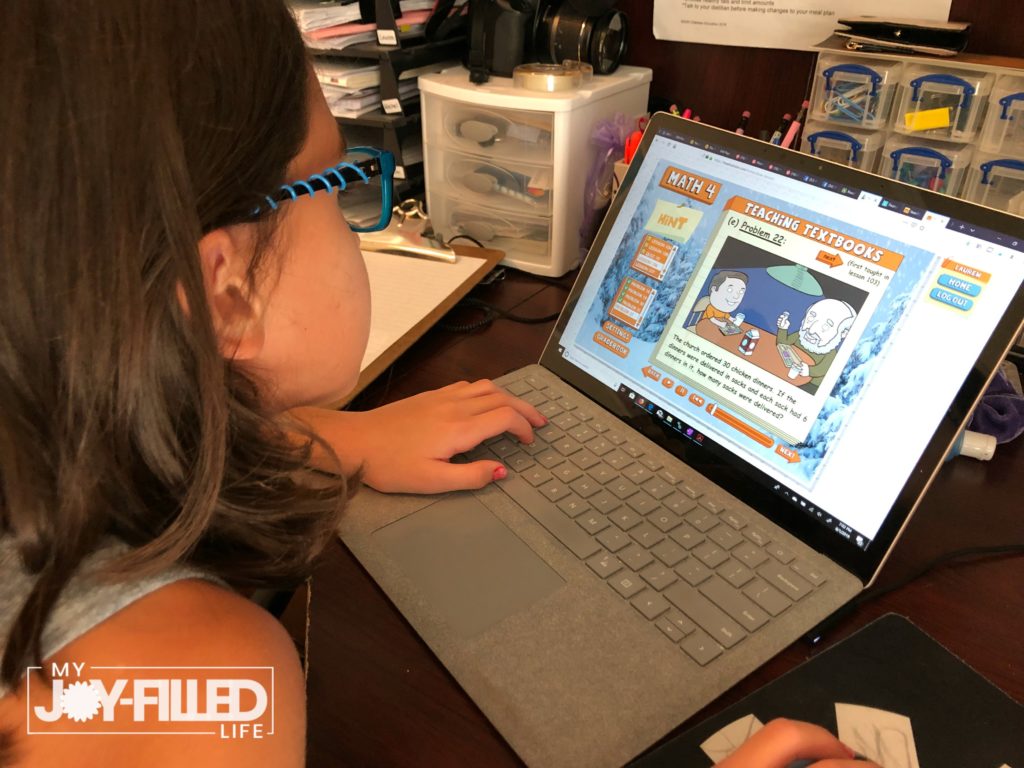 Delegate
If you have more than one child in your family, and if they are old enough, enlist the older child(ren) to help with the younger child(ren). It can be help with getting dressed or help with school work. Having older kids help younger kids with reading (have younger kids read aloud to older siblings) and math can be a huge help to a homeschool mom, plus it creates closer sibling bonds and reinforces concepts for the older child – it's really a win-win-win situation.
If you don't have multiple kids or kids that are old enough to help younger siblings, get your spouse on board to help. Husbands can pick up more of the household chores to help lighten your load, or they can teach a subject or two that they are particularly good at or fond of.
All of the kids in a family should be pitching in around the house by doing age-appropriate chores. Moms should not be doing all of the household chore. Even young children can start helping with simple chores.
Combine kids
If you have multiple children, especially ones that are close in age, say 1-4 years apart, teach them together. With subjects such as science, history, and art, you can teach kids that are close in age with one curriculum. There are many curriculums available that teach a wide range of ages. You can see some of our favorites, here.
Meal planning / Order groceries
Have a plan when it comes to meals! This will save you so much time and relieve so much stress. Keeping it simple is key! I keep things simple by having a handful of staples on hand for breakfast – cereal, oatmeal, breakfast sandwiches, waffles, muffins – and the kids can pick, and make, whatever they want for breakfast. For lunch, we do a weekly rotation – every Monday we have the same thing, every Tuesday we have the same thing, etc. And for dinner we also do a rotation, but we do a two week rotation so that we don't get bored with eating the same thing over and over. I also switch things about seasonally so that we can mix up or meal options a bit.
If you haven't tried ordering groceries online and picking them up at the store, you are missing out! This has been such a huge time-saver for me. I usually shop at Kroger, but sometimes I will use Wal-Mart's pick-up service as well. It's so easy to just sit down at my computer anytime and order online – they make it super easy by keeping track of your recent purchases, so I can just go in and re-buy the same things I typically buy.
Wear pajamas
Yup, that's right, wear your pajamas when you are at home! Nothing wrong with fitting into a stereotype. 🙂 We are a pajama-wearing homeschool family and it saves me so much time on laundry!! We have 8 kids and people are amazed at how little laundry I do. Most people assume that I do laundry every day, all day, but I really only do 1-2 loads 2-3 days a week.
Homeschool mom, what are some of your time-saving tips!?