Homeschooling was the obvious choice for many people when they were deciding on how their children should be educated. Being involved in how and what your children learn is a great way to ensure that your children get the best education they can possibly have. One aspect that many worry about, especially those new to homeschooling, is how to socialize their children. While it's highly debated whether or not homeschooled children really lack socialization or social skills in general, the truth is they will be missing out the social experience that many in their age group are getting in school.
One way to help them get some of their peer's social experience while avoiding public school is to enroll them in teams sports. Team sports are not only a means to ensure your children are interacting with other kids their age on a regular basis, there are also many other benefits to participation in sports.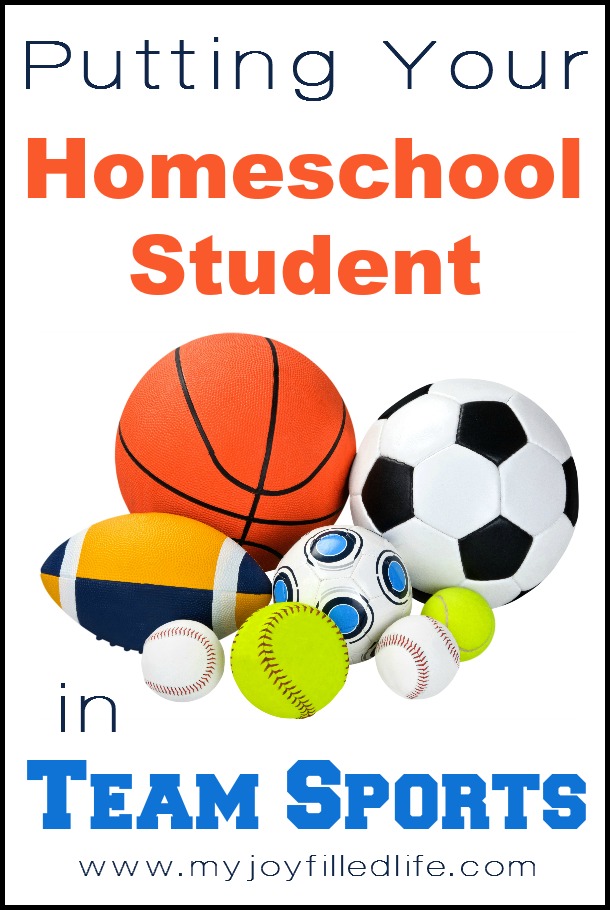 Social Skills
The first concern is social skills development. By participating in a team sport, children are interacting with kids their own age and learning how to work as a team. Team work with your family and team work with your peers can be two very different things, so it's important that homeschooled kids get a chance to practice it with other kids their age.
Another important social skill is learning healthy competition. Whether it's among your team mates, or against another team, a sense of healthy competition can help your kids push themselves to achieve more while still playing fair.
Along with healthy competition comes the ability to lose with grace. Losing never feels good, but learning to deal with it, learn from it, and be happy for the winners is vital to dealing with bigger disappointments in the future.
Personal Development
An important aspect for all children, not just homeschooled children, is the development of emotional intelligence. Statistics show that employers put a high value on hiring people with high emotional intelligence, so it's vital to future successes in the working world. A big part of emotional intelligence is understanding your own emotions, as well as the emotions of those around you. By playing on team sports, and the help of a good coach, kids can learn how to use their emotional intelligence to remain calm under pressure, learn how to resolve conflicts with their teammates, and learn empathy through interaction with their teammates.
Improving their emotional intelligence will be a great asset to developing their leadership skills and their decision making skills. With a thoughtful coach and a positive team dynamic, kids will surely be able to grow a lot and mature steadily.
Healthy Habits
I know that when I was homeschooled for a short time in elementary school, my mom didn't have my siblings or I do any sort of physical activity. Depending on the state, homeschooled children aren't held to the same requirements that public school children are in regards to getting a physical education. According to the CDC, child obesity has more than doubled in the last 30 years. Obesity in childhood often continues into adulthood, and can lead to a myriad of different health problems as adults, including diabetes, heart disease and cancer. So, while it can be easy to overlook or dismiss implementing some sort of physical education in your child's daily life, what with busy schedules and other classes, it is important to their lifelong health to learn the healthy habits of exercise now.
Enrolling your kids in a team sport is a fun way to incorporate exercise into their lives. With a different type of sport each season, they can try different ones and find the sport they love the most. The social aspect of the sport also helps kids find friends who have the same interests as them, and they learn to appreciate working out with a buddy. Having someone to work out with with the same sports and health interests as you helps foster lifelong healthy habits and friendships.
Playing sports may also cause some injuries that require sports medicine so be sure to find a doctor who can provide suitable treatments.
It can seem time consuming and a big commitment to already busy schedules, but enrolling your homeschool children in team sports will be a great asset to their life education. The benefits of socialization, personal development, and instilling healthy habits will no doubt be important to lifelong success. There are so many team sports to choose from, talk with your children about the ones they would like to try, and research for local teams in your city.
---
Mila Sanchez is a writer with a BA in Linguistics living in beautiful Boise, Idaho. She is a very involved aunt to four wonderful kiddos. Her ambitions in life include traveling, studying languages, and taking pictures of her dog, Baymax. Connect with her on Twitter and Instagram.
Save