Choosing curriculum over the years has gotten easier and easier for me. After sixteen years of homeschooling, we've pretty much found what we like and what works for our family. Sure, we make changes from time to time, and as a self-proclaimed curriculum junkie it is hard to resist a new curriculum or resource that just hit the market that everyone is raving about.
But if you're new to homeschooling, or still trying to find the right fit, deciding what to use each year can be stressful and overwhelming. There are so many resources and curriculum on the market these days – enough to make your head spin wondering what is best for your kids.
But what is the best?
There is no one-size-fits-all when it comes to homeschool curriculum. One family's absolute favorite curriculum, might be a failure in your home. What works for one child (even within the same family), might not work for another.
So how do you choose?
My advice is to do your research, try out the curriculum (many publishers offer free samples or lessons), ask around to see how other people like or didn't like the curriculum (FB groups are great for this), narrow your choices down to your top three, do even more in-depth research on those three, pray, and then make your decision. Wouldn't hurt to talk with your spouse either.
And to be honest, you might choose something that doesn't end up working for your family or your child, and that's okay! It's okay to ditch what's not working and try something else. Thankfully, many homeschool companies offer free trials and free samples for you to try out before you buy, so be sure to take advantage of these and use them before you hand over your money.
This curriculum post is all about history and what I feel are the top 11 history curriculums on the market. As a homeschool mom of 8 for going on 17 years, and also a homeschool curriculum reviewer, I've used, tried, researched, and explored a lot of homeschool curriculums.
*We have a list of top math curriculums and science too!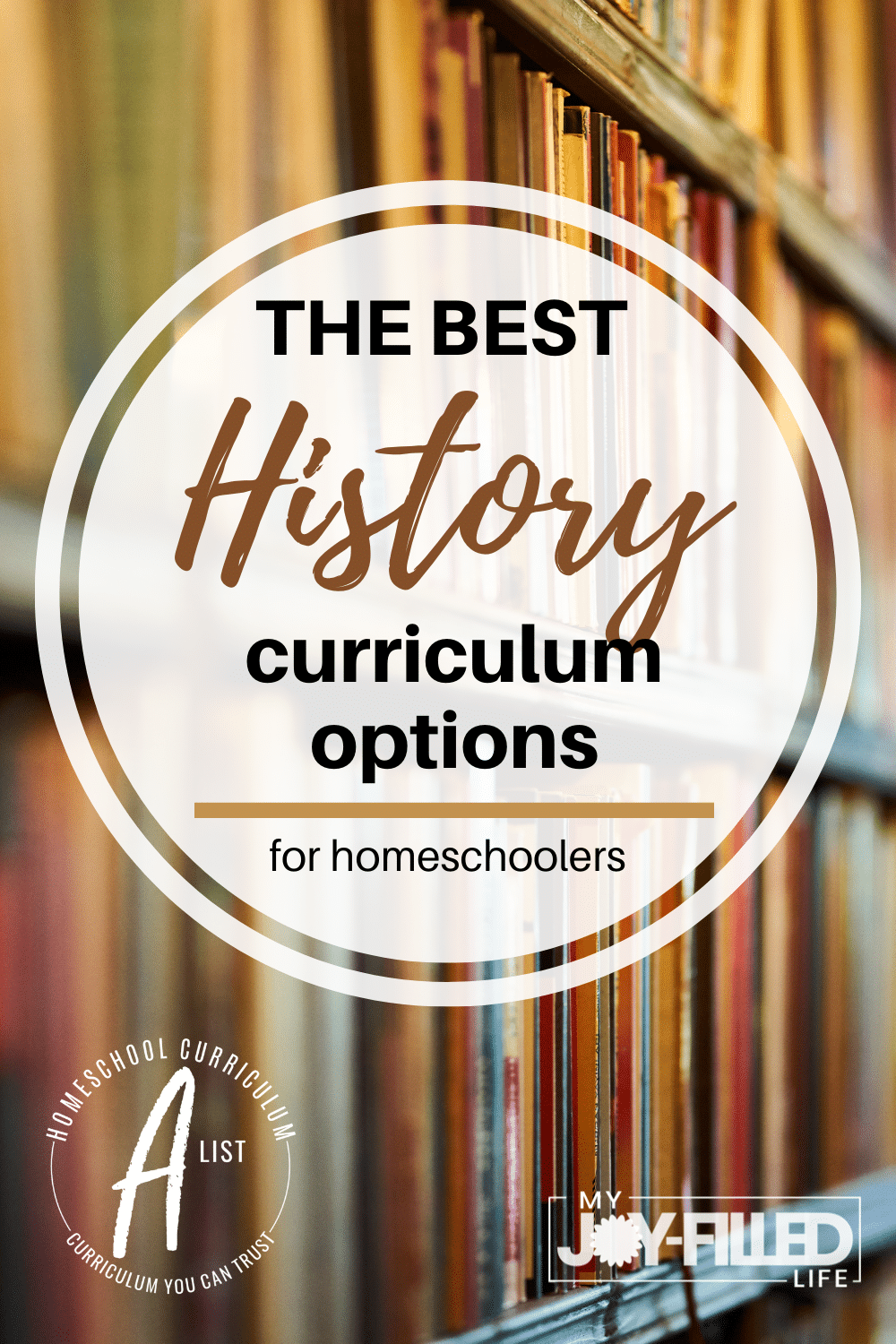 I'm hoping that the time I've spent researching and trying curriculum will help your family by saving you some time and energy, and maybe even some money. Since I've already done my own research, why not share what I've found and what I believe to be the top history options available with others?
Below you'll find a breakdown of what I feel are the best history curriculums on the homeschool market – I'm calling it the Homeschool Curriculum A-List!

You'll also find a printable comparison chart of these top history curriculums below. Once you narrow down your search, you can really start digging into your top choices and doing your own research. To help you with that, just click over to the publishers website, check out the reviews I've linked to from some of the top homeschool bloggers, and use these curriculum comparison sheets to take notes.
A note on the prices listed – these are the suggested retail prices and/or the regular prices listed on the publishers' websites at the time this post was published, but in some cases you may be able to find the curriculum for cheaper through places like Christianbook.com or Rainbow Resource Center or you may even be able to find some good used copies.