It's that time of year! Homeschool moms are already planning out what they will be using for curriculum for the next school year. Convention season has started, many homeschool co-ops have already started enrolling, so course planning is in full swing for many homeschoolers.
After twelve years of homeschooling, I think it's safe to say that I don't stress out so much about choosing homeschool curriculum each year. Through our homeschool journey, we have, for the most part, found what works for us and what doesn't. Planning for my oldest child is probably the biggest challenge, as he is the guinea pig and the one that paves the way for his younger siblings.
If choosing your homeschool curriculum tends to be a challenge for you or you are new to homeschooling and you have no idea what to use or where to start, hopefully the following suggestions will help make it easier for you. Because, let's face it, there are soooo many options out there, it can be hard to decide and downright overwhelming!
What I do when I'm faced with a bunch of homeschool curriculum options and can't decide which one to go with is ask myself a few questions.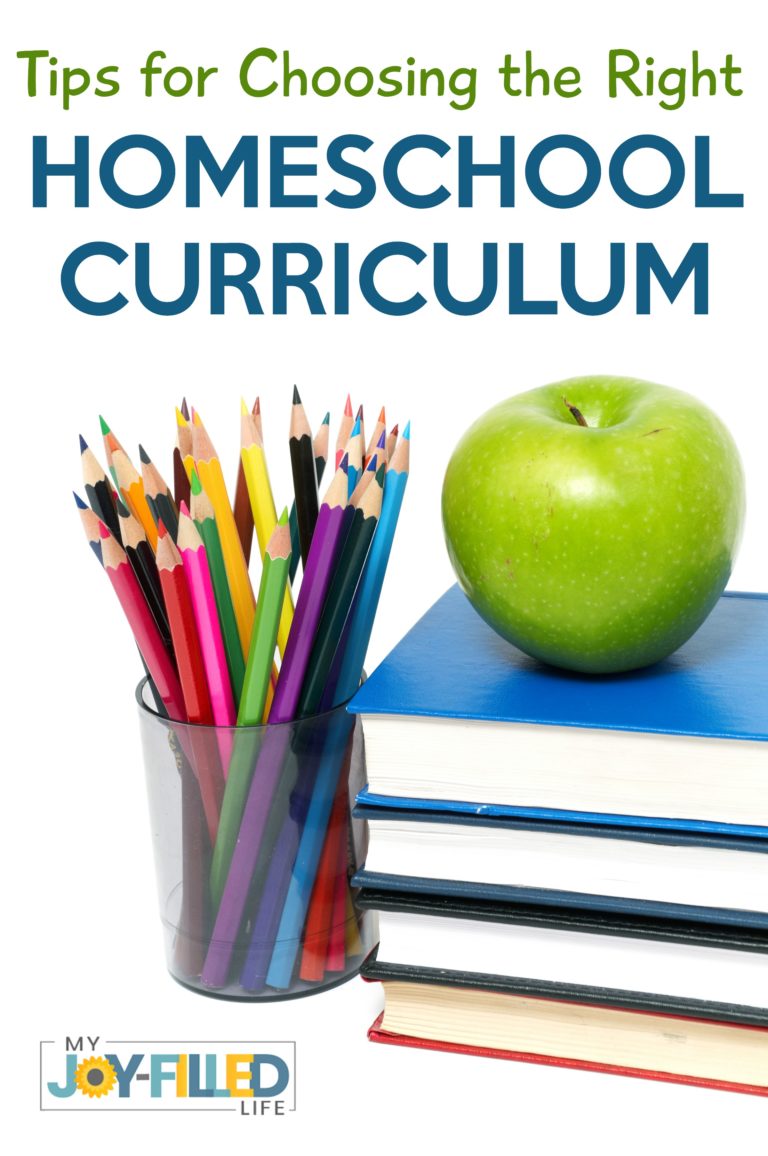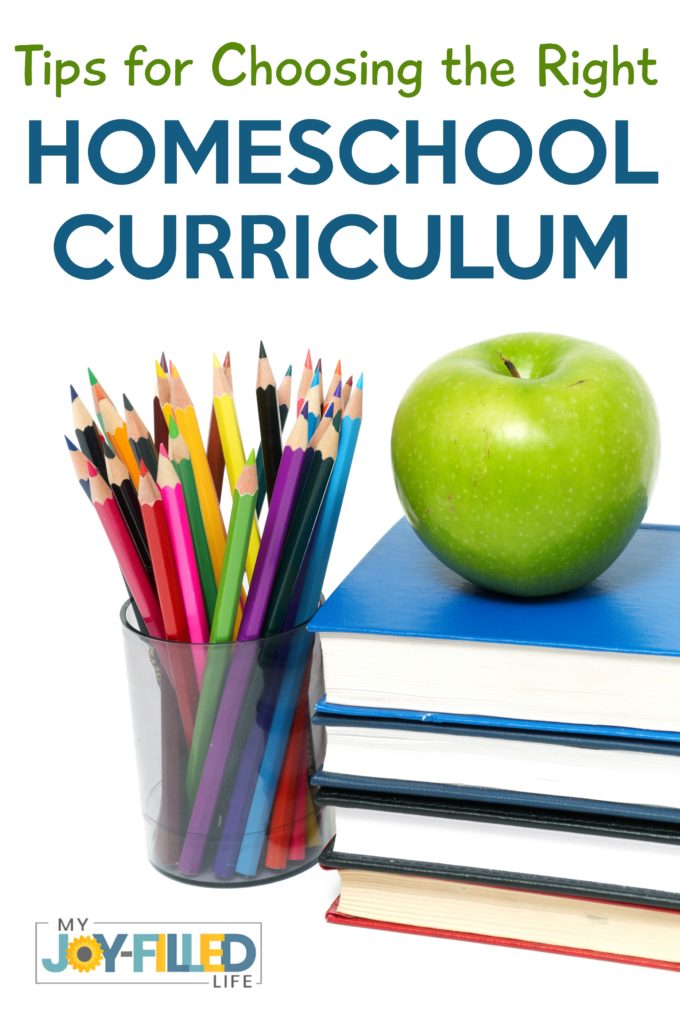 Questions to Ask When Choosing a Homeschool Curriculum
Is it easy to use?
This is the first question and possibly the most important. If it's not intuitive and easy to use, it's not for me. I don't mind something having a bit of a learning curve, but if it's going to make me pull out my hair or cause my kids to run screaming from the room every time they see it, I don't see it working out.
Is it flexible?
As homeschoolers, we often value flexibility. I know I do! The same applies to my homeschool curriculum. I want something that will still be effective if I decide to skip around a bit, take a break, or make a few changes. If making a small change to a curriculum causes the whole thing to become ineffective or inefficient, it's probably not going to be the best fit.
Does it fit my child's learning style?
It's critical (in my opinion) for a homeschool curriculum to match your child's learning style. (Not sure what your child's learning style is? Take this Learning Style Quiz). If your child is an auditory learner, then a text-heavy curriculum will be less effective than one that has a lot of video or lecture components. Identify your child's learning style and then find a curriculum that will fit. Bonus points if the curriculum addresses multiple learning styles by having text, lectures, video, hands-on activities, and more.
Is there any customer support?
Although this isn't a deal breaker for me, I do appreciate if a curriculum (especially a digital or pricey one) has good customer support attached to it. We hope to never need customer support, of course, but knowing it is available if we DO need it can be helpful.
Can it be used for multiple children?
This is a moot point if you only have one child or are only homeschooling one child. However, if you are teaching multiple children, then having a curriculum that can be used for all of them is great. Especially if you don't have to purchase multiple copies or subscriptions. I understand that for some things, each child has to have their own copy or log-in. However, it's something to consider.
Are there any grading or record keeping features?
Another good question to ask (especially if you are homeschooling high school age OR live in a state with strict laws regarding grading and record keeping) is whether the curriculum comes with any grading or record keeping features. For example, some online curricula (such as Time4Learning) have automatic grading tools and will record not only grades, but how often your child logs in to do work, how long they spend working, and more. This type of information can come in handy!
Is this something I could DIY?
Call me cheap but if I can put together a curriculum myself, for free or cheap, then I'm going to do it. So, if a curriculum isn't complex and I can DIY it, I probably won't bother spending money for it. However, there is something to be said for convenience, so if it would take me a lot of time to put together and I can tell the person or company was diligent, it might be a worthy investment just to save time.
Can I easily afford it?
If something is going to put me in debt or cause financial stress and cause me to start looking for how to get 1000 dollars fast, it's not for me. Although I do believe that you often get what you pay for, I also believe in making smart financial decisions. So if a curriculum is fantastic, but out of my price range, I either work to come up with the money to buy it or I put it on my wish list for next year and make plans to save for it.
What is their refund policy?
While we are on the topic of money, one other question worth asking is what the company's refund policy is. If you buy a curriculum and it turns out that it's a terrible fit for your family, knowing that the company will let you return it and get your money back is comforting. Because no one likes wasting money, do they? This one isn't a deal breaker (especially since it's easy to find ways to sell used homeschool curriculum), but if a company has a great return policy, it makes them even more desirable.
A Few Tips for Researching Homeschool Curriculum
Obviously, unless we buy and use a homeschool curriculum, we may not be able to answer some of these questions. So what do you do? Here are a few ways that I do research:
Read Amazon Reviews
If the curriculum is available on Amazon, I read through most or all of the reviews, from 1 star to 5 star. I take note of pros and cons that are mentioned often as well as one-off comments that stand out. I also take a look at any customer photos of the product so that I can see what they really look like.
Read Website Reviews
Another source of reviews is on the company's website. I read through as many of them as possible, taking note of good and bad things people have to say.
Read Blog Reviews
Something else you can do to find reviews is to go to Google (or any search engine) and type in "Curriculum review" (of course, where it says curriculum, you would put in the actual name of the curriculum). Then I check out several blog posts about the product. I also skim the comments just in case a reader chimes in with their thoughts.
Ask for Reviews in Groups
If you are in any homeschool groups, you can ask people for their thoughts on the curriculum. (Note: Before you post your question, do a quick search in the group's search box for the name of the curriculum. You may find that the question has already been asked and answered- especially if it's a big, active group.)
Ask Your Friends and Family
Have friends and family who are homeschoolers? Ask if any of them have used the curriculum and what they thought about it.
Do a trial run
If there is a trial version or a free trial offer that will allow you to try the curriculum before you buy, take advantage of it! (Note: If it is a timed free trial, be sure you will actually have the time to use it BEFORE you sign up for the free trial. Otherwise, you will just waste the opportunity.)
Contact the company
If you have any questions that you haven't been able to find answers to or you just want more information, never hesitate to reach out to the company. That's what they are there for!
Ok, that's all I have for you on choosing a curriculum. I hope it helps you make the best choice for your family! Below you will have some additional posts that you might find helpful when picking out your homeschool curriculum.
The Benefits of Digital Homeschool Curriculum 10 Preschool Curriculum Options for Homeschoolers The Best Homeschool Curriculum for Elementary Science Homeschool Curriculum Options for the Large Family How to Save Money on Homeschool Curriculum The BEST Homeschool Math Option for Large Families