I discovered Notgrass History at the very beginning of our homeschooling journey. That was over 6 years ago and my oldest child was in Kindergarten. I stumbled upon Notgrass History as I was searching for an American History curriculum for my son, as I had decided that I wanted to begin his history studies with American History. I loved everything that I read about the America the Beautiful Curriculum Package, everything except that it was for ages 10-14, and my son was only 5! I never did find another American History curriculum that felt right and was age-appropriate for my son, so we ended up starting our history studies from the very beginning. And now, that same son is ready to turn 11 soon, and God, in His perfect timing, recently presented us with the opportunity to review the America the Beautiful Curriculum Package! Isn't God awesome?!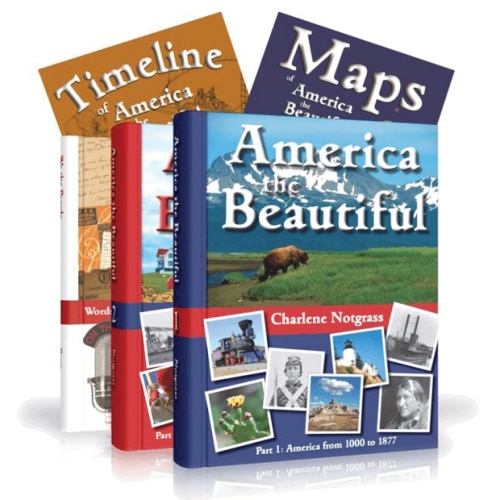 The America the Beautiful Curriculum Package is a one-year American history, geography, and literature course, written with a Biblical worldview, consisting of six books that can be purchased through the Notgrass History website for $110. The six books included in the package are (you can view sample pages of all of the books in the package on the website):
America the Beautiful Part 1 – this textbook contains 75 lessons that starts with life in America before the Europeans came through the first years after the Civil War.
America the Beautiful Part 2 – this textbook also contains 75 lessons and starts where Part 1 left of and continues to modern times.
We the People – this book is a collection of original letters, poems, speeches, songs, stories, and other writings from American history.
Maps of America the Beautiful – this book contains 30 maps to accompany the lessons and for the map work at the end of each lesson.
Timeline of America the Beautiful – this book is a timeline for students to add important events as they go through the lessons.
America the Beautiful Answer Key – this answer key provides answers for the timeline, vocabulary assignments, activities in the optional Student Workbook, and questions & quizzes in the Lesson Review.
Notgrass also offers additional products that you can choose to use along with America the Beautiful:
America the Beautiful Student Workbook ($13) – this book is filled with crosswords, word searches, matching activities, codes, and lots of other handwork activities to help review and reinforce the lesson content. This book is targeted for 5th and 6th graders, but can be used by 7th and 8th graders if desired.
American the Beautiful Lesson Review ($11) – this book contains lesson review questions, literature review questions, and quizzes. This book is best suited for 7th and 8th graders.
The America the Beautiful curriculum is very easy to use; don't let the fact that there are multiple resources in the curriculum package scare you off or overwhelm you. It is very well-planned out and the multiple resources gives you a wide variety of learning activities – this is NOT your boring 'ole textbook curriculum.
The curriculum consists of 30 units (15 in each volume), with each unit broken down into 5 lessons, for a total of 75 lessons in each volume. Each lesson falls into one of these 5 types of lessons – Our American Story, God's Wonders, An American Landmark, An American Biography, and Daily Life. To complete this curriculum in one year, the student would ideally do one lesson per day. But of course, you could always stretch this curriculum out over 2 years, doing one volume per year – that's the beauty of homeschooling!
Each unit begins with a brief introduction, a list of the lessons and their titles, and the books you will need for that unit.
Each lesson ends with several different activity assignments for the student. You can choose to have your student do as many or as few as you wish. The activities that you will encounter at the end of each lesson varies in number and kind. You will find:
Thinking Biblically – your child may be assigned to read a relevant scripture, copy a scripture, write out a prayer, write a few sentences telling someone about Jesus, or completing a writing assignment based on certain scriptures.
Map Study – your child will complete an assignment in the Maps of America the Beautiful book.
Timeline – your child will use the Timeline of America the Beautiful book to write down specific events from that lesson.
Vocabulary – in a notebook, your child will write the definitions to selected vocabulary words. Some assignments will have the child use their own definitions, some will have them look them up in a dictionary, and others may have your child use the vocabulary words in a sentence, as well as other various vocabulary reinforcement exercises.
Literature – your child will be assigned to read from the We the People book and/or from one of the literature titles chosen for the curriculum. To see a list of the literature titles, click here.
Creative Writing – for this assignment, your child may write about the good and bad of Columbus coming to America, write a poem about the Ancient Puebloans, write a paragraph about what we can learn from Ben Franklin, write a story about a colonial woman's daily life while her husband is serving in the Revolutionary War, or write a speech endorsing a candidate for president.
Student Workbook or Lesson Review – each lesson has an assignment in each of these books (described above).
Family Activity – There is one family activity suggested for each unit. Activities vary from crafts, art, recipes, to games and parties. Some of the activities you can enjoy as a family include building a longhouse out of toothpicks and gumdrops, making a plantation dinner, putting on a play about Niagara Falls, and making paper airplanes.
Working on our gumdrop longhouse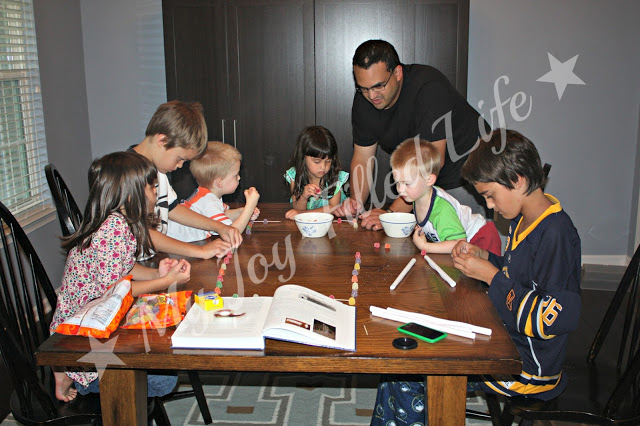 The finished product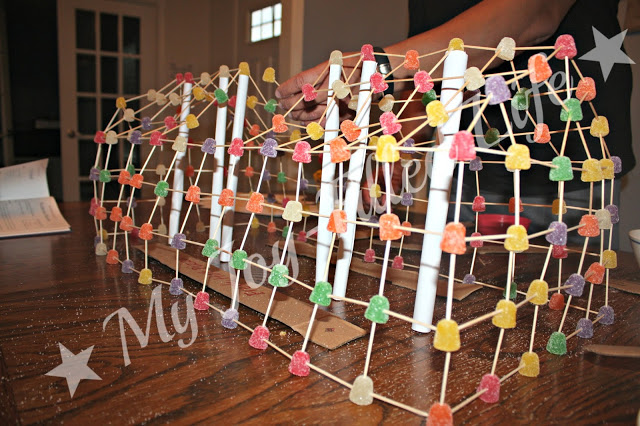 Making Navajo flatbread together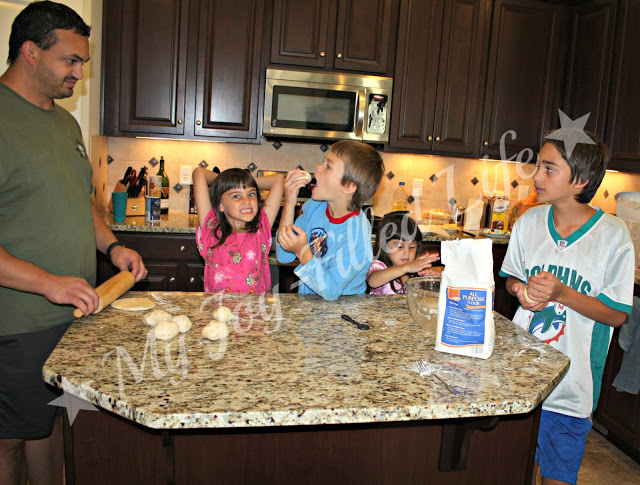 Yum!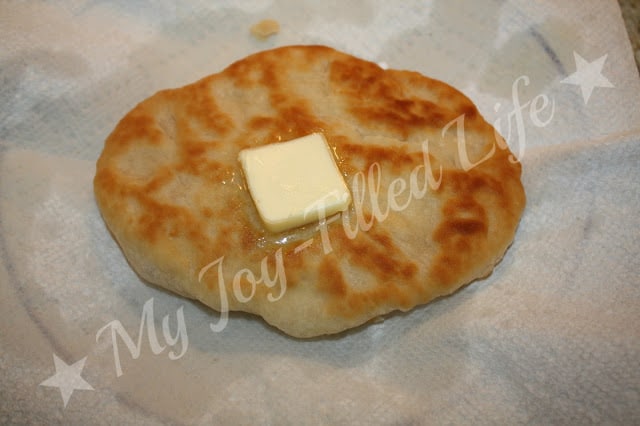 Not only was I ready to have my 10 year old son begin formally studying American history, I was also ready for him to gain a bit more independence with his schoolwork. The America the Beautiful curriculum had the potential to give me both. We started out using the curriculum together – we would take turns reading aloud from the textbook and I also read aloud the literature assignments. I would then choose which assignments I wanted my son to complete that were listed at the end of the lessons. I would usually have him complete all of the assignments listed, except there was an occasional creative writing assignment that I left out. At the end of each day, I would follow-up and check on his work. Less than two weeks into the curriculum, my son was able to handle the curriculum all on his own (with me still checking up on his work, of course); I simply tell him which assignments I want him to complete after each lesson (I do this by writing them on his weekly assignment sheets at the beginning of each week). We have also been doing some of the Family Activities together for family time, and enjoying them quite a bit. We are working at a one-lesson-a-day pace, taking about 45-60 minutes to complete a lesson with the assignments.
When the America the Beautiful Curriculum Package arrived and I opened the box, I was immediately impressed. The quality of all of the books is top-notch, with sturdy covers and bindings; thick, strong pages; plus beautiful pictures and illustrations throughout.
When I began reading the 'Introduction' and 'How to Use' sections of American the Beautiful, I immediately felt at ease through Charlene Notgrass' warmhearted guidance, words, and instruction. I could sense her gentle tone and encouraging nature through her written word and felt as though I had my own personal homeschool mentor right there beside me who clearly shines Christ through her work. 'Notgrass Company exists to glorify God by producing materials centered in His Word that help parents train their children to honor God with heart, soul, and mind.' I absolutely love and appreciate that this history curriculum puts God at the center of it all!
I feel that the age range for America the Beautiful is spot on for ages 10-14 (5th – 8th grade). The reading assignments are an appropriate length – not too long, not too short (about 5 pages of text); the instructions are easy to follow, allowing for independent study at even the youngest end of the spectrum.
I love the variety that America the Beautiful offers by including map work, timeline work, literature study, creative writing assignments, and fun activities to do as a family. We absolutely loved the family activities that we did, of course you don't have to do them as a family, or at all, but we did do them as a family and loved the experiences and the time spent together. We learned teamwork and communication while building our longhouse; we tried new foods (which is something my kids fear); and overall enjoyed learning together and just being together, making lasting memories.
Our family has been blessed by the America the Beautiful Curriculum – it is just the thing we were looking for. We highly recommend this curriculum and company and look forward to many more years using Notgrass products.
I received the America the Beautiful Curriculum Package as well as the Student Workbook & Lesson Review for the purpose of this review.