It's the most wonderful time of the year – SLIME TIME! No, really, it's Christmas time! But there are so many fun Christmas slime recipes you can make this time of year.
Making and playing with slime is a great sensory activity to do with your kids. Maybe you're wanting to plan some one-on-one time with your child, or are looking for a project to do during a play date or sleepover – slime is a great option.
Slime also makes a great gift idea for tweens to give to their friends for Christmas. We have done this in the past and my girls loved making and giving slime as a gift and their friends enjoyed receiving it. You can buy the perfect size containers at Michael's (or you can get them here); last I checked they were around a dollar each. We then made cute labels for the top of each jar and stuck them on with a spray adhesive.
I've made labels for the first six slimes on the list below; you can use them too if you like. I recommend printing them on card stock.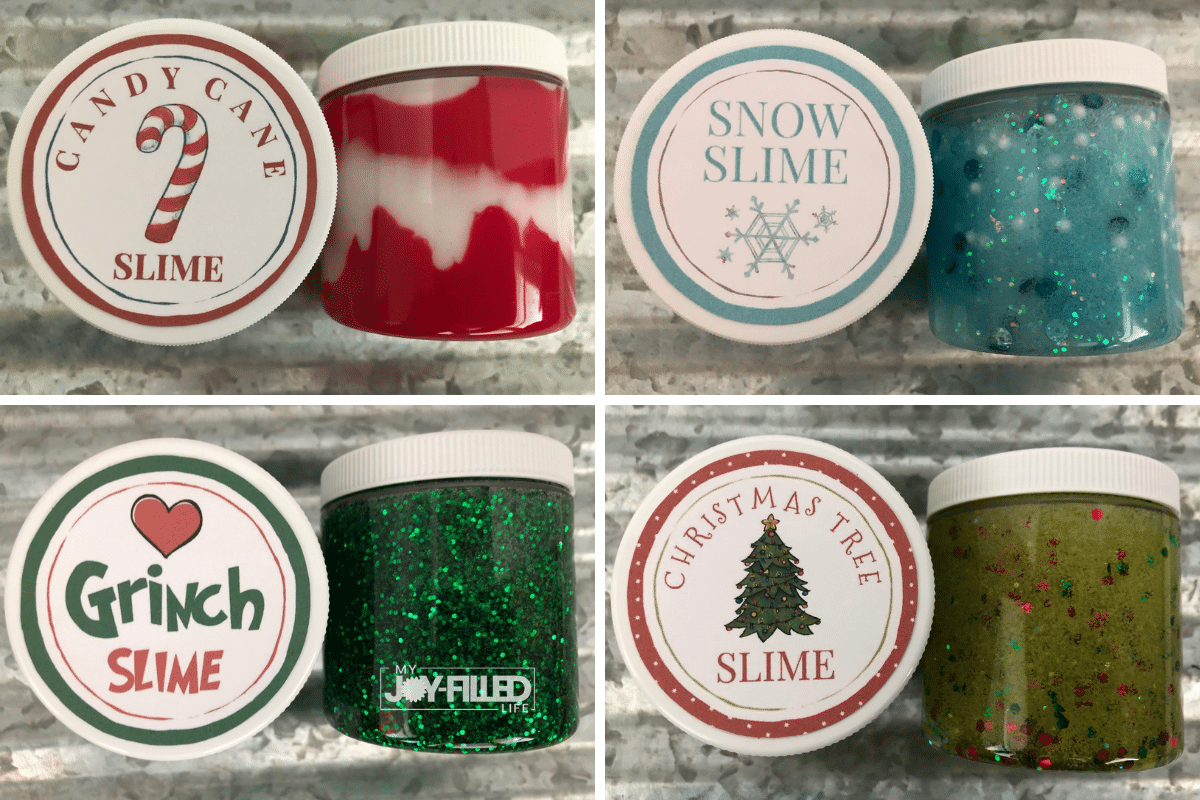 So, if you have kids that are crazy about slime, check out the list below for some of the best fun & festive slime recipes for Christmas time!
Fun & Festive Christmas Slime Recipes & Ideas
Candy Cane Slime
Your house will smell like sweet peppermint when you whip up a batch of this slime. The shaving cream and foaming hand soap make this slime super smooth and soft.
Grinch Slime
The rich, green glittery color of this slime is simply amazing! Adding a little heart trinket or charm turns this slime into Grinch Slime! These Grinch-themed activities, crafts, and snacks are super fun too!
Snow Slime
This snow slime recipe has little snowballs in it making it so fun to stretch and play with. Adding in just a touch of glitter makes this snow slime even more magical.
Nativity-Inspired Slime
If I can turn an activity or a craft into something that focuses on Jesus, then I'm super excited. So, I decided to make a slime recipe that was inspired by the nativity story. The glittery, gold star base of this slime is so pretty and adding in the little nativity figures makes it so much more special.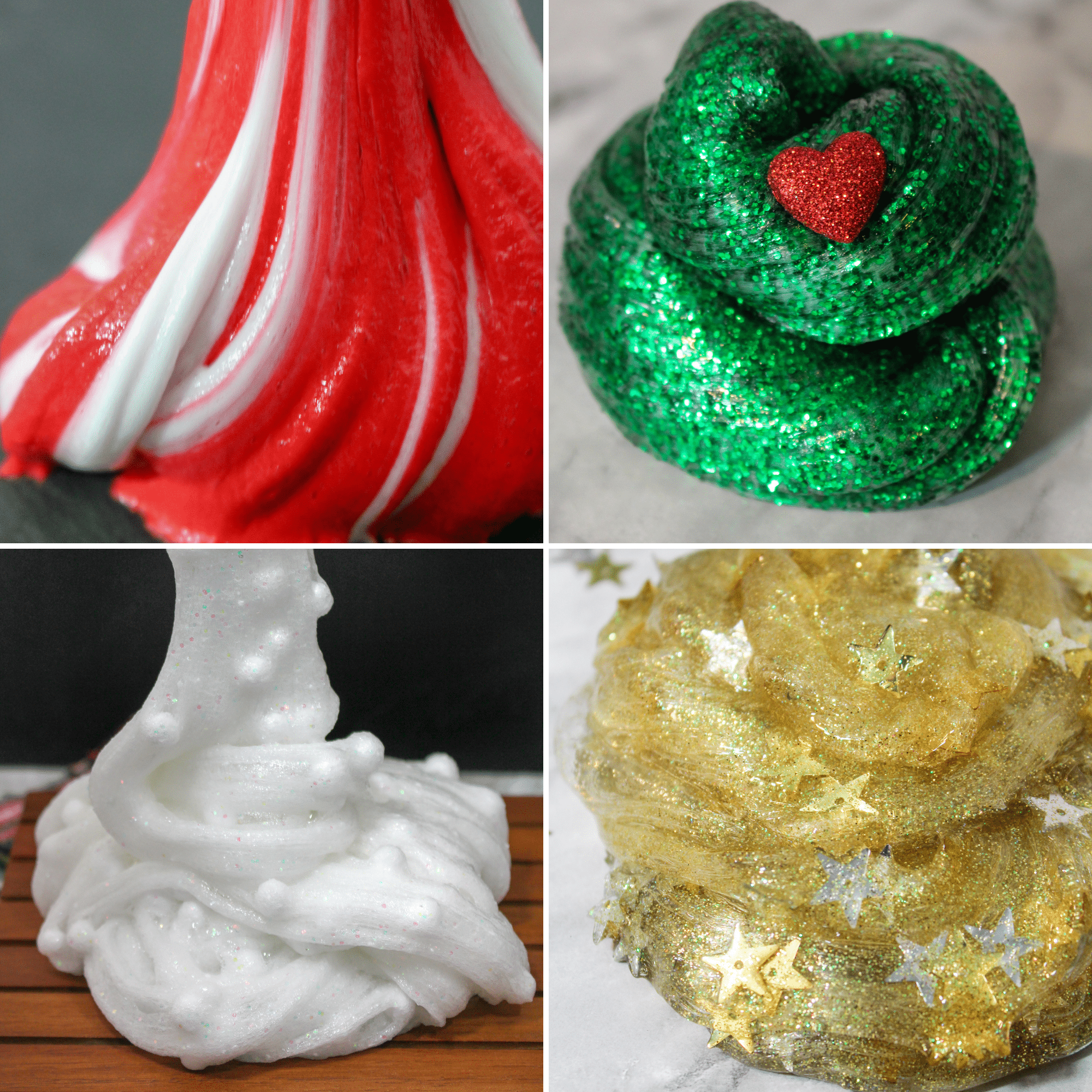 Gingerbread Slime
Mmmm, your house will smell like Christmas when you make this slime. It's fun and glittery and Borax-free.
Christmas Tree Slime
This Christmas tree slime is pretty all on it's own, but when you add in your own mix of sequins and glitter, it looks even better and makes it that much more fun.
Jingle Bell Christmas Slime
Jingle all the way with this fun sensory slime idea. The little gold and silver bells along with magical glitter make this slime recipe super festive!
Green & Red Christmas Slime
What do the colors red and green together make you think of? I hope you said Christmas! This vibrant slime recipe is so fluffy and fun to play with.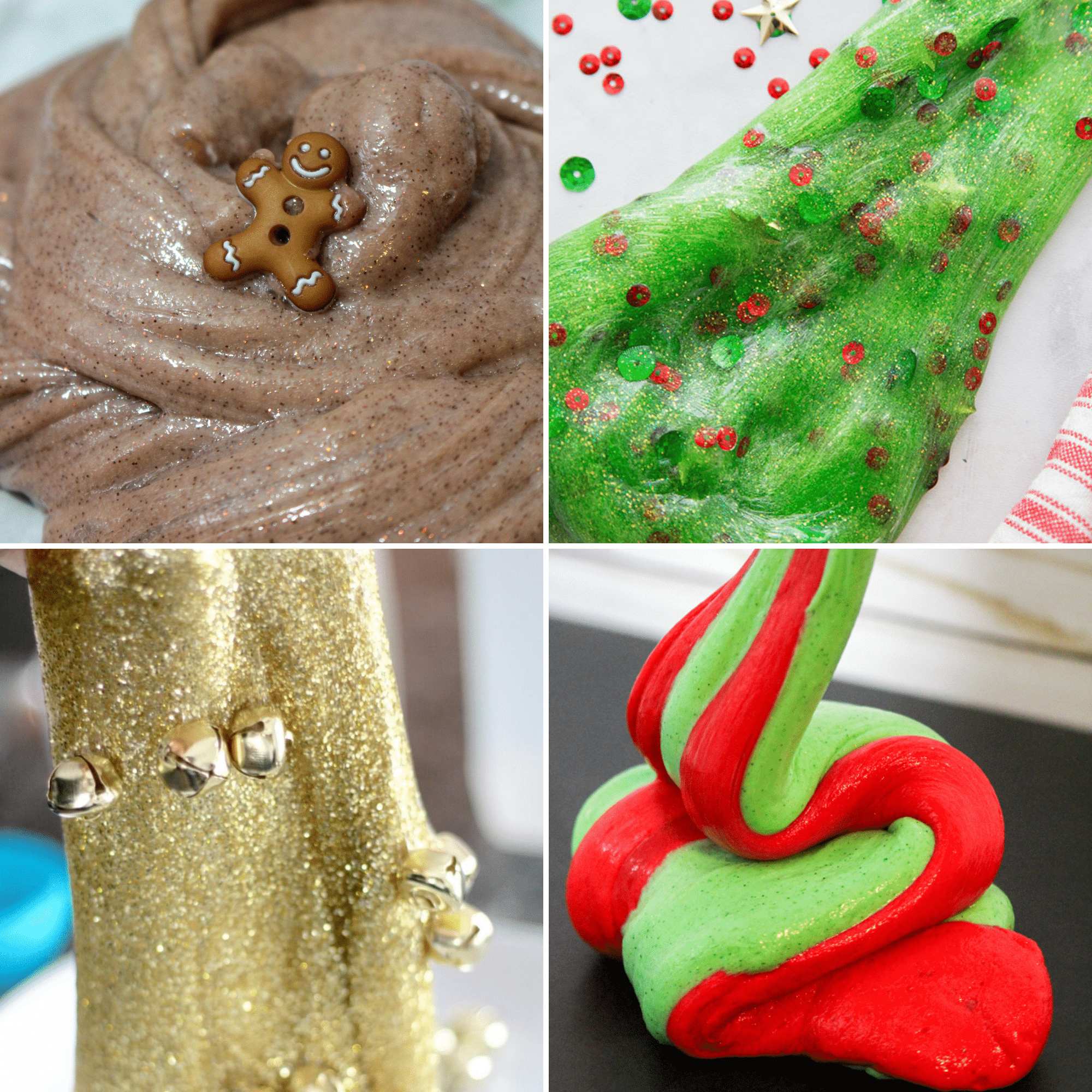 Christmas Glitter Slime
This glitter glue slime is so pretty and festive with the red, green, and gold Christmas colors. This slime is super easy to make when you use the colored glitter glue from Elmer's.
Santa Slime
Not only is this slime fun to make and play with, it's also fun to decorate the jar to look like Santa and give as a gift.
Sugar Cookie Slime
This sugar cookie scented slime will surely make you hungry for some Christmas cookies. This slime is even more fun to play with when you throw in some cookie cutters and baking utensils.
Icy Clear Winter Slime
This slime will remind you of a winter wonderland with its sparkling ice appearance and shimmering blue snowflakes throughout.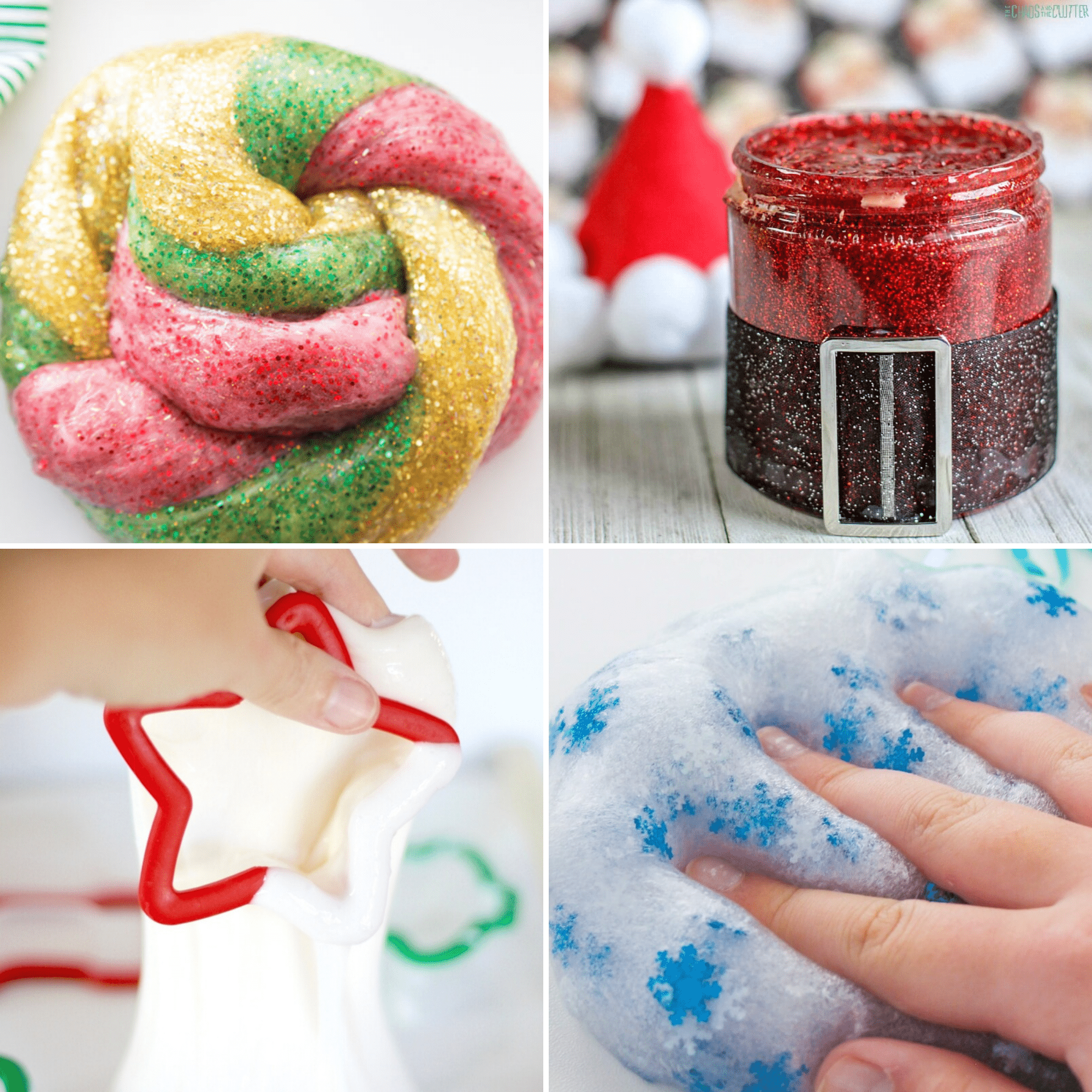 Do your kids like making slime?
What Christmas slime recipes have you made?