If you're not careful, homeschooling can become quite costly. And the cost just adds up with the more children you have. Regardless of how many kids you have or how much money you can freely spend on curriculum, there are lots of ways to make your money go further when it comes to buying your homeschool curriculum. Below are several ways to help you pinch those homeschool pennies.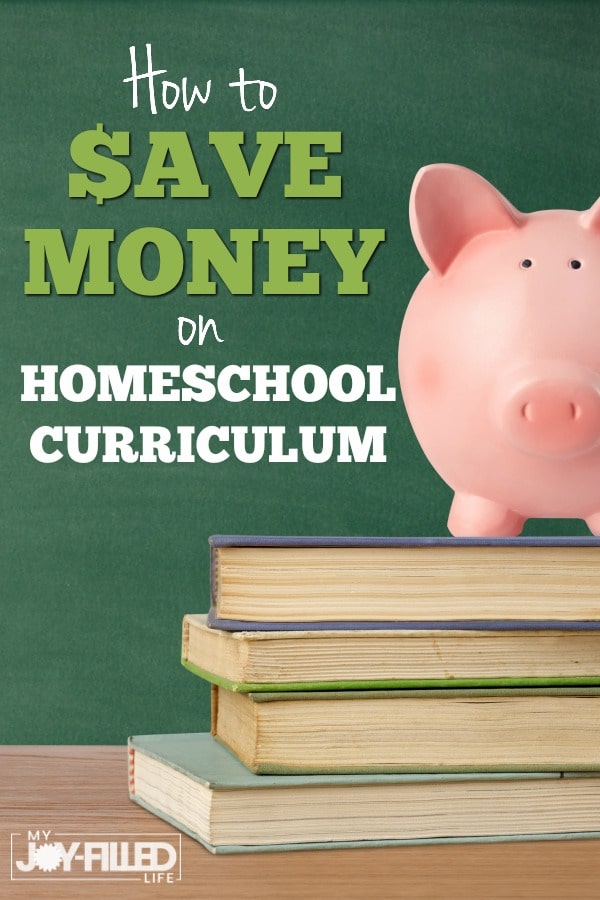 1. Buy Used
This is probably one of the most popular ways to save on curriculum. There are tons of places online where you can buy and sell used homeschool curriculum. A lot of local homeschool groups also hold used curriculum fairs every year, so check your local homeschool groups for these types of events.
Often times you will be able to find what you are looking for in practically new or even brand new condition, for a fraction of the price of buying brand new.
Some of my favorite online places to buy (and sell) curriculum are:
HomeschoolClassifieds.com
HomeSchool Reviews (they have a section for buying/selling/trading curriculum)
Homeschool Legal Defense Association Curriculum Market
The Well-Trained Mind Forums
Homeschool Curriculum Marketplace (Facebook group)
Homeschool Curriculum Exchance/Yard Sale (Facebook group)
Curriculum Classifieds (Google+ community)
2. Borrow/Swap/Trade
If you have some close homeschooling friends or relatives, or are a member of a homeschool group or co-op, ask around and see if anyone has the curriculum you are looking for that they aren't currently using, and then ask if you can borrow it.
Along the same lines, ask around and see if you can swap or trade with someone. Maybe you use the same science curriculum as your sister-in-law; see if you can swap textbooks if you aren't studying the same topic at the same time.
3. Rent
Only recently did I discover that this is an option. I had never heard of such I think, but what a brilliant idea to help homeschoolers save money.
Yellow House Book Rental is a homeschool curriculum rental service. They offer many options to fit your family's needs. I haven't personally used their services, but maybe this could be an option for you.
4. Use the Library
The library is an invaluable resource for homeschoolers. I don't know what I would do without my local library! Probably go bankrupt from buying too many books!
Not only can you find literature and other books to add to your homeschool studies, you can also find actual curriculum and helpful books about homeschooling.
You are definitely blessed if you live near a large library or one that is part of a large inter-library loan network.
5. Reuse
Save your curriculum and use it with subsequent children. This won't always work if your children have very different learning styles, but it's always good to start with what you already have to see if it works.
In order to get the best (re)use out of your curriculum, shop for curriculum that is non-consumable or that you can purchase in PDF format so that you can print off as many copies as you need, therefore being able to use it for years and with multiple children.
6. Shop Discount Sites
Shop for your curriculum at discount curriculum retailers. You will find most of these retailers online. Some of them will also run sales and free shipping specials, so keep an eye out for these by subscribing to their newsletters. Some of my favorites are:
Christianbook.com
Rainbow Resource
Hearts at Home Curriculum
Lamp Post Homeschool
Educents
7. Shop Sales & Deals
Buy your curriculum when publishers and companies are holding sales or offering deals. Some major curriculum publishers will hold an annual sale, while some will even offer monthly deals or specials. Black Friday is one time that homeschoolers can rake in a lot of good deals.
8. Buy PDF/Digital Curriculum
Instead of buying the physical copy of a curriculum see if they offer a digital version that you can download to your computer. If companies have a digital version, it is usually cheaper, and you will save on shipping costs as well. A digital version will also save you money if the physical version of the curriculum is consumable. Instead of buying a new book for your next student, you can just print it out from your computer for a fraction of the cost (cost of paper and ink).
Here are a few of my favorite publishers that offer digital products –
Peace Hill Press (Story of the World, First Language Lessons, and Writing with Ease from the Well-Trained Mind)
Bright Ideas Press (Mystery of History, Wonder Maps, Christian Kids Explore Science)
Homeschool in the Woods
A Journey Through Learning
CurrClick
Home School Adventure Co.
Grapevine Studies
Progeny Press
Truth Quest History
9. Look for FREEBIES
There are so many freebies on the internet for homeschoolers! And yes, there is even free homeschool curriculum! There are websites devoted to just bringing you homeschool deals & FREEBIES, as well as Pinterest boards and Facebook groups that are for sharing FREE homeschool finds.
Some great sites to check out for homeschool FREEBIES:
Free Homeschool Deals
Frugal Homeschool Family
Homeschool Giveaways and Freebies
Blessed Beyond a Doubt
Facebook groups:
Homeschool Giveaways and Freebies
Affording the Homeschool Life
Homeschool Deals and Freebies
Homeschool Curriculum Free for Shipping
Pinterest boards:
Free Homeschool Printables
Ultimate Frugal Homeschool
Free Homeschool Curriculum
Free Homeschool Resources
How do you save money on homeschool curriculum?