One of the questions I am most often asked by both fellow homeschoolers as well as non-homeschoolers is, "How do you juggle multiple kids when homeschooling?"
And my answer?
I just do.
Does it get a little crazy sometimes?
Definitely!
There's never a dull moment, I'll tell you that!
And, with each new addition to the family, it does take awhile to get back into the swing of things but eventually we all find our groove again.
But honestly, I love it. And I know that it won't last forever so I try to savor it as much as I can.
I have discovered a few helpful tips over the years, however. Want to hear?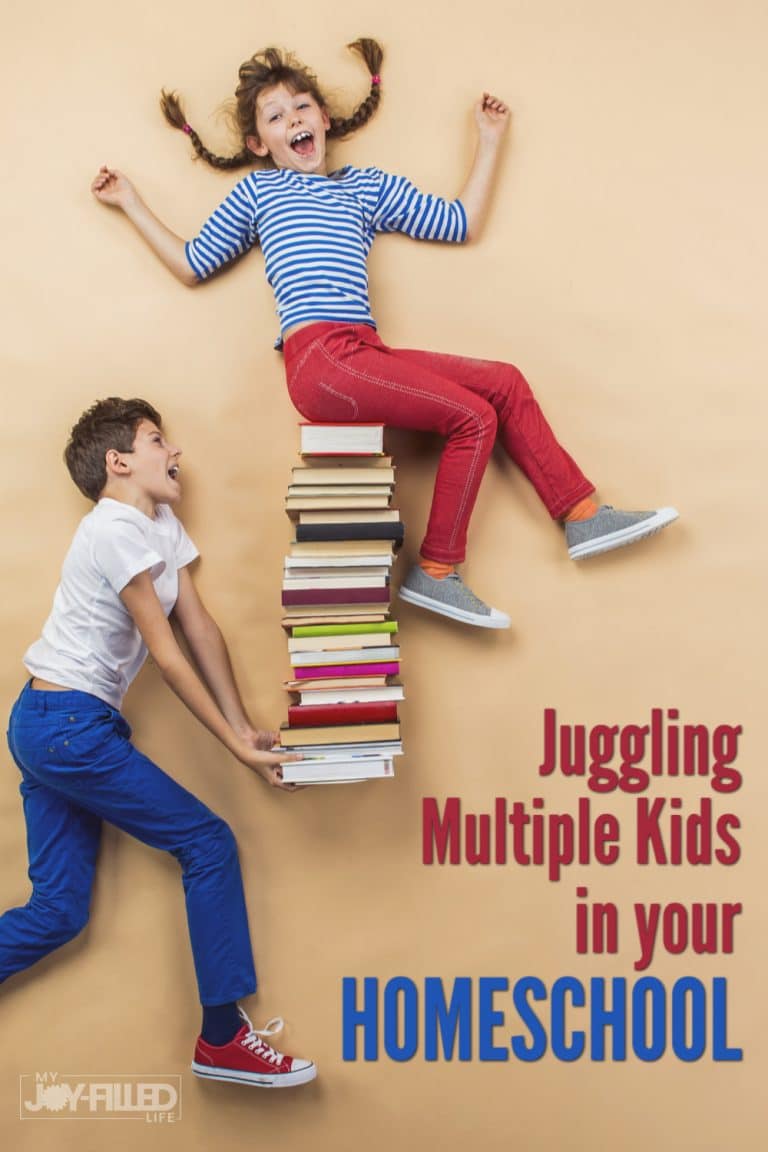 Be kind to yourself
Yes, it sounds so simple but it is so important! It can be hard to juggle multiple ages while homeschooling, but remember to be kind to yourself. If you don't get everything done that you wanted to that day, whether it is homechool related or home maintenance related (is that laundry pile calling your name too?), it's okay!
Work on as many subjects as you can together
This is huge! Each child has nearly ten subjects to complete each day – multiply that by the number of children you're homeschooling and that is A LOT! By working on as many subjects as you can together, you will free up a lot of time during the day.
Keep the toddler busy
If the toddler isn't happy … no one is! But seriously, if your toddler is running around wild, they can be a major distraction to the other children.
How do you keep the toddler busy? I gave away all my secrets to this very dilemma in this blog post but in short – snacks and quiet, low-mess activities.
Teach them to be independent
Not only do I recommend keeping a daily or weekly assignment schedule but I also highly recommend teaching your children how to use it. I have assignments broken down by the day and also by the week. By opening up their planner, they know what they need to accomplish for the entire week.
In the planner, I have all the schoolwork we need to get through for that week then aim to get 1/5 of the weekly work done each day. Some days we might work on multiple spelling lessons and social studies but not do as much Bible. The next day we might do extra phonics and science but less history. I let the child take the lead and if they really get into the lessons for that subject, I let them go ahead. In this way, we are keeping to our schedule but are more flexible as far as working on each subject every day.
After completing that day's assignment, they place a sticker in the box. This keeps it fun (who doesn't love checking off that to-do list, right?) and it is a great visual to see how much has been completed and how much work is left.
Keep a schedule but remember to be flexible
This goes back to tip #1 – some days the little ones are a little crankier and need more one-on-one time and we aren't productive with lessons with the older ones. It helps to remember to be flexible. Some days more work gets done but as long as we finish up our weekly goals, I count it as a win. Be patient with the kiddos and with yourself.
Remember why you are homeschooling in the first place. Is it to spend more time with your children? Or is your goal to be more in control of what they're learning each day? Maybe it's a little of both?
You'll get to the finish line in due time, it just might be a little more windy than you had initially hoped.
Don't forget to take breaks
I've tried the plow-through approach and it lead to less focus, longer days, and decreased productivity.
It's amazing what a short 20 minute break can do for the children (and you!). When they start working slower and I can see that they need a break, I will often say let's finish up this subject (or this subject and one more, depending on how long we've spent on schoolwork so far) and then we will take a break.
This will give them the motivation they need to push through, even though they are wearing down. I suggest taking the same length of break every time so your children become used to that amount of time, but I'll admit to breaking this rule every now and then. We love setting a timer at the beginning of the break and then reminding them when they have five minutes left so they aren't caught off guard.
Don't forget to get outside
Time spent outdoors is so important and should not be pushed off to the side. Sometimes we even take our schoolwork outside so the little ones can play with chalk or scooter around in the front while the older ones work on their books.
Your turn
Alright, those are my tips. Now, I'd love to hear from you. What are your best tips for juggling multiple ages while homeschooling?
Thank you to our featured sponsors! 
Don't forget to check out ALL of the helpful posts in the series
and enter the giveaways (over $2000 worth of prizes)!
>>> CLICK HERE <<<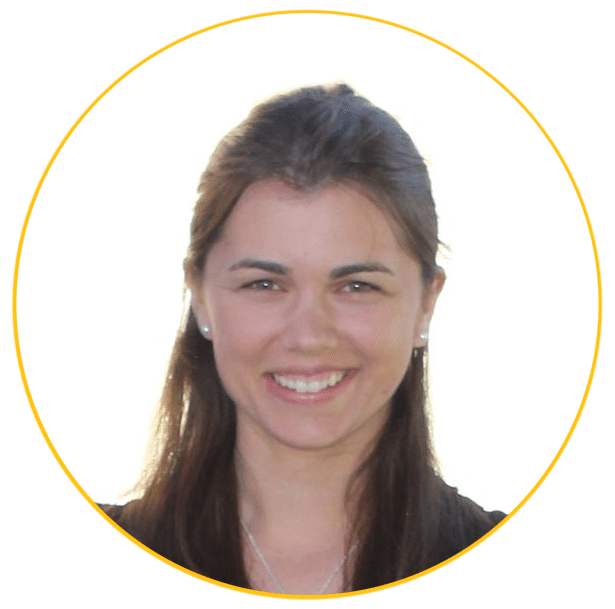 Dana is a homeschooling mama to her sweet little ones and owner of The Art Kit, where she blogs about all things crafty and fun. Join the adventure and discover some new favorite activities – follow on Facebook, Instagram, or Pinterest or sign up for The Art Kit's newsletter and gain access to the resource library filled with FREE fun and educational printables.