As a mom of many, I have to be extra intentional about spending one-on-one time with my kids. I have eight children, and with housework, homeschooling, and extracurricular activities, I barely have time to shower most days, let alone spend quality, one-on-one time with any of my kids.
Because the season of life I am in is super busy and chaotic, I'm always on the look out for any opportunity to spend some time with just one of my children.
It doesn't have to be some super elaborate planned out date (although those are nice too, but not all that practical when you have a lot of kids). It can just be something simple, planned or spur-of-the-moment, where that child is your main focus.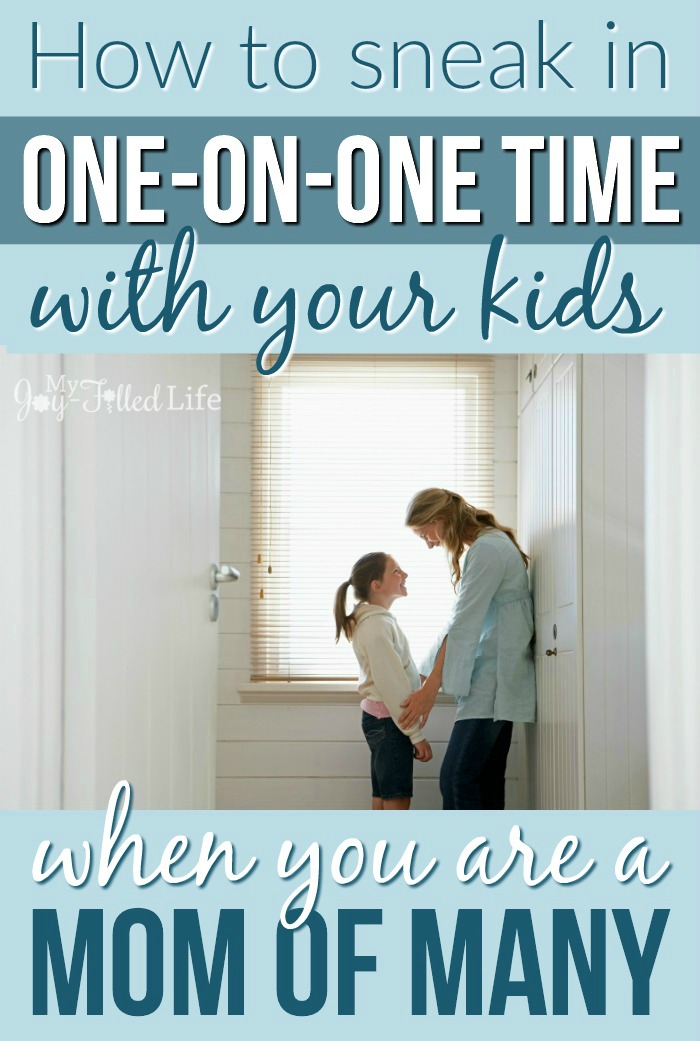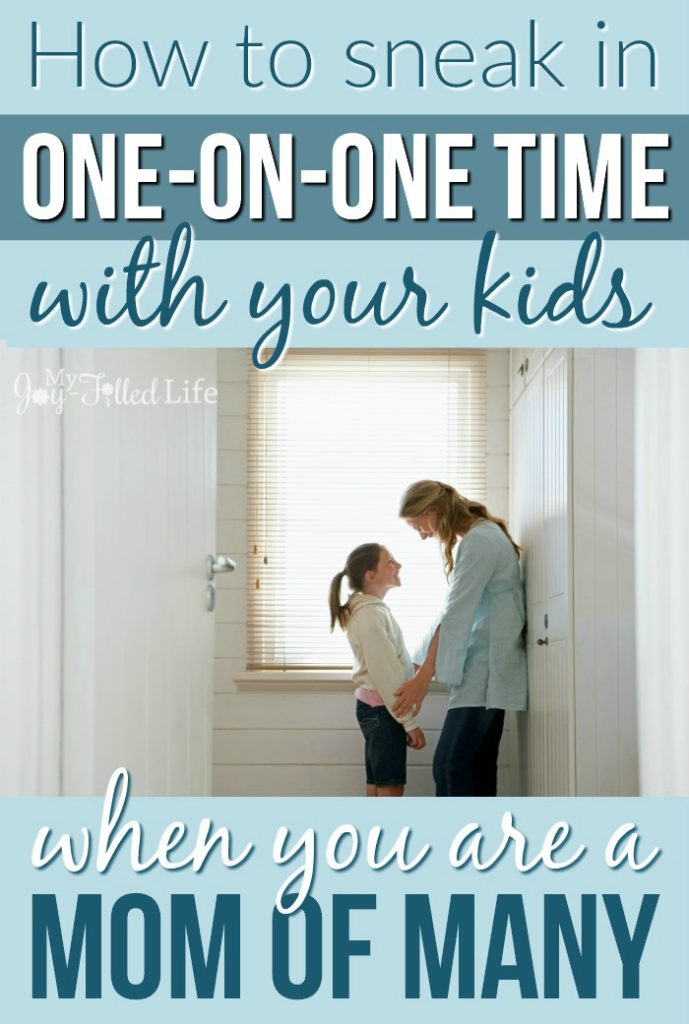 Here are some ideas that we use in our family that help my husband and I get some one-on-one time with our children. We don't use all of these ideas all at the same time, but rather have different seasons when some work better than others. These suggestions can actually be used with any family size, not just one with many kids. I hope you find this list helpful.
Tuck them in
I'm sure you tuck your children into bed each night. Take a little extra time on occasion to spend some more time with one of your children when you tuck them in. Crawl in bed with them and snuggle for a bit (beware – you may fall asleep before your child) and talk to them about their day, about what's going on in their life, or simply reminisce about when they were younger.
Let them stay up late
What child doesn't like staying up past their bedtime? Put your kids on a rotation as to who gets to stay up for a half hour (or whatever amount of time you choose) past bedtime. Use this time to read aloud, play a quiet game, play with a special toy, or work on a simple craft or project together.
Bath time
Your little one need to be bathed, so why not make that time a little more enjoyable and fun by playing with him or her in the tub? Chances are, you have multiple littles that need to be bathed and in order to get one-on-one time, have a bath rotation so you are only giving one or two kids a bath each night. During bath time you can sing songs, tell stories, or do a fun activity.
Play time
Play with your kids! It's easy to get caught up in everyday tasks and not leave any room or time for just playing. But play is so essential for early learning and is one way that young children learn about their world. And as one of our child's first play partners, we should be intentional about playing more with our kids. So plan a time into your day to have some one-on-one play time with one of your kids (again, you'll need to rotate kids each day; that seems to be a theme with large families), or let it be spur-of-the-moment – if you see one of your children playing alone, join them!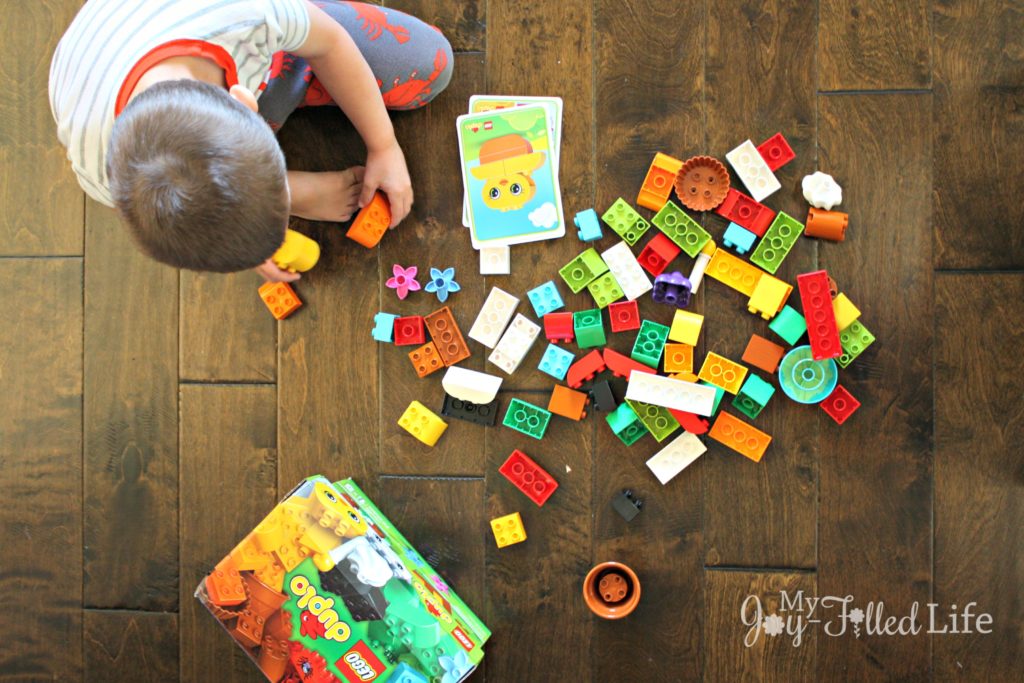 One of our family's favorite toys for toddlers and preschoolers is LEGO® DUPLO® building toys. We have three big bins full of them. Not only are DUPLO bricks perfect for small hands and big imaginations, but being that they are twice the size of standard LEGO bricks, they are safe too.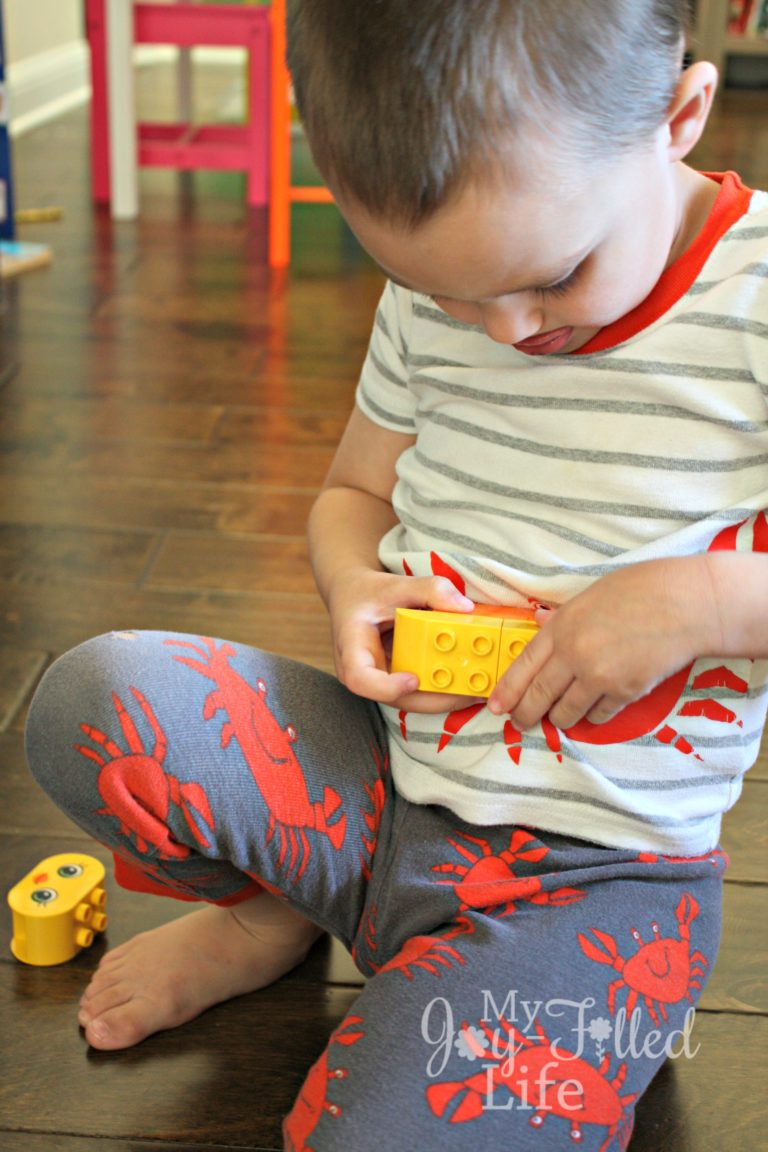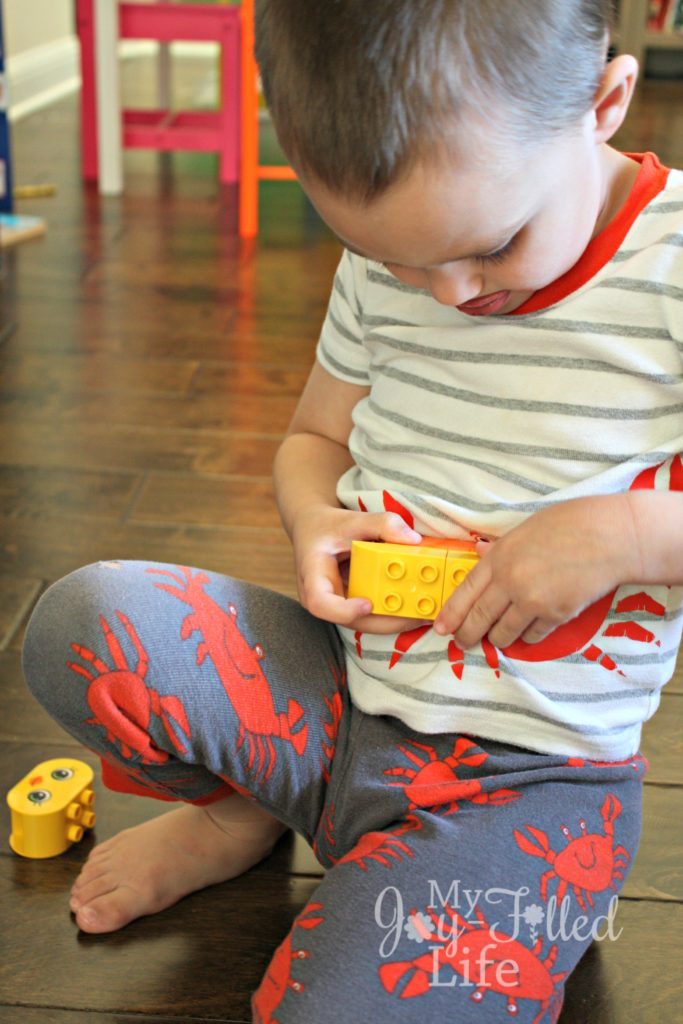 Unfortunately I don't have hours to sit and play with my kids, as some of them will seriously sit and play with DUPLO bricks for hours. So sometimes if I see them playing with them, I will sit and join them for a bit. Or, if I have a block of time during my day designated to playtime, DUPLO bricks are one of my go-to toys to pull out to get the little ones started playing and occupied. DUPLO bricks are definitely a worthwhile investment if you have toddlers or preschoolers in your family.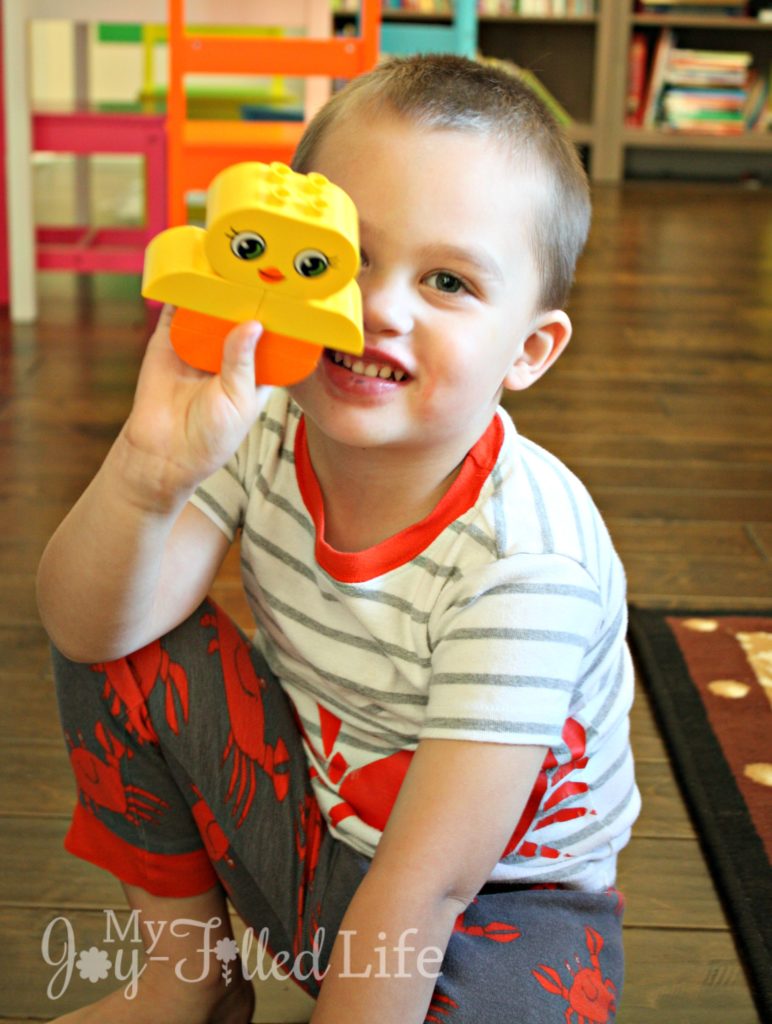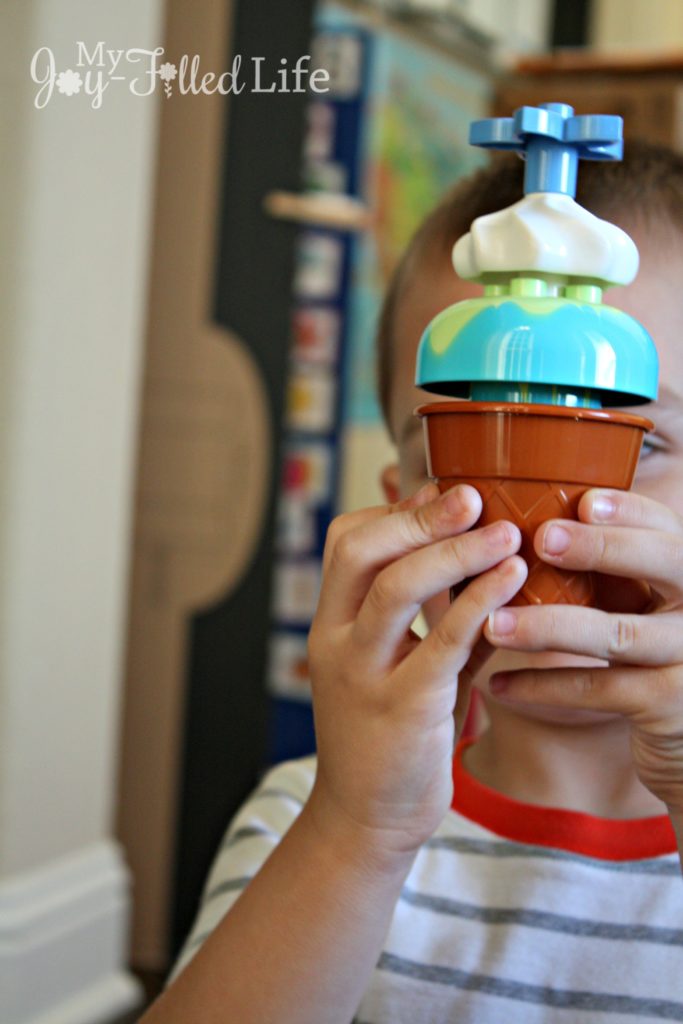 Errand/chore buddy
I normally run errands by myself when my husband can be home with the kids or I have someone else to watch them like my sister-in-law or an older sibling. Lately I've been taking one child with me when I go out to run errands as a way to spend time with just them. The drive to and from gives us a chance to talk without interruptions, and during the actual errand I end up with a willing and joyful helper. Plus, whatever errand we are running usually offers an excellent opportunity to teach a life lesson.
Cooking/baking buddy
A cooking or baking buddy is similar to a chore buddy. Each night of the week have a different child help you make dinner. This is not only a chance to spend time together, but another opportunity to squeeze in some learning.
Exercise
My husband and I try to be diligent about fitting exercise into our regular routine. My preferred form of exercise is running. We now have children that are old enough to run with mom or dad and keep up, so we will take one of the kids out on a run when we go.
Nursing
If you are nursing a little one, take this time to really focus on that child. Resist the temptation of picking up your phone to check email or to hop on social media. Don't turn the television on. Just be with that little one – sing to them, read to them, pray out loud for them, or just stare at the beauty you hold in your arms.
How do you like to spend one-on-one time with your kids?
I was selected for this opportunity as a member of CLEVER and the content and opinions expressed here are all my own.