"You inspire me."  

"How do you do it all?"

"I know you are a much better homeschooler than me."

"Help me, I need your advice.  You do this so much better than me."
"You have the patience of a saint."
Yes, at one point or another these statements have been said to me.  Me!  I always wonder what the women behind those statements see when they look at me. It was never my intention to fool anyone, but it was clear that I had.
In a strange turn of events, I became a role model for other homeschooling moms.
When they look at me they see perfectly behaved children, a well scheduled day, impeccable lesson plans, and a house swept clean.  Throw in some rainbows, unicorns, and cheesecake that causes weight loss, and you entered my perfect fantasy.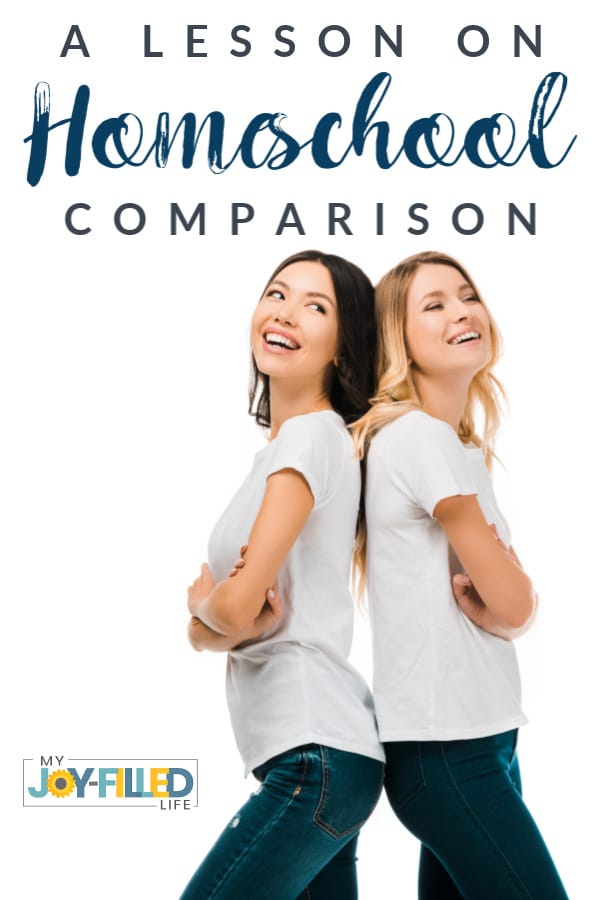 Through the years, some things I got right, and many things I got wrong. 
Enter my home on any given day and you will see laundry baskets filled with clothes that have forgotten if they are clean or dirty.  
The kitchen boasts of hearty family meals evidenced by the dirty dishes still waiting to be washed. 
Sit down with a cup of coffee and allow my living room to recount children fighting or watching too much TV on stressful days. 
Bring a tissue and help my dining room table wipe where the tears fell during a difficult reading lesson. 
Walk over to my school area and see lesson plan books half-filled and curriculum abandoned because it was not a good fit. 
When you open my closet doors you won't find a jean jumper, but you will find clothes that wonder if they will ever be traded for sweats or PJs in the morning.
If my walls could talk…. surely my perceived perfection would be seen for what it truly is…a mere perception.
You see, my friend, the only thing that separates us is your perception, and my experience. 
Experience is an excellent teacher, but great lessons come through great pain.  Yes, I have talents, abilities, and enough life lessons to get a few things right.  So, do you.
I used to wish I had someone else's talents, but I learned my own talents could not grow if left in the dark under a pile of wishes. I had to learn to value and cultivate my own talents or I would forever be stumbling around in another woman's shoes.
We have unique families and circumstances that God gave us charge over.  So, step aside Miss Susie Homemaker and Miss Super Homeschooler, I live to please God and raise those precious blessings in His stead until they are grown. 
It's okay to have a different schedule.
It's okay that a curriculum didn't work for you. 
It's okay if you forgot to assign To Kill a Mockingbird to your high schooler. 
It's okay if your child is struggling to read. 
What isn't okay, is wasting time comparing yourself to a situation that is not your own and that you honestly know little about. 
In wisdom, seek counsel from other moms.  Eat from the meat of that advice but don't forget to spit out the bones.    
Now, don't feel bad for looking up to other women as God places others in our lives to teach us.  Simply, do not demean your divine placement as the mother of your children by trying to be someone else. There is wisdom in council if you are teachable and will allow God to work through you.  Just don't forget to retain you because, friend, there is beauty in your brokenness. God has found you capable to educate your children. 
Regardless of our faults – yes, we all have them – God has gifted each of us with children He picked out just for us. For us to love, to nurture, to guide, and to educate. He equips us with everything we need for the task because we can't do it on own, without His help.
So how about we make an agreement – you'll stop thinking I have it all together and I'll stop believing that you are better then me (yes, I'm guilty of this too). 
And how about instead we support and encourage one another.
Be open, honest, and transparent, and embrace our imperfections.
Because without them, we wouldn't need a Savior. We wouldn't need a Father to pick us up when we fall, or a Teacher to turn to for guidance, or a Friend to lean on in times of despair.   
Thank you to our featured sponsors! 
Don't forget to check out ALL of the helpful posts in the series
and enter the giveaways (over $2000 worth of prizes)!
>>> CLICK HERE <<<