The New Year is almost here. And if you are anything like me, you likely have kids that want to stay up late and you don't want to spend money on festivities. Here are some ideas on how you can ring in the New Year as a family for free. No stressing, no spending loads of cash, just an evening full of family fun and connecting while you ring in the New Year together.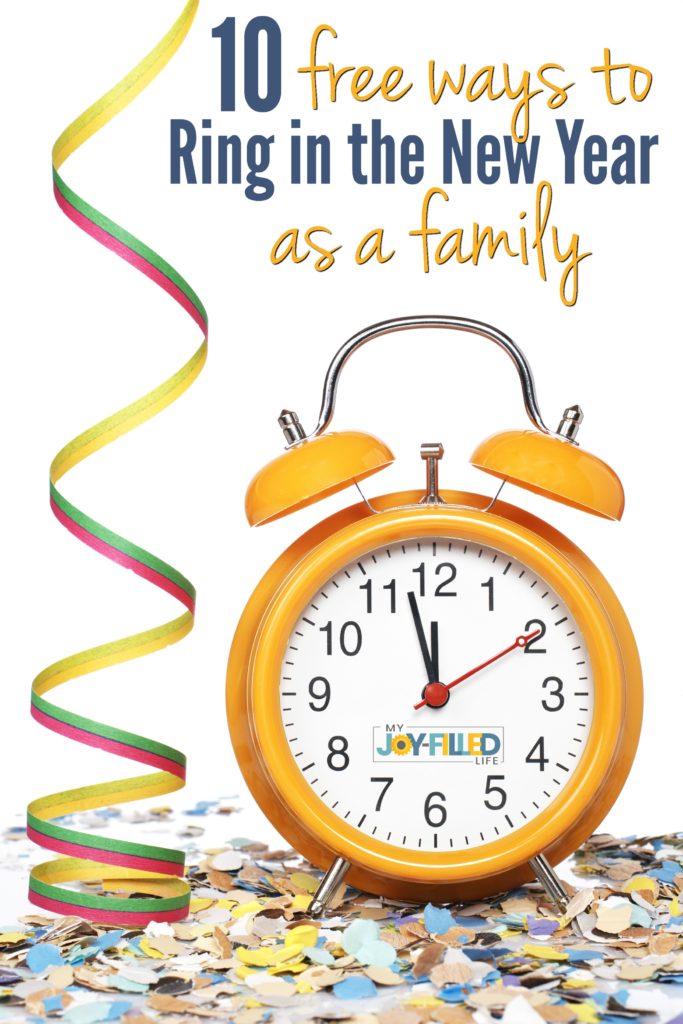 Sparkling Juice Toasts
When that ball is getting ready to drop on New Year's Eve why not pull out the bubbly, the sparkling juice bubbly that is. Enjoy a family-friendly toast! Make party hats with a New Year's Eve party hat printable to add to the fun.
Kid Slumber Party
Offer to be the host of a kid slumber party for friends who want to have an adult night for New Year's Eve.
Pajama Party
Dress up in matching pajamas as you and the kids enjoy movies, shows and countdown to the New the Year together in matching pajamas.
Balloon Drop
Get some balloons full of helium and have them up on the ceiling, have fun ringing in the New Year as the kids pop them one by one leading up to midnight.
Have an Indoor Campout
Setup the living room with blanket forts, finger foods and kid-friendly drinks as you enjoy an indoor campout to ring in the New Year.
Ultimate Family Game Night
Pull out the board games, electronic game console games and enjoy an evening full of family-friendly competition as you host the ultimate family game night.
Early New Year
Have the kids ring in their New Year at 8 pm and tuck them into bed so you can still enjoy a little adult New Year's Eve time before midnight rolls around.
Play Karaoke
Have a karaoke night where you pull up lyrics on your TV from YouTube or a karaoke machine and enjoy some singing along to songs as a family all night long.
Fireworks Show
If you are allowed to have fireworks in your town, why not set off some fireworks for your family to enjoy while ranging in the New Year at home.
Make Thankful Lists
Create lists of things you are thankful for over the past year as a family and read them aloud to each other.
There you have it, 10 FREE ways to ring in the New Year as a family. While you may have had your hopes set on an adult only evening, sometimes you can't find a babysitter, and sometimes a night in with kids is more meaningful and memorable. If you are looking forward to enjoying a family-friendly New Year's Eve celebration, then these ideas should surely inspire you to have a wonderful evening.
You might also like: