If you have a kid who gets distracted easily when you're trying to teach them at home, don't miss these great homeschooling tips you can try! (And be sure to check out all our other posts for more helpful homeschool tricks and homeschool encouragement!)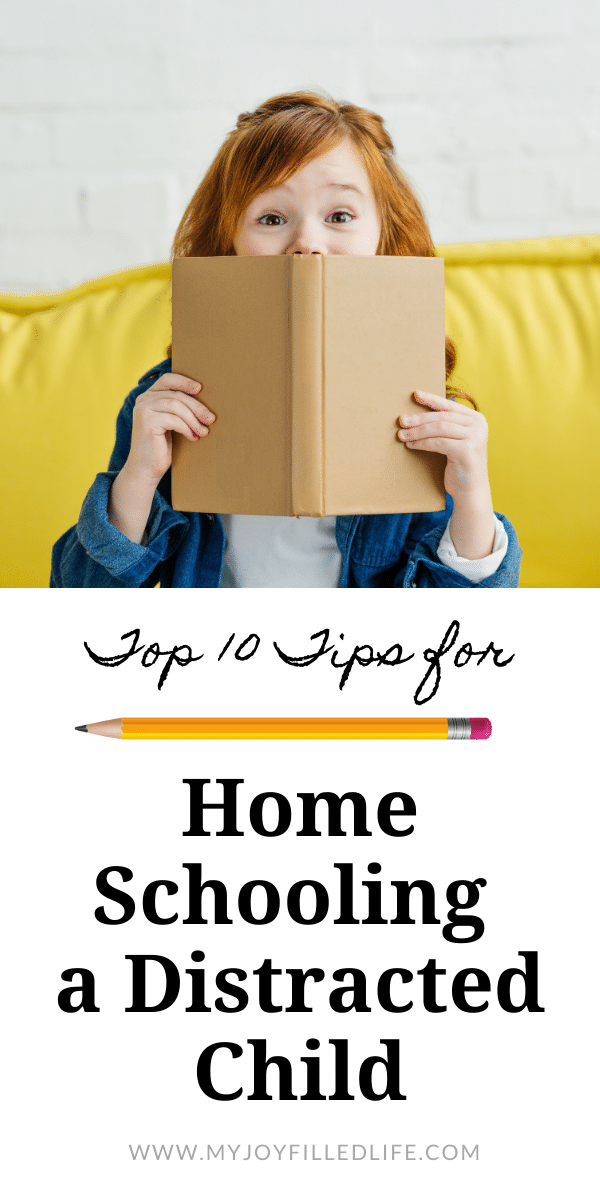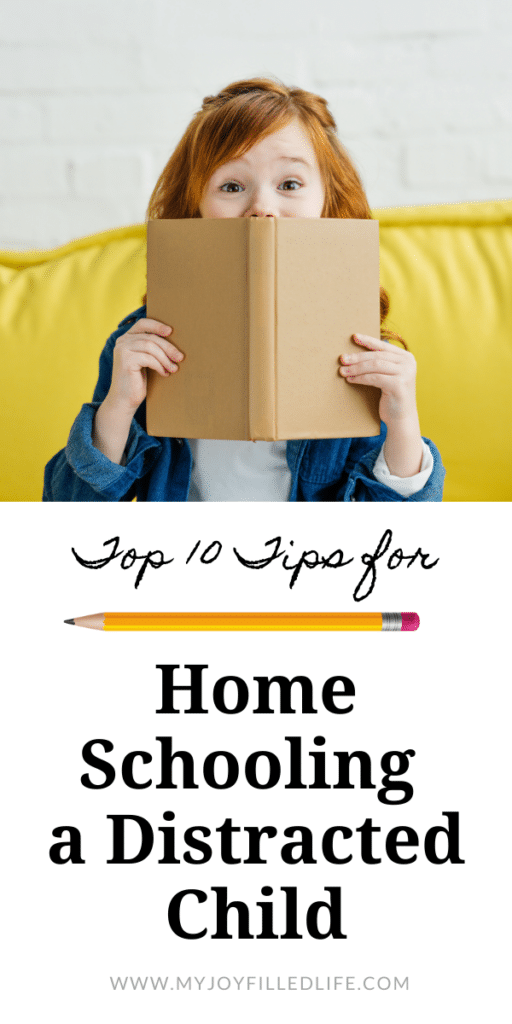 It's pretty frustrating as parents when we are trying to drill a concept into our kids and it just won't go through because they're distracted by something. Before you blame your child for being so distracted, try some of these tips and you might find they're successful for you!
10 Homeschooling Tips for a Distracted Kid
Do you struggle with frustration from trying to homeschool a child who gets distracted really easily? Try these helpful, practical tips:
1. Take numerous breaks
Take as many breaks as you need. If you are working on something that needs to get finished that same day, schedule many short breaks in between. These breaks are vital in getting your kid to break concentration a bit and relax. When they come back to their schooling, they'll probably be able to hold their attention for a much longer time period. And if they start getting distracted again, take another short break. Repeat until you get everything done!
2. Change subjects
Perhaps the distraction is simply because your kid is not able to comprehend what you are teaching them at that particular time? If so, try changing the subject. The beauty of homeschooling is that you are not restricted to a specific schedule. Take on something they love doing and work your way through it. Go back to the other subject when you feel that their concentration is back on track.
3. Feed them a good diet
Diet matters a lot. A bad diet can create a lot of distractions. For instance, avoid foods that have too much sugar in them. Sugar provides too much energy to kids and often leads to them not being able to sit still for very long.
4. Create a specific routine
Do not follow an exact schedule, but rather just create a routine that works for you. For instance, in the morning, you can cover subjects that demand more attention. In the afternoon, shift to less demanding subjects as there is a higher chance of distraction later in the day.
5. Identify and get rid of the distractions
Learn what distracts your kids. Is it the TV? Toys? Music? Too many interruptions from other members of the family? Get rid of these distractions or keep them to a manageable minimum. Remember to create a conducive learning environment for your kids.
6. Consider the time of the day
Learn when your kids get most distracted during the day and schedule breaks during that particular period.
7. Let them get enough sleep
Sleep is such an important element in anyone's life, and kids need even more sleep than adults do! If you have a child who is constantly distracted, there's a chance they are simply tired and need more sleep. So make sure your distracted kid gets enough hours of sleep every single night.
8. Break big tasks into smaller ones
Is it possible you are trying to present too big of a concept or task at once? Try breaking the project into smaller, easily achievable milestones and keep building on those as your kid understands and conquers each stage. Learning is much easier when it's broken down into manageable concepts.
9. Understand your kids
At the end of the day, you are the one who knows your kid best. Maybe your child has a condition that prevents them from holding attention for so long? Work with what you have and allow them breaks when they get distracted. And try not to yell at them, as this only further discourages a distracted child who is struggling to learn.
10. Create incentives
This can work really well with some kids, if they're enticed by incentives and rewards. For example, let your child know that they can have their favorite snack or cookie if they finish a particular project. This will build their anticipation and increase attention momentarily.
You might also find these homeschooling tips helpful:
Do you have any other homeschooling tips for a distracted child? Let us know in the comments!