Is it daunting to homeschool more than one child?
Are your kids running around the house while you work with a single child?
Do your children study, even if you're not standing next to them?
Homeschooling multiple kids might seem intimidating … but you really can do it without going crazy. You might be thinking, it would be easier with only one child and one lesson. But that's not real life for you and me. Let's take a look at 3 tips for all the moms homeschooling multiple children.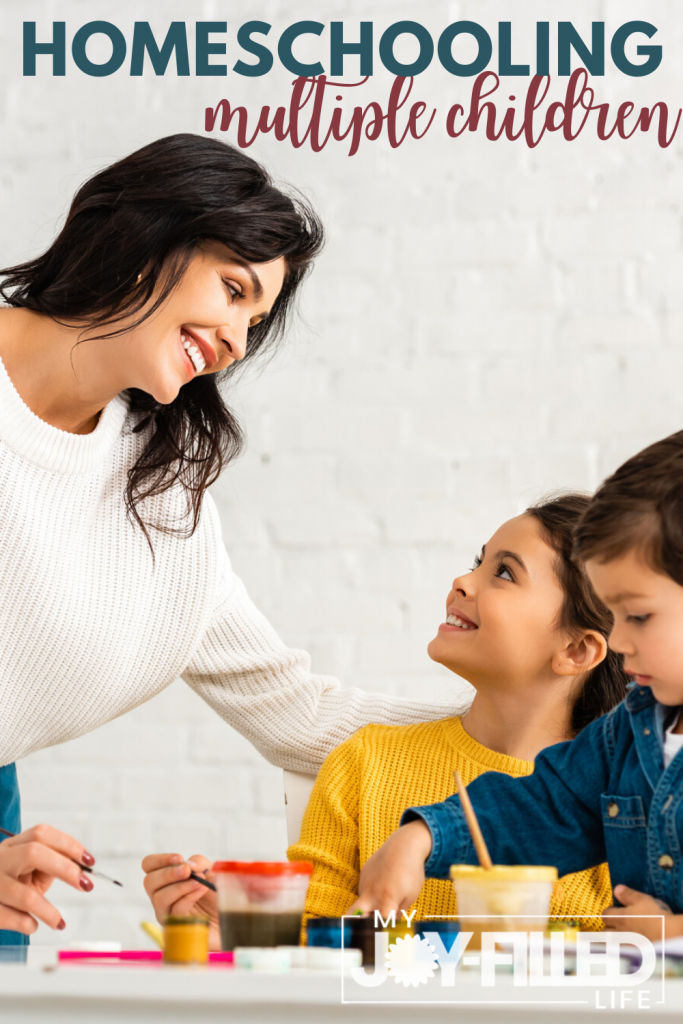 Homeschool Tip #1: Morning Time Together
For me, morning time together is the glue that builds good relationships between my kids and me. Morning time allows me to cover whatever is important to me at the time. It allows flexibility and creativity. Family time encourages a love of learning.
How so? During Morning or Family Time, I block off an hour to spend as a family. Generally speaking, this allowed us 30 minutes to read aloud and 30 minutes of various activities. That may sound too broad for you, so let me share what we included. Our activities varied, depending on what my goals were each year. These activities included:
Hymns– Sing hymns since our church at the time did not sing hymns
Poetry Reading– Each child chose a poem to read aloud
Art Appreciation– Use simple art books with famous paintings & sculpture
Bible study– Once a week, we discussed our kids' Bible study
History– Once a week, we discuss our historical time period
Morning time simplified our homeschool so that homeschooling multiple ages became much easier. Since we all studied together during that hour, I didn't have multiple lesson plans. I also covered what was most important to our family that year. Many times this included areas not usually covered in a curriculum. You can read more about our Morning Family Time on my website.
Homeschool Tip #2: Read Aloud as a Family
Another strategy I used to homeschool multiple ages was to start our day by reading aloud.
I didn't start homeschooling this way, but I made a huge change after our first year of homeschooling. I moved read aloud from the afternoon to immediately after breakfast. Why in the world did I move read aloud to the beginning of the day? Two reasons, actually.
First off, whatever we do first thing in the morning is most important. If you do math first, it's most important. I wanted my kids to love reading and love learning, so I moved it to the first thing we did after breakfast. We already had our Bible devotions at breakfast, so reading aloud was the next most important activity in our homeschool.
The second reason revolves around a sad story during my first year of homeschooling. During that first year of homeschooling, I read aloud after lunch. Any guesses what happened? By the time I finished lunch, I was sleepy. I'd been up early and needed a power nap. Instead I read aloud and fell asleep. I had to ask one of my daughters to finish reading. Falling asleep while reading to my kids is not the example I wanted to set. I wanted my kids to love reading, to love learning . . . not think reading is boring and puts you to sleep. I changed our homeschool daily schedule to make reading aloud together the first activity of our homeschool each morning.
What is your benefit to reading aloud together? Reading together allows you to homeschool everyone at the same time. Even your toddlers can participate. All can listen to the story. After the story, you can have your children complete language arts activities, such as copywork, narration, or reading journals. But most of the time, we simply enjoyed reading a story together.
To make this work, please don't make your kids sit on the couch like perfect angels during read aloud time. Sometimes we folded laundry. Sometimes we played with building blocks. Sometimes we drew. I gave my kids freedom to do a hands-on activity, as long as they were quiet and listened. For myself, I listen better when my hands are doing something. So, I allowed my kids to do something quiet while we read aloud.
Homeschooling Tip #3: Combine Ages
As you can see, I believe it's important to homeschool multiple kids together as much as possible. I continued grouping beyond read aloud and Family Time. I realize this might not be possible at times. Be as creative as you can to reduce the craziness in your homeschool. Over the years, I grouped my kids in several areas. How did I do it?
Unit studies allow all of your kids to learn together.
Let's use the topic of the American colonial period. Your older students might read The Scarlet Letter, while your younger children might read Sign of the Beaver, The Witch of Blackbird Pond or Toliver's Secret. I could go on and on with book suggestions, but I'll leave you with those three. You might read aloud one of my favorite books, Johnny Tremain. In other words, each child reads a book on their reading level and you read together a book of mom's choice. From there, add activities your family can do together. A few examples include:
Writing: Younger students write a 1-paragraph about colonial life
Writing: Older students can write a 5-paragraph paper about an American hero
Writing: Create an American Colonies newspaper
Science: Study the printing press and how it works
Science: Make soap, candles, or stained glass
Science: Make a trebuchet
Music: Listen to Classical Kids
Copywork: Copy sections of the book the child is reading
Fun: Play games from the colonial time period
Fun: Watch the Johnny Tremain movie
Our Unit Study Tool Kit provides the tools you need on how to create homeschool unit studies, based on your kids' interests. There are so many ways you can combine ages in your homeschool. Our favorite subjects to combine ages were History, Literature and Science.
Homeschooling multiple ages doesn't need to drive you crazy. It really is possible to homeschool more than one child. My suggestion to you is to choose one idea, and only one idea, from this list. Try it out for the next few months. Once that strategy becomes a habit, you can add another strategy to homeschool multiple ages. Please, don't try to do everything listed here. Choose only one right now. After you're successful with one idea, try another. Give yourself time to be successful.
Which one tip will you use as you homeschool multiple kids?
Thank you to our featured sponsors! 
Don't forget to check out ALL of the helpful posts in the series
and enter the giveaways (over $2000 worth of prizes)!
>>> CLICK HERE <<<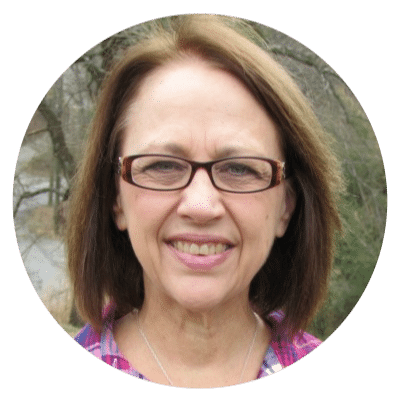 Kerry Beck helps you get past the perfect Pinterest, Instagram or Facebook image and get on to real life…real life ways to inspire your kids to grow in Christ and love learning. She wants to help you inspire your kids to love learning, giving them a superb, Christian education . . . where they will think critically & Biblically. You can connect with Kerry at her How to Homeschool My Child blog and at Mom's Monday Lunch Bunch weekly Facebook Live. She also hangs out at Facebook, Pinterest, Instagram.