Life skills. There are so many that we need to be teaching our kids. One of the most important and most practical ones is cooking and preparing meals.
Creating independence in our kids when it comes to cooking can be so helpful to any mom. Most parents likely are preparing three meals a day, seven days a week for their kids, so any time a child can prepare their own meal (and perhaps for other siblings as well), it's super handy and helpful for mom and dad
Most kids can start preparing simple meals around the ages of 8-10 (depends on the child's abilities, maturity level, and meal being made). Preparing breakfast or lunch is a great place to start when teaching kids cooking skills – these meals are typically much simpler and less involved than dinner.
If you're a homeschool family, or a family with kids at home doing online school, it can be helpful to have children prepare lunch during the day. This will take one more thing off your plate (pun intended) that you don't have to worry about.
Below you'll find a dozen lunch ideas that most 10-year-olds will be able to prepare on their own (or with minimal help and supervision). Many of these don't even require any actual cooking; you'll find quite a few cold lunch ideas for kids below. You might have to help them make it once or twice, but after that, they should be good to go. Of course you know your child best and ultimately you need to decide which recipes they can make and which appliances they are able to use.
Psst! Looking for more family-friendly recipes? You might like these Instant Pot Recipes Kids Love!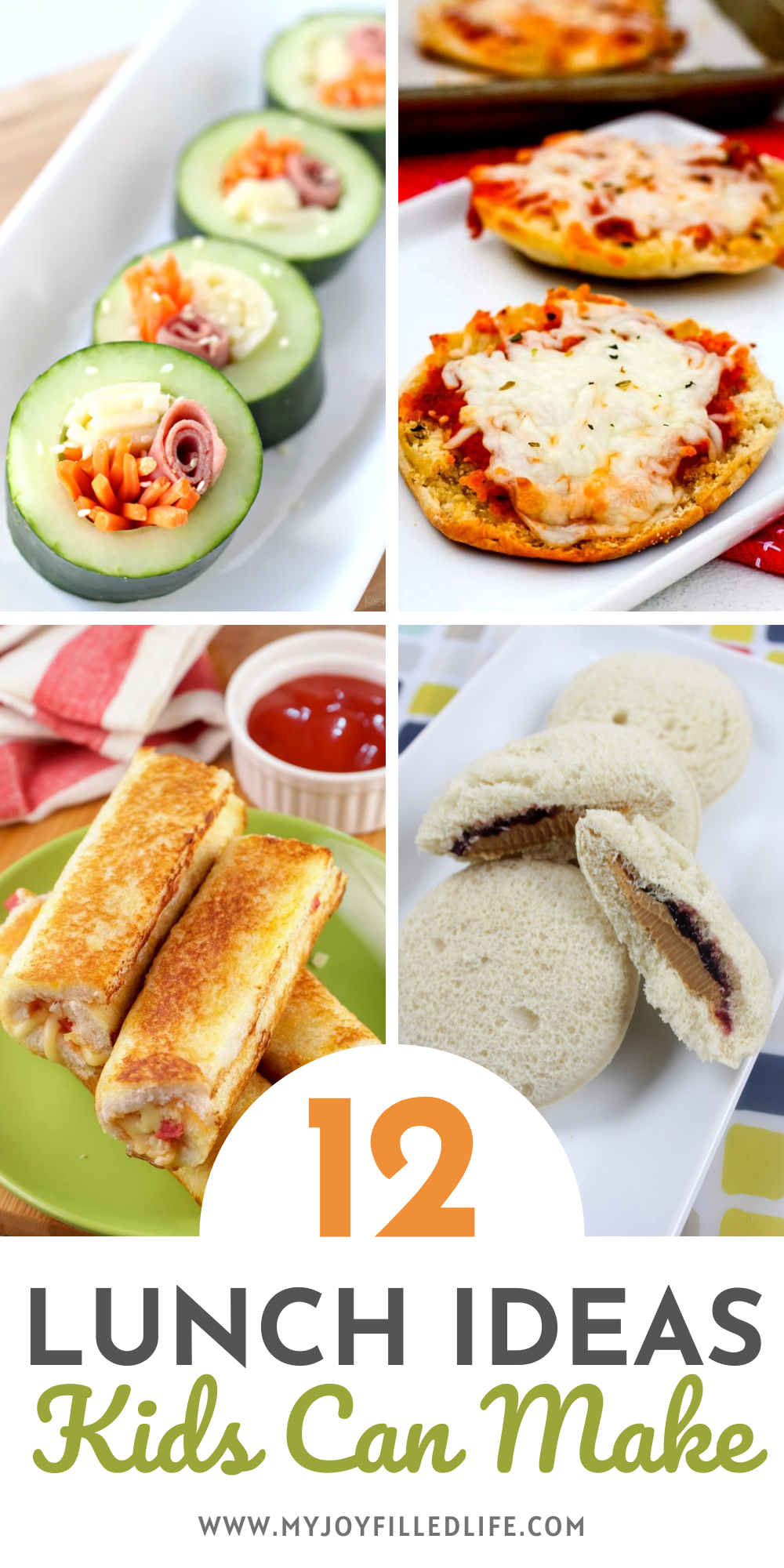 Homemade Uncrustables from My Joy-Filled Life
Peanut butter and jelly is a lunchtime favorite. Making your own uncrustables is so easy and much more affordable than the store-bought version. Plus you can choose your own peanut butter and jelly and make a much healthier version. And you can make them ahead of time and freeze for later.
3-Ingredient Chicken Salad from Babaganosh
You only need three ingredients for this simple chicken salad recipe. Put it between your favorite bread, inside a pita, or on some crackers and you have a quick and easy, no-cook lunch.
English Muffin Pizzas from Easy Budget Recipes
Making pizzas on English muffins is just brilliant! It's probably one of the simplest ways to make pizza without all the fuss of dough. So simple that kids can make it. I remember making these when I was a kid.
Chicken Parm Bites from Fresh Simple Home
Spice up boring chicken nuggets by making them into little chicken parmesan bites. It's like the kid version of the Italian favorite. Kids love them. Heck, adults do too!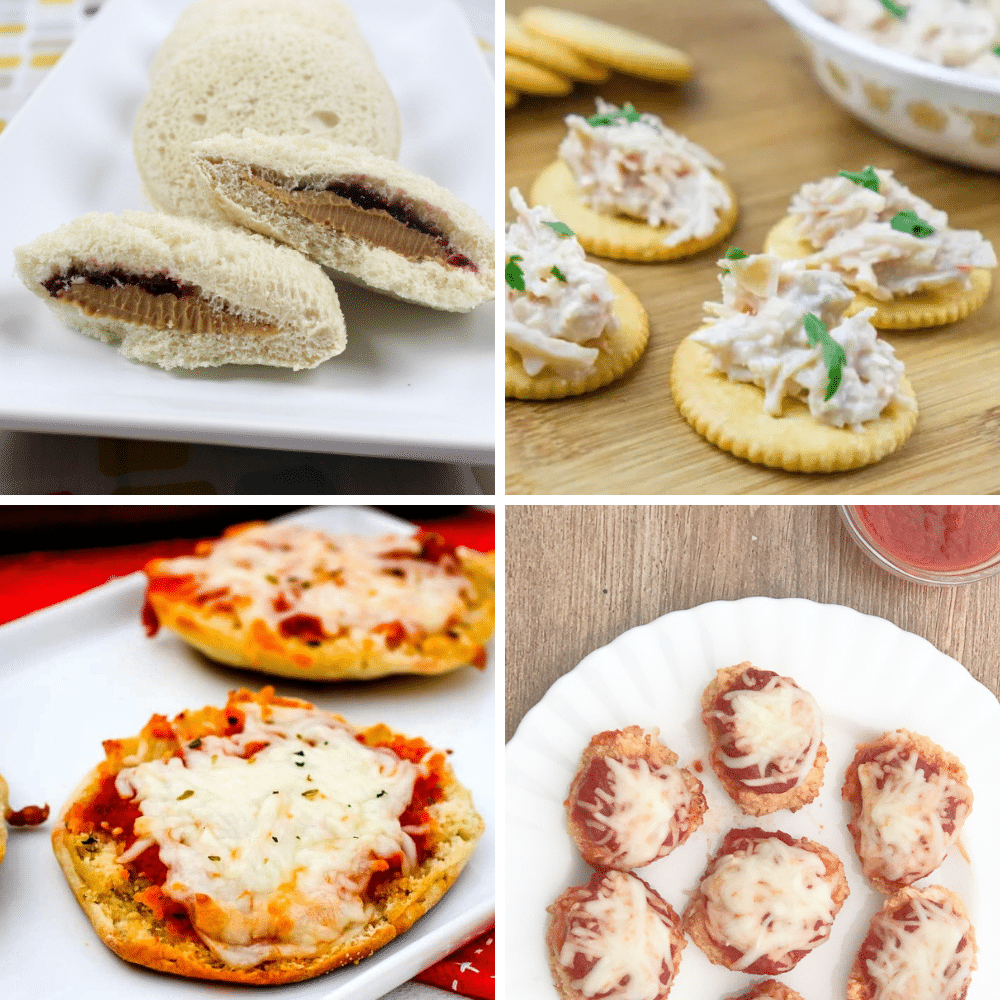 Ham and Cheese Pinwheels from Whisk Affair
While these make a great appetizer, they also make for a great kids' lunch. Instead of a ham and cheese sandwich, which can get old after awhile, make ham and cheese pinwheels instead.
Air Fryer Grilled Cheese from Skinny Comfort
Another kid favorite lunch – grilled cheese! Here is an easy way to make it in the air fryer – so crispy and cheesy! Yum!
Pizza Roll-Ups from Kimspired DIY
Another fun take on pizza. This is a cheap, easy-to-make lunch idea that kids love! Another great make-ahead lunch too.
Cucumber Sushi from Raising Whasians
This is a fun, healthy lunch idea for kids. Your kids can customize their cucumber 'sushi' rolls with their favorite lunch meats and cheeses.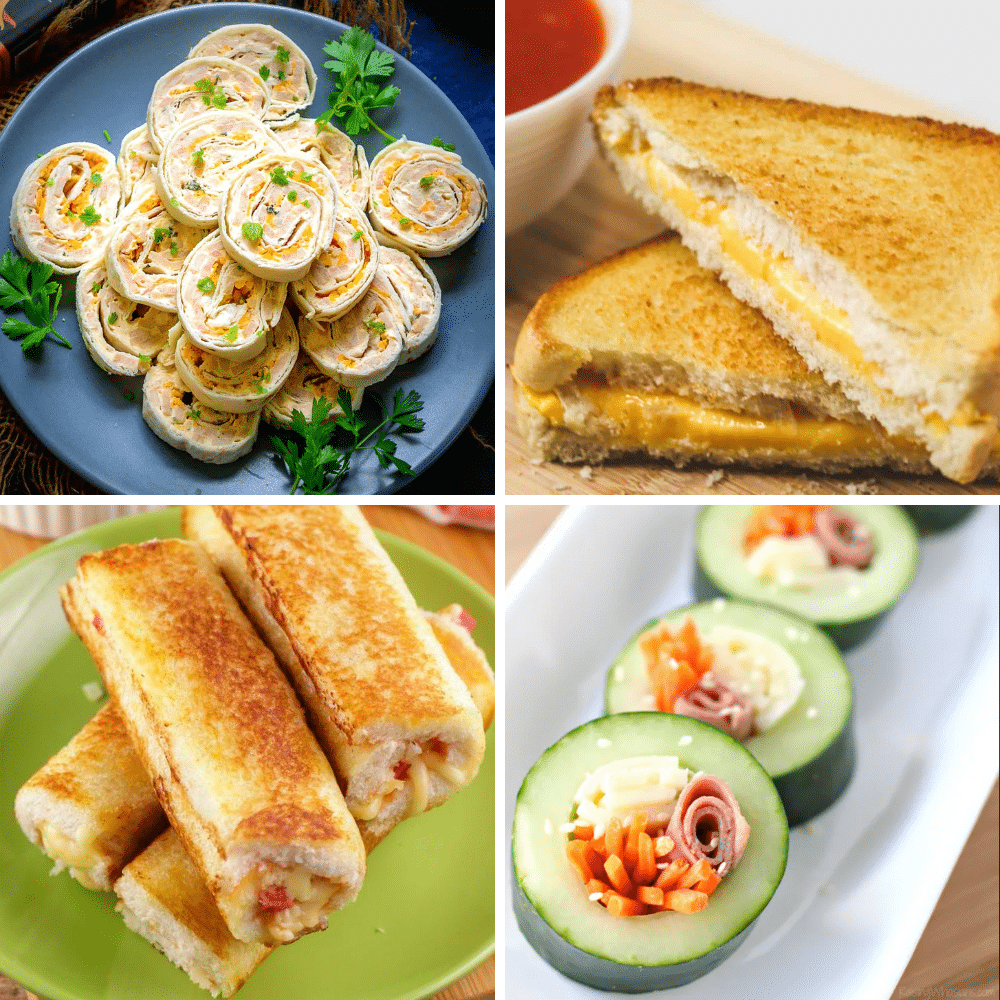 Mini Corn Dog Muffins by Eating on a Dime
This is another great make-ahead lunch idea. It's also a great lunch option for when you're on-the-go. Using a cornbread mix makes it super easy.
Buffalo Chicken Flat Bread Pizza by Hezzi-D's Books and Cooks
Another easy way to make pizza is with flat bread. But this pizza mixes things up with a buffalo chicken pizza instead of the traditional kind. Using your air fryer and breaded frozen chicken to make it even easier.
Turkey, Apple, and Cheese Kabobs from Crayons and Cravings
There is just something about eating your food off a stick that makes it taste better and makes it more fun. You can't get any easier than these lunch kabobs.
Pizza Bagels from Fantabulosity
Pizza bagels are the best! These are loved by all – kids and adults. Make them mini, or make them regular size. Any way you make them, they are easy and delicious!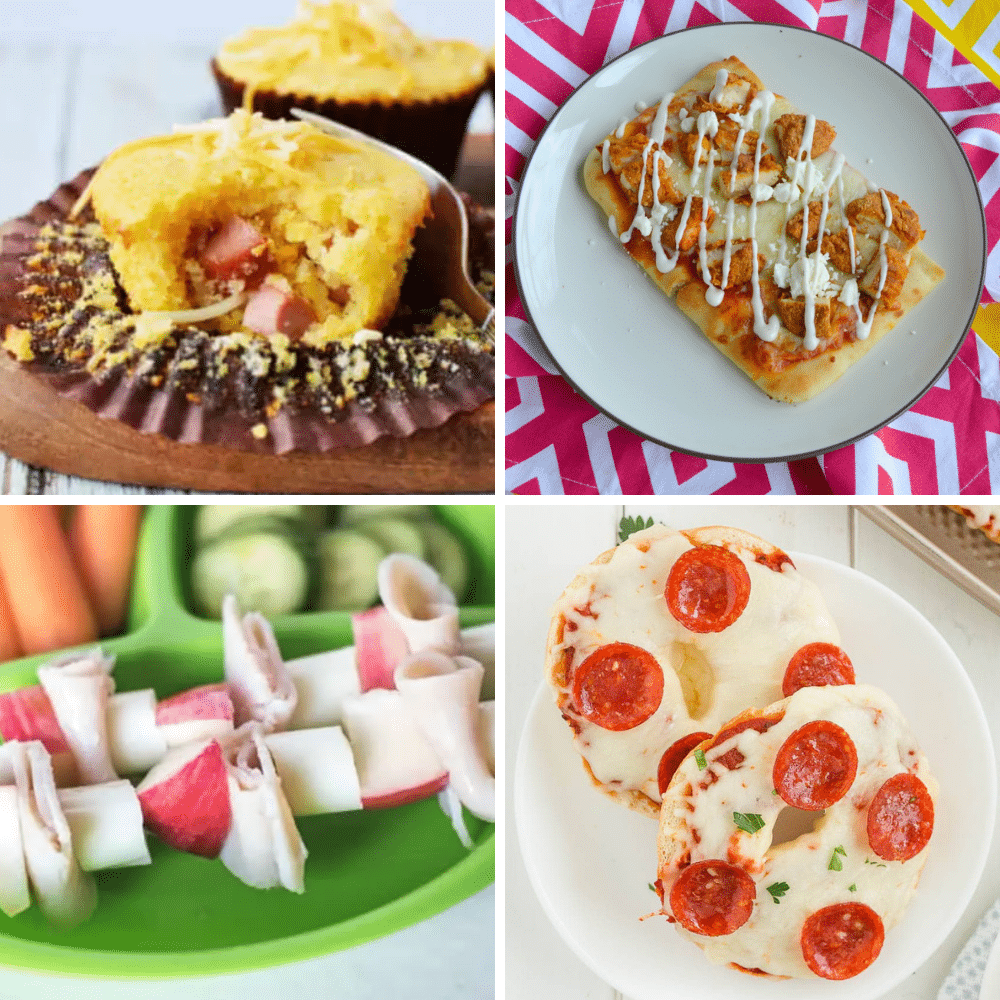 What are some lunch ideas that your kids can prepare?
Please share your ideas in the comments with us!