Be sure to enter the BIG $200 gift card giveaway at the end of this post (4 winners)!!
It took our family a L-O-N-G time to give in to the Elf on the Shelf tradition and shenanigans. A long time. After watching my sister for years share on social media all of their elf happenings and findings every morning and seeing so many cute elf scenarios on Pinterest, I decided to give it a try.
I bought our elf after Christmas on clearance several years ago. I wasn't going to pay full price for that thing. I packed it away and hoped I would remember to pull it out in time the following year.
Thankfully I did remember. I pulled him out well in advance because I wanted to start brainstorming ideas that focused on Christ. One of the main reasons I resisted the elf so long was because it did seem to distract from the true meaning of Christmas. So I thought, surely we can have fun with the elf and still keep our eyes on Jesus.
Now I don't stress about setting up a new elf scene every day. I don't have the time or brain space for that (although now that we have been doing it a few years, I do need to come up with some new ides. *SIGH*). And sometimes I just do something simple; sometimes just moving him to a new spot in the house and the kids have to find him.
So if you're looking for a way to make the Elf on the Shelf tradition a Christ-centered tradition, I came up with ten ideas you can easily set up in your home and I made a printable to go along with each one. If you're still not crazy about Elf on the Shelf, there are quite a few neat Christian alternatives to Elf on the Shelf.
Here is one of the Christian Elf on the Shelf ideas I came up with – Be Kind to Everyone – Random Acts of Kindness.
Christmas is the perfect time to encourage our kids to perform random acts of kindness. And the elf can help with that! This is a great way t0 get our kids in the habit of doing kind things for others on a daily basis, and hopefully they will continue (we'll likely have to prompt them here and there) even after the Christmas season is over.
This one is a reminder for us to be kind to everyone. It suggests making a Random Acts of Kindness jar to help you be more intentional in the kindness department – any jar will do – glass, plastic, whatever you have on hand.
Here's how we set up this elf scene….. I created a printable with small cards with a random act of kindness on each one. Then I printed them out and put them in an old mason jar. Then I simply set him out on the counter with a little note. Here is what the note said –
God wants us to be kind to everyone – our family, friends, strangers, and even our enemies.
We can show kindness in our actions towards others, which in turn shows our love for them, and for God.
Kindness is something anyone can express, as it doesn't have to be some elaborate gesture or an expensive act. You just have to choose it and be intentional. Simply smiling at someone that looks lonely or holding a door for someone whose hands are full are acts of kindness.
God pours out his kindness upon us and we in turn should embody that character quality in our lives toward others so that we can be a light to those in the darkness.
The note then suggests making a random acts of kindness jar and ends with a scripture to focus on or memorize. There are lots of ways and ideas on how to make your own jar, along with lots of random acts of kindness ideas online. Pinterest is a great place to look.
Be sure to use this elf set up towards the beginning of the month so that they can be performing random acts of kindness all month long.
If you'd like, you can get the printable of the Be Kind to Everyone note and Random Acts of Kindness cards, along with nine other Elf on the Shelf printable notes and ideas, by clicking the button below.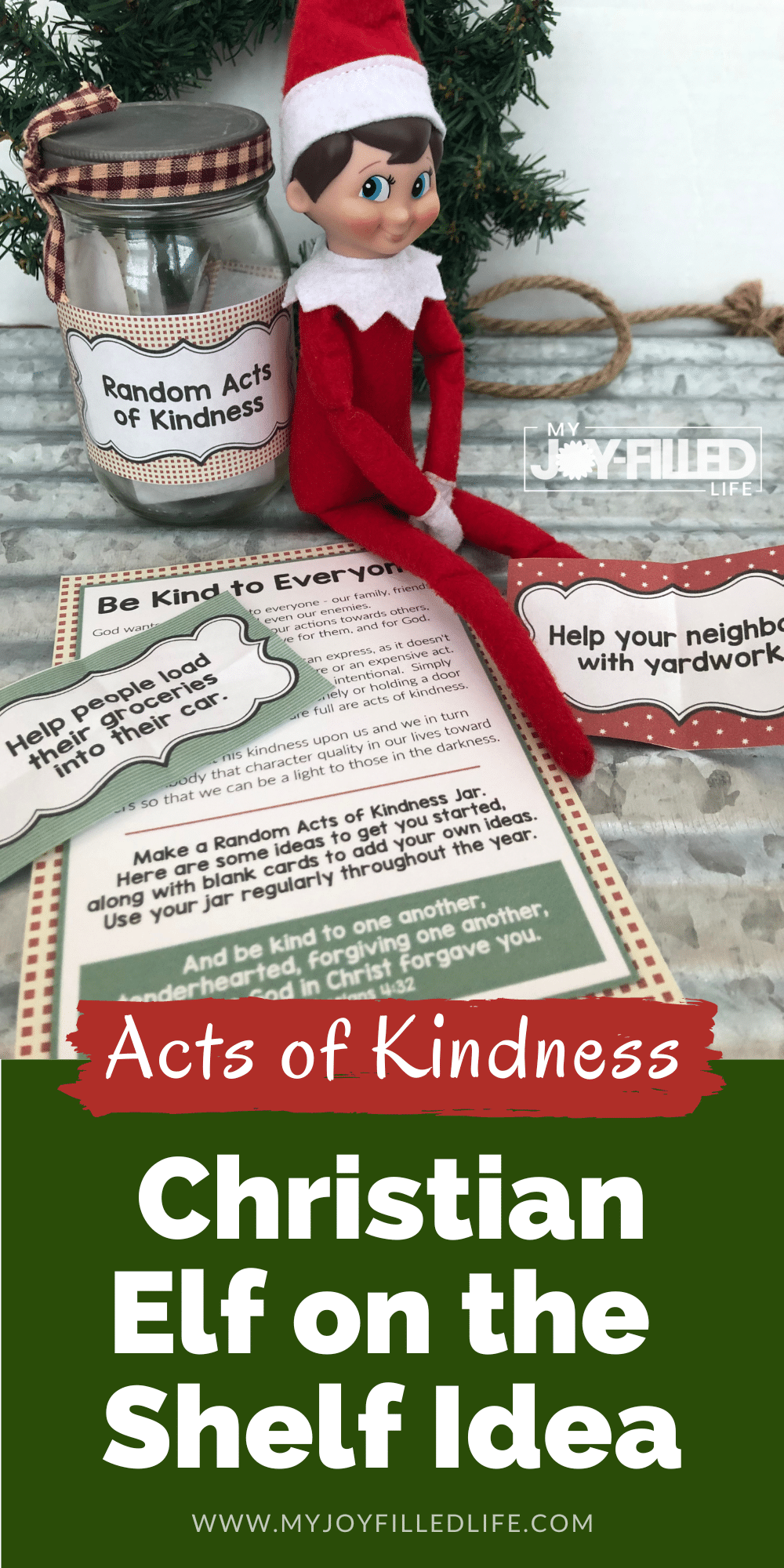 ---
GIVEAWAY TIME!!
Christmas came quick this year!! At least it feels that way when everywhere you turn there are signs of Christmas all around, yet we haven't even gotten to Thanksgiving yet. It seems the Christmas season starts earlier and earlier every year. It IS the most wonderful time of the year after all, so why not celebrate for as long as we can, right?!
To help celebrate this Christmas season, I'm teaming up with a group of amazing bloggers to bring you the 10th annual Christmas Blessings Giveaway!! I can't believe we have been blessing families for TEN years!! We all love doing this and we look forward to it every year! While the giveaway has changed and evolved a bit over the years, many of participating bloggers have stayed the same – so many generous and dedicated women are behind this giveaway.
This year we will have FOUR winners!! Each winner will get a $200 gift card to wherever they choose – a restaurant, clothing store, grocery store, online retailer – any place that offers gift cards!
There are lots of entry options in the Rafflecopter form below – the more you enter, the better your chance of winning! I know it can seem tedious and time consuming to go through all the entries, but isn't a chance at $200 worth it? I think it is! Plus, all of these amazing bloggers donated their own money towards the prizes, so this giveaway wouldn't be possible without them. I hope you'll take the time to check out each one. Who knows, maybe you will find some new blogs to follow.
The giveaway will run from Monday, November 13th through Wednesday, November 22nd (ends at 11:59pm ET). Winner will be notified by email shortly after the giveaway ends and will have 48 hours to respond to claim the prize or another winner will be drawn. By entering this giveaway, you agree to be added to the email lists of the participating bloggers. Please be sure to read the Rafflecopter terms and conditions upon entering.