If you've been looking for ways to encourage random acts of kindness with your kids, you're going to love this do good jar! It's the perfect way to introduce children to doing random acts of kindness in their daily lives. We have even included a free printable tag you can use for your jar!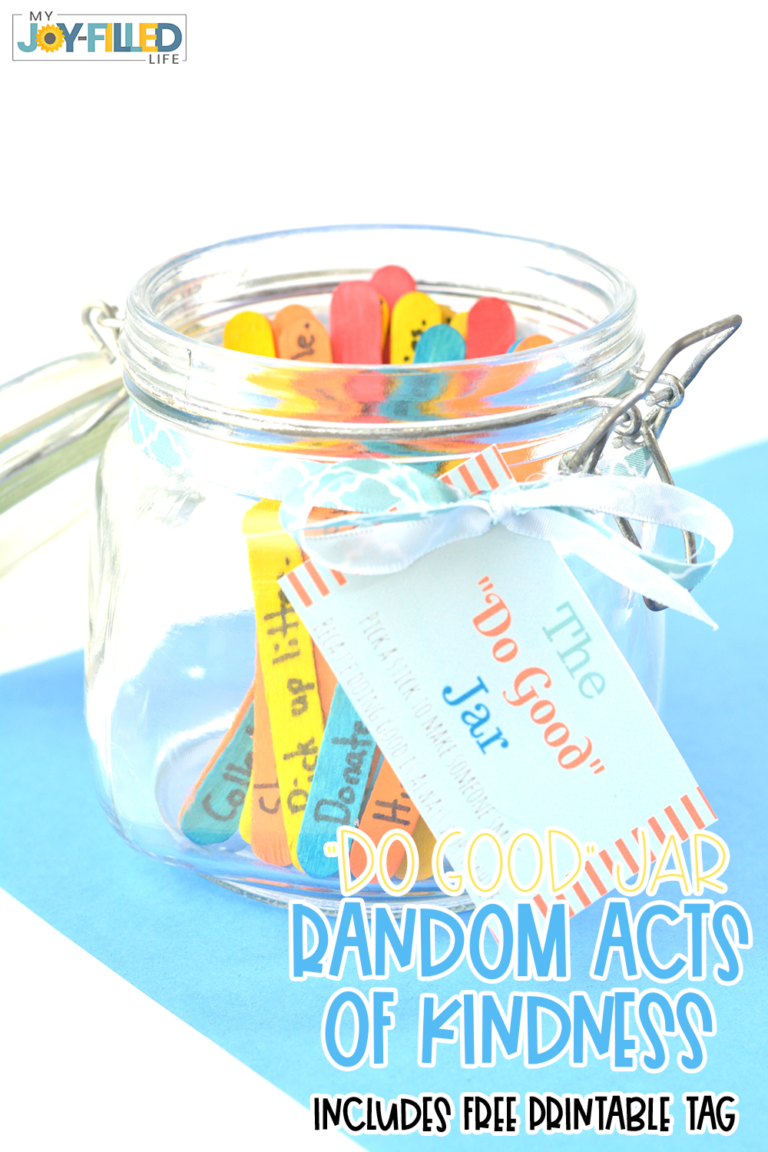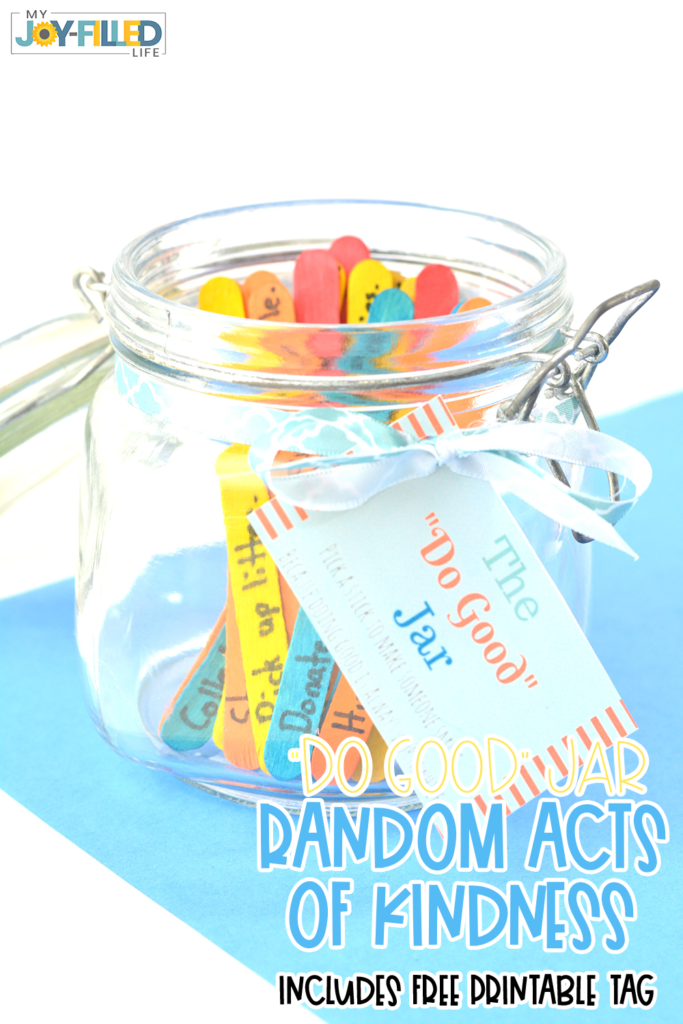 Instilling the value of kindness is an important one we don't want to overlook. Sometimes it can be a struggle figuring out how to really encourage it. We have found that this do good jar is a great introduction! Once you make the jar, they just grab a stick and are on their way to doing something to brighten someone's day!
Scroll down below to get started making your own do good jar for some random acts of kindness below!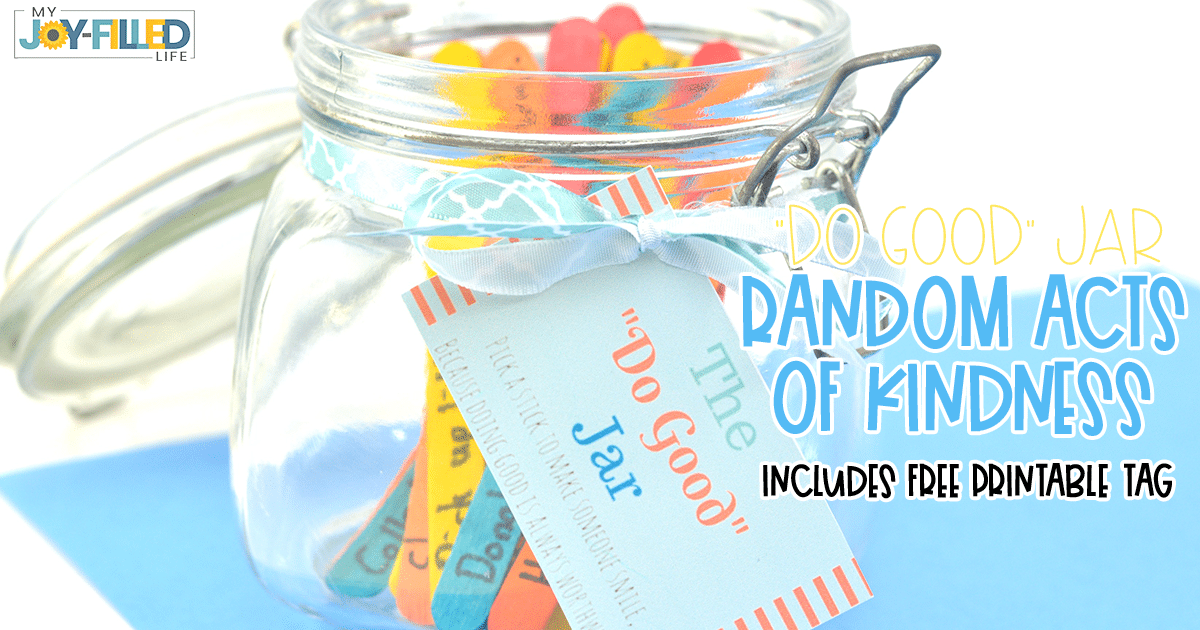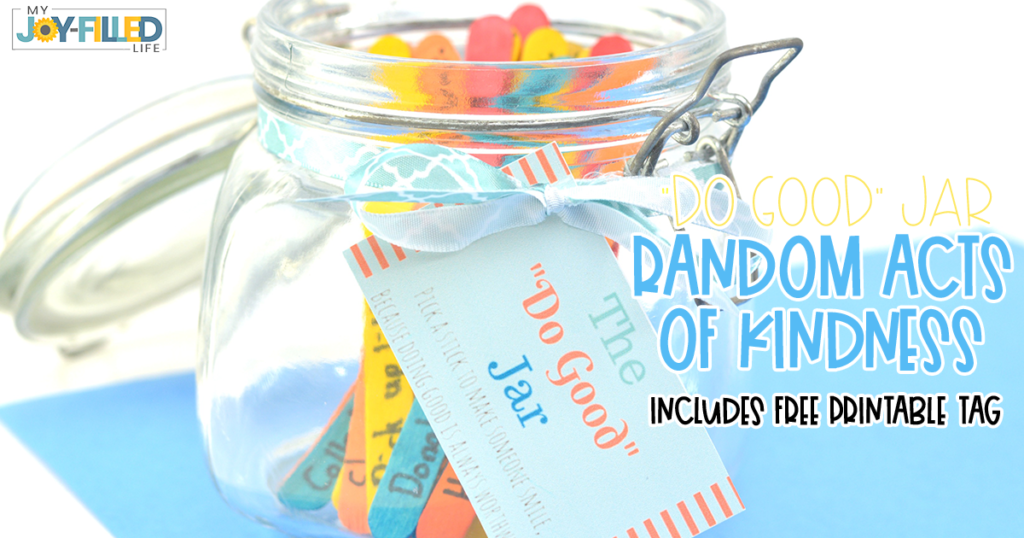 Random acts of kindness jar supplies
Glass jar
Popsicle sticks – colored ones are more fun!
Markers
Twine or ribbon
Scissors
Hole punch
How to make a random acts of kindness jar
Before you get started, you'll want to gather up all your supplies in front of you. Make sure to download and print the free printable tag as well!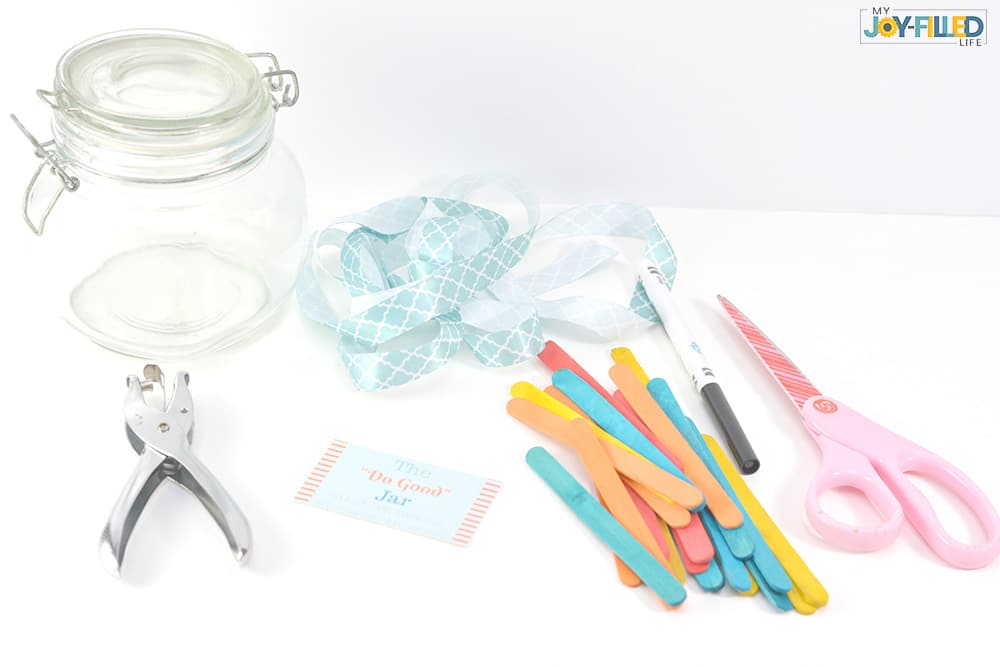 To get started, start a list of different deeds and acts of kindness that your children can do to serve others – big or small. You can come up with ideas for them to do for just immediate family members, or you can expand to close neighbors and strangers. Have them brainstorm their own ideas first and then you can help fill in any gaps if more ideas are needed.
Here are some to get you started if needed:
Bake a treat for a neighbor
Tell a joke to make someone smile
Pick up litter
Hold the door for someone
Share one of your toys
Donate old toys and clothes
Collect canned food for donating
Help make dinner
Hug your sibling
Say something kind to someone
Write a kind note to a friend
Volunteer at the animal shelter
Take soup to someone that is sick
Make a gift for your teacher
Take flowers to someone
Help someone with their groceries
Hug your parent
Do a chore without being asked
Send a postcard to someone
If you would like even more ideas for your jar, here are 100 acts of kindness for kids to inspire you.
Note: if you opt for strangers as well, make sure to have a talk about safety and make sure they understand your rules to keep them safe!
Grab a black marker and write down your small acts of kindness and good deeds onto your popsicle sticks, writing one per stick. Once you're done, place your sticks into your jar.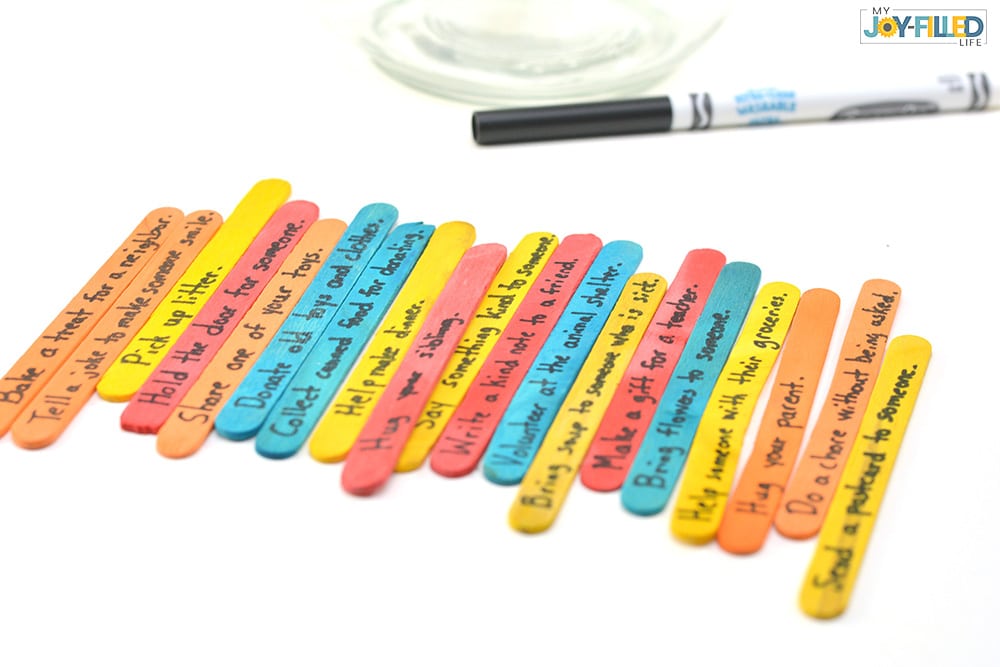 Next, cut out the free printable tag and punch a hole into one end of the tag.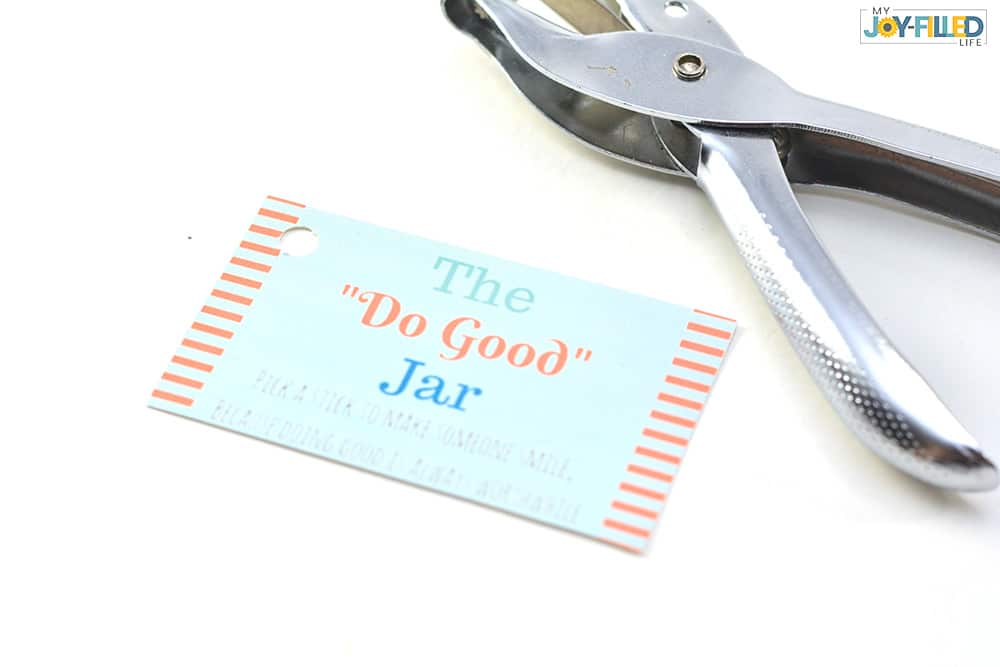 Then, thread a piece of ribbon or twine through the tag and tie it onto your jar. Select an interval of how often you'd like to have your child choose a stick from the jar to brighten someone's day and over time watch it turn into a lifelong habit!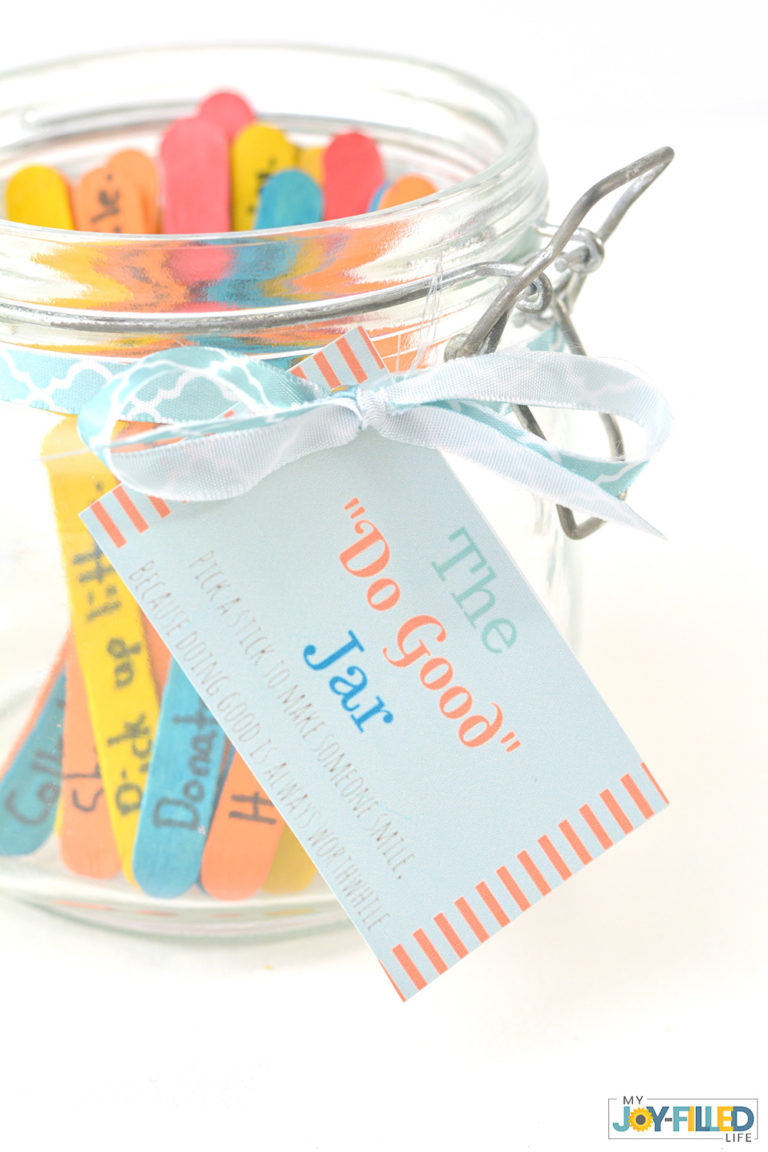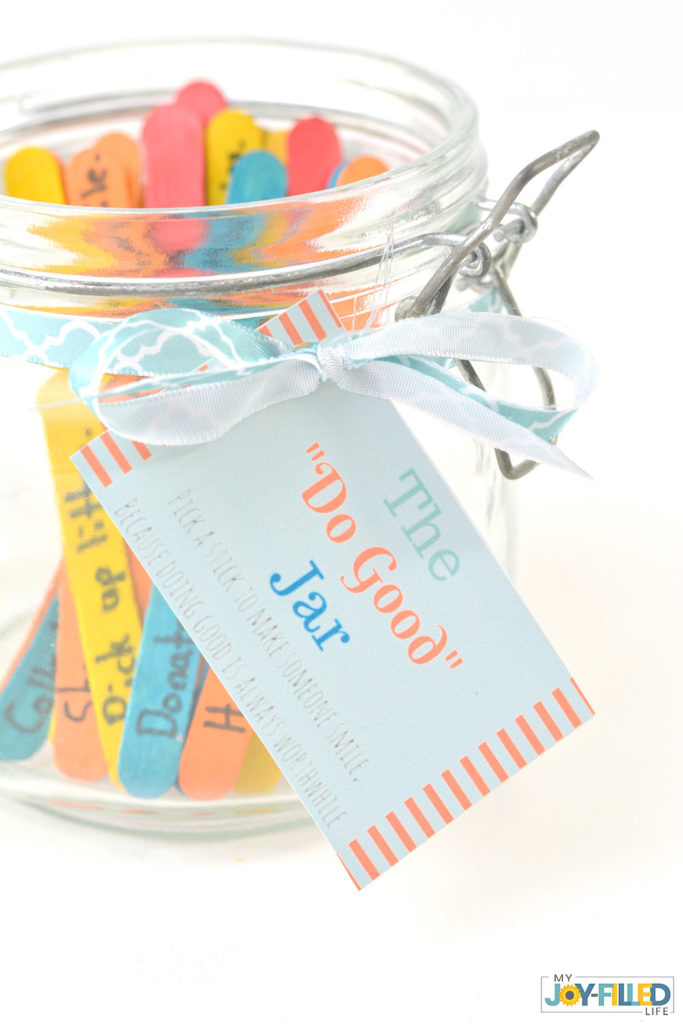 You may also like: