In my last post, I wrote about how much I love random acts of kindness, especially when times are hard. Unfortunately, it looks like times have only gotten harder since then. Police officers, in particular, are being targeted for violent crimes.
As a LEO wife myself, it's really hard to see these stories on the news. It makes me scared, and it makes me angry. My articles about dealing with fear and anger as a police wife have gotten insanely popular, which is both exciting (as a blogger who wants to know I'm making a difference) and heartbreaking (as a LEO wife who understands why they're becoming popular). It tells me that the police and their families need our support more than ever now.
I've recently been getting a lot of texts from friends and family who are also troubled by the current climate. They want to know how they can help, because they're not sure how to make things better. It makes me so happy that they want to help. Their kindness lifts my heart and makes me feel like the police aren't quite as up against it as they appear.
The trouble is, the police are in a perilous position. The recent targeting of police officers means you can't really bake for them, since they don't know you and it'd be easy for you to slip something in. That would have to You also don't want any of your good deeds to come off as bribery. Then, of course, cops are typically on the move, so who knows when you'll see one to help out?
I'll admit, I had trouble thinking of ideas, too. Nonetheless, I came up with a few ideas for those who want to help make a difference, because being a source of light is the best way to dispel the darkness.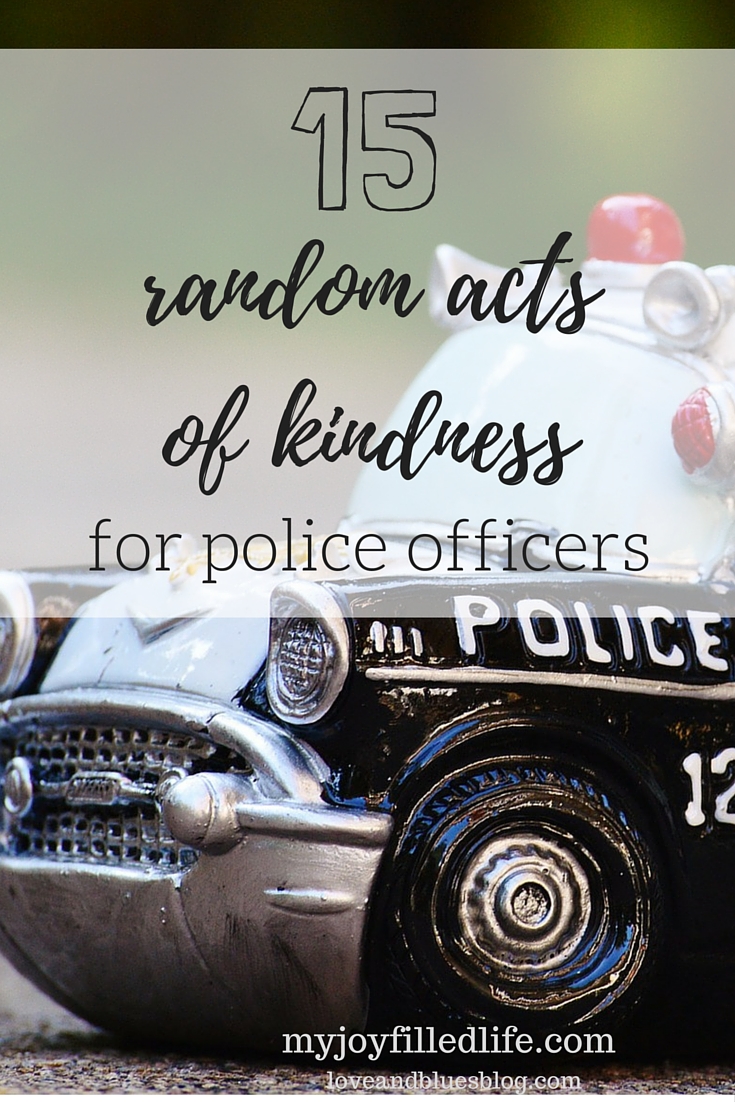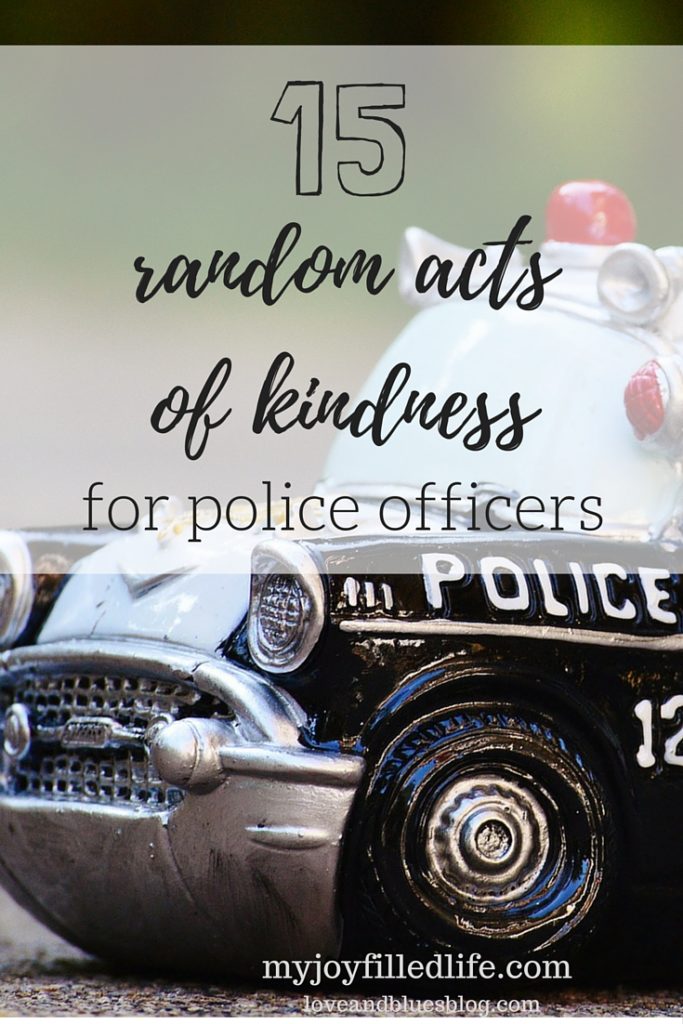 15 Random Acts of Kindness for Police Officers
Pre-pay for a treat. One idea is to go to a local donut shop and ask if you can pre-pay for a dozen donuts for the first officer who comes in. It's a nice surprise for the officer who receives it, plus they don't have to worry about the food having been tampered with, since it's coming straight from a store.
Donate to the National Law Enforcement Officers Memorial Fund. The website is here. They also have information about events to support the fund, like 5Ks.
Pay for their order at a restaurant. If you're at a restaurant and a police officer is eating there, too, ask for their check and pay for it. If that's not in the budget, have the waitress send a dessert and add it to your check
Write letters of appreciation. Who doesn't love getting letters? This is a great family activity. You can write letters, help older kids write letters (and teach them proper formatting for letters!), and let younger kids who can't write yet draw pictures for their local police officers. This is a good opportunity to explain to your kids how the police help us every day.
If you have a police officer neighbor, help them with a chore or two. I heard a story the other day of a teenage boy who decided to mow his neighbor's lawn. He left a note telling him how much he appreciates his service as a law enforcement officer. I thought it was so sweet! You could use this example and mow the lawn, water the lawn, or help pull weeds.
Vote in favor of police when they ask for money from taxes. Nobody likes paying taxes, but this helps them by giving law enforcement better funding with which they can buy better equipment. This keeps them safer and more likely to be able to return home to their families.
Bring treats. Now, you can bring them treats, they just can't be homemade. The best things to bring are small and individually wrapped, like Hershey Kisses, lollipops, or even a case of soda.
Speak kindly of police officers. Even those who pull you over. Be a good example for your kids, and help them to remember that they're people too, with family and friends who love them.
Choose to support businesses who are pro-police and avoid those who are anti. Vote with your dollar.
Pre-pay for dry cleaning services. If there's a dry cleaning service nearby you know a lot of cops use, pay for the service in advance if they'll let you.
Mention good deeds, even the mundane. Good cops aren't just the ones who make the news for buying homeless people groceries or helping people with tickets. Good cops are those who leave their families and go to work to protect yours. Be sure to mention when you see or hear about a good deed they've done, even just preventing a negligent driver from hurting others.
Pray for local law enforcement. It's possibly one of the most powerful things you can do, and it's absolutely free.
Drop off non-food gifts. If you like to knit, why not make some hats for your local department? You could also make crafts with your kids, like handprints that say "high-five for cops!". Get creative!
Take care of their families. If you have neighbors who are police officers, do something nice for their spouses and families. Drop off a new toy or two with a note of appreciation.
Share good news about cops on social media. Combat the negative with positive.
Police officers go through so much just on a day to day basis at their jobs. They see the worst of humanity, the most depraved, and they do so at risk to their own lives. Kudos to you if you want to help make a small difference in their days, and thank you!
In the interest of positivity, what's the nicest thing you've seen a police officer do?
Save
Save
The following two tabs change content below.
Leah is a blogger at
Love and Blues
, where she writes about strengthening first responder marriages and their families. When she's not busy writing, she's chasing around her very active one-year-old little boy, who just adores his LEO daddy. In her spare time, she can be found reading, running, knitting, working in the garden, or very occasionally, baking. She lives in beautiful Salt Lake City with her family.