One thing I just love about my little boy is how excited he gets every time he sees a fire truck or police car. He gasps and yells "wee-oo! Wee-oo!" And the time a police officer stopped while we were walking and gave him a sticker? He was in heaven.
What I love about his excitement over them (besides the fact that it's super cute) is that I'm glad he recognizes there's something different and special about them (even if that's just the siren and lights :)) As a law enforcement family, I can only hope that excitement will blossom into an appreciation and recognition for all first responders do.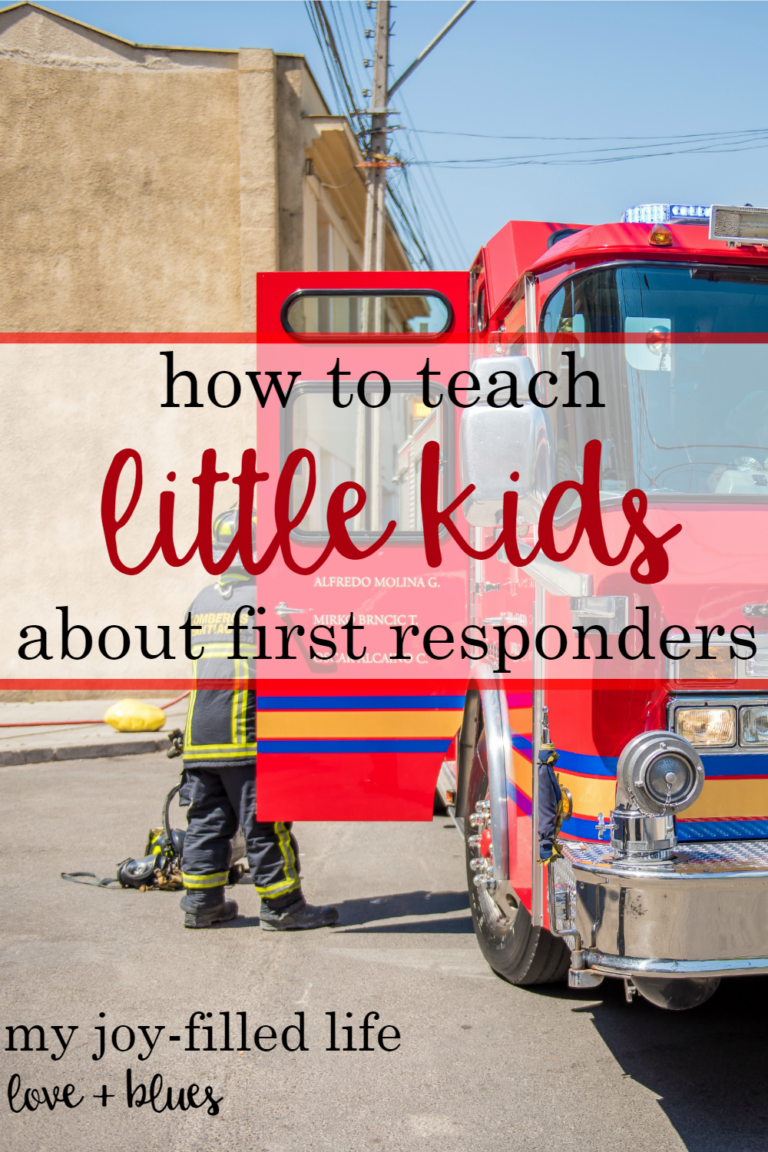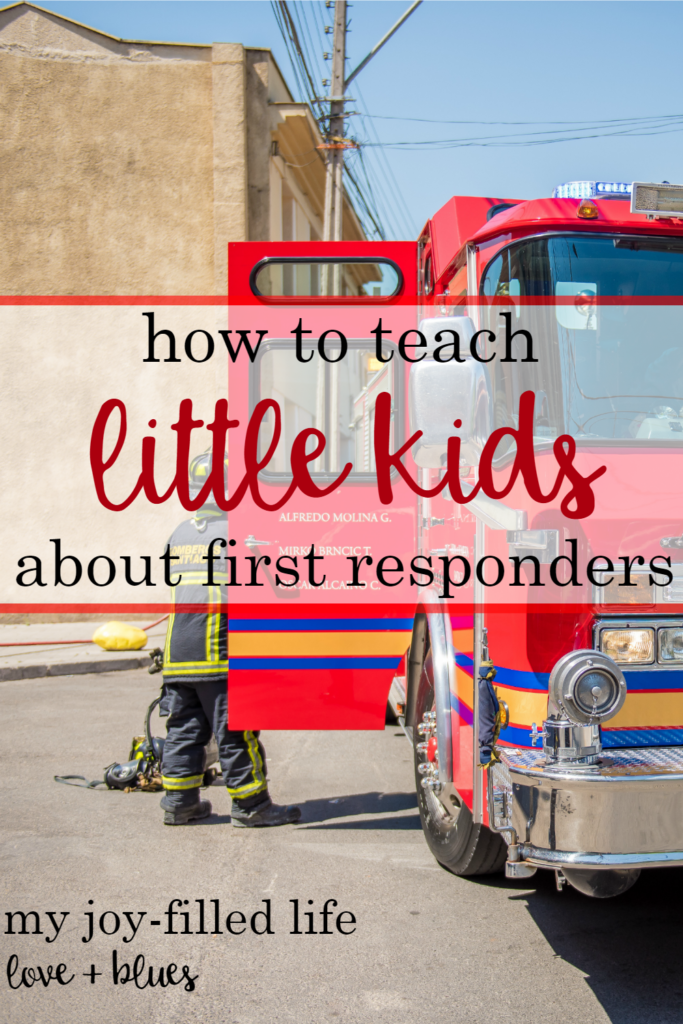 That gets me thinking about how I can teach him more about our local first responders. It's a hard thing to do, because a lot of the important jobs they do are also really scary. I don't want to make him afraid, but I don't necessarily want to shelter him, either. Toeing that line can sometimes be a challenge.
I also think that it's really important to teach kids about first responders. Not only to help them feel more grateful for what they do, but also so that they recognize them as a safe presence during an emergency.
So how can you teach your kids (especially the youngest ones) about first responders?
3 Ways To Teach Little Kids About First Responders
Take them to meet local first responders.
Meeting local first responders is a great way to help them understand that they're not nameless, faceless social servants. They're human beings with lives and families who care about their community.
A lot of cities hold safety fairs where you can meet first responders and learn about preparing for an emergency, including the use of AEDs. You can check this link to learn about types of defibrillators. A quick Google search should help you find one in your town. Of course, if there isn't one, you might consider petitioning to start one!
You could also plan to make a special trip to the local police/fire station with a (non-homemade, individually wrapped, or non-food) treat to say thank you. This makes it even more fun, because your kids will have the opportunity to serve them and put a smile on their face.
However you choose to do this, encourage your kids to ask lots of questions (time permitting, of course.) You might consider writing them down in advance just to help keep them on track.
Also, if you can arrange a time with the local fire department, it's a good idea to have your kids see firefighters in full gear. That way, if there is a fire, they won't be scared and try to get away which could put them in more danger.
Explain what they do.
There are so many opportunities in a typical day to point out first responders and talk about what they're doing.
For instance, when you pull to the side of the road for lights and sirens, explain why you're doing so, and why it's so important. Explain that when their lights and sirens are on, they're on their way to an emergency, and they need to get there as quickly as possible.
When you see a police officer who has pulled someone over, talk about how important it is to drive responsibly so you can keep others safe. Talk about how brave they are to uphold the law, even when it makes them not very popular 🙂
Books are, of course, my favorite way to introduce kids to new concepts. After all, the authors have taken the time to break the concepts down specifically for the target age, which helps you not have to filter it so much and figure it out on your own.
If you need some suggestions, here are a few of my favorites:
Obviously, there are a lot more out there – these are just the ones my son in particular has enjoyed 🙂
Demonstrate respect.
Lastly, set an example for your kids by showing respect for first responders.
If you get pulled over for speeding, for instance, resist the urge to complain – be polite and own up to whatever mistake you made. Don't flip attitude or cause a fuss. If you feel you were wrongly given a ticket, fight it later.
And if the police officer in question has an attitude? It's the perfect time to explain that you never know what someone has dealt with earlier in the day. Rather than being rude back, do what you can to brighten their day – because it's not unlikely that they dealt with something either traumatic or annoying just before they encountered you.
When you see first responders in public, try to go out of your way to thank them – or even just smile at them! Sometimes the smallest gestures can have the biggest impact.
Also, don't scare your kids when they're being bad by saying the police will get them. You don't want them looking at the police like a scary presence. Teach them that they're there to help so that when something bad happens, they're not afraid to seek out a police officer.
The point is, show your kids that these individuals work really hard to keep us safe, and by doing so, they often put themselves in harm's way. Help them to understand that if your kids ever need them, they'll be there. Show them why they deserve our respect and our gratitude – and demonstrate how to do so.