Be sure to check out all the posts, giveaways, and sponsors in the HELP! for the Homeschool Mom series!
Just click the image below.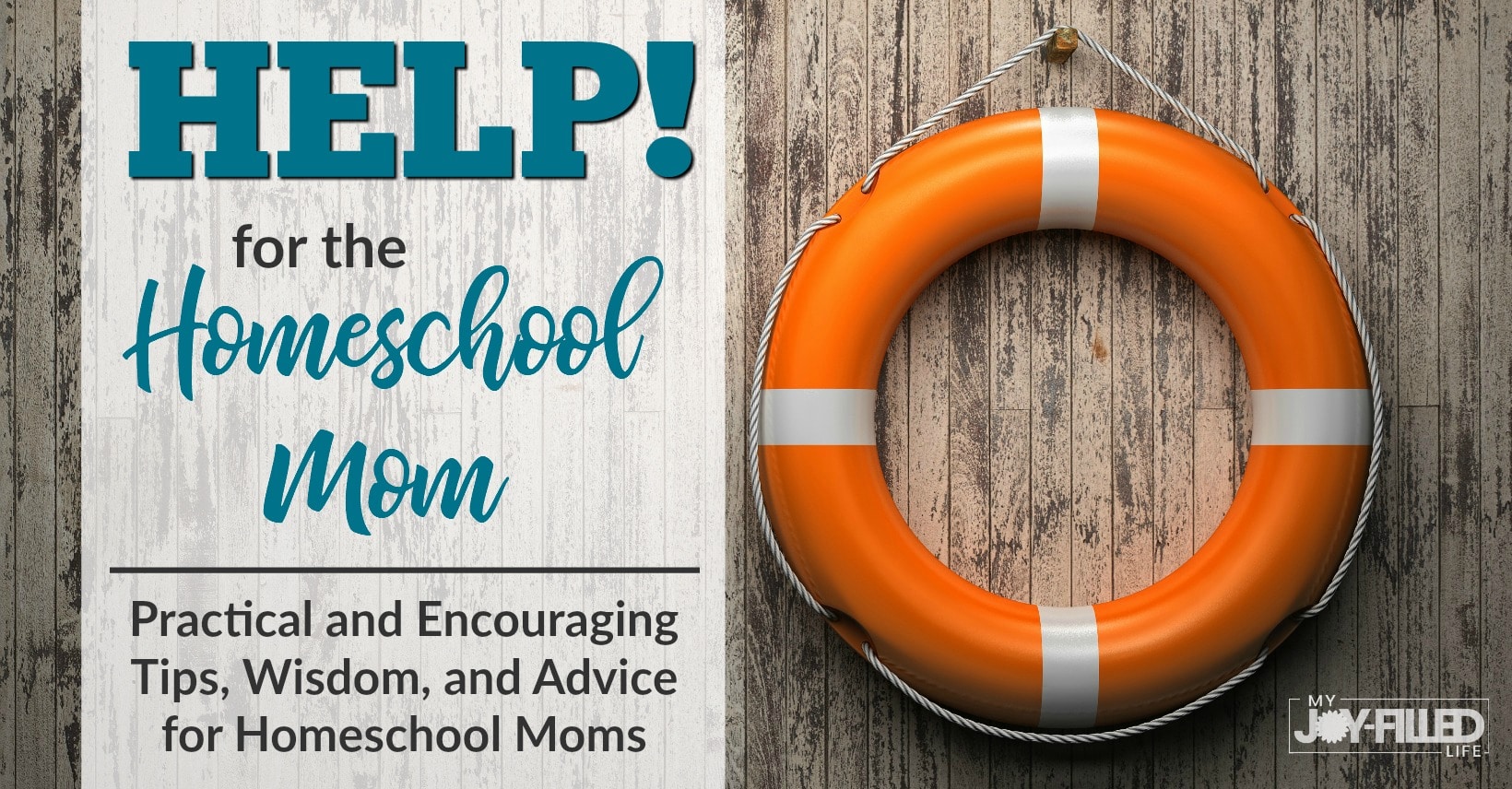 If you're homeschooling with little ones, you know what a challenge it can be to teach your older children, while keeping your younger ones happy and safe. Add in the fact that it is also a crucial period for your little one's brain development, and it's easy to feel overwhelmed. It really can feel like a balancing act. Having little ones is an exhausting season of motherhood, and at the same time, it is a precious, wonderful season. It's a season full of cuddles, cleaning up messes, infectious laughter, constant movement, and discovery. It's a season to make priceless memories with your little one. This season is a gift. Do you want to make the most of those early years and still be available for your older children too? Here are some things that have helped me to do just that.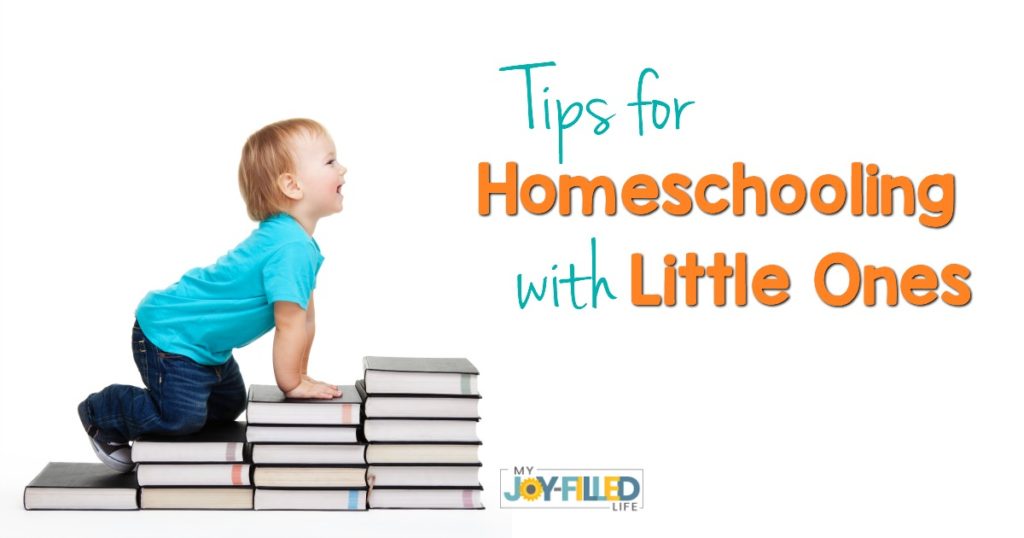 Tips for Homeschooling with Little Ones:
Use Learning Buckets
Learning buckets are simply toys or activities saved for certain times. You can use clear 6-quart plastic containers, empty wipe containers, or other recycled containers. Fill your container with a specific kind of toy, such as:
Vehicles
Farm Animals
Finger Puppets
Wooden Blocks
Train Track
Matching Game
Give your child a learning bucket when you need some concentrated time with your older children. Only being able to play with their learning bucket at certain times will help your child spend more focused time with it and enjoy it more.
Fine Motor Activities
Fine motor skills are important to develop for preschool-aged children because they prepare their small hand muscles to grasp a pencil and begin writing. You can help your little one with their fine motor skills by doing simple crafts with them at the table while you assist your older children with lessons. Here are some resources that are great for fine motor skills:
Duplos
Knobbed or Pegged Puzzles
Eyedroppers – Use them to paint with or in sensory bins.
Stringing Beads
Pegs and Pegboards
Lacing Cards
Clothespins – Use clothespins with learning activities.
Gross Motor Activities
Not only are gross motor activities a lot of fun, but they also help your child learn to control their muscles and work off some energy. Here are a few ideas for gross motor activities that your preschooler will love:
Balance Beam – Use a pool noodle as a balance beam. It won't hurt if they fall and it's easy to
store.
Obstacle Course
Run and Find – Put pictures on the floor or tape them to the wall throughout the house. Then
name a specific picture and tell your child to run and find it. If you are studying a specific theme with your
preschooler this is a great way to incorporate what they have been learning about.
Action Cards – Animal action cards are a fun way to get in extra movement. Draw a card and
then tell your child to move like the animal pictured. "Swing like a monkey."
Your big kids may even want to join in on the fun.
Sensory Bins
Have you ever used sensory bins with your preschooler? They are a great way to keep your child occupied and learning while you work nearby with an older child. Make a couple of sensory bins that are ready to go when you need them. If you need some ideas for bases and what to put in your sensory bins be sure to check out my post, 5 Reasons to Use Sensory Bins with Your Child.
Imaginative Play
Young children learn through play. Create a space where they can play and discover.
Tents – Set up tents for using blankets and furniture for your little one to play in.
Props – Give your child items to pretend with:

Toy Food
Stuffed Animals
Suitcase
Paper and Envelopes
Items that go with a particular theme your child has been learning about.

Cardboard Boxes
Dress-Up

Hats
Scarves
Sunglasses
Costumes
Goggles
Toy Swords
Jewelry
Routines
Small children thrive when they have a routine. It's comforting for them to know what to expect during their day. It doesn't have to be a rigorous schedule or even a visual chart. All they need is a predictable flow to their day. Here is an example that you can tweak to work for your family:
Wake-up

Quiet Play or Cuddles

Breakfast

Get Ready for the Day

Books

Learning Bucket – Introduce the bucket and then work with
older children.
Fine Motor Activity – Older children can work at the table, so
you can help everyone.
Snack

Imaginative Play – Work with older children.

Bible

Gross Motor – An older child may want to help occasionally
with gross motor while you work with another child.
Music – An older child may want to help occasionally with
music while you work with another child.
Sensory Bin – Introduce the sensory bin and then work with
older children.
Lunch
Free Play
Most likely if you have big kids too, not every day will even look the same. Some days you may have co-op, practice, or other events. That is perfectly fine; your little one will learn the routine for each day. Every day of the week has a different routine in our home. I've been amazed by how my little guys still know what is coming next.
I hope you've discovered some ideas for ways you can make fun, learning memories with your preschooler and still have time to teach your older children too. If you would like even more inspiration, my e-book, The BIG Book of Ideas for Homeschooling Preschool is full of ideas and printables to help you during this season of your homeschool journey.

---
**Giveaway** Many Seasons of Motherhood Bundle
(ends 3/5/19)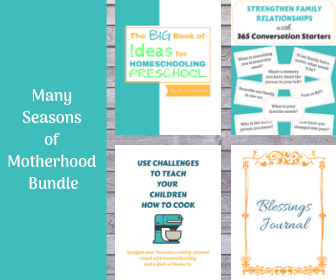 Prize Value: Total value of $25.96
a Rafflecopter giveaway

Entering this giveaway signs you up for the My Joy-Filled Life newsletter if you aren't already subscribed. Winners have 48 hours to claim their prize before a new winner is drawn. Many Seasons of Motherhood is responsible for prize delivery. Ends 3/5/19 @ 11:59pm ET. Be sure to read the terms and conditions upon entering.
Thank you to our featured sponsors!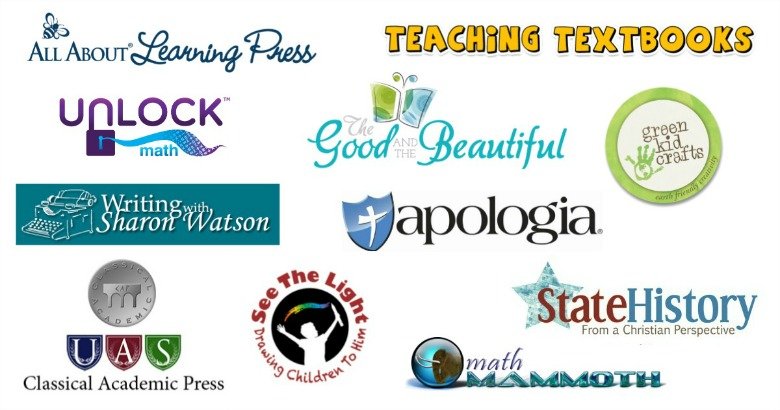 Don't forget to check out ALL the helpful posts in the series
and enter the giveaways (over $2000 worth of prizes)!
>>> CLICK HERE <<<
---
Misty is a child of God, wife, and mom of five, in the midst of many seasons of motherhood. Time goes fast, which is why she hopes to encourage other moms to find joy in each season of motherhood and make precious memories in the process. She writes about family, homeschooling, and motherhood at manyseasonsofmotherhood.com. You can also connect with her on Instagram, Facebook, Pinterest, and YouTube.