If you are planning on hitting the open road and going on a road trip, you might be interested in some ways to keep kids entertained! Below you will find a bunch of ways to keep your kids busy and entertained along the way!
These ideas are a way to keep boredom at bay, and not hear the question, "Are we there yet?!" These are an absolute must of you are going on a road trip with kids by yourself, with no other adult to help you out. Some of these are pretty simple to do, and others if you don't have the items you might invest in them if you want! Either way, hopefully you can find multiple options to help keep your kids entertained on the open roads!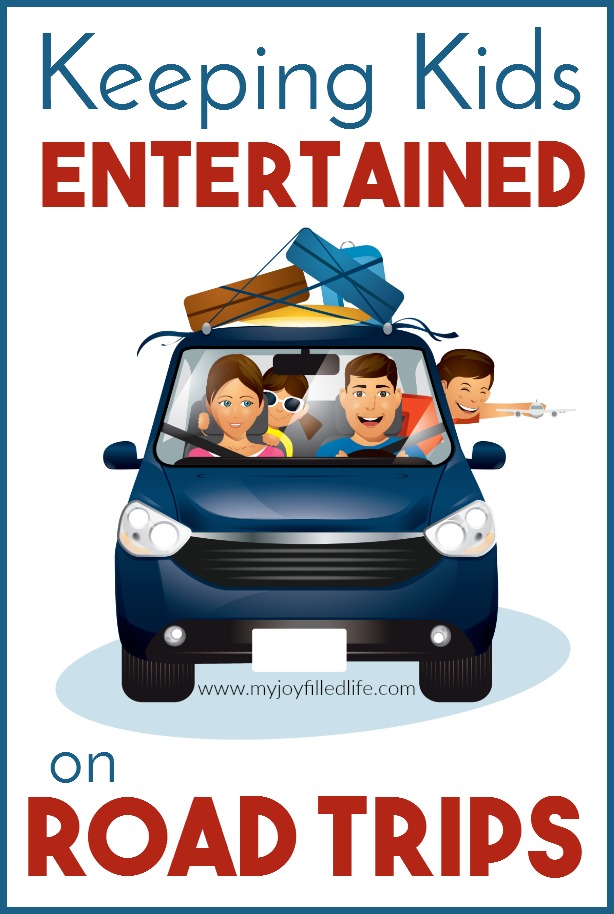 Fun Ways To Keep Kids Busy on Road Trips
Dollar Store Toys
Hit up your local dollar store or even dollar bins at Target. Look for fun toys for your kids to play with. It won't cost much, they will be brand new toys, so the new hasn't worn off on them yet! Stickers, dolls, squishy balls, color pads, are a few items that come to mind.
Car Bingo
Whether you buy a car bingo set, print one off, it is a lot of fun. You can find them all over Pinterest to print for free. Then give your kids markers to mark off when they see the item that is on their bingo card. This can really help keep them entertained as they are searching for their items!
Dry Erase Boards or Wipe-Clean Books
Consider buying a dry erase board; this will give your kid tons of hours of drawing time, and they simply wipe it away! You can also purchase wipe-clean books that have fun activities in them and many are educational too.
Color By Number
If your child loves to color, get a color by number to keep them busy.
New Movie
If you have a tablet, or portable dvd player, consider renting a new movie. This is a great way to keep their attention on the movie. You can use Amazon to download a movie or rent a dvd at a Redbox. Then you can return it at any Redbox you come across.
New Games
If you child have a portable game system, tablet, or smart phone. Consider getting new games to download. That way they can play a new game to pass a few hours.
Magazines or Books
Pack some magazines and books for your kids. Now if the holidays are coming up or a birthday, consider getting some toy magazines, and let them bookmark toys and other items they might want as gifts. You will be amazed at how excited they get to skim through the magazine then!
Snacks
Make sure to pack up some good snacks and drinks. A hungry child can get more impatient, so consider having a basket of goodies for them to pick out what they want to munch on.
Slug Bug Game
Teach your kids to look for slug bugs (Volkswagons). Now if you don't want them punching each other, you can just make it a counting game to see who sees the most.
Pack Favorite Toys
Make sure you pack their favorite blanket or toys. Keep them in a bin or somewhere close, so if they ask for it, you can access it easily. You could also let each kid pack a backpack of toys and things they want to bring with them. That way they know what they have brought and will be excited to play with it. You can limit the items to five, or say it has to fit in the backpack to bring.
Goody Travel bag
Pack up some crayons, a notepad, or travel games to have for each child. You could even toss in their favorite treat to have. That way they feel extra special to have their own little bag of goodies.
Disposable Cameras
Invest in a few disposable cameras, so that your child can take pictures of neat scenery along the way. Then at the end of the trip you can get it developed and they can see all the fun pictures they took.
Make a Map
Create a map of all the places you will be visiting or coming across on your journey. They can follow along and see the next destinations that are to come.
What are some of the ways you keep your child entertained on road trips? I hope these ideas help you to entertain your kiddo's on your next road trip!
You might also like:
Must-Do Attractions & Must-See Places in All 50 States
5 Tips to Help You Save on Your Next Road Trip
Games & Activities for When You Have to Wait