I think it's safe to say that homeschool parents love free stuff – free curriculum, free resources, free ebooks – am I right? Many homeschool families are living on tight budgets and
one income
, which often means waiting for curriculum sales, buying used, finding free resources, or even going without.
Well, I've got you covered in the free department (although I also love to share good deals, so be sure to join
Thrifty Homeschool
if you like a good deal too). In an effort to help you get your hands on some great homeschool resources for FREE, I'm teaming up with some of my homeschool blogging friends to share with you some amazing homeschool resources that are absolutely FREE.
Each month there will be new freebies to discover – curriculum, ebooks, checklists, charts, unit studies, resources – tons of cool things that you'll be able to snag and use throughout your homeschool journey.
So here's the low-down on how and when to get these FREEBIE! Check out Totally FREE Tuesday and FREEBIE Friday below!
On the 3rd Friday of every month we will have FREEBIE Friday! On the third Friday of each month, you'll receive an email from me containing awesome paid products (valued at $5+) that are exclusively available to you for FREE for 3 days only. From that Friday to Sunday only, you'll have the opportunity to scoop these up at no cost.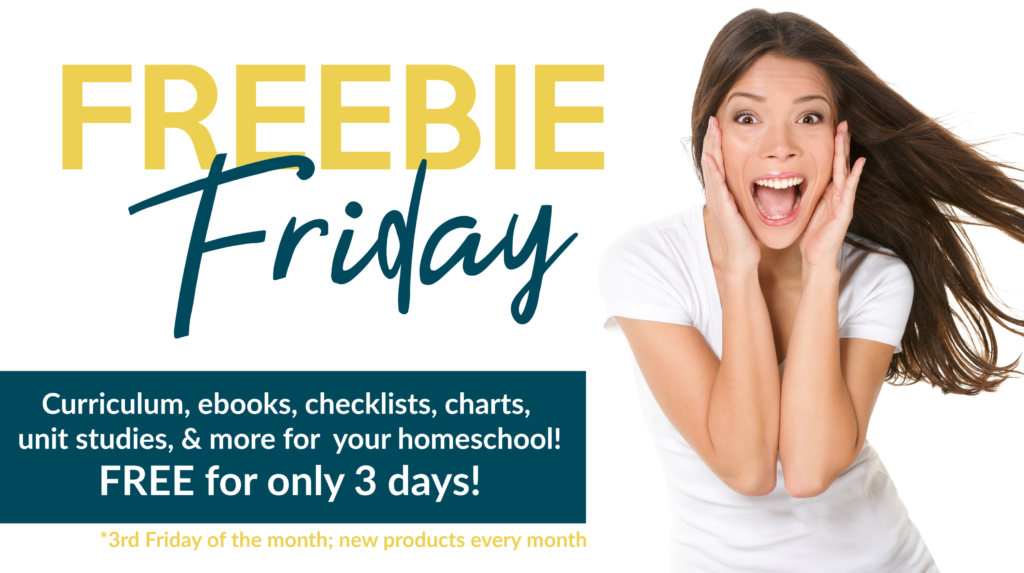 Wondering if it's worth it?
On average, the total value of all the freebies each month on FREEBIE Friday is no less than $50, but can be WAY MORE than that. Each product shared will have a value of at least $5. Which means that if you took advantage of FREEBIE Friday for a whole year (12 months x $50 = $600) you'd be getting at least $600 in amazing homeschool resources, for FREE!
And that's not even including the value that you'll be receiving from the communities, opportunities, and blog posts that these bloggers will be sharing with you aside from their free offer. That alone is golden!
Wondering how you can get signed up so you don't miss any freebies?
Simply click here and feel out the form or subscribe in one of the subscribe boxes around my site (check the top of my site, the bottom of any post, or the very bottom of my site).
Wondering what you'll get on FREEBIE Friday?
Here is a peak at some of the past products offered in previous FREEBIE Fridays!
Big Book of Color and Copywork Asian Animals Edition from The Multitaskin Mom
Take your children on a virtual trip to explore Asian Animals, with the Big Book of Color and Copywork: Asian Animals Edition. Featuring 9 fun and interesting animals!
Kids Travel Journal from The Fervent Mama
19 pages of cute! Your little traveler will enjoy documenting each experience so that they don't miss a moment! From the way that they feel, to their favorite experiences, even drawing pages!
French Vocabulary for Kids from Tree Valley Academy
Flashcards to help kids learn vocabulary in french. 36 themed weeks for beginners
---

Then on the first Tuesday of every month
, we will bring you
Totally FREE Tuesday
! Each month, there will be something new in here from homeschool bloggers all around the web. The best part of Totally FREE Tuesday? The resources are totally free, FOREVER.
Although I suggest you scoop them up when you see them so you don't forget.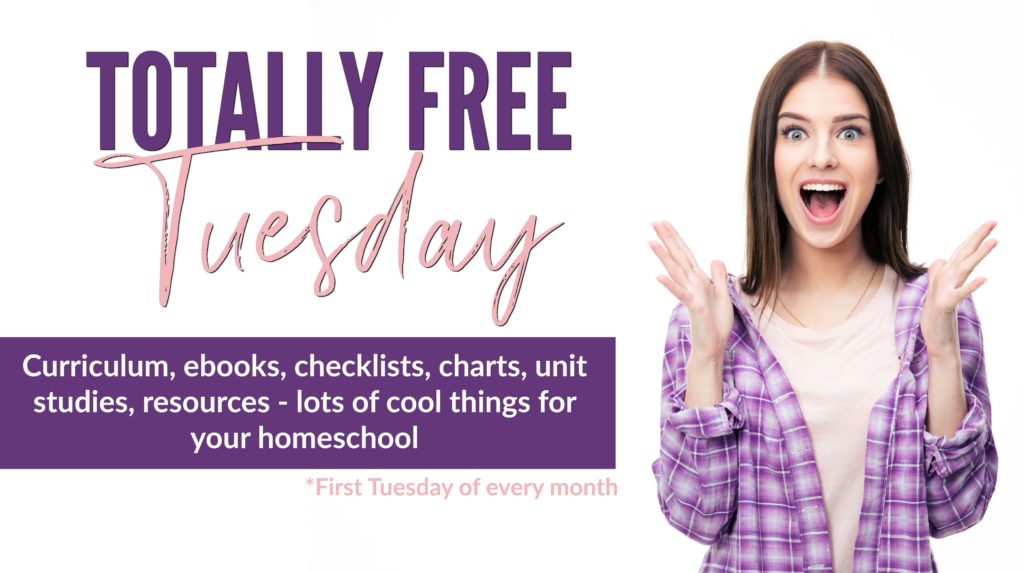 Check out September's list of FREEBIES below; I sure hope you find some cool things! What sort of resources are you looking for in the future? Maybe we can help you find them!
Four Year High School Planning Forms for Homeschoolers
Are you in the midst of the high school years, or do you have a student who will be there soon? If so, the Four Year High School Planning Forms for Homeschoolers from My Joy-Filled Life will help you greatly! This planning pack will equip you to both plan and record-keep throughout the high school years.
Continents and Oceans Printable Pack
Studying geography is fun with the Continents and Oceans Printable Pack from Simple Living, Creative Learning! This 51-page pack includes vocabulary, coloring and labeling activities, and comprehension practice. It's a great way to learn more about our world!
Spark Joy and Ignite Imagination with Delight-Directed Learning ebook
Delight-directed learning, or unschooling, is a method that can work well for a lot of homeschool families. The Spark Joy and Ignite Imagination with Delight-Directed Learning ebook from Heart and Soul Homeschooling will give you the information you need to see if this method would work well for you.
Measuring Basics Worksheet
Are you looking for fun, effective ways to teach measuring skills? The Measuring Basics worksheet from Homeschool on the Range is a great way for your kids to practice!
My Homeschool Planner
Middle and high school students are at the perfect age to learn how to plan their days and projects, but they need a planner that will work for them. My Homeschool Planner from Brookdale House is designed just for their needs!
Farm Memory Game
Little ones love to be involved in "school time," and games are an amazing way to let them do this. The Free Farm Memory Game from Peace Creek on the Prairie is a wonderful resource your kids will adore! This colorful set full of fun farm animals and other elements for them to explore, name, and match. Have fun!
50 First Day of Homeschool Ideas with FREE Printable
Do you have "first day of school" traditions, or would you like to start some? (And if you've already started, you can still build some in – you have that freedom!) You'll find 50 First Day of Homeschool Ideas plus a free printable to go along with them at The Unexpected Homeschooler.
Farm Theme Unit
Do your younger kids enjoy unit studies? They'll love the free Farm Theme Unit from Many Seasons of Motherhood! They'll have fun developing their skills and learning all about farms with the activities included.
Road Trip Games for Kids
If you're looking for fun games to keep your kids occupied on road trips, look no further! Road Trip Games for Kids from The Fervent Mama includes a version of Road Sign Bingo, the License Plate Game and I Spy!
Monet Art Study Cards
If you're looking for an easy, fun way to add art history into your day, be sure to grab the Monet Art Study Cards from Life Beyond the Lesson Plan! This set is perfect for a Charlotte Mason artist study, but it will also work well for art history units, lapbooking, notebooking, and more!
Be sure to subscribe if you haven't already! I'd hate for you to miss this opportunity of freebies delivered right to your inbox!