I think it's safe to say that homeschool parents love free stuff – free curriculum, free resources, free ebooks – am I right? Many homeschool families are living on tight budgets and
one income
, which often means waiting for curriculum sales, buying used, finding free resources, or even going without.
Well, I've got you covered in the free department (although I also love to share good deals, so be sure to join
Thrifty Homeschool
if you like a good deal too). In an effort to help you get your hands on some great homeschool resources for FREE, I'm teaming up with some of my homeschool blogging friends to share with you some amazing homeschool resources that are absolutely FREE.
Each month there will be new freebies to discover – curriculum, ebooks, checklists, charts, unit studies, resources – tons of cool things that you'll be able to snag and use throughout your homeschool journey.
So here's the low-down on how and when to get these FREEBIE! Check out Totally FREE Tuesday and FREEBIE Friday below!
On
the 3rd Friday of every month we will have FREEBIE Friday
! On the third Friday of each month, you'll receive an email from me (
get on my email list here
) containing awesome paid products (valued at $5+) that are exclusively available to you for FREE for 3 days only. From that Friday to Sunday only, you'll have the opportunity to scoop these up at no cost.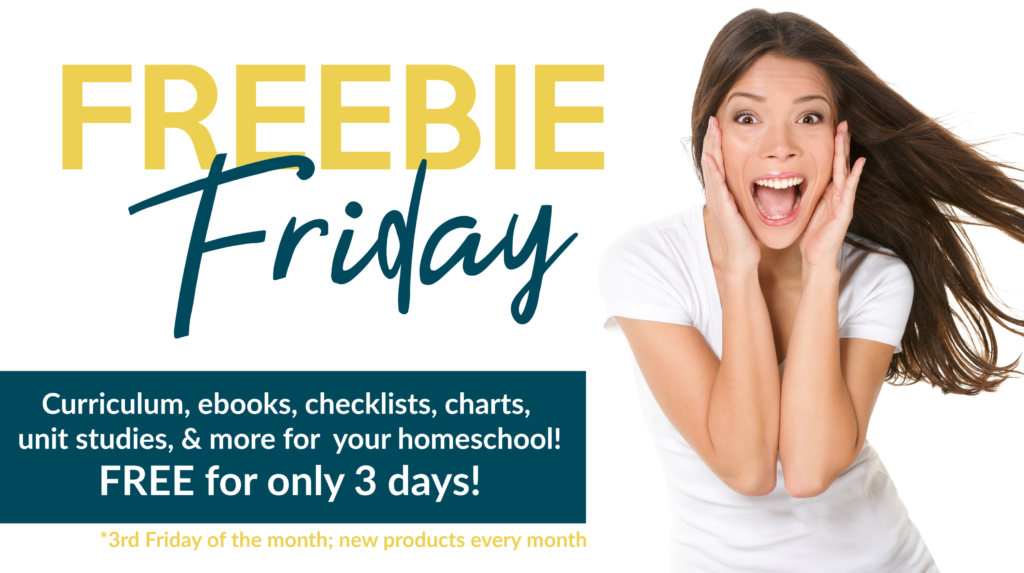 Wondering if it's worth it?
On average, the total value of all the freebies each month on FREEBIE Friday is no less than $50, but can be WAY MORE than that. Each product shared will have a value of at least $5. Which means that if you took advantage of FREEBIE Friday for a whole year (12 months x $50 = $600) you'd be getting at least $600 in amazing homeschool resources, for FREE!
And that's not even including the value that you'll be receiving from the communities, opportunities, and blog posts that these bloggers will be sharing with you aside from their free offer. That alone is golden!
Wondering how you can get signed up so you don't miss any freebies?
Simply click here and feel out the form or subscribe in one of the subscribe boxes around my site (check the top of my site, the bottom of any post, or the very bottom of my site).
Wondering what you'll get on FREEBIE Friday?
Here is a peak at some of the past products offered in previous FREEBIE Fridays!
Printable Scripture Cards for Moms from My Joy-Filled Life.
This set is designed to help you through the day-to-day of motherhood.
Cultivating Grace: Finding Joy in Motherhood Workshop from Everyday Graces
An encouraging look at the hard parts of homeschool, motherhood, and practical ways to reclaim all the joy that motherhood and homeschool has to offer.
Minecraft Student Planner from The Multi Taskin' Mom
With this pack, your kids can learn planning and executive function skills all while making a planner that is truly theirs.

---

Then on the first Tuesday of every month
(except for December we are doing it early because of the holidays), we will bring you
Totally FREE Tuesday
! Each month, there will be something new in here from homeschool bloggers all around the web. The best part of Totally FREE Tuesday? The resources are totally free, FOREVER.
Although I suggest you scoop them up when you see them so you don't forget.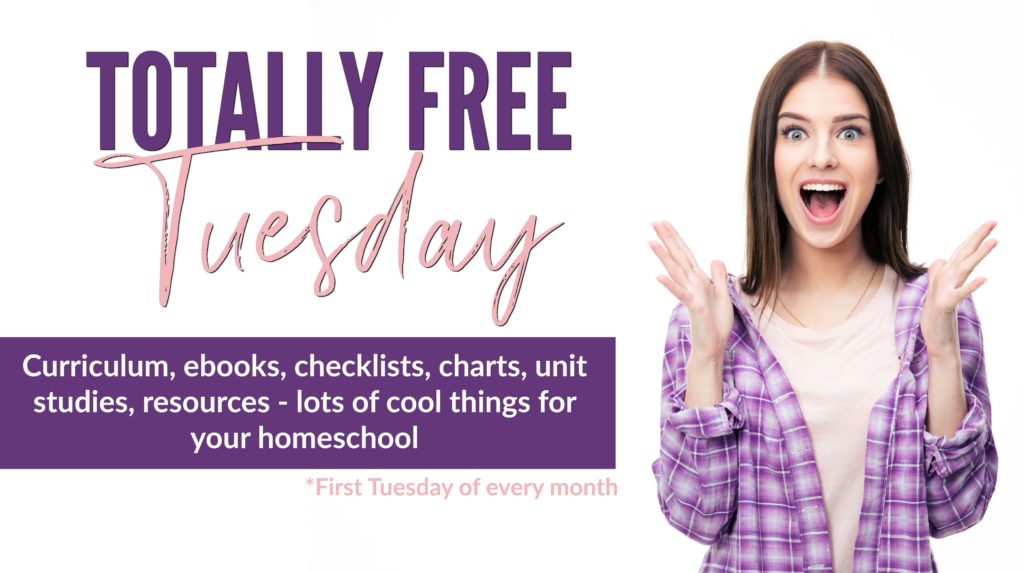 Check out December's list of FREEBIES below; I sure hope you find some cool things! There are some fantastic resources available this month – I hope you find them a blessing!
Dana from The Art Kit has some adorable llama Christmas cards your kids will love! They can print them out and give them to friends and family. They're also a great way to practice handwriting skills!
Debbie from Homeschooling Dietitian Mom shares some Christmas treats for your whole family! You'll find fun recipes you and your kids can make this holiday season.
Create a new Christmas tradition with a Jesus tree! Abby from Making Room 4 One More has instructions and a free ornament printable to get you started!
Your little ones can learn all about Christmas down under with the Christmas in Australia Printable Preschool Pack from Stacey at Simple Living, Creative Learning! They'll get to do all kinds of fun activities to practice their coloring, letter formation, Do a Dot activities, and more!
Your kids will have fun counting down the days of Advent with a Nativity Advent Coloring Page from Sarah at My Joy-Filled Life! This is a great activity to help kids focus on Christ during the holiday season.
Are you looking for some fun things to do this Christmas season? Penny from Our Crazy Adventures in Autismland has you covered with a great list of fun, inexpensive Christmas activities your kids will enjoy!
Scavenger hunts are so much fun – and Annette from In All You Do has 3 Christmas Scavenger Hunts to keep your kids busy, learning, and having fun!
A Christmas Carol by Charles Dickens is a holiday classic. You and your kids can have fun with both the book and the movie with a free printable literature study and unit planner from Jen at Life Beyond the Lesson Plan! You can learn all about Christmas in Victorian England with fun activities for all ages.
Who doesn't like a little friendly competition? Misty from Many Seasons of Motherhood has five terrific ideas for Christmas competitions for your family! You'll also find a free printable Christmas photo scavenger hunt!
Keep your little ones busy and learning this Christmas season with a free Christmas Nativity matching game from Betty at Peace Creek on the Prairie! The 30 matching cards are a fun way for your kids to learn the Nativity story.
If you're looking for fun Christmas units or activities for your December lesson plans, Dachelle from Hide the Chocolate has a month's worth of Christmas lesson plans you'll love!
With all the craziness of the holiday season, we can all use a bit of peace and rest. Clarissa from Clarissa R. West has designed a free printable to help you have a more peaceful Christmas season!
It can be challenging to find winter or Christmas science activities. Sara from Heart and Soul Homeschooling has a wonderful unit study and printables to help your kids discover the science behind snow!
Expand your history studies with "We Were There" unit study activities from Yvie at Homeschool on the Range! You'll find activities that cover a wide range of historical eras.
Do you have a child interested in Civil Air Patrol (CAP)? They'll enjoy the Civil Air Patrol Handbook Study Guide from Yvie at The Homeschool House!
Help your kids learn the biblical story of Christ's birth and practice their handwriting skills with the Birth of Jesus Copywork pack from Brookdale House!
Don't stress about gift-giving this Christmas season – download the free Christmas Gift-Giving Planner from Bethany at Bethany Ishee and have everything all planned out!
I hope you enjoy all the wonderful freebies we've put together for you this month! Be sure to download them and enjoy!
Be sure to subscribe if you haven't already! I'd hate for you to miss this opportunity of freebies delivered right to your inbox!