Scroll down to see how you can get the timeline notebook for FREE, along with $100 worth of other homeschool goodies. Look for the red text for instructions!
I think it's safe to say that homeschool parents love free stuff – free curriculum, free resources, free ebooks – am I right? Many homeschool families are living on tight budgets and
one income
, which often means waiting for curriculum sales, buying used, finding free resources, or even going without.
Well, I've got you covered in the free department (although I also love to share good deals, so be sure to join
Thrifty Homeschool
if you like a good deal too). In an effort to help you get your hands on some great homeschool resources for FREE, I'm teaming up with some of my homeschool blogging friends to share with you some amazing homeschool resources that are absolutely FREE.
Each month there will be new freebies to discover – curriculum, ebooks, checklists, charts, unit studies, resources – tons of cool things that you'll be able to snag and use throughout your homeschool journey.
So here's the low-down on how and when to get these FREEBIE! Check out Totally FREE Tuesday and FREEBIE Friday below!
On
the 3rd Friday of every month we will have FREEBIE Friday
! On the third Friday of each month, you'll receive an email from me (
get on my email list here
) containing awesome paid products (valued at $5+) that are exclusively available to you for FREE for 3 days only. From that Friday to Sunday only, you'll have the opportunity to scoop these up at no cost.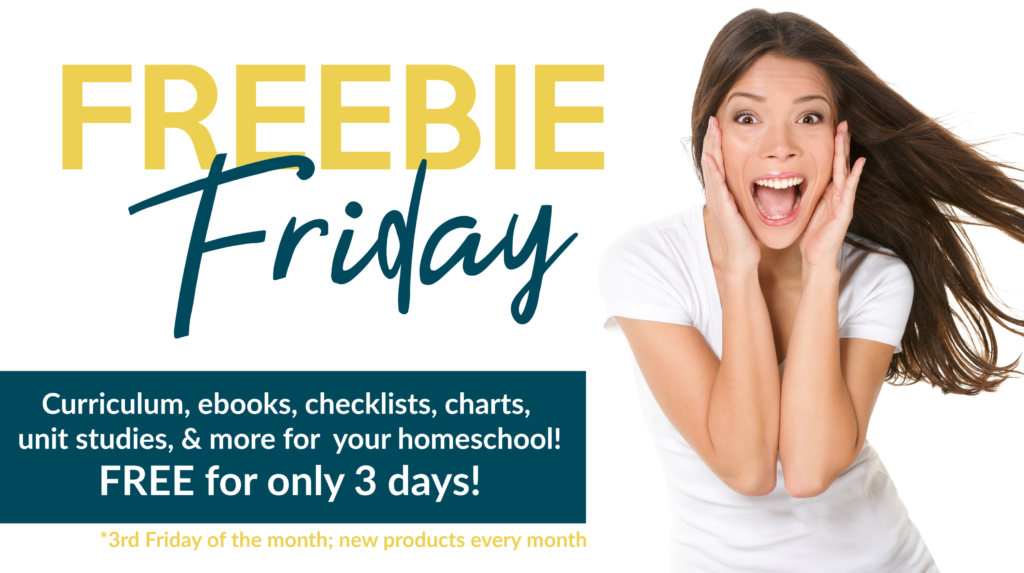 Wondering if it's worth it?
On average, the total value of all the freebies each month on FREEBIE Friday is no less than $50, but can be WAY MORE than that. Each product shared will have a value of at least $5. Which means that if you took advantage of FREEBIE Friday for a whole year (12 months x $50 = $600) you'd be getting at least $600 in amazing homeschool resources, for FREE!
And that's not even including the value that you'll be receiving from the communities, opportunities, and blog posts that these bloggers will be sharing with you aside from their free offer. That alone is golden!
Wondering how you can get signed up so you don't miss any freebies?
Simply click here and feel out the form or subscribe in one of the subscribe boxes around my site (check the top of my site, the bottom of any post, or the very bottom of my site).
Wondering what you'll get on FREEBIE Friday?
This month there are over $100 in homeschool FREEBIES available to you!!
Here is a peak at some of the products offered in the current FREEBIE Friday going on this weekend (FEB. 21 – FEB. 23)!
The Ultimate Mom Life Journal and Planner Printable Pack from Clarissa R. West – $5 value
Makes organizing your day easier with this Printable Pack! You'll find 40+ different pages for managing your homeschooling, homemaking, and/or working mom life!
The Science of Slime Activity Pack from Mom for All Seasons (formerly Life of a Homeschool Mom) – $8 value
Do your kids love making slime? Then they'll love this science unit! The Science of Slime activity pack is loaded with interactive and educational fun for your kids.

Printable Timeline Notebook from My Joy-Filled Life – $8 value
The Timeline Notebook contains a total of 131 printable timeline pages, a printable cover, and printable spine. It covers 5000 BC to the present time.
Plus, this month also includes Winter Shape Cards, Fun Fraction Worksheet Pack, Little House Activity Pack, Poetry Teatime – Springtime Edition online course, Ancient Egypt Study Pack, Ireland Unit Study, Importance of Good Nutrition Bundle, Decluttering Workshop, Wild Plants Pack, Parent/Child Prayer Kindle book, ABC Printable Pack, St. Patrick's Day Math Games Pack, Introduction to Pen and Ink mini course.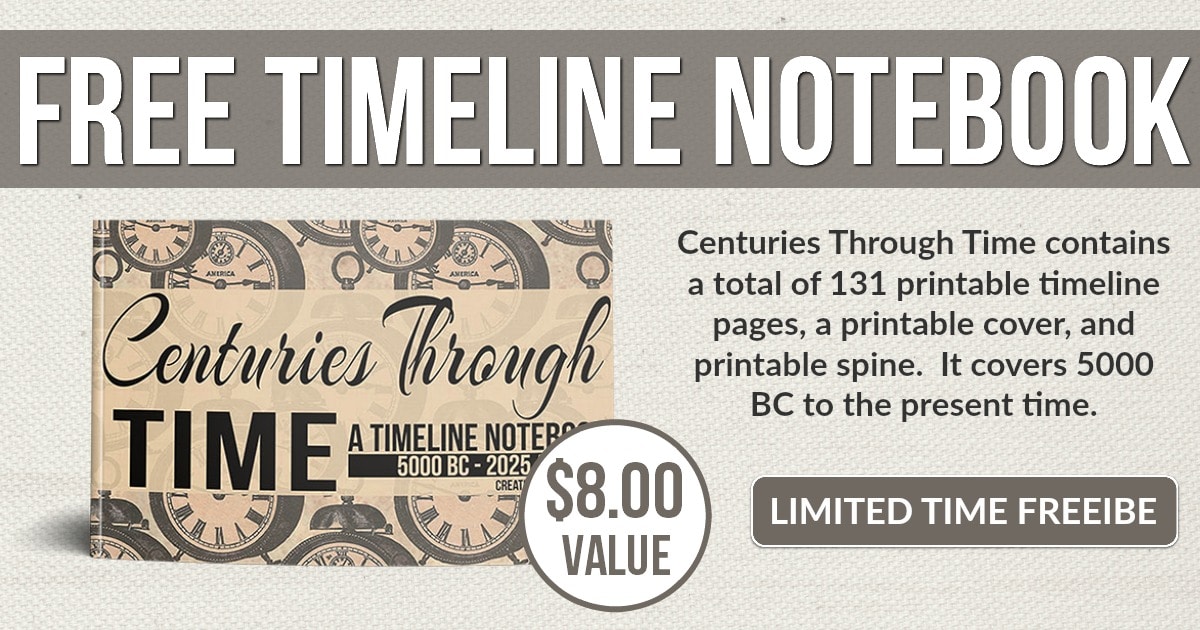 In order to receive the free timeline notebook, plus all of the other homeschool freebies valued at over $100, you must be on my email list!!
Once a month, I send out an email to my newsletter subscribers containing some great paid homeschool products (valued at $5 or more), but you can get them for FREE for a very limited time (this month from 2/21 – 2/23).
But you have to be on my email list to get them. It's not too late to get this month's email (I sent it out Friday morning (2/21), but will be sending a reminder over the weekend). This email will contain any links or codes you need to get these resources for FREE!!
Subscribe here if you are not already a subscriber and I will send you the email with all the redemption codes on Sunday afternoon (I'm in the central timezone), so get on the list before then. If you are already a subscriber, go check your inbox for an email with the subject line – I'm giving you this timeline notebook for your homeschool.
---

Then on the first Tuesday of every month
, we will bring you
Totally FREE Tuesday
! Each month, there will be something new in here from homeschool bloggers all around the web. The best part of Totally FREE Tuesday? The resources are totally free, FOREVER.
Although I suggest you scoop them up when you see them so you don't forget.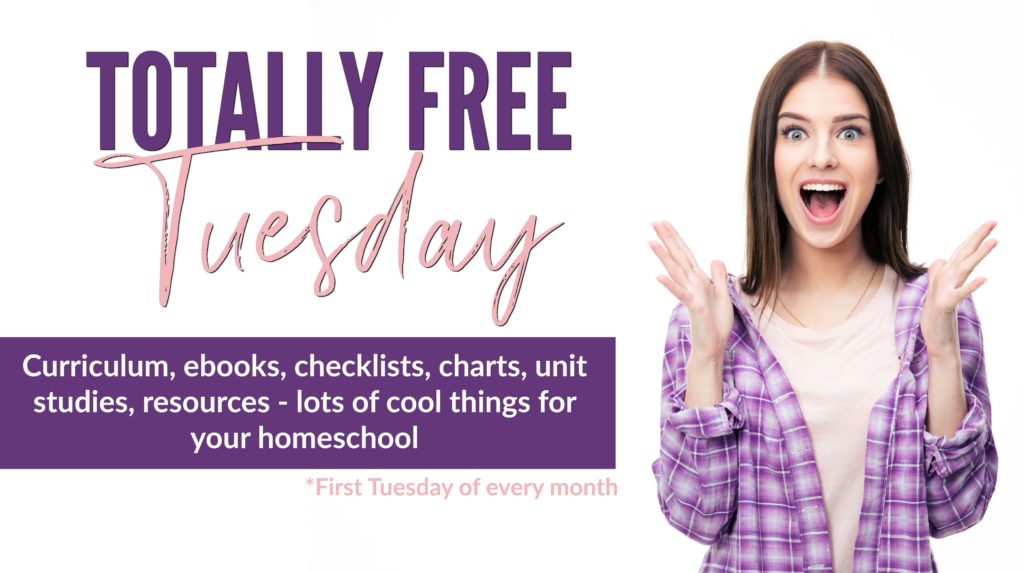 Check out February's list of FREEBIES below; I sure hope you find some cool things! There are some fantastic resources available this month – I hope you find them a blessing!
Yvie from Homeschool on the Range is offering her Primary Documents Bundle including forty primary source documents to print and use in your school. Chronologically, they range from 1493 to 1946 and cover many aspects of American history.
The Australia Lapbook from Stacey at Simple Living, Creative Learning equips your kids to learn about Australia with this unique hands-on activity that contains lots of fun and interesting facts and elements about the Land Down Under.
Learn about St. Patrick's Day and Ireland with The Luck of the Irish Movie Study from Annette at In All You Do! If your kids haven't seen this Disney classic, it's a must-see, especially during the St. Patrick's Day holiday season. This movie study has discussion questions about the movie, a page for students to write about their own heritage, a page to write about St. Patrick's Day and a page about Ireland.
Snag some fun printable Valentine's Day Cards from Debbie at Homeschooling Dietitian Mom! They're perfect for your favorite person or persons. These Printable Valentine's Day Valentines will also be a perfect Valentine's Day craft project for homeschooling. Approximate size 4 x 6 inches.
Abby at Making Room 4 One More is offering a free class to help you overcome homeschool burnout. Homeschool moms have a lot of pressure to project perfection. This pressure leads to burnout. Experiencing a season of burnout does not mean you're a bad homeschool mom. Come find encouragement as we discuss practical solutions.This online workshop is less than 30 minutes long, but packs in a lot of truth!
A tea party unit study is a perfect way to combine delight-directed learning with a unit study from Sara at Heart and Soul Homeschooling. You can put together your own tea party unit study using these ideas and free printables!
These cute Valentine's Day printable coloring pages from Joanie at Simple Living Mama are perfect for preschool and early elementary kids!
These Bible-themed number charts from Sarah at My Joy-Filled Life come in 2 different layouts that will help your child with counting and number recognition.
It's not too late to grab this gorgeous watercolor calendar from Clarissa at Clarissa R. West for keeping track of your homeschooling & homemaking routines, appointments, & more! Just print & add to your planner, binder, or bulletin board!
Are your kids learning to write book reports? This seven page DIY Book Report printable pack from Heather at Mom for All Seasons works with any book! It will help your child identify and summarize key parts of the book and will allow him/her to organize their thoughts so that writing the actual book report will be a breeze. Pages and activities include key information, characters, setting, time period, cause and effect relationships throughout the book, plot mapping, and summary.
Your children will love practicing their letters, writing words, or even making an adorable Valentine's Day banner with this free set of heart shaped letters from Dana at The Art Kit!
Check out these 26 Penguin ABC Clip Cards from Betty at Peace Creek on the Prairie! Your children will learn to match letters, using clothes pins will help develop hand-eye coordination. You can also start teaching the letter names and sounds as your child uses these cards.
Inspire your kids to learn history through literature with these great Black History book choices from Dachelle at Hide the Chocolate.
Help your kids show their loved ones how much they care – in their love language! Use the premade printable love coupons from Charlene at Hess Unacademy or use the blank templates to create your very own!
Your kids will have fun learning all about the letter "A" with the 12+ page Letter "A" Handwriting Pack from Brooke at The Fervent Mama. It's full of learning fun and practice! This handwriting packet is a small snippet of our homeschool handwriting curriculum.
Use these skip counting cards from Surya at Teach Me, I'm Yours to help your child learn to count to 120 by 5s and 10s!
Rachel at Faith, Hope, and Joy is offering a simple Bible study journal perfect for Mom or tweens and teens to study God's Word. Write your personal daily inspiration.
Your kids will have fun with the Valentine's Activity Pack from Life Beyond the Lesson Plan! You'll find Valetine-themed story starters and journaling pages, fun math puzzles, mazes, and more.
I hope you enjoy all the wonderful freebies we've put together for you this month! Be sure to download them and enjoy!
Be sure to subscribe if you haven't already! I'd hate for you to miss this opportunity of freebies delivered right to your inbox!