Homeschooling with toddlers is a challenge. One minute you're teaching your child math and the next minute you realize your toddler is in the bathroom, unrolling the toilet paper or painting with toothpaste on the wall.
Here are 7 of my best tips for homeschooling with toddlers in the house.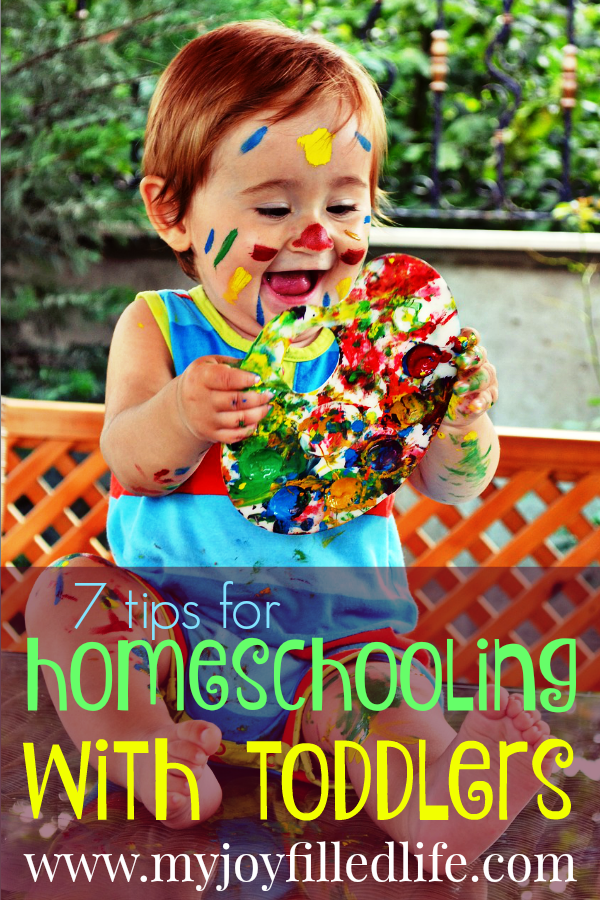 7 Tips for Homeschooling with Toddlers
1. Special Play Time

One method I've used over the years is to rotate older children. One older child is always playing with the toddler while I'm teaching another child. The kids love having the special play time together. They can build with blocks, look at books, do big and small sorting activities, or play house.
The special play time allows me time to tutor another child through their schoolwork.
2. Start Your Homeschool with Toddler Time
Start homeschool day playing with your toddler. It doesn't need to be academic or education, merely some special time for you and your toddler before you focus on the older children. You can read books together, have special toys to use, or do easy puzzles.
Toddlers love having special school time just like their older siblings.
3. High Chair
Put toddler in the high chair with fun stuff to play with while you homeschool. Spread cheerios, bits of banana, cheese, and other yummy snacks for your toddler to munch on while you homeschool. You can also try edible paints by adding a few drops of food coloring into various foods.
Snacks and high chair activities can entertain your toddler for a time.
4. Homeschool During Naps

If you only have a couple of children, try homeschooling during your toddler's naps. You'll have time to focus on your older child while not needing to worry about what your toddler is up to. If your toddler sleeps long enough, you may have several hours in the afternoon to focus on homeschooling.
Your oldest will also enjoy the personal, uninterrupted time with mom.
5. Tub of Special Toys and Books
Keep a tub of special toys and books your toddler can only play with during homeschool time. Pull out one or two items for your child to explore next to you.
You'll be able to focus on homeschooling other children while your toddler plays with special toys next to mommy.
6. Child Gates
Along with the tub of special toys and books for your child to play with during homeschool time, you can also put up child gates to ensure your little one stays near you. This prevents a toddler from wandering off to explore the house while your attention is distracted.
Child gates keep your toddler close at hand.
7. Hire a Mommy's Helper
A mommy's helper is usually a preteen who comes over to babysit while you're busy elsewhere in the house. The preteen can play with your toddler in the bedroom or playroom while you sit in the kitchen homeschooling other children.
Hiring a Mommy's Helper gives you undisturbed time to homeschool.
Homeschooling with toddlers can be a challenge, but with these 7 tips you'll be ready to met the challenge and enjoy homeschooling with a toddler in the house.
The following two tabs change content below.
Sara is a classically homeschooling mom with 6 lively kids and an intense love of coffee. The children are currently 5, 6, 13, 17, 18, and 19. Her two oldest sons are homeschool graduates. Sara adores writing about homeschooling, classical education, organization, and giving kids an excellent education on her blog,
Classically Homeschooling
.