These quick and easy homeschool lunch ideas will have you feeding the family in no time at all! Fast, simple, and delicious!
During the homeschool day, the last thing you want to have to think about is food. Ideally, you'd have a day designated during the week to whip up some ready-made meal items to eat during the lunch week. Unfortunately, not many things in life are ideal.
So, to that end, let's talk about some homeschool lunch ideas that will hopefully save you time and sanity so you can focus on the fun stuff- like math. Joking! We all know math is about as fun as a trip to the dentist.
But seriously, let's dive and hash out a plan for keeping our children fed with as little work as possible. Before we jump into the actual lunch ideas, we're going to discuss a few tricks for keeping everyone on board, dealing with picky eaters, and NOT over-complicating things.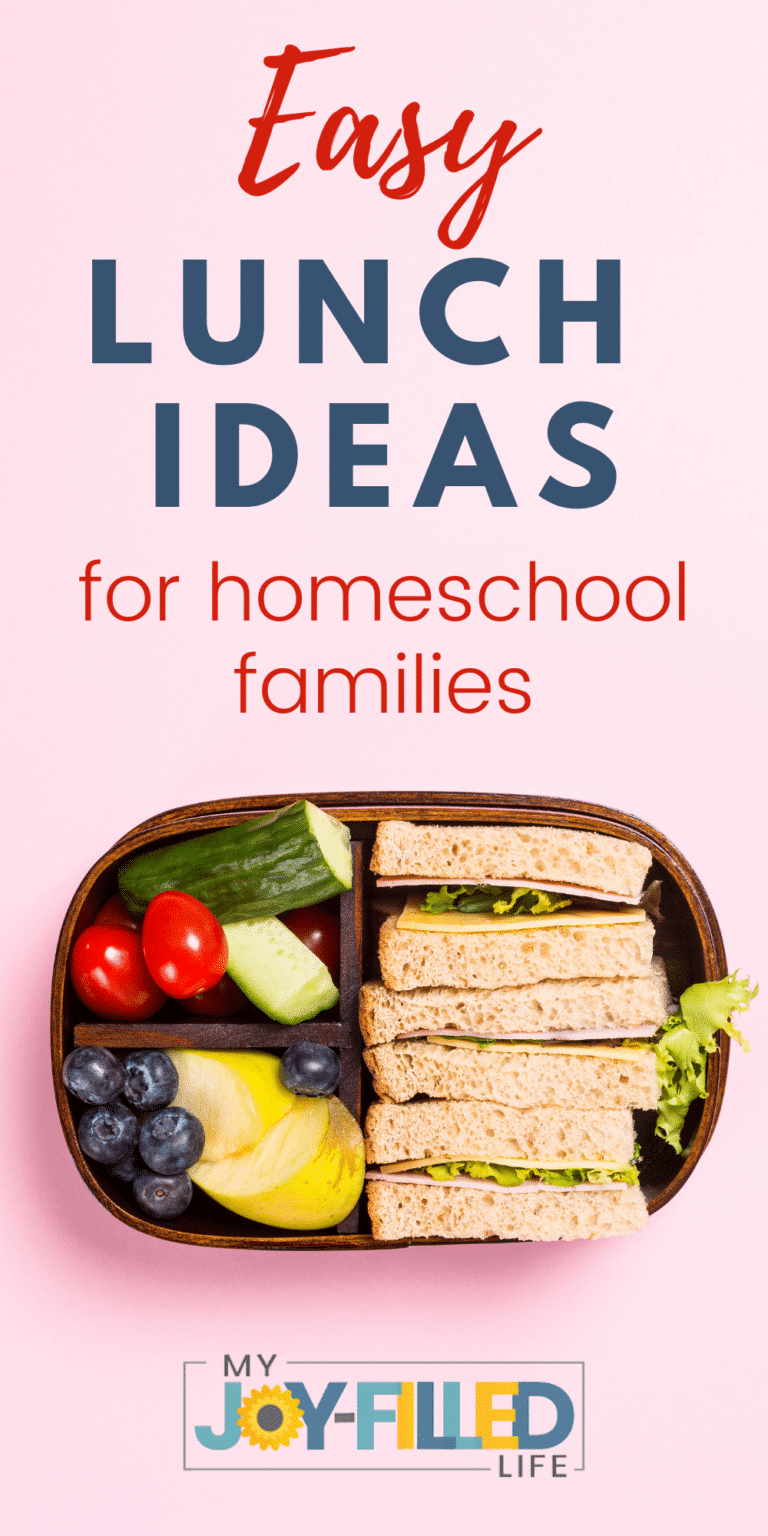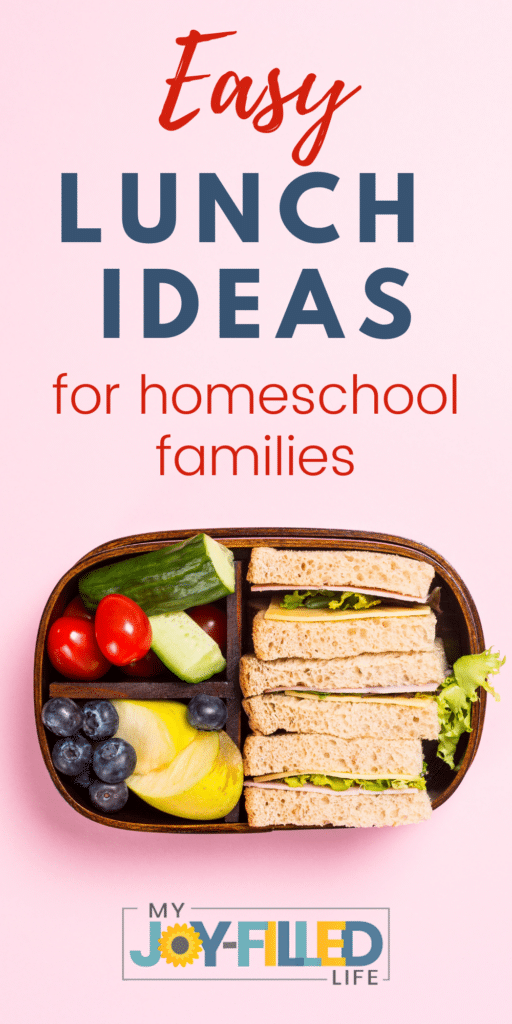 Involve the Kids
Like most moms, you probably have grand plans of feeding your children beautiful plates filled with multicolored veggies, homemade whole wheat bread, and nary an ounce of sugar to be found. Your plans are great!
The problem is, they're your plans. Just like big people, little people like to have a say in what they eat. Involve the kids in meal planning and shopping.
When they help make the meal plan, they're more likely to want to help meal prep and just eat their food in general.
Prepping ahead
To save time during the school week, do a little prep ahead of time. Examples of this might be to cook a big batch of taco meat on the weekend for tacos, burritos, salads, or soups during the week.
Cooked chicken is great for a quick pasta, salads, sandwiches, and soups. You can do the same thing with beans.
Set the crockpot in the early morning and this will often have lunch ready by midday. Have a freezer cooking day over the weekend and this will also yield many lunch options to pull out and heat up as needed. Think peanut butter and jelly sandwiches, meat and cheese sandwiches, burritos, bagel sandwiches, egg muffins, sloppy joe corn muffins.
Don't underestimate leftovers
Leftovers are quite possibly the quickest, easiest lunch you can have. Just heat (or not!) and eat. To make sure you always have some on hand, make your dinner meals a bit larger. You don't have to double per se (unless you want to).
Adding an extra cup or two of rice, an extra can of beans, a few more potatoes, or any other stretcher will always yield more food.
If you do decide to make extra dinner to save for later, set it aside before you feed the family. If you leave it with the rest of the meal, it's likely to get eaten then and there.
Homeschool lunch ideas
homemade hummus with veggies
cheese, crackers, and fruit
quesadillas – plain cheese, cold cuts, pepperoni, or veggie additions are all great choices to change things up!
corn dogs – again, homemade or store-bought
pizzas – pizza boats, bagel pizzas, tortilla pizzas, zucchini pizzas, or regular pizzas
roll-ups – lunch meat and cheese, peanut butter and jelly, peanut butter with banana and honey, tuna salad, egg salad
muffins/bread and smoothies
tuna salad or tuna patties
egg salad
nachos – these can be just chips and cheese or be topped with some warmed chili beans, taco meat, and/or anything else you like on nachos
hot subs or paninis
baked potatoes – plain, BLT, taco, sweet potatoes . . . the topping choices for baked potatoes are only limited by your imagination (or Googling abilities)
hard-boiled eggs
bagel sandwiches, or just bagels with cream cheese – remember, you don't have to be fancy, you just have to get them full
grilled cheese – plain cheese or add pepperoni or lunch meat to change things up
lettuce wraps – anything you can put on bread, you can put on lettuce
macaroni and cheese – whether you do the 33 cent box at Aldi or choose to make it from scratch, mac and cheese is always a winner
hotdogs or brats
salad – you can top a salad with just about anything to make it more filling
pasta salad or potato salad
leftover breakfast – make extra waffles, pancakes, breakfast sandwiches, egg muffins, regular muffins, or sausage gravy for breakfast and just reheat it for lunch
soup – homemade is great (and super frugal!)
There you have it, 20 different homeschool lunch ideas to get your brood fed quickly and easily.