"I don't want to die!"
"I don't want to get old!"
These words were recently spoken by my 4-year-old daughter at bedtime. She was quite upset and had tears welling up in her innocent, big, brown eyes. Of course I just wanted to scoop her up in my arms and tell her not to worry and tell her that she will never die. But I would be lying. I had to address her concerns and not send her to bed full of worry and fear.
Be honest with your children when discussing this topic. Point your children to the Bible and read scriptures with them that speak the Truth about death, dying, and heaven. You know your child best; their age and maturity level will help you decide how in depth to go and how detailed to get on the matter. Of course we will never truly know what death or heaven are like until we experience it; we can only imagine and dream of what it must be like according to God's Word. So rely on His word and ask Him to guide yours as you face these kinds of questions and statements from your children.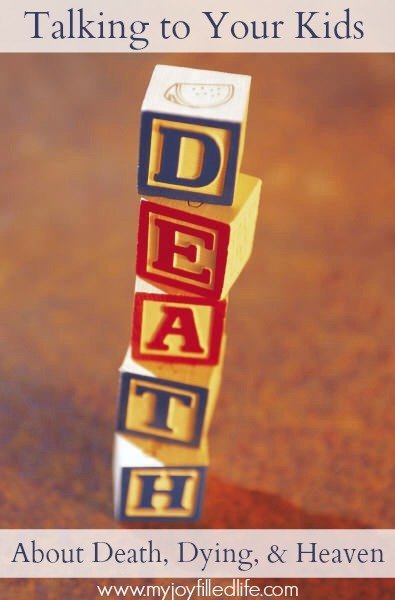 Points to discuss about death and dying –
Eventually everyone will die. This is God's plan for everyone right now. We all will die because of sin. When God made Adam and Eve, His plan wasn't for them to die or grow old. But they disobeyed God and sin entered the world. With sin, came death. We are all born sinners, and we all will die. Some people will die when they are old and their bodies get weak and wear out. But others can die young from accidents or illnesses. But if we trust in Christ and ask God to forgive our sins, we will live forever in heaven.
Your body is not the real you. Your body is a place for your soul here on earth. Your soul is who you are. Your earthly body is imperfect and will eventually die. In heaven, you will be given a new body, a spiritual body that will last forever.
It's okay to be afraid of dying; it's an unknown, and it's final. But everyone that surrenders their lives to Jesus, lives for Him, trusts in Him, and asks Him to forgive their sins, will live eternally in heaven.
It's okay to cry and be sad when someone dies, especially if it's someone we love. It's a sad time for those of us on earth because we will miss that person. But we can also be happy for that person because they are now living with Jesus in the best place imaginable, heaven.
It's okay to not want to die right now. God has given you a wonderful family and home to enjoy on earth right now. When it is time for you to go to heaven, you will be so happy once you are there. You won't be sad, or lonely, or hurt. There is no sickness, or pain, or sadness there. And you will be reunited with all your family and friends that also know Jesus, that have died before you.
Points to discuss about heaven –
Imagine heaven as the most exciting and fun place you have ever been; heaven is like that place, only way better.
Heaven is a place filled with joy; there is no crying or sadness, no pain or hurt in heaven.
All our family and friends that have died before us and that know Jesus will be waiting for us in heaven.
We can't really know what to expect in heaven, there may be toys and games there, we might eat and drink there, or maybe not. We don't really know. But we do know that no matter what it's like there, God will provide everything that we need. It will be awesome living in the presence of God.
We don't know what we will look like in heaven. But the Bible says God will give us new, perfect bodies in heaven.
The only way to get to heaven is through Jesus. If we confess our sins, ask for forgiveness, and surrender our lives to Him, we will go to heaven.
We don't know exactly where heaven is. The best way to describe it is UP. God looks down from heaven onto earth, and when Jesus went to heaven, he ascended.
Helpful scripture references –
Jesus told him, "I am the way, the truth, and the life. No one can come to the Father except through me. John 14:6
All the nations will bring their glory and honor into the city. Nothing evil will be allowed to enter. Revelation 21:26-27
The Lord God gave him this warning: "You may freely eat any fruit in the garden except fruit from the tree of the knowledge of good and evil. If you eat of its fruit, you will surely die. Genesis 2:16-17
This is the will of God, that I should not lose even one of all those he has given me, but that I should raise them to eternal life at the last day. John 6:39
God has reserved a priceless inheritance for his children. It is kept in heaven for you, pure and undefiled, beyond the reach of change and decay. 1 Peter 1:4
He will take these weak mortal bodies of ours and change them into glorious bodies like his own, using the same mighty power that he will use to conquer everything, everywhere. Philippians 3:21
Our earthly bodies, which die and decay, will be different when they are resurrected, for they will never die. 1 Corinthians 15:42
Now we see things imperfectly as in a poor mirror, but then we will see everything with perfect clarity. All that I know now is partial and incomplete, but then I will know everything completely, just as God knows me now. 1 Corinthians 13:12
From heaven the Lord looks down and sees everyone. From his throne he watches all those who live on the earth. Psalm 33: 13-14
Jesus said, "Anyone who hears my word and believes him who sent me has eternal life. He will not be found guilty. He has crossed over from death to life." John 5:24
This post contains affiliate links. Please see my disclosure for more information.
Children's books about death and heaven –

When I was a kid, I remember being afraid of dying. I DID NOT want to die. And I didn't have anyone to tell me otherwise. I don't want my kids to have that same fear that I did growing up. When you know Jesus, death is not something you need to fear. I wish I could've had the same faith back then that my10-year-old son had when he was four, and I hope and pray that all my other kids will follow in his faith as well. One day out of the blue, when he was four, he said, "If heaven is such a wonderful place, then I can't wait to die." Wow, it still gives me goosebumps today!
Sorry for the morbid post, but it's a reality that kids have questions and concerns about death. Since I recently went through this, and felt unprepared, I thought I would share some tips that might help another parent.