December is one of the busiest months of the year. You have presents to wrap, holiday events, parties, and cards to send. Is it any wonder that you're a touched stressed right now? Try these 7 tips for surviving the Holiday Season.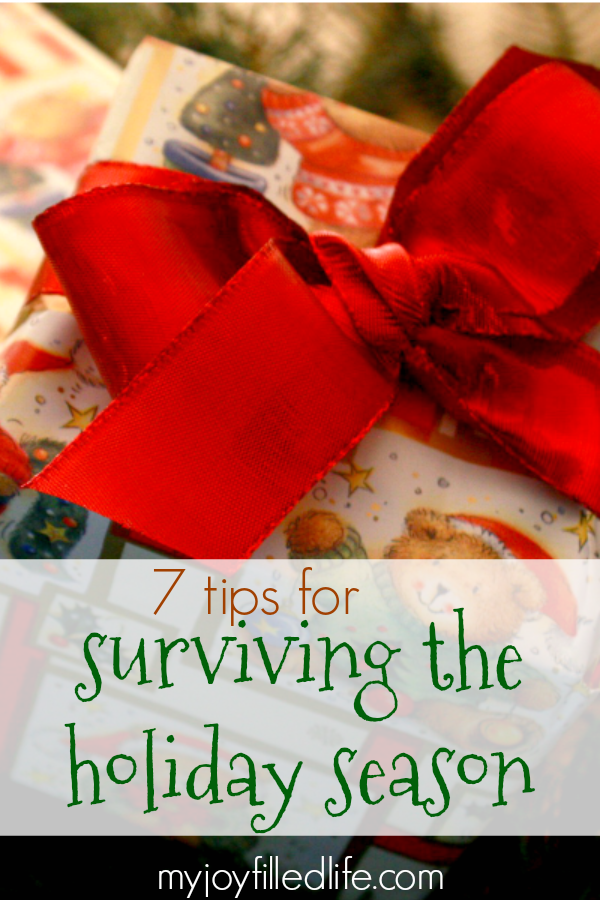 7 Tips for Surviving the Holiday Season
1. Start the Day Right
Get up a few minutes earlier to make certain you can start the day right. Begin with prayer, music, and a hot mug of coffee.
You'll feel better all day for having a few minutes sitting with God in the mornings.
2. Basic Homeschool
Downsize your homeschool to just the basics. Pull out Christmas stories for the kids to read all month. Have the children help you send Christmas cards. They can write letters to grandparents, aunts, uncles, and cousins.
Encourage your kids to complete a math lesson each day or spend time in the kitchen working on doubling and tripling cookie recipes. Use your homeschooling to ease the burden of the holiday season.
3. Keep Up on Laundry
Nothing is more stressful than having a mountain of laundry in your laundry room. The easiest way to avoid Mt. Everest from moving into your house is to wash, dry, and fold one load of laundry each day.
Remember that a load of laundry a day keeps Mt. Everest at bay!
4. Go to Bed with a Clean Kitchen
Have you ever woken up to a messy kitchen? It's a horrid way to start the day. First you have to wash all the dishes before you can even think about feeding the hungry children streaming through your kitchen.
Make the holiday season less stressful by ensuring the kitchen is clean when you go to bed.
5. Family Tidy Time
Assign a time for the family to tidy the house everyday. My preference is right after dinner. You can clean the kitchen while the kids rush around the house picking up toys, running a vacuum over the floor, and tidying the shelves.
When everyone works together, it's amazing how quickly the house can be restored after a busy day at home.
6. Kids Help Cook
There's no reason for you to be stuck in the kitchen by yourself. Instead encourage your kids to help you cook in the kitchen. They can mix while you measure, roll dough, or cut cookies.
Remember life is easier when the kids are able to cook and bake for themselves.
7. Enjoy Time as a Family
Make an effort to enjoy time as a family. Turn on Christmas music and dance together. Watch Christmas shows and decorate the house.
The holiday season shouldn't be so busy that you forget to enjoy time with your family.
With these 7 tips in your toolbox, you won't just survive the holiday season, you'll enjoy it with your family.
What is your best tip for surviving the holiday season?
The following two tabs change content below.
Sara is a classically homeschooling mom with 6 lively kids and an intense love of coffee. The children are currently 5, 6, 13, 17, 18, and 19. Her two oldest sons are homeschool graduates. Sara adores writing about homeschooling, classical education, organization, and giving kids an excellent education on her blog,
Classically Homeschooling
.