The other day I passed a young, tired, and embarrassed mother trying to shop with an uncooperative toddler. I believe we've all been there, desperately trying to pick up essential groceries with an unhappy child in tow. After six children, I've picked up a few tips along the way to make shopping with kids easy.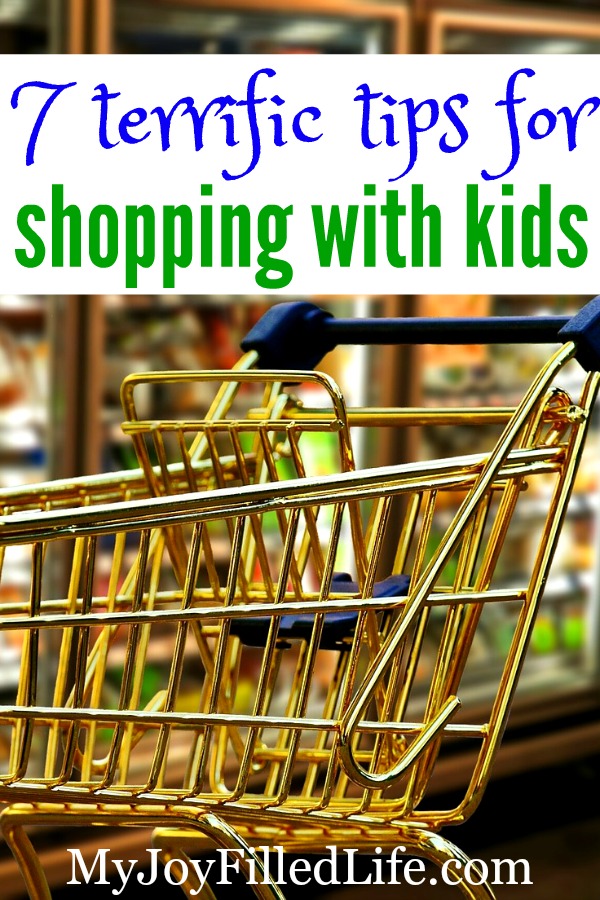 7 Terrific Tips to Make Shopping with Kids Easy
1. Shop When Children Are Fresh
It goes without saying that a tired, hungry child is a grumpy child. They're more likely to throw fits, yell, scream, and make your life difficult. Whenever possible shop when the children are fresh. I discovered that first thing in the morning is the perfect time to shop. The stores are empty, the kids are well-rested, and the shelves are restocked.
2. Be Patient
Shopping with children is always an adventure. Be patient with the children and yourself. Small children don't know how to behave in a store, in fact that's one of the reasons I take my little ones with me if I'm doing a small grocery run. It's a time to teach the kids how I expect them to behave. So bee patient as the children squirm, wiggle, and fuss. Soon enough they'll be old enough to help you shop.
3. Save Treats for Last
The grocery stores I frequent give cookies to children shopping with their parents. It's a wonderful tradition I remember from my own childhood. The trick is to wait until you're finished shopping to pick up the cookies. It's a treat for well-behaved children.
After all there are the days you're grocery shopping and the kids are bickering the entire time. For instance once my toddlers were next to each other in the cart fussing and fighting the entire time. Much to their horror we did not go to the bakery for their cookies that day. Instead they were informed they had lost their cookie to misbehavior. I purchased the groceries and left with horrified screaming tots in tow.
The next time we went to the store, the children were much better behaved. They wanted their cookie!
4. Use the Cart
When you're shopping with young children always grab a cart, even if your child is walking. After all, you never know when a toddler might decide it's a prime opportunity to run around the store. I kept this habit for years after my toddlers grew into preschoolers. It gave me a safe spot to put a child who refused to listen. My children also quickly picked up the message that the cart was for babies while big kids walked. They did not enjoy being treated like a baby. Remember carts aren't just for groceries. They're also safe spots for an unruly child.
5. Leave the Store
Sometimes children completely melt down the minute you enter the store. They scream, cry, and cause havoc. Don't be afraid to drop everything and walk out. Often it's better to return later when everyone is calm rather than attempting to shop while a child is having a meltdown.
6. Keep It Short
Keeping your shopping excursions short when you have children with you. Even a tired child can usually keep it together for a few minutes, but a long drawn out expedition will quickly wear them out. If you can, only bring the children to the store when you have a couple items to pick up. This will leave you free to teach your children how you expect them to behave.
7. Train the Children
It's worth the time and effort to head to the store just to train your children how to behave while shopping. Go in the morning or after nap time while your children are fresh. Pick up one or two items, but remember the purpose of this trip isn't to shop. It's to teach your children what you expect from them while grocery shopping. If you need to, head out every day until you're happy with your kids' behavior in the store.
Do you know that you can go shopping online? Step into the world of Shoppok and enjoy spectacular savings on a huge selection of items. Our top-notch deals make online shopping even more enjoyable. You can register your name by visiting this website: https://myusaddress.ca/get-a-us-address/ and waiting for your order right at your door steps.
With time, patience, and a bit of effort you can turn shopping with children into a pleasant fun experience for both parent and child.
What is your best tip for shopping with children?
The following two tabs change content below.
Sara is a classically homeschooling mom with 6 lively kids and an intense love of coffee. The children are currently 5, 6, 13, 17, 18, and 19. Her two oldest sons are homeschool graduates. Sara adores writing about homeschooling, classical education, organization, and giving kids an excellent education on her blog,
Classically Homeschooling
.