Math's endless worksheets and flashcards combined with groaning children is enough to make you long for a trip to the dentist. Anything would be better than drilling math with your children one more day.
What if I told you it doesn't have to be this way. You can drill math and drill it playfully in a way that will have your children begging for more.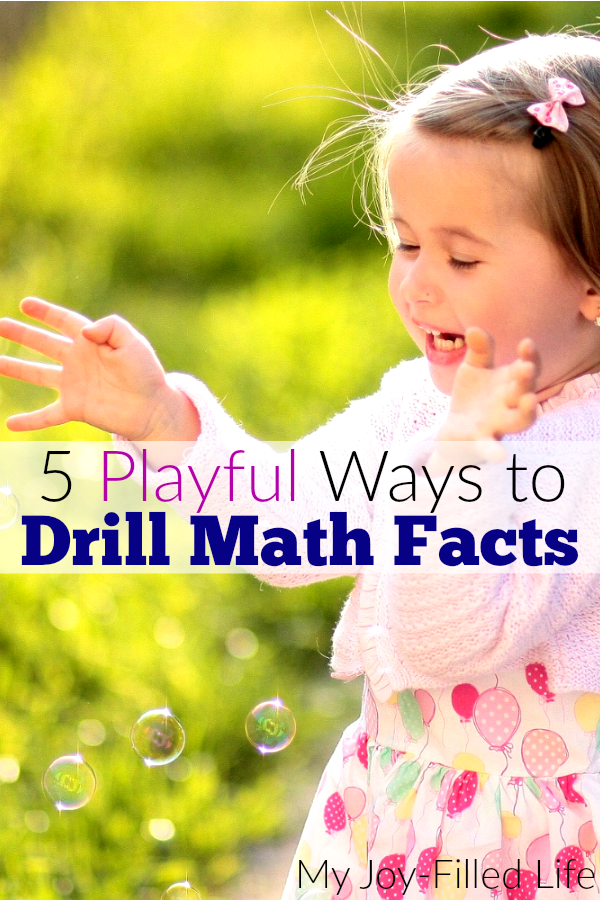 Playfully Drill Math
Hopscotch is a great way to drill math. First head outside into the sun and draw a large hopscotch on the sidewalk. Instead of putting the numbers from 1-10 in the boxes, put math facts in the boxes. Personally I prefer to mix easy and hard math facts.
Once you've set up the hopscotch, spend a few hours every day playing. There's no reason you can't erase one math fact and replace it with a harder one as your children become more confident. The goal is to gently increase the difficulty while keeping the kids begging for another game.
Head outside with your children to toss a baseball and math facts back and forth. The method is rather simple. As you toss the ball to your kid, ask your kid a math fact. Your child gives the correct answer before asking you a math fact and throwing you the ball.
Keep throwing math facts and the baseball at each other as you play catch. Be sure to alternate between easy and hard math problems. Too many hard facts and the game gets frustrating. Too many easy facts and the game is boring. Aim for an even mixture to keep the fun alive.
If you haven't used Monopoly to practice math facts, you're missing a treat. Assign your child to be the banker as you play. That's all you need to do. The game walks you and your child through calculating taxes, interests, rents, and making change.
Monopoly is also a long game that usually takes an entire afternoon. Spend several afternoons enjoying playing with your kid, and you'll find your child will be adding, subtracting, and multiplying their way to math mastery in a short time.
Young children especially love to set up their own store. Pull out a variety of stuffed animals, trucks, blocks, and toys. Assign prices to each of the toys before setting them on shelves around the house. Find a good spot, perhaps the kitchen table, for a checkout stand. Finally divide some play money between you and your children.
Encourage your children to take turns being the shopkeeper as the other children wander the house shopping for toys. Your kids will have a blast adding and subtracting while calculating totals and change.
Chanting & Marching in a Parade
Kids love parades, marching, and making lots of noise. Combine this love with math facts and you have a playful way to drill math facts. The method is simple. Let everyone get ready for a parade. Have your kids make flags and funny hats and pull on dress up clothing.
Once everyone is ready, march around the house, yard, or block chanting the math facts as you go. Start with the 1 facts and work your way up to the 10s. Don't worry about making noise, that's half the fun.
Drilling math facts doesn't need to be mind numbing drill. Instead choose a fun method and playfully teach your child math.
What's your favorite way to playfully drill math?
The following two tabs change content below.
Sara is a classically homeschooling mom with 6 lively kids and an intense love of coffee. The children are currently 5, 6, 13, 17, 18, and 19. Her two oldest sons are homeschool graduates. Sara adores writing about homeschooling, classical education, organization, and giving kids an excellent education on her blog,
Classically Homeschooling
.