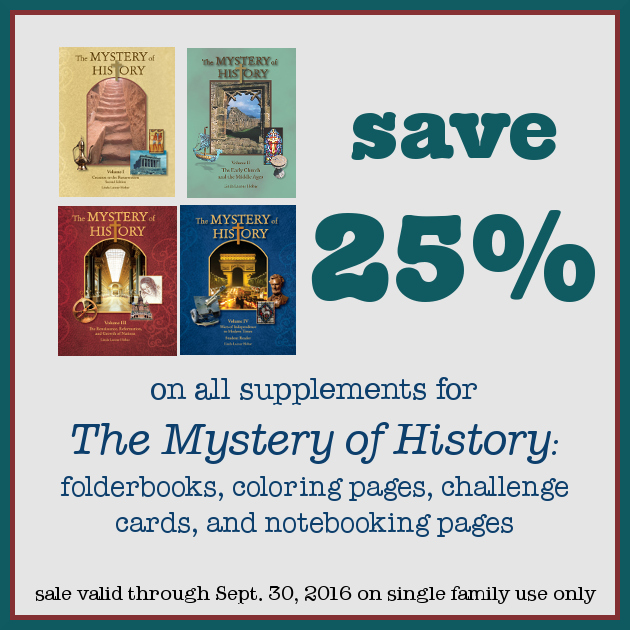 We have started using a new history curriculum this year, Mystery of History. I have struggled for the last several years on a history program that we like and that is a good fit for our family. Plus, I kept going back and forth on whether I wanted my kids to study American History first or study history chronologically.

Mystery of History has always made my list each year for possible history curriculums, and this year it made the cut. So far we are really enjoying it. We are moving through it slowly with my 4 oldest children (ages 3 – 10); there is so much to read and do with each lesson, I don't want to miss out on anything. But… I do know that I need to pick and choose, or else we will never get through Volume One.
There are so many great products and projects to go along with Mystery of History. Mapwork, Memory Cards, project ideas and Timeline (although you will need to make your own; I will show ours when we are a little further along) are all included in the book. We are also using the Coloring Pages and the Notebooking pages that you can purchase to go along with the curriculum.
Here are some of the things we did and read for Lessons 4 – 6.
Lesson 4: Noah & the Flood
Lesson 5: The Ice Age
Lesson 6: Dinosaurs
We matched up all the animals as we played a game of Memory. I found these printable cards in the files of the Mystery of History Volume One Yahoo group. If you are using MOH and haven't joined the group, you should! Lots of great resources and advice.
In the Hands-On Bible (NLT), I found a cute craft to go along with Noah & the Flood. We made rainbows out of half a paper plate and then attached big raindrops to the rainbows. The rainbow symbolizes God's promise to us, and the kids had to write a promise on each of the raindrops that they were making to God. I was originally only going to have the younger kids do this craft, but at the last minute had the 2 older ones join in. I'm so glad I did because I was quite moved by the promises they wrote on their raindrops. And because it's too precious not to share, here is what each of the kids wrote:
Lauren – Age 3
1. Be nice to my sister
2. Help do the dishes
3. Pick up my toys
4. Help Mommy and Daddy
Rachel – Age 5
1. Share my stuffed animals
2. Read my books
3. Share my toys
4. Help do the dishes
Sam – Age 8
1. Help with my little brothers
2. I will protect my brothers and sisters
3. I will always obey my parents
4. I will do what I am told right away
Luke – Age 10
1. I will be an example to my younger siblings and teach them
2. I will protect my family
3. I will not use swear words
4. I will help out and obey my parents right when I am told
We did a silly little activity to wrap up our lesson on The Ice Age by seeing who could keep a piece of ice on their belly the longest. The 3-year-old didn't last long at all, but the three bigger kids surprised me and lasted until the cube melted! I told them that is how we are going to do story time from now on because they laid there nice and quiet and still.
The boys had a lot of fun with the lesson on dinosaurs. They became excavators and dug out dinosaur bones. Then they put their dinos together and painted them. If I remember correctly, we bought these kits a few years ago on a trip to Disney World at the T-Rex restaurant. I thought this was the perfect

opportunity to get them off my bookshelf

project to add to our lesson. (I couldn't find this kit online, but Amazon has a bunch of different dino dig kits in a wide range of sizes and prices).
The boys also made a dinosaur poster; they got on the computer and found dinosaurs to fit under nine different categories such as meat-eater, plant-eater, flying, etc.
A sneak peek at our timeline.
For more lessons from Mystery of History Volume 1, click below:
Lessons 1-3
Lessons 4-6
Lessons 7-9
Lessons 10-12
Lessons 13-15