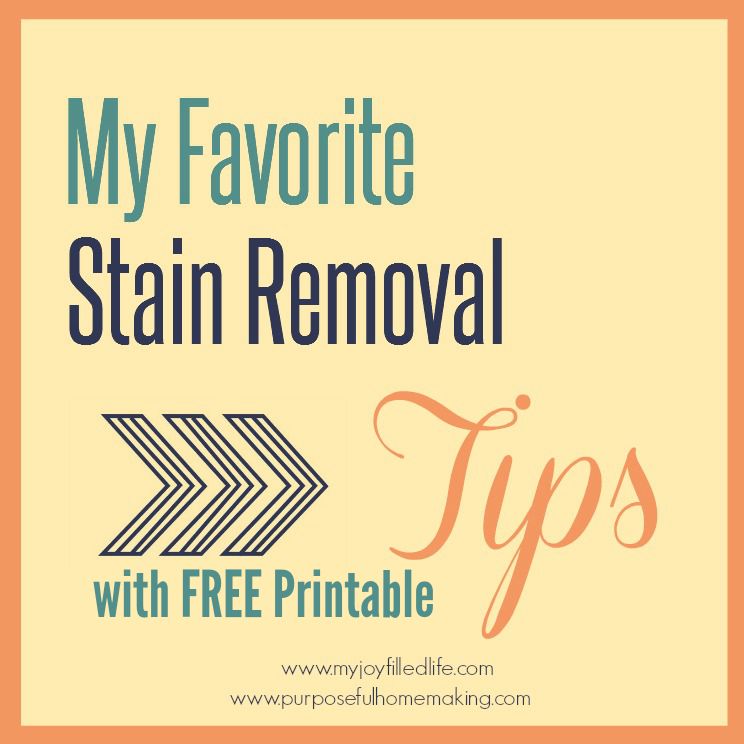 I have kids. Four of them. So there have been many times that my stain busting skills have been put to the test. Over the years I have tried numerous things for removing various stains, whether it be crayon, blood, ink, grass, hard-to-get-out food stains, or whatever else my kids like to throw my way.
My go-to list is so handy that I knew I had to share it with you because it will save you from having to run to Pinterest each time you face a new stain dilemma.
Not only have I compiled an arsenal of stain removing tactics for you, but I also put it all together in a printable so it's easy to access in your laundry room. I like to keep mine in a sheet protector to keep it from getting wet, clipped to a skirt (or pant) hanger, and hung on the drying bar in my laundry room.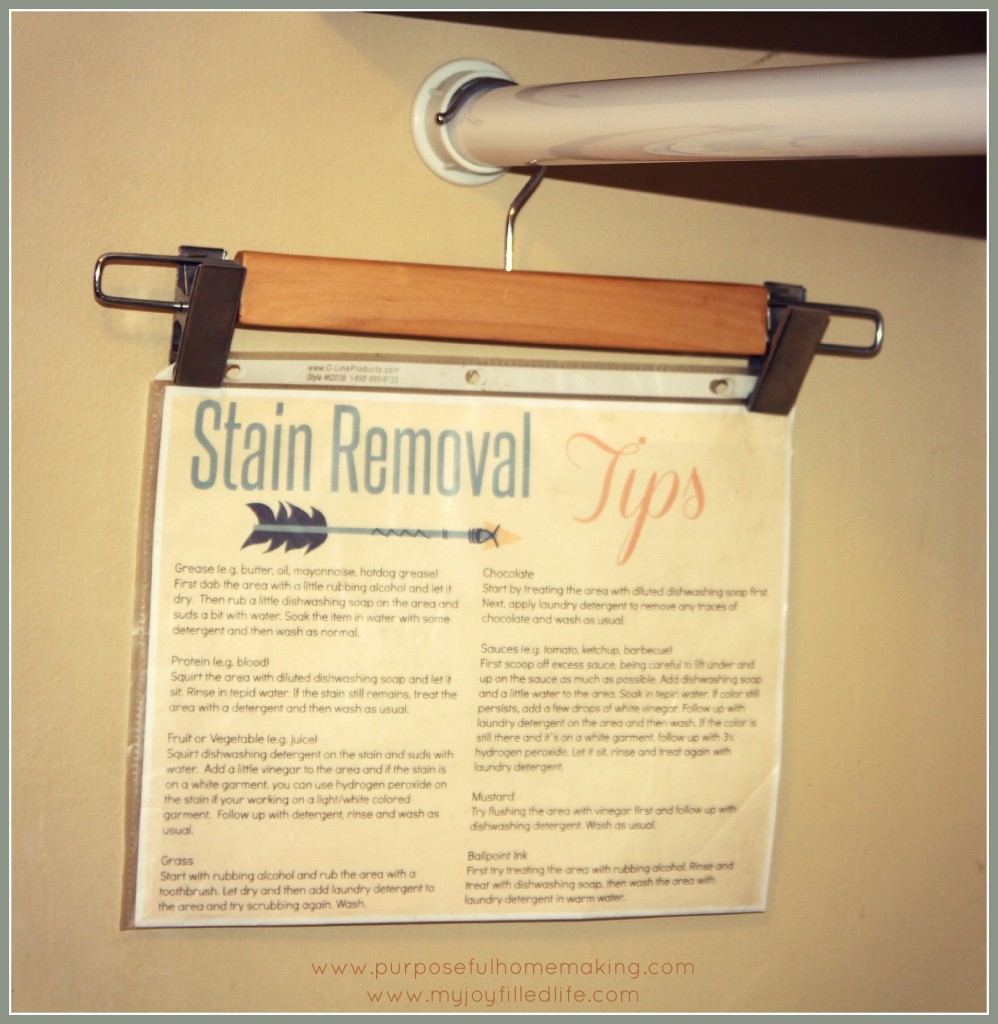 As a general reminder when treating stains, always be sure to read the product care instructions on your garment and remember that while most stains can come out, sometimes it's just a wash and can't be saved. However, the success rate with these tips is pretty high for me and I hope they work for you, too!
My Favorite Stain Removal Tips
Grease (e.g. butter, oil, mayonnaise, hotdog grease)
First dab the area with a little rubbing alcohol and let it dry. Then rub a little dish washing soap on the area and suds a bit with water. Soak the item in water with some detergent and then wash as normal. By using this method, I have actually been able to get stains from hotdog grease out of my favorite shirt even after I accidentally dried it in the dryer. It took a couple of tries, but it worked!
Protein (e.g. blood)
Squirt the area with diluted dish washing soap and let it sit. Rinse in tepid water. If the stain still remains, treat the area with a detergent and then wash as usual. Our favorite brand for spot treating is Era. However, I will caution you that if you let it sit too long, especially undiluted, it can remove the color from your article of clothing. It's best to dilute or just not let it sit too long.
Fruit or Vegetable (e.g. juice)
Squirt dish washing detergent on the stain and suds with water. Add a little vinegar to the area and if the stain is on a white garment, you can use hydrogen peroxide on the stain. (I've read you can use it on any fabric but unless I'm willing to take the chance of losing the garment I would probably only do it on white fabric.) Follow up with detergent, rinse and wash as usual.
Grass
If you have kids you most likely have had grass stains, I'm sure. Grass stain can be especially tough to remove but you can try starting with rubbing alcohol and rub the area with a toothbrush. Let dry and then add laundry detergent to the area and try scrubbing again. Wash.
Chocolate
Chocolate tastes great, but it sure is a pain to get out of clothes! If it just so happens that you have to get it out of your clothes, try treating the area with diluted dish washing soap first. Next, apply laundry detergent to remove any traces of chocolate and wash as usual.
Sauces (e.g. tomato, ketchup, barbecue)
First scoop off excess sauce, being careful to lift under and up on the sauce as much as possible. Add dish washing soap and a little water to the area. Soak in tepid water. If color still persists, add a few drops of white vinegar. Follow up with laundry detergent on the area and then wash. If the color is still there and it's on a white garment, follow up with 3% hydrogen peroxide. Let it sit, rinse and treat again with laundry detergent
Mustard
Mustard is the worst in my opinion! Try flushing the area with vinegar first and follow up with dish washing detergent. Wash as usual.
Ballpoint Ink
First try treating the area with rubbing alcohol. Rinse and treat with dish washing soap, then wash the area with laundry detergent in warm water.
For all stains, I always do my best to get the stain removed before I add it to the washing machine but sometimes the stain is stubborn and will finally come out in the wash. For really persistent stains, I will go through the steps once, run it through the washing machine, check the area, and if need be, go through the steps one more time. I always put the item that I am trying to remove the stain from in a mesh laundry bag before adding it to the washing machine. That way it reminds me to check to see if the stain is gone before I toss it in to the dryer.
And just for fun, here is a free printable for you to keep in your laundry room so that you always have easy access to your best stain busting tips! Just click on the image below to download and print. (By downloading the file below, you are agreeing to the Terms of Use).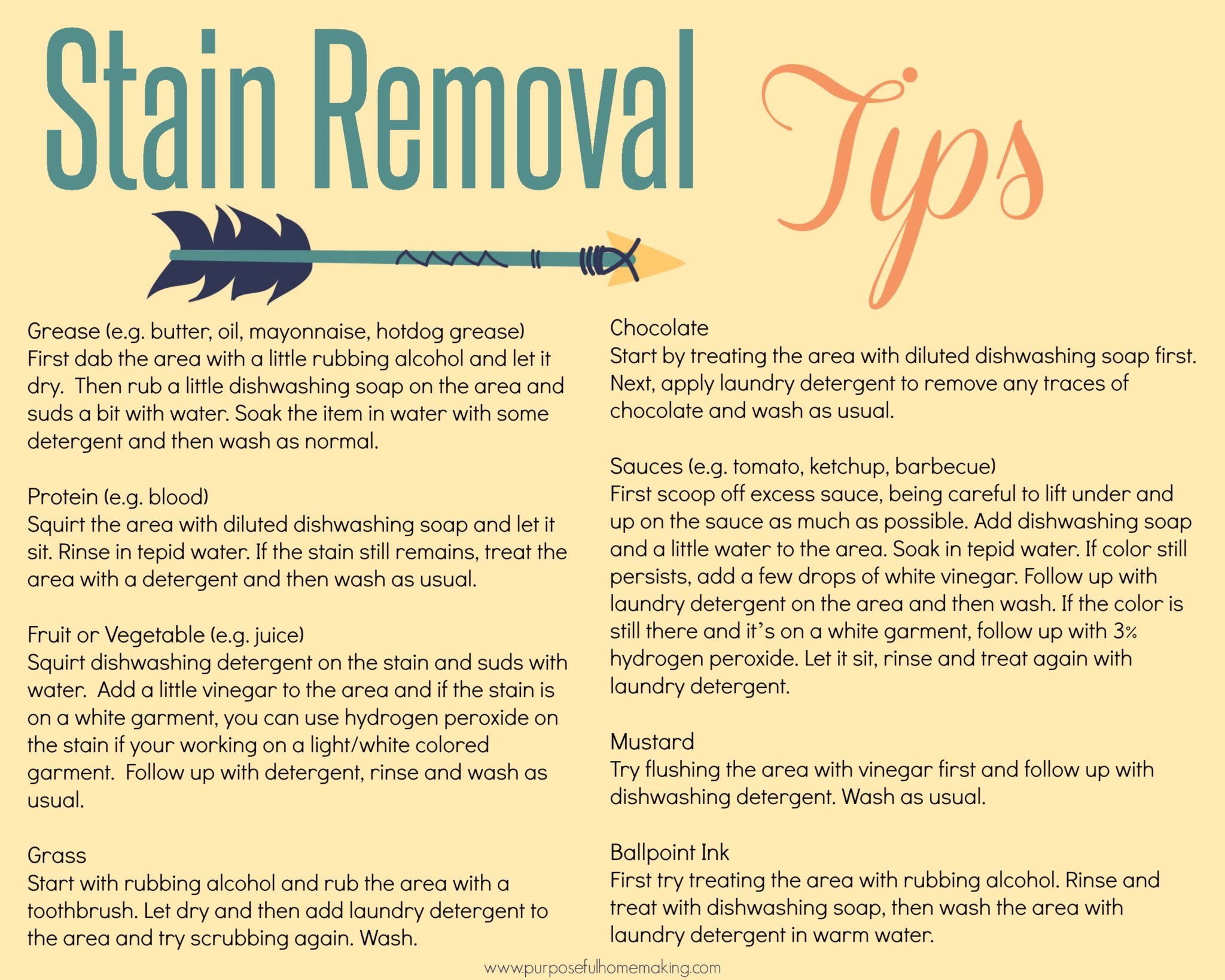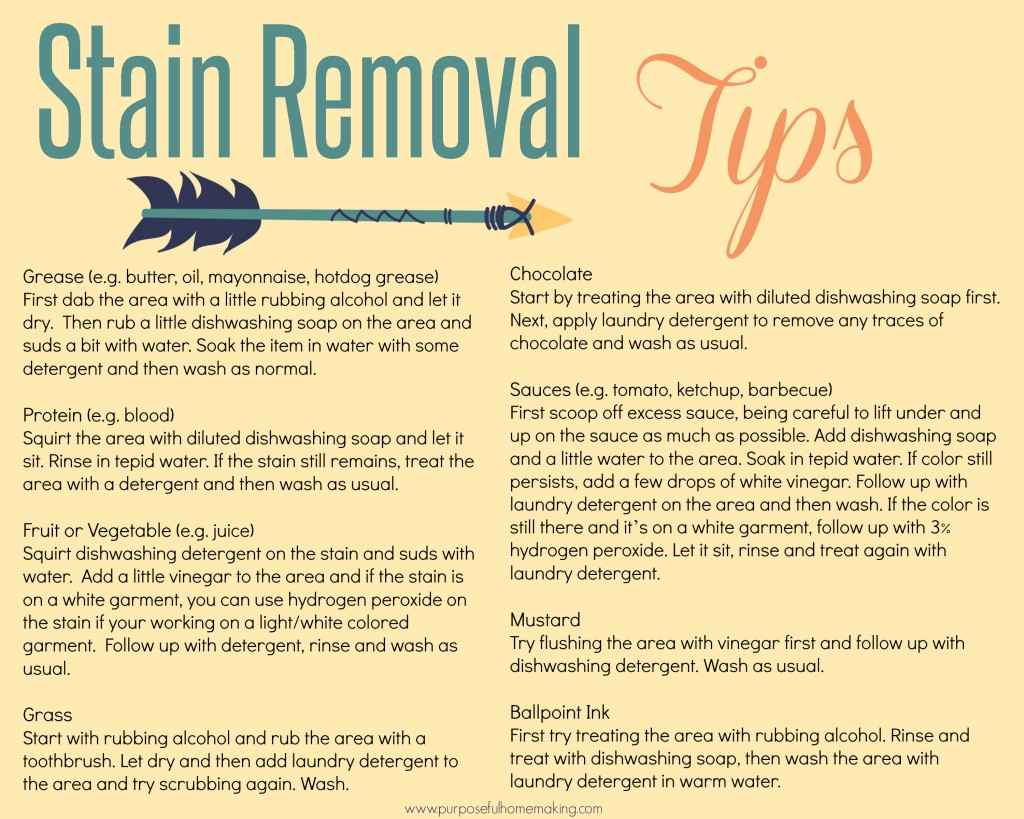 What are your best stain removing tips?
This post contributed by Becky at Purposeful Homemaking