Have you ever finished a school year and been disappointed by it? What needed to get done got done, but it wasn't an awesome year. You didn't have an incredible homeschool.
This year can be different! Just use these tips to create the incredible homeschool of your dreams.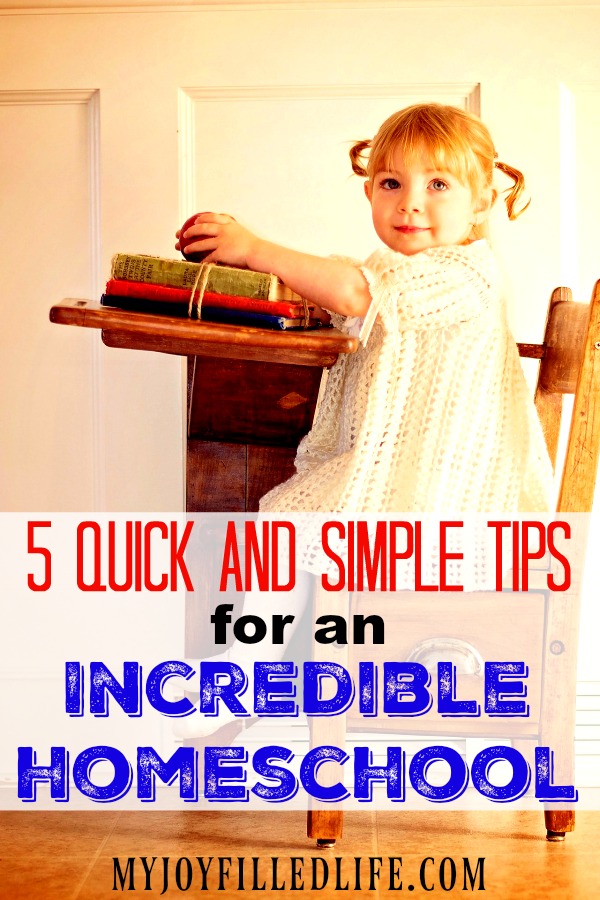 5 Quick and Simple Tips for an Incredible Homeschool
1. Weekly Field Trips
There's nothing like getting out of the house every week for a field trip to give your kids an excellent education and create an incredible homeschool. These can become quite involved as you investigate local businesses, fire departments, and city hall.
However you can have an incredible year with easy field trips as well. Take time to head to the zoo, museum, and aquarium. Find out if there's a reptile zoo nearby or bird sanctuary.
You can also alternate these field trips with nature hikes, afternoons at the beach, and exploring local landmarks. It fascinating how we go see landmarks when we travel but never visit the ones locally. Instead of falling into the trap, plan local landmarks into your weekly field trips.
2. One Awesome Project a Month
It's tempting to schedule an awesome art or history project every single week. Kids love projects. They're the hallmark of an incredible homeschool. But so overwhelming for the average homeschool mom.
Instead of trying to do an involved project every week, aim to complete one project a month. Pick up supplies, and begin setting it up. Gradually work on the project over the course of a month. It's a lovely pace that will have your family consistently completing awesome projects without overwhelming yourself.
3. Fun Reading Times
Reading days are important for everyone in the family. It's time for mom to catch up on some of her reading. It's time for the kids to develop reading skills and develop a love of reading. Reading days are also wonderful educational days when the family is feeling under the weather or simply needs a break.
The method is simple. Everyone curls up in the living room with blankets, pillows, and sleeping bags. You can order pizza, pop popcorn, back cookies, or drink hot chocolate. The goal is to create as cozy of a reading day as possible.
4. Fun Math Activities
Math too quickly turns into days filled with drill and kill. Learn the multiplication facts, drill addition facts, master long division. While these are important skills, they're not the end all be all of math.
This year plan at least one day a week where you focus on the fun side of math. Create 3D figures, play with pattern blocks, focus on mathematical puzzles, or bake cookies and study fractions. Show kids the fun side of math with these fascinating concepts.
5. Physical Activities
Let's face it. Sometimes we end up stuck at home in our homeschools. Everyone journals. Kids curl up to read a good book. If you're not careful, the house becomes sedentary.
Plan some fun physical activities into your homeschool day. Head out to shoot hoops, ride bikes, or play tag together. Wisper Electric Bikes offers innovative folding electric bikes for easy storage and transport. Wander over to the local sports center to ice skate, climb a rock wall, or jump on trampolines. Balance your children's education with physical activity daily.
With these 5 awesome tips, you can have an incredible homeschool this year. There will be memorable projects, fascinating math problems, cozy reading days, fun physical activities, and weekly field trips.
Save
The following two tabs change content below.
Sara is a classically homeschooling mom with 6 lively kids and an intense love of coffee. The children are currently 5, 6, 13, 17, 18, and 19. Her two oldest sons are homeschool graduates. Sara adores writing about homeschooling, classical education, organization, and giving kids an excellent education on her blog,
Classically Homeschooling
.