As a year round homeschooler I choose to continue homeschooling through most holidays. We typically only take the day before and day of the holiday off completely, but since starting a child-led homeschooling method, I've decided that as we homeschool through the holidays we will do so more relaxed.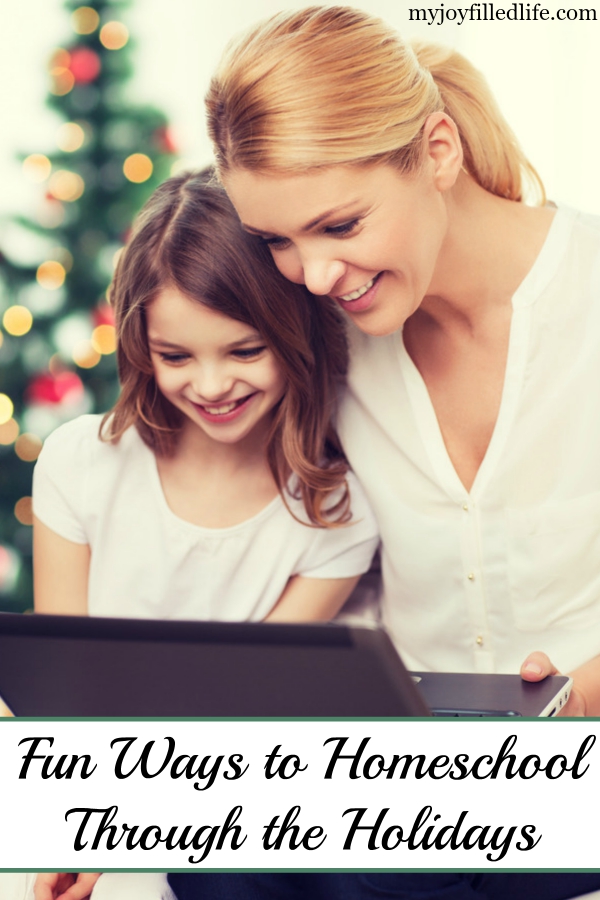 Throughout a year you never know what may come your way or what things in life will require you to take unplanned time off from homeschooling. You definitely don't want to end up having to push your kids hard to hit your states required days of school because unexpected time away from homeschooling. It is because of this that I choose to homeschool through the holidays.
There are so many ways to make homeschooling a fun, delightful journey for our kids and homeschooling through the holidays is a great time to add fun elements to homeschooling!
If you're looking for fun ways to homeschool through the holidays, the best way to get started is to think about your kids and your homeschool. Start off by answering these questions; What subject do your kids love? How do you kids learn best? After you have these answers determine what your holiday schedule looks like and how you can incorporate these things into your homeschooling through the holidays.
Audiobooks provide great homeschooling opportunities for any holiday travel you may have coming up. You can find great audiobooks at the library, for iOs or Android devices you can download audiobooks from many sites like; Librivox, Storynory, Audiobooks. Vibrant Homeschooling has a great list of audio dramas for your kids here.
Lapbooks give you and your kids the ability to learn about a particular topic, time period or even through literature. If your kids love hands-on learning activities and sharing what they've learned with others, lapbooks are a great resource for homeschooling through the holidays.
Baking is a fun way to incorporate math into your holiday homeschooling and have quality family time too! Everyone loves to bake something special during the holidays to share with family, friends and neighbors. Make your next holiday homeschooling lesson happen in the kitchen and teach math in a hands-on fun way!
Movie Nights can be filled with learning opportunities! Whether you choose to read a work of literature first and then watch the movie and compare them or have fun creating crafts, food and fun activities that coordinate with the movie you're watching, change up your family movie night during the holidays and make it educationally fun!
Making the choice to homeschool through the holidays doesn't have to involved all of your textbooks and the same schedule you follow the rest of the year. Try changing your homeschool up a bit during the busy holiday season, incorporate hands-on learning as much as possible through the holiday preparations and celebrations. Your children will have fun learning throughout the holiday festivities and they probably won't even realize it. Make sure you keep it simple, holiday learning should be fun for everyone and not feel like a typical homeschool day!
Do you choose to homeschool through the holiday? If so, how do you make homeschooling fun throughout the holiday season?
The following two tabs change content below.
Misty is a Daughter of THE King, Native Texas girl, Navy brat at heart, loving Fisherman's wife, blessed homeschooling mother of 2, founder of
Year Round Homeschooling
and author of
Beautiful Ashes
. She is passionate about being real through every stage of life and encouraging homeschool moms throughout their homeschool journey. Her heart is full of ideas and passions, but the hours in her day never multiply to get it all done. Misty enjoys reading, music and photography in her spare time.