Unfortunately not all children adore reading. There are kids who loathe curling up a good book on a rainy day. But reading is an important skill for our kids. They need to know how to read and read well, and the best way to get there is to read.
So how do you encourage a reluctant reader to read?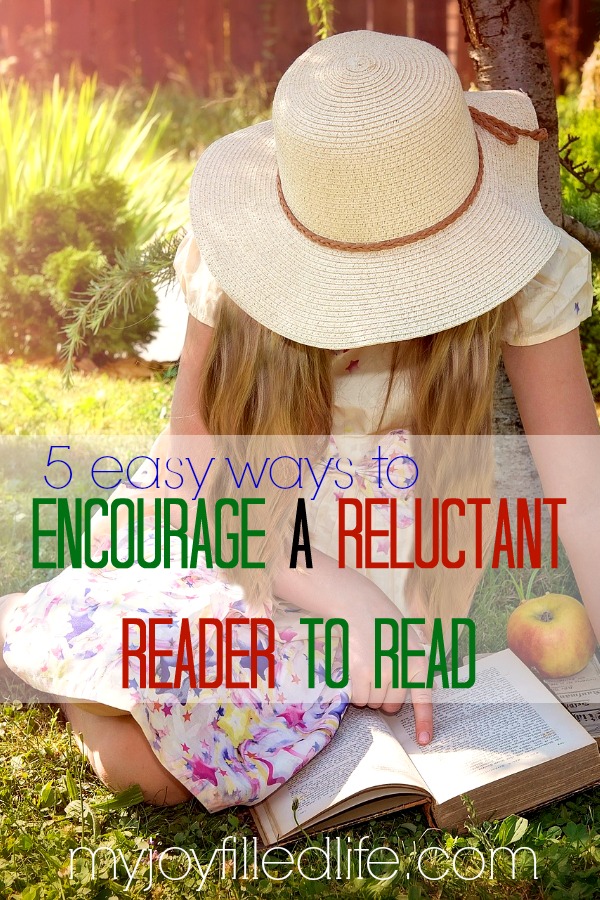 Encourage Your Reluctant Reader to Read
1. Listen to Audio-Books
Audio-books help children learn the attraction of words. Children listen to the stories, get transported to far-off places. They also learn the rhythm and flow of written language.
The first step to encouraging a love of books is to encourage audio-books. You'll be amazed what types of titles your child will bring home.
2. Short Reading Assignments
Long reading of 15-20 pages are intimidating for a reluctant reader. They look at the pages, sigh, and quietly find something else, anything else, to do.
The solution is to keep the reading assignments short. I found 5 pages to be perfect for my reluctant readers. Over time I was able to increase the length of the reading assignments until the kids were reading normal reading assignments without complaint.
3. Super Easy Books
Reduce the difficulty of the books your child is reading. Nothing is as discouraging as fighting your way through an impossible book. Nothing is as motivating as losing yourself in the words and entering another world.
Handing well-written easy books to your child will encourage them to enjoy reading and begin reading for pleasure.
4. Comfortable Spot to Read
Create a comfortable spot for your child read. Find a good chair or create a reading nook. Stock it with excellent children's literature, audio-books, and pillows. Make certain it has excellent lighting.
There's nothing as pleasant as curling up with a good book in your favorite spot. Help your child find that spot and make it a cozy place to curl up with a good book.
5. Periodic Reading Days
There are days it's best to toss out the normal homeschool routine. Instead of completing math and penmanship, curl up in the living room. Spend the day reading and enjoying great books.
You can read books aloud while the kids munch popcorn and listen. Other days everyone can grab their favorite book and curl up in sleeping bags quietly reading. Order pizza, drink pop, and make the day a special day.
As time goes on, your reluctant readers will begin to associate reading with being comfortable, special times, and wonderful stories. They may never be an avid reader, but they'll no longer be a reluctant reader.
What is your favorite way to encourage a reluctant reader to read?
The following two tabs change content below.
Sara is a classically homeschooling mom with 6 lively kids and an intense love of coffee. The children are currently 5, 6, 13, 17, 18, and 19. Her two oldest sons are homeschool graduates. Sara adores writing about homeschooling, classical education, organization, and giving kids an excellent education on her blog,
Classically Homeschooling
.