These blueberry snacks are a great way to sneak more healthy food into your kids' day. They also make it fun with a classic game of Tic Tac Toe!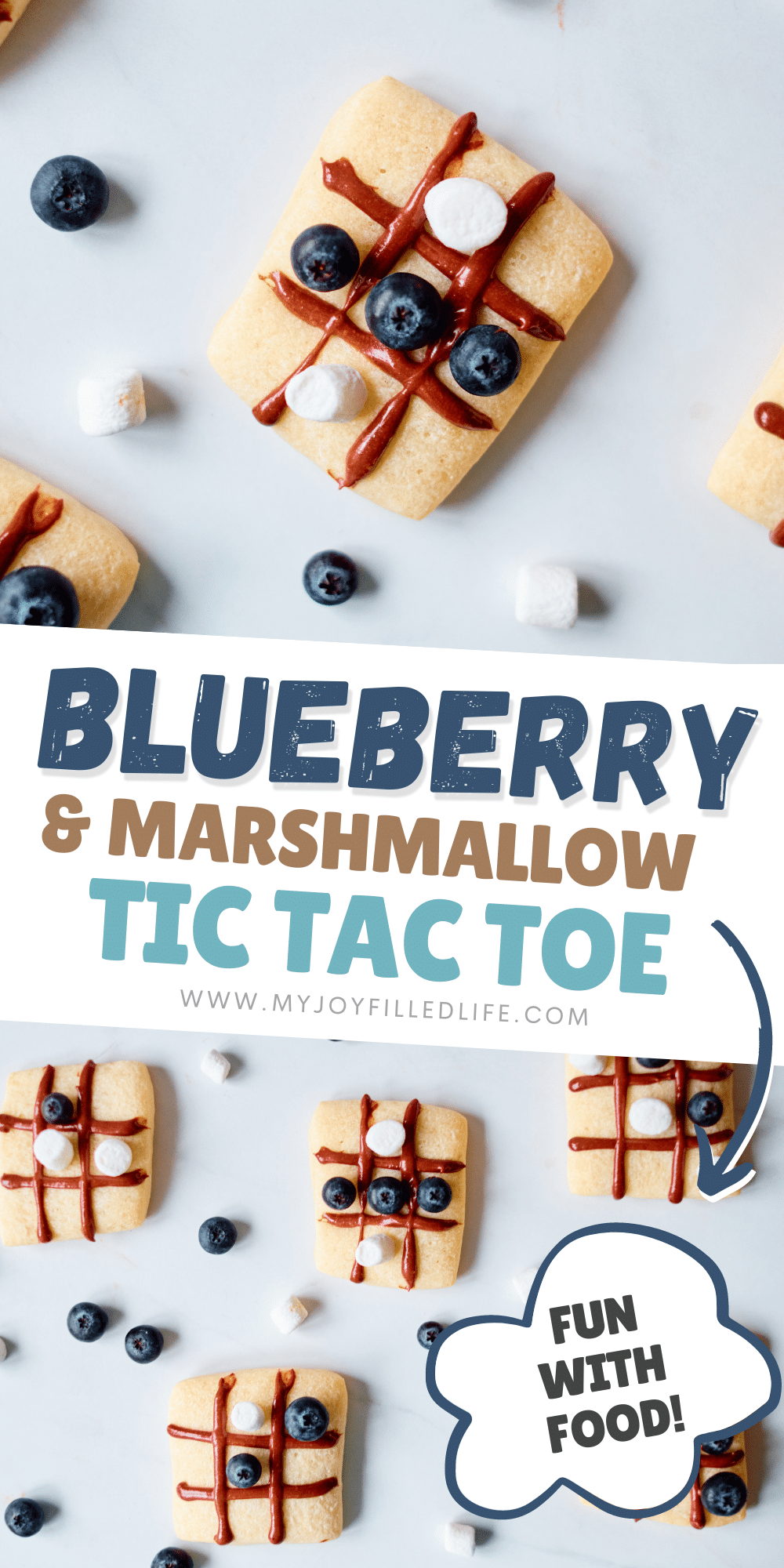 So, who is ready for a fun and healthy way to get kids to eat more fruit?! I know it's a struggle that all moms and dads have to deal with. Kids can be very picky and not like trying new foods. Sometimes, they won't even try a food just because of how it looks!
These blueberry snacks are a great way to sneak some fruit into their day. Tic Tac Toe is a classic game that kids love, and they can play just like they normally would – though blueberries and marshmallows replace the Xs and Os!
Plus, only four ingredients are needed, making it an easy and frugal snack idea for kids!
Psst…our hidden vegetable popsicles are another healthy snack option! And if you like blueberries, check out our Blueberry Almond Butter Smoothie!

Blueberry Snacks – Tic Tac Toe with Food!
This recipe is so simple that not only will kids have fun eating it, they will have fun making it too!
Prep time: 10 minutes
Total time: 40 minutes
Makes: 6-8 tic tac toe boards
Ingredients
1 roll of pizza dough
¼ cup of blueberries
¼ cup of marshmallows
¼ cup of melted chocolate
Instructions
Melt chocolate and set aside and place in a piping bag
Roll out the pizza dough and cut out 3 inch squares with a cookie cutter or knife
Place on a baking tray and bake for 15-18 minutes or until fully cooked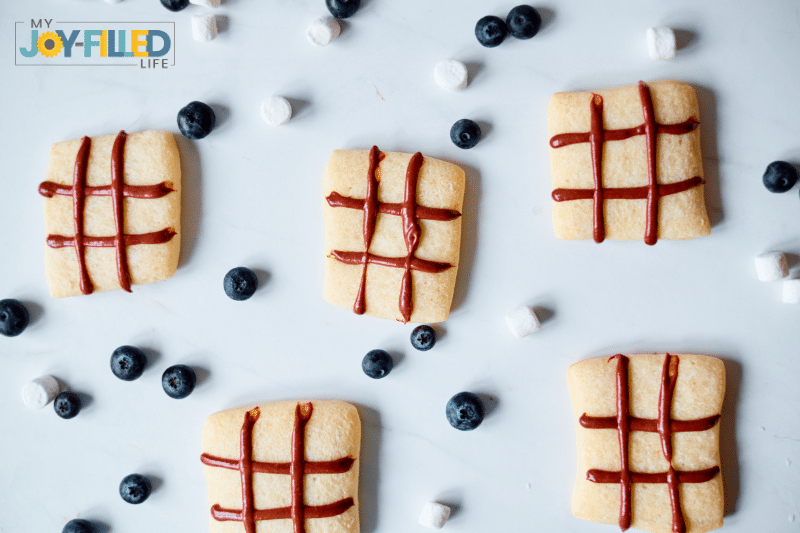 Let cool and pipe a chocolate grid on each square
Allow kids to use blueberries and marshmallows to play tic tac toe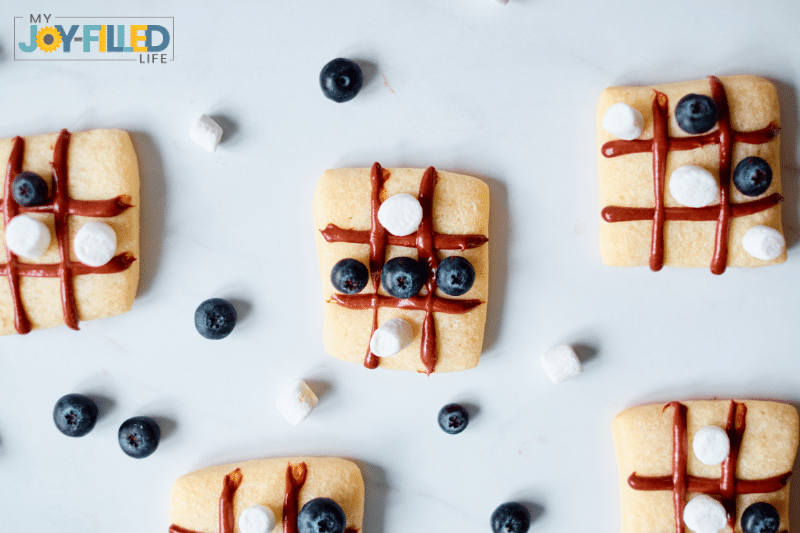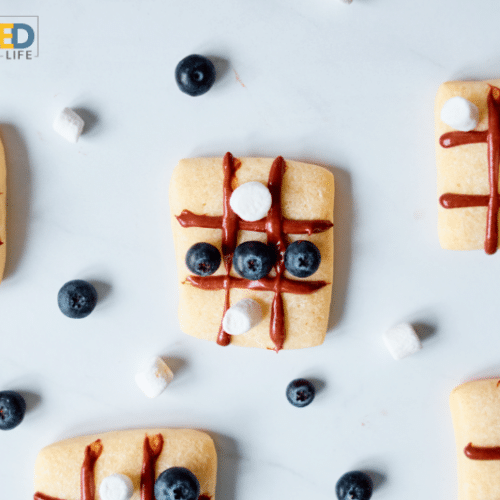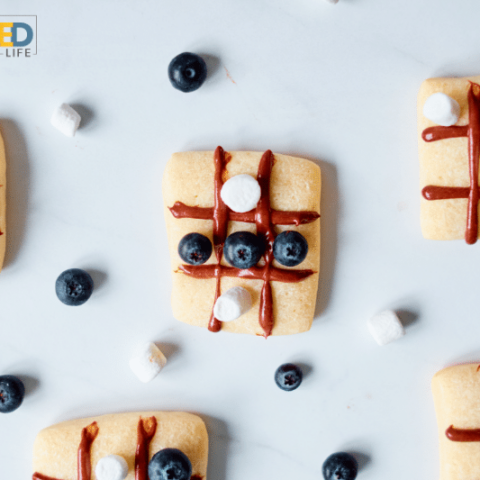 Blueberry Tic Tac Toe
Yield: 6-8 tic tac toe boards
Ingredients
1 roll of pizza dough
¼ cup of blueberries
¼ cup of marshmallows
¼ cup of melted chocolate
Instructions
Melt chocolate and set aside and place in a pipping bag
Roll out the pizza dough and cut out 3 inch squares with a cookie cutter or knife
Place on a baking tray and bake for 15-18 minutes or until fully cooked
Let cool and pipe a chocolate grid on each square
Allow kids to use blueberries and marshmallows to play tic tac toe