The condition called "mom burnout" seems like a right of passage. It starts with your newborn when you're physically exhausted to the max; there's not a whole lot you can do about that. But, the mom burnout evolves as you add kids and as they get older (especially for Americans, in my observation). You might eventually recover from the physical exhaustion, but for some reason we feel the drive that keeps us emotionally, mentally and spiritually exhausted indefinitely.
Let me give you an example. Four years ago, I was a mom with two kids under the age of four and pregnant with my third. We hosted a weekly Bible study (with dinner!) at our house; I served on the worship team at church and also was the director of our chartable programs. I was a writer on the side…and of course there was trying to cook and clean and be a good mom and wife. I did it all, but I really didn't do any of it as well as I wanted to. And while I loved my family, I found it difficult to make it through a day without snapping at them.
In the months before and after my daughter was born, weekly emotional breakdowns were par for the course. I blamed the hormones and shrugged it off as normal. But when I started tearing up in my doctor's office one day, she didn't shrug it off and challenged me reevaluate my life a little bit.
I know that not everyone experiences mom burnout in the same way I do. For me, I tend to overcommit myself. For you, perhaps you're simply weary—because raising kids is difficult enough all on its own.
Mom burnout doesn't have to be your status quo. If you're finding it difficult to get through an average day, maybe it's time for you to reevaluate a little bit too.
How To Banish Mom Burnout & Embrace What Makes You Amazing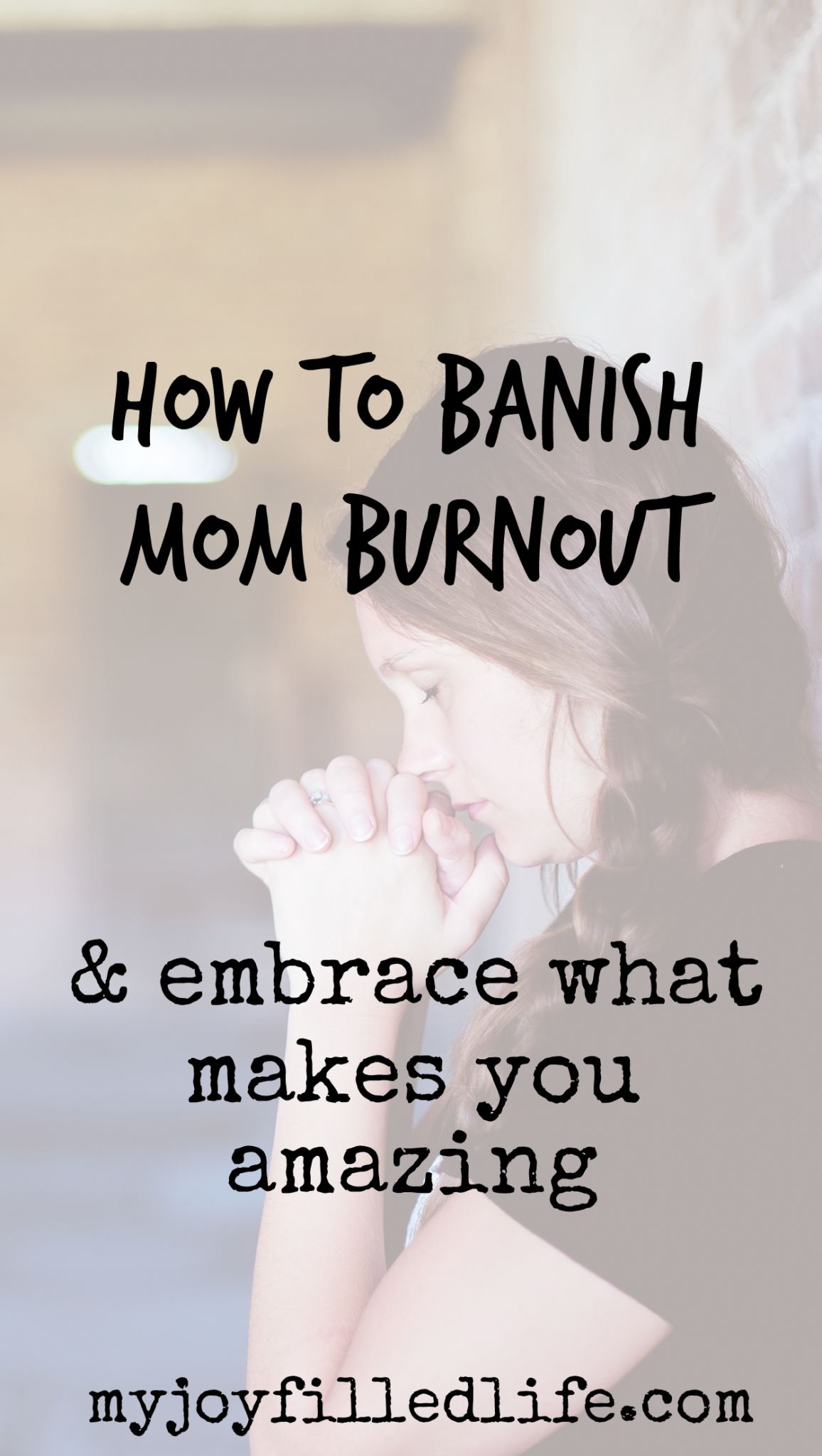 This past year has been a pivotal one for me spiritually as I've come to address my mom burnout and my attitude towards my role as a mother. A light bulb went off when I embraced the truth that raising a family is not a burden to the gospel. I also participated in a book group that studied You're Already Amazing by Holley Gerth. If you've never read it, I highly recommend it no matter what stage you're at in life. It provides some very practical tools that help you refocus your heart, time and energy into who God created you to be. I read it several months ago, and I've found that I've striven less to be "Ms. Perfect"—because the blood of Christ already makes me perfect (Chapter 3).
Here are some of the simple tools to battle burnout that the book explains in full detail.
Love Who You Are
If you're a woman, I am 99% positive that you compare yourself to other women and then feel like you fall short. You know you shouldn't, but…it seems to be in your nature. Holley explains this: God created women to be social, relational beings. We're always checking in on each other to see how everyone is doing. But while the compassion is beautiful, we start asking the wrong question: "How am I doing compared with her?" (p. 48).
Some of us, like yours truly, are also perfectionists, always working our little tails off only to fall short of some perceived standard. And some of us wonder what we even have to offer to the world…so we don't even try anything.
These are all lies about how we fall short, and they stifle our potential as moms, as wives and as children of God. Recognizing the lies has helped me to stop trying to be everything I'm not, and embracing who I am: already amazing. I feel less mom burnout because I'm not filling up my life with unnecessary things trying to prove my worth.
Embrace Your Passions and Talents
In You're Already Amazing, one of the exercises is to write a "LIFE statement" (Chapter 8), which you use to identify what you're good at and passionate about. Here's mine: "I am created and called to express my faith through love, especially by providing practical wisdom to women and families through words, friendship, and facilitating opportunities for growth."
I found this exercise extremely valuable, because with this statement in place, it is much easier to see what is worth spending my time and energy on, and what is simply busyness. Spending time on my passions and talents energizes me, so I'm less likely to burn out.
You might notice that nowhere in my statement is there anything related to motherhood (or wifehood, for that matter). And that's because while being a mom is an incredible calling, it is a role that supersedes my LIFE statement. We are all moms; but we have different talents—and just think about how powerful that can be when we know each other's gifts and can call on each other! We might express our talents in different ways during different life seasons. Holley explains from her own life: "Speaking encouragement to a tired cashier is just as much living out my statement as writing a book that will be read by thousands."
When I'm embracing the season I'm in as a mom as well as my natural gifts and passions, I hit a sweet spot of clarity—and I feel pretty great about myself because I know exactly who God created me to be.
Let Go and Say No
I confess: I haven't completely mastered how to avoid mom burnout. Sometimes life comes at you full speed and there's not a whole lot you can do about it except ride out the tumultuous times. Hopefully that's the exception and not the norm.
What I have done more and more, however, is learn to say "no" without guilt. If a certain role or activity doesn't fit well into my LIFE statement or our objectives as a family (which should be identified as well), I don't have to do it. I've stepped back from responsibilities at my church, and wouldn't you know—other people had the opportunity to step in and fill those spaces.
It gets tricky with kids because sometimes you have to say no on their behalf. That's a big topic in itself. But if you're well practiced in setting your own personal boundaries, you can teach them to do it too.
I'd put You're Already Amazing it on any Christian woman's "must-read" list. I highly recommend that you stop and take the time to do the exercises, and join a discussion group if possible.
Do you wrestle with mom burnout? What are some simple changes you can make to help you breathe more? I'd love to connect with you as I explore this concept continually.
The following two tabs change content below.
Happily married, mom of three (plus one in the adoption process), writer/editor, disciple of Jesus, homeschooler, messy non-gourmet chef, recovering perfectionist, coffee connoisseur, lazy fitness enthusiast, arts and crafts impaired. Join me at on my journey of finding inspiration in the messy life we all encounter every day...because wiping noses for Jesus is legit!