Well, labor day is officially over and though I've been fighting it, I'm beginning to look towards colored leaves and pumpkins! One of the first signals of the fall season for me is football starting up once again. Now while I'm personally not much of a football fan, I love that Sunday football is a great excuse to get together with friends and family and especially to cook delicious, though not always healthy foods. So in honor of tomorrow being the first Sunday of football season, I bring you these delicious Baked Chicken Burritos.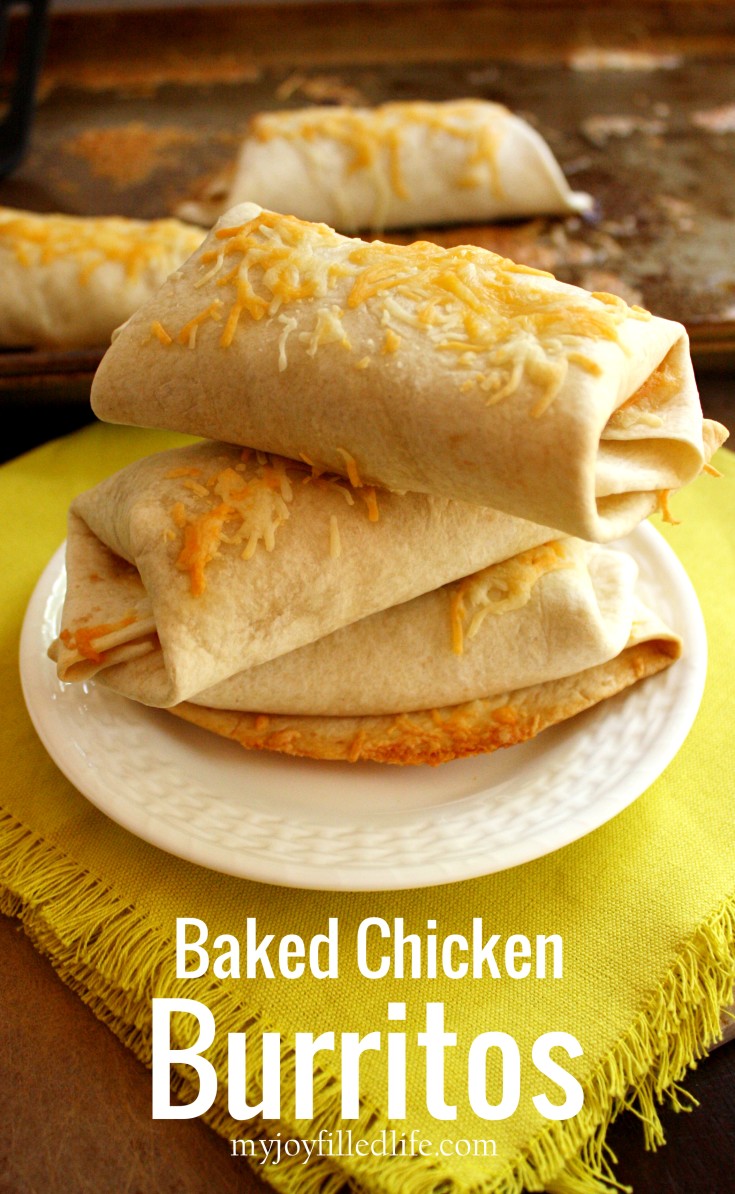 This is actually a super-simple dish that I've been making variations of for years. It started in on a really humid day in my apartment in NYC many, many moons ago. I was getting together with one of my girlfriends, whom I hadn't seen since we performed together the previous winter in a Christmas show at a theatre in central Pennsylvania.
While neither of us were really the best of cooks at that time (you wouldn't believe some of the rookie cooking mistakes I used to make!) we thought it would be fun to throw together something tasty with whatever we could find in my refrigerator. Luckily, I happened to have a pretty good amount of fixings for a Mexican-style meal and so we got to work.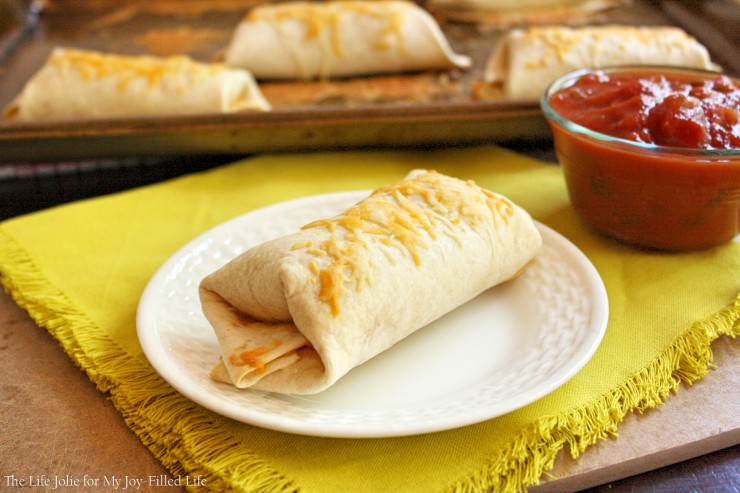 We threw a few ingredients and some chicken into some tortillas with cheese, popped them into the oven and said a prayer. Twenty minutes later, we were pleasantly surprised to be biting into some simple and very tasty Burritos and the rest is history.
In addition to being super quick to prepare, the great thing about this recipe is you can always add or remove ingredients to your taste. I tried to keep my listed ingredients pretty simple. Delicious flavors without a bunch of random things thrown in, so that even the pickiest eaters would enjoy these, making this a very family friendly option. I personally love how the little bit of cheese on the outside hardens with the tortilla, it adds a really nice crunch.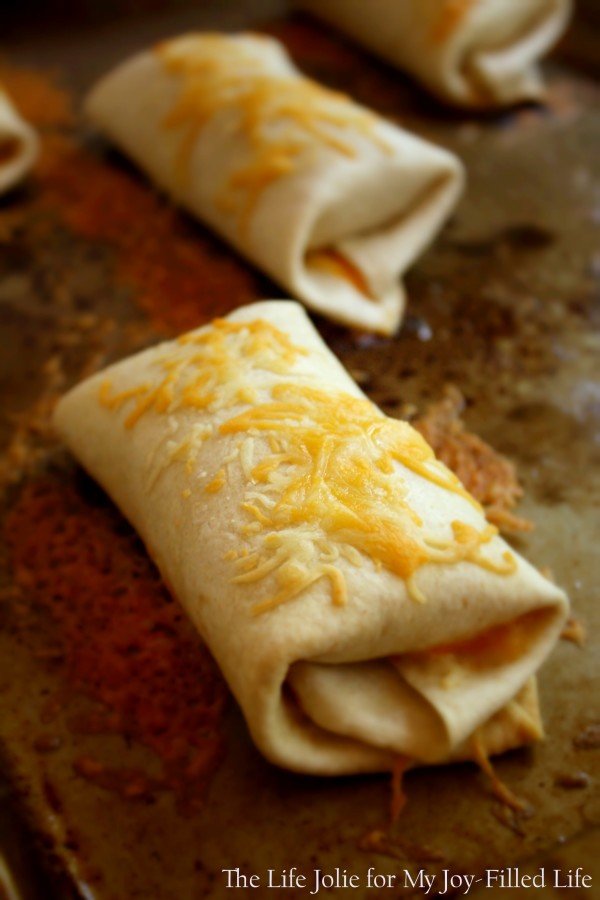 Feel free to add or remove ingredients at your discretion. This recipe makes ten small baked burritos but don't hesitate to make more, they reheat very well in the microwave! They're perfect for a weeknight dinner or a great football snack!
Baked Chicken Burritos
2015-09-09 20:19:38
These Baked Chicken Burritos are quick, easy and delicious. The recipe has minimal ingredients and is super kid-friendly, but is also totally flexible; you can easily add things that you like.
Ingredients
2 cups of chicken breast, cooked and shredded
3 Tbsp. of sour cream (this works more as a binder)
2 Tbsp. of taco seasoning
1 can of rotel
10 fajita-size flour tortillas
1 package of shredded cheddar cheese
Instructions
Preheat your oven to 350 degrees. Cover your pan with foil and cooking spray and set aside.
Mix the first 4 ingredients in a bowl until combined.
Spoon decent portions of the chicken mixture into your tortillas. Add a liberal pile of cheese.
Fold the left and right sides of the tortillas into the middle and then fold the bottom flap over the two sides and roll it away from you to close the burrito (you'll be rolling it onto the remaining top flap to close it).
Place each burrito onto your pan and sprinkle each one with a bit of cheese.
Bake for 20 minutes and enjoy!
Notes
Be careful not to over-stuff your burritos- while you wants a good amount of filling, if they have too much filling you'll have a difficult time closing them and you make have some leakage.
My Joy-Filled Life https://www.myjoyfilledlife.com/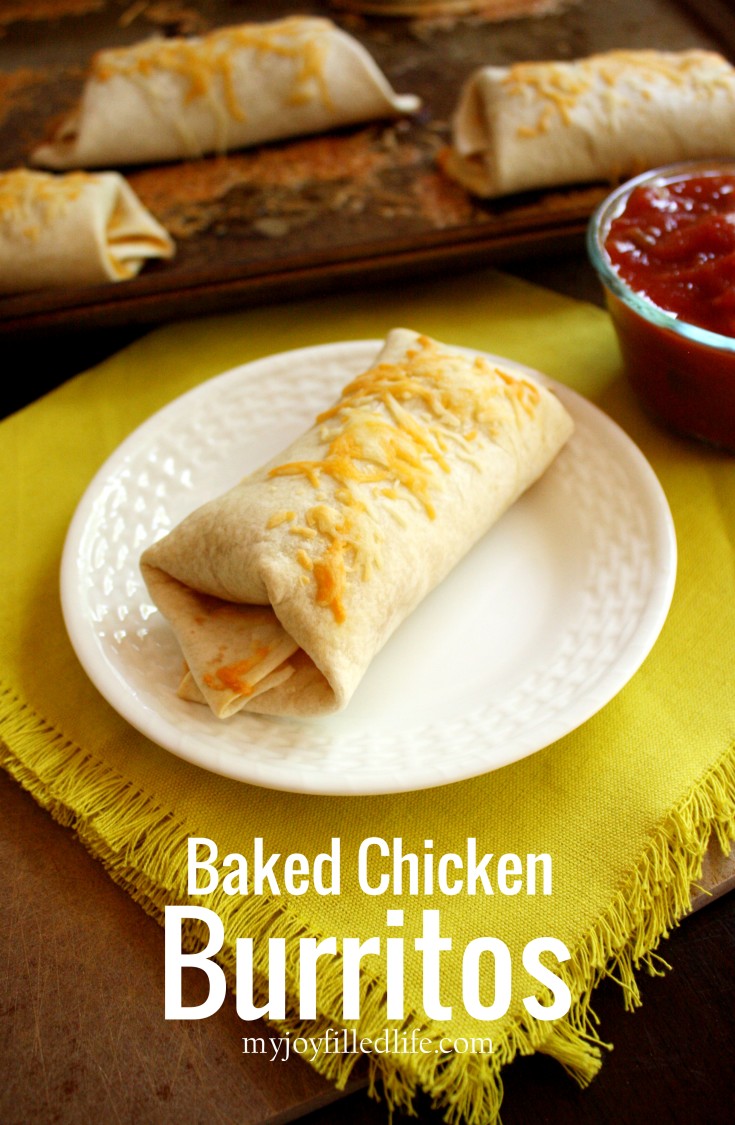 Here's where you can view all of my recipes.
The following two tabs change content below.
Jessy is the founder of
The Life Jolie, which celebrates all of the pretty things in life and also contributes recipes at Organized Home Organized School. She has the privilege of being a wife to her husband Justin, and a mother to her daughter Alice and dog Macie. Jessy is a financial professional by day. She has a passion for cooking (eating!), home design, crafts, theater, singing, travel, laughing, and learning. She aims to spread positivity and build a community through The Life Jolie and to continue growing, learning and evolving as a person.