When the winter season arrives, all too often the winter cold tags along. Once one family member gets sick, it is likely that the cold will make it's way through the entire family. That includes you, the homeschool mom, after all you take care of everyone else while they have the cold, so it is probable that you will be the recipient of the winter cold as well. Even if it is a gift that you'd rather that your family members not share, you would do well to prepare just in case.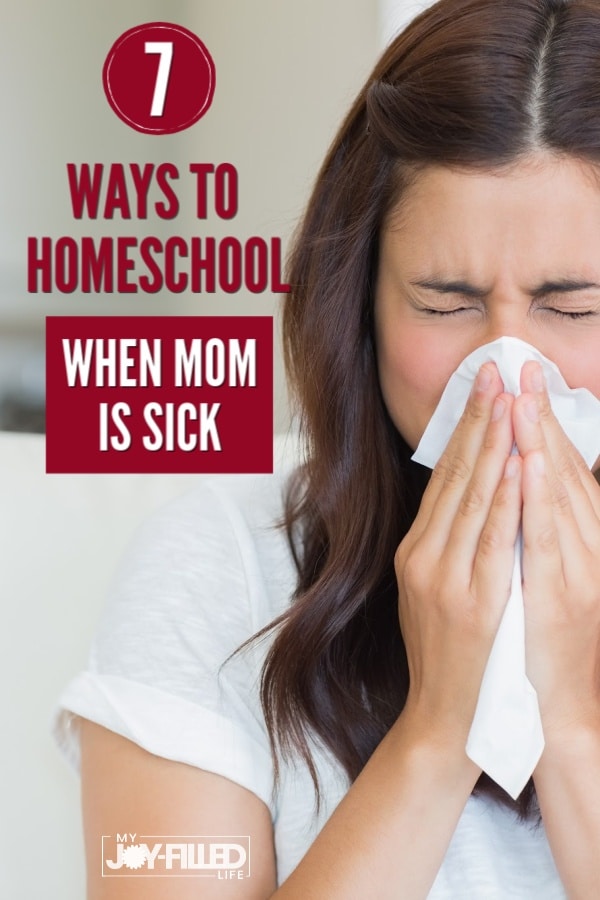 When you're a homeschool mom and you get sick, homeschooling is not what you want to be thinking about, yet you know that your children's education is important. Often homeschool moms push through their sickness and continue homeschooling, cooking, caring for their home, etc. While we do have responsibilities that can't be neglected for long periods of time, we must realize that in order to get better we have to rest. If we do not take time to rest and recover, we will be prolonging our sick time.
Thankfully there are simple ways that you can continue to homeschool when mom is sick. You do not have to tackle a normal homeschool day while you're sick, in fact you don't even have to take the school books out.
How to Homeschool When Mom is Sick
Educational Apps
We do not use technology in our homeschool often, but there are a few educational apps that my children enjoy. I find that using them when we are on the go or when I am sick is great for homeschooling.
A few of our favorite FREE educational apps are; the Smithsonian Channel, Duolingo, Geography Quiz Game, Math Plus and Spelling City.
Netflix
I just signed up for Netflix last month and while we haven't used it for homeschooling much, I have poked around a bit and found quite a few resources that I know we will be using for homeschooling.
I love that when I'm sick in bed my kids can crawl in next to me and we can enjoy learning together with Netflix! There are countless commentaries, PBS Nature Episodes and The Planet Earth Episodes that I know my kids will enjoy!
Letting your children pick what they want to learn about while watching Netflix is a great child led learning opportunity as well!
Printables
There are countless free educational printables that you can print ahead of time and have ready for your kids to use when you're sick. I love using printables to homeschool when I'm sick because my kids can take them and complete them on their own!
A few free printables sites that you should bookmark are In All You Do, Free Homeschool Deals, Life of a Homeschool Mom and Year Round Homeschooling.
Pinterest is also a great resource for finding free homeschool printables, especially when you're searching for a specific subject, topic or grade level!
Reading
When you're sick in bed one of the things that can help you pass the time is to read! Homeschool moms often love to read, but lack the time to actually do so, take advantage of your time in bed and pick up a book to read!
While you're reading you can assign your children to have quiet reading time on their own. Reading aloud to them or having them read aloud to you are two great options too!
Art
Creating art with your kids while you're sick is a great way to spend time together and it gives you the opportunity to be creative together! Whether you pull out the coloring books, a drawing pad and pencils or spend time creating mazes to solve together, art is a great homeschool subject you can cover while you're sick.
Language Arts
Covering language arts while you're sick can be a lot of fun! Encourage your kids to write you a silly story or narrate one of their favorite storybooks for you! My kids love having spelling bees, this is an easy homeschool activity that you can do without any planning right from your bed!
Board/Card Games
While you may not be to playing board games with your kids while you're sick, there are quite a few that your kids can play alone or you can play when you're feeling better!
My children and I love to play the following games for homeschooling; Monopoly, Learn Your Fractions and Decimals, Scrambled States, Civitas, Scrabble, I SPY Memory Game and Battleship. If you're looking for more educational games, check out this list of 80 educational games for your homeschool!
Homeschooling doesn't have to stop just because you're sick, nor does it have to include book work. Your kids can continue to learn in fun ways while you rest and recover!
How do you homeschool your kids while you're sick?
The following two tabs change content below.
Misty is a Daughter of THE King, Native Texas girl, Navy brat at heart, loving Fisherman's wife, blessed homeschooling mother of 2, founder of
Year Round Homeschooling
and author of
Beautiful Ashes
. She is passionate about being real through every stage of life and encouraging homeschool moms throughout their homeschool journey. Her heart is full of ideas and passions, but the hours in her day never multiply to get it all done. Misty enjoys reading, music and photography in her spare time.