Do you have a child who doesn't quite seem ready to start formal instruction? The benefits of delaying formal education might surprise you! Hopefully this article sheds some light on the subject and helps you as you decide what's best for each individual child. (Find more homeschool tips here!)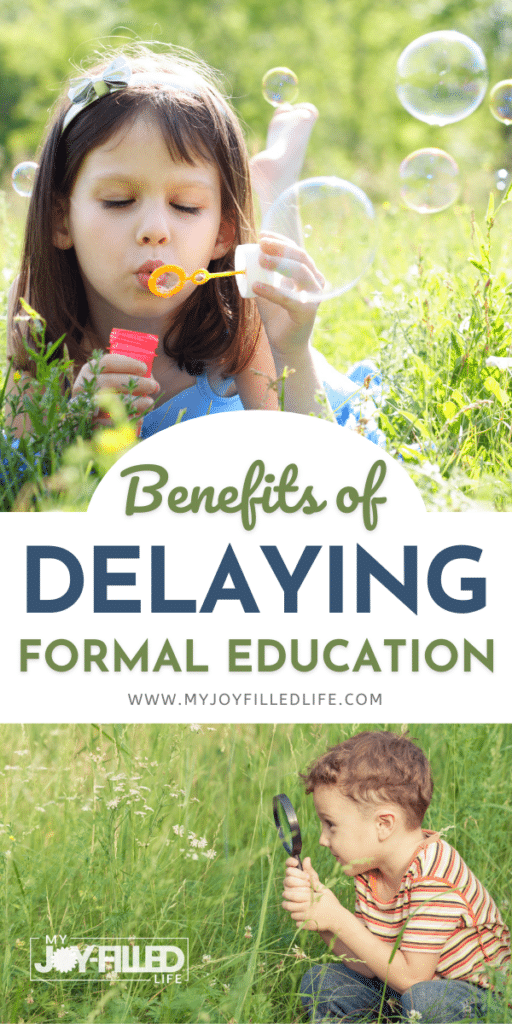 7 Benefits of Delaying Formal Education
One of the benefits of homeschooling is that you get to make the right choices for your family. You can decide what is best for each individual child, including making the choice to delay formal education until your child is ready.
Studies have shown that young kids learn better through play and interaction when formal education is delayed. Educational leaders and methods like Waldorf Education have been encouraging delayed formal education for decades.
Here are just a few of the most important benefits that come with delaying formal education:
1. Social & Emotional Development
Delaying formal education gives your child more time to work on social and emotional development. As children grow emotionally, they are better prepared to handle the stress of formal education. By delaying book work, seat work, and tests that can cause anxiety until your child is ready for them, you can reduce the amount of stress learning puts on your child and allow them to better learn naturally.
2. Motor Skills
Delaying formal education gives your child more time to build motor skills. Both fine and gross motor skills are important for your child to have a quality education. Spending more time developing motor skills through play and activities designed for their growth can make formal education easier later when your child learns to write.
3. Improved Attention Span
Delaying formal education can improve your child's attention span. If you wait until they are ready to put more focus into learning, they can learn more efficiently and get more done each day — allowing them to possibly even surpass their peers who started with formal education at an earlier age. When we give our children time to learn when they are ready, they learn much more efficiently.
4. Developed Personal Interests & Hobbies
Delaying formal learning allows your child to have time to develop personal interests and hobbies that can help them learn and grow. When children spend too much time on formal learning, they miss the opportunity to explore things on their own in a natural way.
5. Stronger Educational Base
Delaying formal education can give your child a stronger base in reading and math. If you use the time that would have been spent on formal education to instead give your child activities and games that can help them develop reading and math skills in a natural way, they will probably learn faster and more efficiently than through formal learning. Children are hard-wired to learn through play in a natural way. Delaying formal education not only leaves more time for play, but also gives you more time to read to your child (which helps them develop a love of reading and books!).
6. Instilled Love of Learning
When we delay formal education, we have more time to spend on fun educational opportunities like hands-on science and engaging field trips. This is a great way to spark your child's imagination and help them develop a lifelong love of learning — which will help them in the coming years of formal education.
7. Discovered Learning Style
By delaying formal curriculum, you can take time to discover your child's personal learning style before you begin to add formal learning to your day. Each child learns in different ways and knowing your child's learning style can be really beneficial when you choose a curriculum. Choosing the right curriculum will help your child grow and learn so much better as they get older!
Other Homeschool Tips You Might Find Useful:
Do you have any experience in delaying formal education? We'd love to hear about how it benefited your child!