The winter season is upon us and it will be around for quite a while. Typically winter means that our kids will be inside more than they are outside. Therefore, it is essential that you prepare and plan ahead for the long winter months to ensure that you and your kids stay sane and have fun while stuck indoors.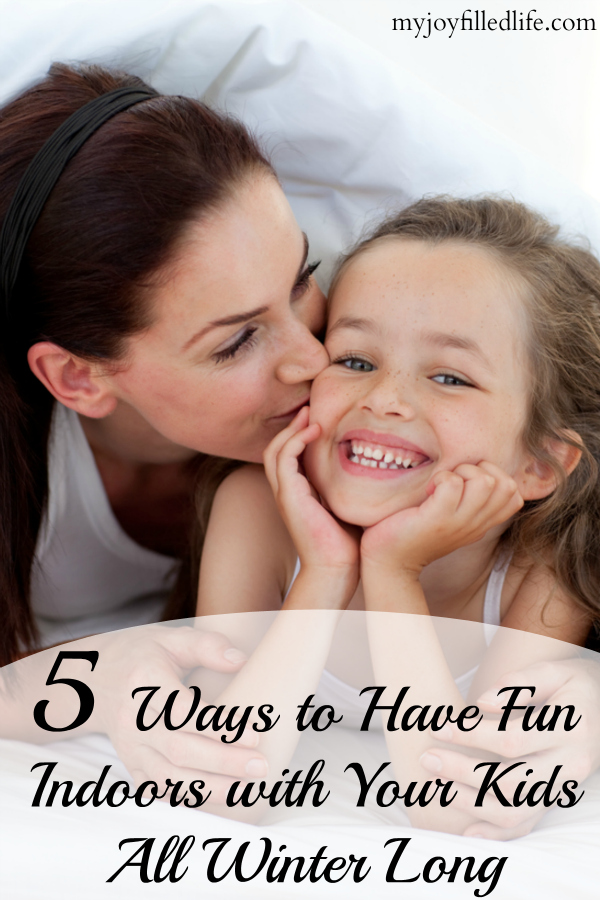 Fort Days
Growing up my brothers and I loved building forts using the chairs in our living and dining room and all the blankets/comforters we could find in our house. We spent countless hours reading, eating lunch and playing in our forts throughout our childhood. As a mother I have found that my children love to do the very same thing and this coming winter I plan to join them inside their fort a few times just for a fun day!
Below are a few ideas to make your fort days fun!
Read their favorite books aloud
Color together
Take a nap with your little ones
Talk about their dreams
Themed Days
You have to plan ahead in order to pull off this fun day! It's really simply though, you start off by picking a theme that your kids love and base everything you do that day on it. Pinterest is a great resource for planning themed days, often I use that as my search engine when I'm planning for kid events.
Tips to help you get started with a themed day:
Pick a movie and/or book your kids love
Design your day's menu around the theme you've selected
Find crafts that you and your kids can create throughout the day
Watch the movie and/or read the book from your theme
A few themes that I've put together for kid events are; Alice in Wonderland, Astronomy and Knights.
Cooking/Baking Days
If you live where it actually gets cold in the wintertime, cooking/baking days are great ways to heat up your home on an exceptionally cold winter's day! Kids love to help with activities that are typically an adult's job because it makes them feel grown up and responsible. Spending time together in the kitchen is a heartwarming experience for both you and your children and it will create memories for many years to come.
Some of my favorite things to cook/bake with my kids are:
Cookies
Mexican Food
Muffins
Craft Days
Kids of all ages love to create crafts and you can fill entire winter days with craft building fun! If you can plan a craft day based on a specific holiday during the winter months, you can often find ways to use the crafts outside of your home! Be sure you take a look at your craft supplies if your kids are hoping to create a specific craft, there's nothing like being disappointed on a planned fun day because the supplies weren't available. Maybe you have a child that isn't into crafting, but they prefer to draw; some winter drawing prompts will help inspire them and keep them busy.
Lego Days
This is one of our favorite activities for a long winter day! I am not a great Lego builder, but I do my best and my kids have learned to accept that thankfully! The possibilities are endless with how you can make a day of Lego building fun for you and your kids, remember that Legos are about creativity and just have fun!
We've enjoyed the following Lego Day Activities:
Theme Building – Pick a general theme and everyone build their own creation based on the theme
Competition Building – Pick one design and everyone builds the same creation and the majority vote wins
Surprise Building – Everyone build their own creation and then take turns guessing what each creation is
Before you move onto the next Lego creation, be sure to take pictures of everyone with their creations. You'll want a snapshot of the memories and your kids will too!
Having fun indoors with your kids all winter long can be lots of fun. Sometimes it just takes thinking outside of the box and/or not over thinking things too much. Often the activities our kids enjoy doing with us the most are the ones we tend to overlook. Take time to think about how you can take the activities that they love to do on a regular basis and change it up a bit to make it fun for the entire family! Spending time doing things together with your kids is the best way to create memories to last a lifetime and the long winter season provides plenty of opportunities for that!
How do you have fun indoors with your kids during the winter season?
The following two tabs change content below.
Misty is a Daughter of THE King, Native Texas girl, Navy brat at heart, loving Fisherman's wife, blessed homeschooling mother of 2, founder of
Year Round Homeschooling
and author of
Beautiful Ashes
. She is passionate about being real through every stage of life and encouraging homeschool moms throughout their homeschool journey. Her heart is full of ideas and passions, but the hours in her day never multiply to get it all done. Misty enjoys reading, music and photography in her spare time.