Raise your hand if your kids waste toothpaste! I thought so; I knew I wasn't alone. I can't even count how many times I've gone into my kids' bathrooms only to see gobs and gobs of toothpaste in the sink. I'm just baffled at times by how they get way more toothpaste in the sink than in their mouths.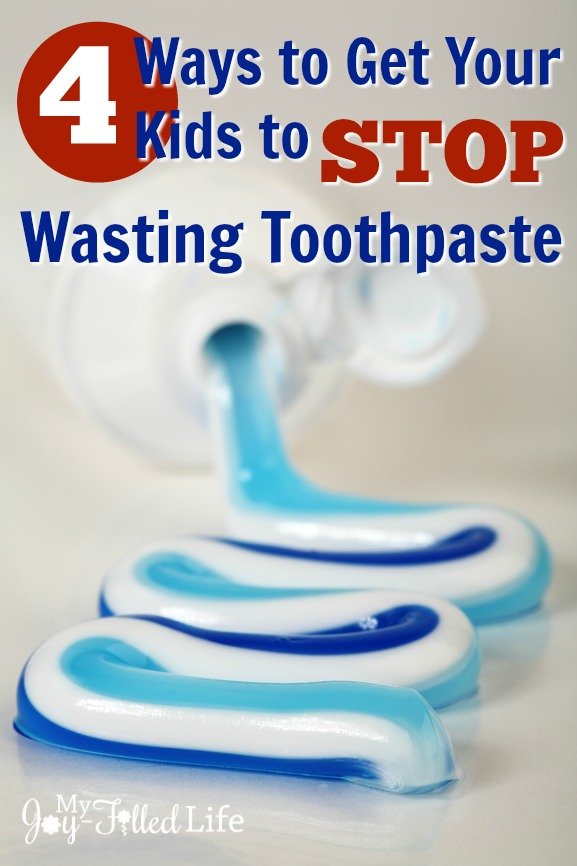 Here are three ways to get your kids to stop wasting toothpaste:
Buy small individual sized toothpaste tubes. Little hands can handle a little tube easier. Also, if they do waste what's in the tube by squeezing it out, at least it won't be your entire tube of toothpaste. This is a good solution while you help train your kids to be more careful with the toothpaste.
Buying small tubes can get pricey over time so another option is to make your own. You can use medicine droppers and squirt smaller portions into the tubes for your kids. They'll have less to make a mess with and they might even think it's fun.
Give positive reinforcement. You should teach your kids how to use the correct amount of toothpaste, watch what they are doing while they put the paste on the tube, and also help them know how to do it so it doesn't get everywhere. When they do a good job and don't make a mess, offer a lot of praise or maybe consider a plan where you give them a sticker each day they brush without making a mess.
You could also buy a dispenser that automatically squeezes out a set amount of toothpaste. You can find cute ones for kids or go with a plain one for the whole family.
With these tips in mind, you can create a plan that works for you and your kids. Also take the age of your children into consideration when you work with them to stop wasting toothpaste. This is a problem younger kids can have because they have not developed the skills needed to do better yet. Sometimes older kids do it because they're just in a hurry and being careless. Talk with your kids about it, teach them the right way, monitor them while they're brushing and try the tips above until this phase passes. It will pass.