All of us usually begin homeschooling with a combination of excitement and passion, mixed with some fear, because we want to see homeschool success. We feel that teaching our kids at home is the best choice, and what God has called us to, but we worry that we won't be able to "do it right" or be successful.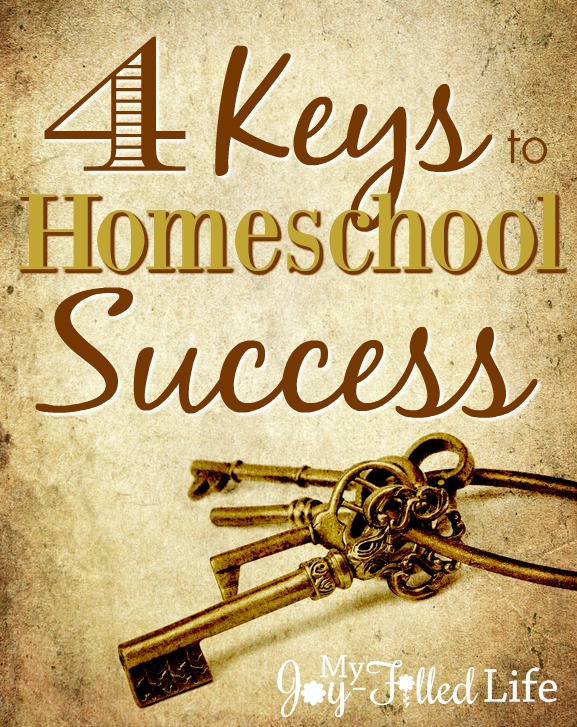 Today I'm going to share 4 keys to homeschool success:
1. A commitment to walk with God daily.
Our daily strength as homeschooling moms comes from our relationship with the Lord. It is in that relationship that we gain His strength and wisdom to guide those little lives that have been entrusted to our care.
No matter how busy you are, you need to make sure you find and make time to walk with God, and be in His Word. This is what lays the foundation for our lives as homeschool moms.
It's VITAL that we start our day by getting our heart in tune with God, and having a joyful spirit.
If you are having an attitude problem, find a verse to encourage you, and sing a song or two to renew your spirit. If needed, postpone the start of your school day until your attitude is right.
2. Self-discipline
Moms, your homeschool will only be as successful as your ability to discipline yourself! We only have 18 years to prepare our children for life, and it is a big responsibility. We must be willing to discipline ourselves to put the time and effort into planning, and following through.
This means we must discipline ourselves to push distractions away, and focus on our priorities daily.
3. Purpose
Without purpose or goals, you end up discouraged and off-track. That leads to discouragement, and before you know it, you want to quit homeschooling!
When you have purpose, you are able to establish your priorities each day to make sure you are heading toward those goals. We must have purpose and vision to be successful in our homeschooling.
Character and heart issues are foundational and should always come before academics.
When thinking of your purpose, always remember that homeschooling is about relationships and discipling our kids. It's easy to feel like it hasn't been a successful day when we spent half the day correcting and training for wrong behavior. However, that is much more valuable than completing all the math pages!
Don't measure your success by the amount of academic progress, but rather by how you are doing with keeping your priorities in place, building character in your kids, and addressing heart issues.
4. Prayer
Without the Lord's help, all our efforts are in vain. We must seek Him and His wisdom daily as we teach and train our kids. As we ask Him to work in their hearts, and we correct them with His Word, He can do a work that we cannot do.
Except the Lord build the house, they labor in vain that build it. Psalm 127:1
We are in a spiritual battle for our kids, and it's so important that we enter the battle daily in HIS strength. We should never start our homeschool day without seeking God in prayer. Even if it's just a quick prayer acknowledging our need for Him, we can't neglect it! Praying is the most important thing you can do for your homeschool.
When you're having a bad day, or one (or ALL) of the kids is having a bad day, stop what you're doing and ask God for His help. He encourages us to come to Him in prayer, and yet often we forget to tap into that power He offers us.
It IS possible to be successful in our homeschooling. However, we must remember that we can't do it on our own, and that we need to continually ask God to keep our hearts and attitudes right, show us His purpose, and renew our strength as we wait on Him.
The following two tabs change content below.
Kathie Morrissey is the mother of 8 children, wife to Alan for 37 years, and a committed homeschooling mom of 31 years. She is the founder of
The Character Corner
, where she loves to blog about parenting, family life, homeschooling, and life in general. Kathie is a popular speaker at home school conventions and support groups, as well as ladies retreats. Her heart's desire is to help and encourage parents to be purposeful in raising Godly children with strong Christian character, who walk in purity, and have a heart for God.