One of the biggest struggles for homeschool moms is time management. Time will ALWAYS be at a premium for homeschooling moms, so it is vital that we learn time management secrets in order to be good stewards of the time that God has given us.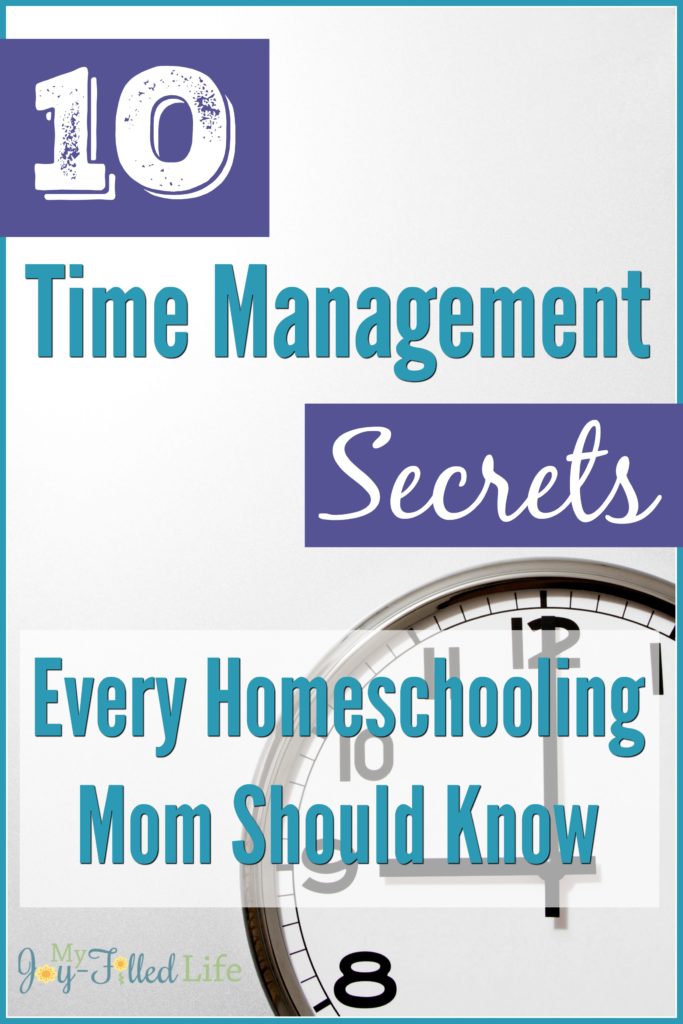 Here are 10 Time Management Secrets Every Homeschooling Mom Should Know:
1. Focus on your priorities.
We can't do it ALL, so we must discern what our priorities and goals are, then focus on those. This may mean letting "good" things go for things that are better.
My husband and I sat down and talked through what really mattered to us. And then we asked:
Does our schedule show those are our priorities?
Are our current activities accomplishing those priorities and goals?
Sometimes we say yes to things that won't get us where we want to go. Step back, look at the bigger picture and prioritize what really matters to your family.
2. Write it down
When we are busy and being pulled in many directions, as all moms are, we can't really expect to remember everything. Not to mention, the more you have on your mind, the harder it is to focus.
I suggest planning and writing:
Daily to-do lists
Visual Chore Charts
Daily schedule or routine
3. Teach as many subjects jointly as you can.
Obviously, you can't do this with phonics and beginning math. However, you can have Bible, Character, Science, and History together. Adjust the requirements from each child based on their age and ability.
I might have my younger kids fill in blanks as I teach, while the older ones take notes. Or I might assign younger ones to answer multiple choice questions showing they have learned what was taught, while the older ones will have to write a paper about it, or take a test.
There are several different ways to teach subjects jointly, and you can (and should!) choose what works best for you and your family. It depends on the ages of your children, and what methods work best for them and you.
4. Make use of the time you spend grading papers
Sit down with your child's math and grade it with him beside you. When you find an error, go over it right then and there.
Teaching from their mistakes is the best way to teach. This is much more effective than grading their work and handing it back to them the next day.
5. Simplify
Plan easier meals
Eliminate unnecessary busy work
Focus on the Three R's
Redefine what it is to have a "clean" house
6. Delegate
Do only the things that you can't delegate. Much of our work as homeschooling moms can be done by the kids, and a willing spouse.
To get more free time, you need to assign regular daily chores to your kids. Not only does this help lighten your load, but it's good for them.
They are part of a family – let them share in the responsibilities as well as the benefits. Cooking and cleaning should be group events within a family. This also helps them to develop character.
7. Realize that you have to GIVE something up to GET time.
We all have the same amount of time in our days, and though your friends may seem to have more time than you do, they don't. It's just that they have chosen what to GIVE up to GET more free time.
Often we ask "How Do I Get It All Done?!" Remember, you can't do it all, so you must seek God for wisdom as you make choices.
8. Make self-care a priority
You can't take care of those God has entrusted to your care, if you aren't well! Make sure you get enough rest, and take care of yourself physically, emotionally, and spiritually. Those three areas are connected, so if one gets out of balance you struggle in all three areas.
9. Limit electronics
One of the biggest time wasters we deal with today as moms is electronics.
There is always the pull of social media, whether it be Pinterest, Twitter, or Facebook. They literally suck you in and before you know it, unless you are intentional, you have wasted an hour or two just scrolling.
I'm not saying that you should totally eliminate electronics, but if they have a grip on you it's time to make some changes.
Maybe take them off of your phone, so you aren't tempted to keep "checking in". Instead have a set time once or twice a day when you get on your computer for X amount of minutes to check all those things you like to check. Set a timer, and when it goes off, it's time to get off.
Most of us put time limits on our kids like this, so it only makes sense that we are willing to show by example how to exercise self-control with our own online usage.
10. Use a timer
I mentioned in the last point that you should set a timer to control how long you spend on electronics. However, setting a timer for lots of things really helps you to be productive and make better use of your time.
For example, set the timer for 15 minutes and see how much of the kitchen (or any area) you can get cleaned in that amount of time. Because you know your time is limited you will tend to work faster, and more efficiently. I really like the challenge of trying to "beat the clock".
By the way, this works well with your kids too. Have 10 minute power pick-up sessions, or 15 minutes to clean up your room, etc.
What can you do to manage your time better as a homeschooling mom? Ask God to give you wisdom and direct your thoughts, and to give you the discipline you need to be a good steward of the time you have been given each day.
The following two tabs change content below.
Kathie Morrissey is the mother of 8 children, wife to Alan for 37 years, and a committed homeschooling mom of 31 years. She is the founder of
The Character Corner
, where she loves to blog about parenting, family life, homeschooling, and life in general. Kathie is a popular speaker at home school conventions and support groups, as well as ladies retreats. Her heart's desire is to help and encourage parents to be purposeful in raising Godly children with strong Christian character, who walk in purity, and have a heart for God.