Summer can be the busiest time of year for families because the long summer days provide extra hours to fit in more activities. While this may seem to be a great way to spend time together as a family, is being busier in the summertime really what your family needs to thrive? Does staying busy all summer long truly bring your family together or does it simply keep you on the go constantly?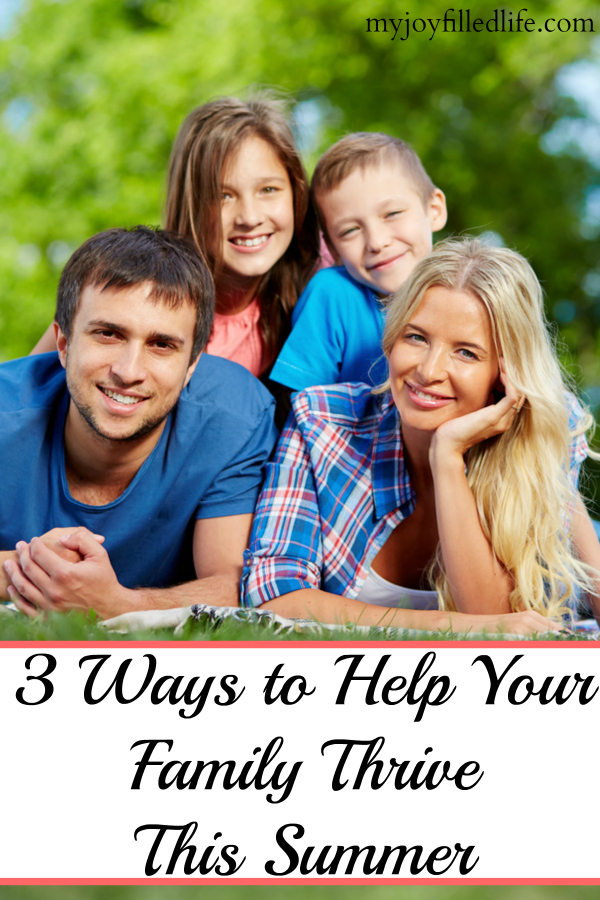 I've been striving to learn how to slow down during the summer. I am learning that it is imperative that I do not fill our days and nights with countless activities and forget that we just need time to be at home together without somewhere to go or something to do. The constant on the go season that summer can be is exhausting to the entire family, so we must take care with how we plan our days.
Families have to be careful to ensure that they don't mistake busyness for togetherness. Just because we are keeping our kids busy and doing things with (or for) them all summer long that doesn't mean that we are actually spending time with them. As parents we have to be extremely attentive to what we consider as quality time with our families.
More Family Time Than Friend Time
Summertime means a less strenuous homeschool schedule for many families and a complete break time for others. It is easy to fill our "empty" days with BBQs, beach days and amusement park trips with friends. While time with friends is a great idea for the summer we have to make sure that we have more time together as a family than we do with friends. This is important because it allows our family relationships to be strengthened in the midst of less busy days.
More Nights In Than Out Each Week
Being on the go is just as exhausting to our kids as it is to us, even if they don't think so. We need to ensure that they have time to rest their mind, body and souls. If we spend every night at a sporting event, the movie theater or at the mall, then our children will likely get to bed later than they should and miss out on rest that their growing bodies need.
More One on One Time with Your Kids
Since the summer does provide us with longer days, one way we can use the extra time is by spending one on one time with each of our kids. As our children get older it is important to spend time with them alone to give them the opportunity to talk to us about things that they might not be comfortable discussing in front of the entire family. One on one time with our kids will create memories that will last a lifetime for both parties!
Summer is an amazing season that is just waiting for us to enjoy! We must strive to be faithful with all we've been given and our families are our biggest blessing, so we need to ensure that our time together is more important than anything else that we may find appealing. Lots of things will pass away, but family lasts forever.
What steps do you take to ensure that your family thrives through the summer season?
The following two tabs change content below.
Misty is a Daughter of THE King, Native Texas girl, Navy brat at heart, loving Fisherman's wife, blessed homeschooling mother of 2, founder of
Year Round Homeschooling
and author of
Beautiful Ashes
. She is passionate about being real through every stage of life and encouraging homeschool moms throughout their homeschool journey. Her heart is full of ideas and passions, but the hours in her day never multiply to get it all done. Misty enjoys reading, music and photography in her spare time.