When we look back on this summer, I'm pretty sure my kids are going to remember epic Yahtzee battles. While board games are not officially "schoolwork," I'm pretty sure they count for something. YES they do! They are on the docket for summer learning activities.
I don't know about you, but we have this summer problem. I know many homeschoolers choose year-round schooling, but when the neighbors are outside playing it's reeeeeaaaalllly hard for us to stay focused—so we stick closely to the public school calendar. Last fall, after our first official academic year, I was dismayed to discover that my son had forgotten pretty much everything after summer break. That's not a huge deal for a kid who just completed kindergarten, but frustrating nonetheless. And I hear similar stories from homeschool moms: they have to spend the first month of the fall reviewing what was lost.
Do you battle with this?
I was talking recently with my friend about it who does year-round schooling. She suggested I try doing a sort of hybrid over the summer (which is what a lot of "year-rounders" do anyway). In other words, don't to a full academic day throughout the summer, but do a shorter one.
Ummm, why didn't I think of that?
So this summer we're trying out a "hybrid" homeschool—and we're loving it so far. I have a three-year-old, a five-year-old and a seven-year-old; they all participate at some level. The advice I got from my friend was to avoid schoolwork in the morning; that way we can play, enjoy the weather while it's cooler and head out for activities before lunch. "School time" is just one hour after lunch, and it's FUN. It's a time in our day that is naturally a little slower anyway; afterwards my youngest naps while the older two play video games (it keeps them quiet ;)).
Some days, we're having so much fun that it extends past my one-hour allotted time slot.
The best part is that it requires almost no planning on my end! I have a general agenda in my head—in a given week I want to make sure we cover most of our basic subjects, but nothing is in stone.
Intrigued? You can start any time! Obviously you may need to adjust your approach for age, but I think that with this general framework, anyone—even non-homeschoolers—can have a great summer of learning with their kids.
Most of these activities can be done within your home. The ones that are a little more adventures obviously require at least a little planning.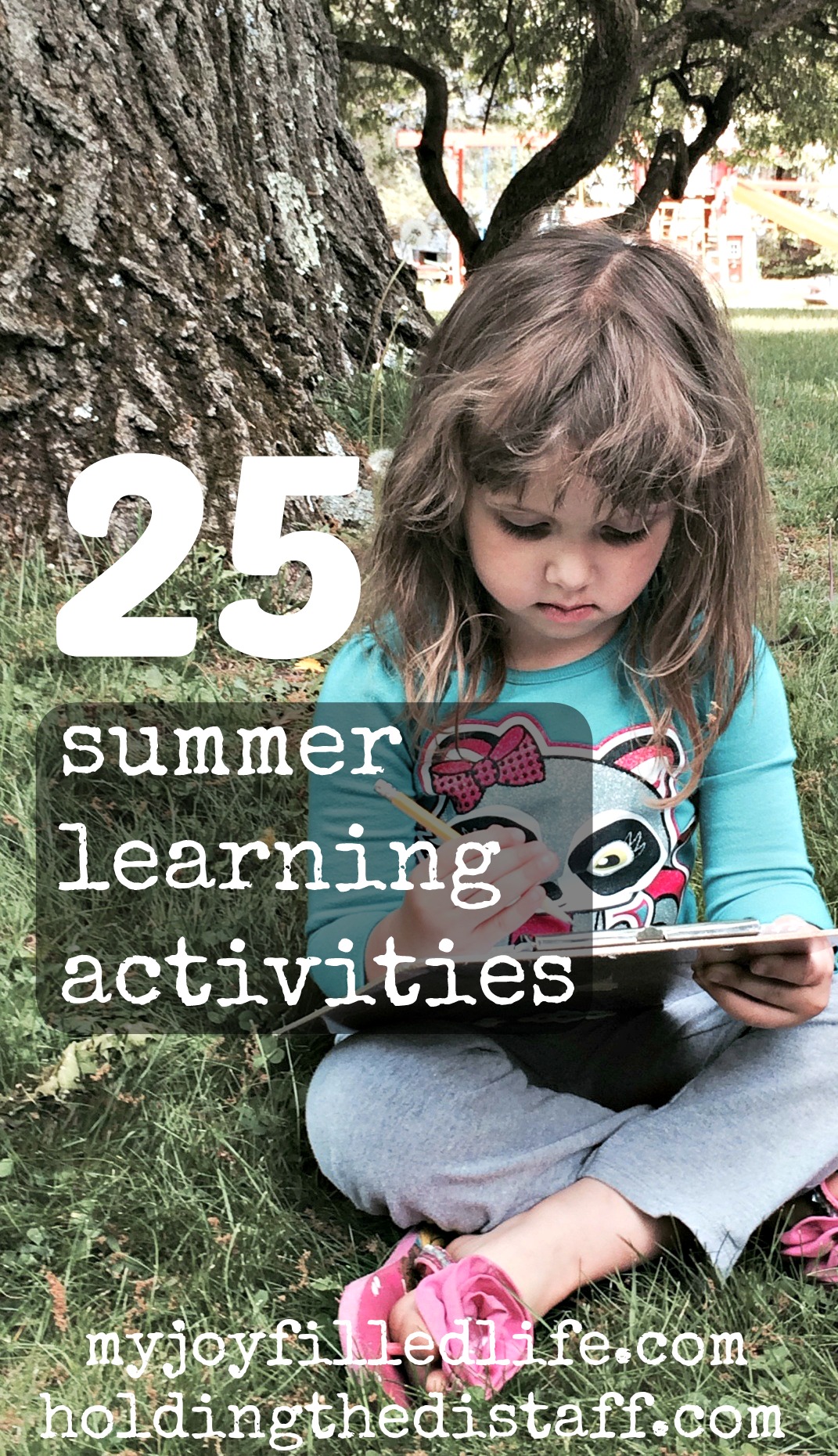 25 Summer Learning Activities
Summer reading programs: just about every library has one, right? Book stores do too.
Parents reading aloud: it doesn't matter how old your kids are; they still benefit greatly from hearing you read to them. Summer is a great time to explore some of those books you might not have picked up during the regular school year. Make a summer reading list or find one online to get started.
Kids reading aloud: this is so important for young readers to keep up their skills. Make them read to you (and to their siblings!). Here's a list for beginning readers.
Silent reading: even if it's just picture books, let them explore. For older readers (nine and up), try this list. And do some reading yourself!
Audio books: we recently discovered them and I am elated how my boys can sit quietly and play Legos for an hour while the listen to Magic Tree House.
Board games: As I mentioned above, we love Yahtzee and I am thrilled about it. I have to help a lot with their ages, but they are secretly learning how to multiply when they skip-count the dice! Love it. Another great game that I get excited about is Robot Turtles, which teaches young kids (and their moms, ahem) about coding basics.
Puzzles: jigsaw, logic, whatever. Always a simple option.
Catching up on homeschool curriculum: ummmm, raise your hand if you got a little behind this past year? No problem, right?
Reviewing homeschool curriculum: I think this is important with skills like math and spelling. It doesn't take much—we'll go over some of the words and problems we already know just to keep them fresh.
Printables: scavenger hunts, bingo games, pretend play printables, and word search summer printables.
Flashcards: you can make this a lot more exciting than it sounds. Make a game out of it like shooting cards with Nerf guns and then answering a question.
Doing all those fun crafts you didn't have time for: I am just the worst at planning crafts. I think we'll finally get to some of our Green Kids Crafts boxes!
Science experiments: there are some really simple ones you can do around the house. Review the scientific method and talk about what you're learning!
Music practice: even if your kids don't have lessons over the summer, if they do music, make them practice. This ability goes out the window like nobody's business if you don't keep it up!
Cooking: endless fun. If your kids are older, involve them in meal planning and shopping while you're at it!
Money management: we keep it simple. The kids get allowance and they keep a balance sheet.
Gardening: so much to learn!
Journaling: even when they're little, they can draw pictures. When they're older, practice spelling and handwriting (copywork can be great!)
Bible study: I hope that's not a seasonal thing!
Nature walks: the other day we had a great conversation about why there are cracks in the sidewalk (okay, the concrete isn't "nature" but close enough). Have them journal what they learn. Or turn your nature walk into an outdoor scavenger hunt.
Museum visits: take a day trip to the next town over!
Historical site visits: do you even know what your area has to offer? There's a lot I have yet to see in my neck of the woods.
Nature centers/points of interest: We have a great nature center nearby that does classes year-round.
Service projects: Have your kids get creative and find ways they can serve your neighbors and community, whether it's cleaning up yards or serving at a soup kitchen.
Special interests and hobbies: If you have older kids, you probably already know that summer is the time to explore their favorite hobbies, whether through an organization or a class, or just on their own initiative. For littles, what a fun time to play their little hearts out (Legos, anyone?)!
Do you keep your kids engaged with learning over the summer? What are your favorite activities?