Even when most people have "no food" in their house, they still have basic staples. I can't tell you how many times I needed to go grocery shopping, but needed to stretch what we had for just a few more meals before I had the chance to go.
Here are ten meals you can turn to when there's no food in the house. I try to always keep the basic staples in my house (milk, eggs, flour, and butter). There are so many meals you can make with these ingredients alone.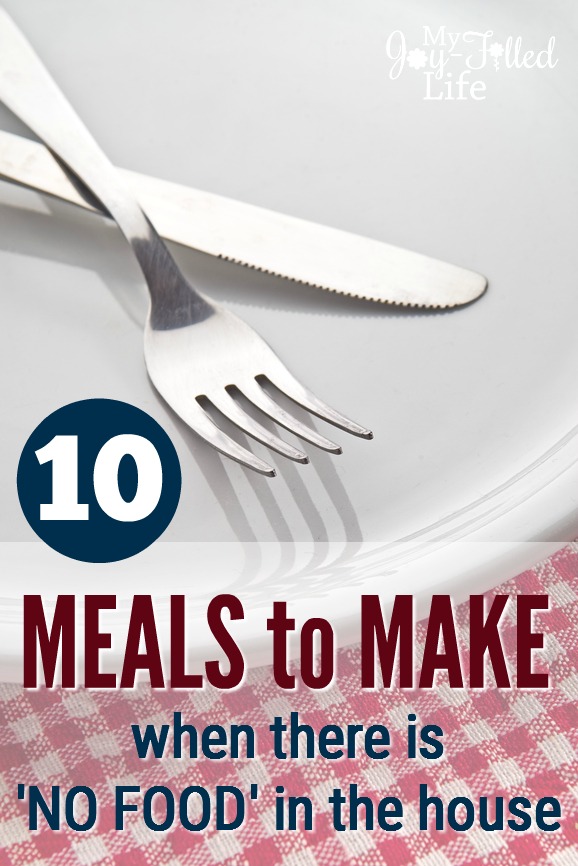 Eggs and Toast
Breakfast for dinner is a real thing. We actually do it often, even when we do have other choices in the pantry, freezer, or fridge. When you only have a few things to make a meal in your house, make it this meal.
Grilled Cheese
Meals don't need to be elaborate all the time. If you have some bread and cheese, you'll be good to go. If you have it on hand, make some tomato soup to go along with this meal.
Smoothies
The best thing about smoothies is that you can add whatever you want into it. It's a great thing to make when you only have 'this and that' ingredients.
French Toast
Yes, another breakfast meal; but who doesn't like breakfast for dinner? If you have some cinnamon on hand, sprinkle that in your French toast batter to make it ever more yummy.
Baked Potatoes
Again, meals don't need to be fancy. If you have a few potatoes in your house, you can easily center a meal around this. Add whatever toppings you can find. Ranch, cheese, parmesan cheese, and bacon bits all make excellent toppings.
Bean soup
Have some beans in your kitchen? Don't delay in making your family some awesome bean soup. Always keep the basic ingredients for this meal on hand.
Frozen waffles
I bet if you look inside your freezer right now, you may find some delicious frozen waffles hiding. You can add your own toppings to spruce it up a bit. I like to make ours a little more filling by adding peanut butter.
A Bowl of Cereal
I know many moms, including myself, who have succumbed to feeding their children cereal at the end of a day when there's no time to grocery shop. Hey, a bowlful of dry cereal works too (when you're out of milk). I don't even mind a bowl of cereal for dinner for myself from time to time.
Frozen Burritos
Yes, I'm talking homemade! Mix up a batch of frozen burritos and keep them on hand the next time you need food. You can make burritos with beans, cheese, salsa, and sour cream. Throw any lettuce or tomatoes in the burrito that you have on hand and you'll be good to go!
Sandwiches
Do you have bread and some sort of meat on hand? It doesn't even have to be sandwich bread or deli meat. It could be hamburger or hot dog buns and canned chicken or tuna.
When you haven't had the chance to go to the store or if payday is still a few days away, these are some simple ideas you can turn to at meal time. In a world, full of Pinterest, we get so lost on serving fancy meals that we forget about the very basics. You may also consider visiting the nearest restaurant that offers an all day breakfast menu if you don't have time to prepare.
What meals do you turn to when there's no food in the house?