As a mom of eight kids, and my youngest now being 18, I often find myself looking back on my earlier days of parenting. Over the years of parenting our kids, I learned a lot, and my parenting changed some from when I was a young parent.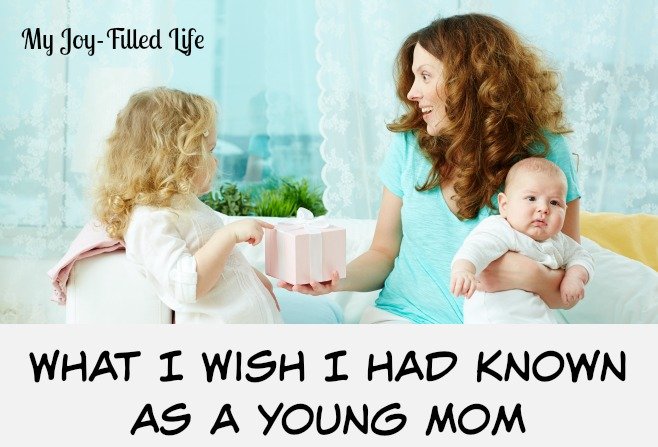 Here are some things I wish I had known as a young mom:
1. It's not as easy as it looks.
Before having kids, it's easy to think that you will "never do this", or your kids will never act a certain way. I found out rather quickly that I didn't know as much as I thought I did about raising kids!
I didn't realize that there are many variables, and each child is different. It takes wisdom from God to know what to do in each situation, and with each child. Fortunately, we have a God who invites us to come to Him for wisdom!
2. What works for one child, may not work for the next one.
Our kids are all unique, and we need to train them in the way they should go — not the way their brother or sister should go. Certain standards don't change, such as kindness, obedience, and respect. However, these things may be harder to achieve with one child than another.
3. It will often seem like all your teaching and training you're doing isn't accomplishing anything.
It took me awhile to realize that God called me to just be faithful in my parenting, while leaving the results with Him. I found that He blessed my faithfulness in due time. Sometimes I didn't see the results of character training till the kids were in their teens.
My favorite verse that I clung to over the years was Galatians 6:9:
And let us not be weary in well doing: for in due season we shall reap, if we faint not.
4. Enjoy the moment and stage you are in.
It's easy to get weary as a mom, and start wishing the time away. "I can't wait till they can walk; I can't wait till the start to talk", etc. Don't allow yourself to focus so much on the next milestone that you miss the present moments.
5. There will be hard days, but they will pass.
There will be times when you face challenging situations with a child, and the days seem long. You will be weary, and discouraged. But it DOES get better. And in the process of dealing with the challenging situation, comes growth.
6. Comparison will steal your joy.
As young moms, it's SO easy to look at what other moms are doing, what works for them, and how their kids are responding. What we need to remember is that God calls each of us to different things in our homes and families. We need to seek His wisdom for our family, than confidently follow His leading.
7. Kids function better with a routine to guide their days.
Children function better with a routine and schedule to govern their days. When left to themselves for too long, they quarrel, become bored, and get into trouble.
Not only are little ones are more peaceful, content, and obedient when their days are planned & include regular changes of activity, but their character is also being trained.
Having said that, remember to be flexible. A routine or schedule is a tool, not our master.
8. When I pray, God does things in the heart of my children that I cannot do.
In our parenting, ,we should work as though it all depends on us, but pray as though it all depends on God. God can do a work in our kids hearts, using the Scripture teaching and training we have done to bring conviction. If God can change the heart of a king, He can change the heart of our child.
If you only change ONE thing in your parenting, let it be that you start praying more for your kids!
Parenting is a process whereby God grows us, and teaches us as we depend on Him. I'm so glad for the things He has taught me over the years. What are some things you have learned through your parenting?
The following two tabs change content below.
Kathie Morrissey is the mother of 8 children, wife to Alan for 37 years, and a committed homeschooling mom of 31 years. She is the founder of
The Character Corner
, where she loves to blog about parenting, family life, homeschooling, and life in general. Kathie is a popular speaker at home school conventions and support groups, as well as ladies retreats. Her heart's desire is to help and encourage parents to be purposeful in raising Godly children with strong Christian character, who walk in purity, and have a heart for God.