Between Pinterest, blogs, cooking websites, and recipe websites, there are so many recipes right at our fingertips these days. My new favorite place to get recipes is from Pinterest; I think my recipe board has more pins then any of my other boards, maybe even double! There's no point in collecting all these recipes if I'm not going to use them, right?
I've been in a bit of a rut lately in the dinner making/planning department. I needed to change things up a bit from the way I'd been doing things. I thought a good start would be to add some new recipes to the same old, same old that I'd been making; I'm also switching from monthly meal planning to weekly meal planning to see how that works for me.
So, my plan is to add one or two new recipes to our weekly menu, and to hopefully post one of them on here. Whenever I make a new recipe, my family gives it either thumbs up (it was good, add it to the list), or thumbs down (don't even think about making that again). This recipe got the thumbs up!
Chicken Parm Casserole
This is a Pinterest inspired recipe. I got the idea from Food Wishes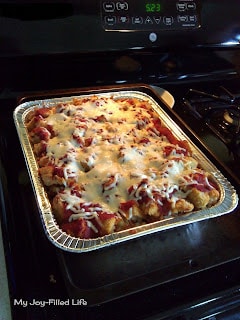 Here is my rendition:
The Stuff You Need:
1 16oz. box of rigatoni pasta (or any kind of pasta you like), cooked and drained
2 26oz. cans of Hunts spaghetti sauce (or whatever kind you prefer)
1/3 cup of Parmesan cheese
1/2 tsp. garlic powder
1 5oz. bag of croutons (I used Garlic & Butter flavor), crushed
1 8oz. package of shredded mozzarella cheese
5-6 Tyson breaded chicken breast tenderloins (the frozen kind), cubed
The How To:
1. Preheat oven to 350 degrees.
2. Spray a 13×9 pan with cooking spray. I like using the disposable ones so it makes clean up a cinch!
3. Combine the pasta, Parmesan cheese, garlic powder, 4 oz. mozzarella cheese, and 1 can of spaghetti sauce and mix well, then pour into bottom of the pan and spread out evenly.
4. Next, spread the crushed croutons evenly over the pasta layer.
5. Then, layer the chicken cubes evenly over the croutons. (Tip: I had to defrost the chicken in the microwave a little bit so that I could cut them up easier).
6. Pour the other can of spaghetti sauce evenly over chicken.
7. Bake, uncovered, for 30 minutes.
8. Top with remaining mozzarella cheese and bake until cheese is melted.
9. Let it sit for about 5 minutes before serving.
10. EnJOY!!