Using Memorial Day to explain Christ's love to kids is a great way to teach them about the history of the United States and about how much Christ loves everyone. Memorial Day was started on May 30, 1868. It began after the Civil War as a day to remember those who gave their lives in military service, for the country they loved. Originally, it was a day to decorate the graves of the soldiers, but later became a day to remember their sacrifice. Here are some ways to help your child understand the devotion the soldiers had and the amazing love of Jesus Christ toward all mankind.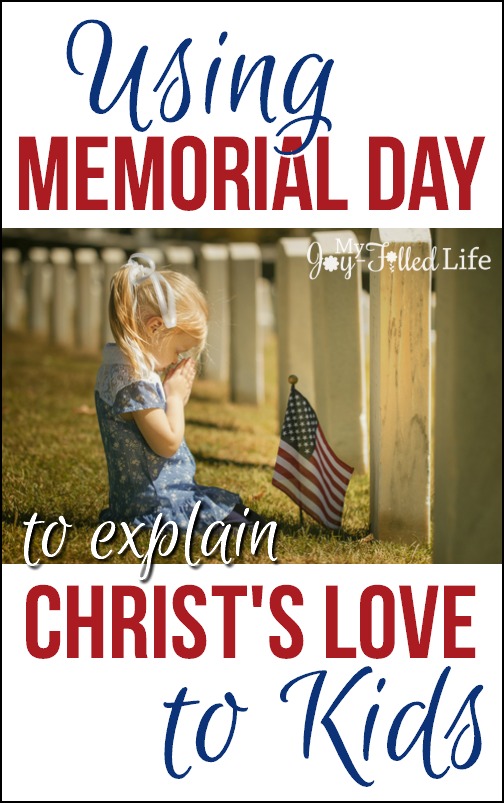 Sacrifice
Explain the word sacrifice – to give up something that means a lot to you. These men and women who gave their lives for this country are why we remember their service and sacrifice. Jesus sacrificed His life for us because He loves us. The bible says in Ephesians 5:2 – And walks in love, as Christ also has loved us and given Himself for us, an offering and a sacrifice to God for a sweet-smelling aroma.
Prayer
In 1950, congress requested that the president calls all Americans to unite in prayer, for peace and remembrance of the lives given for our country on a Memorial Day. What a better way to remember than to pray and thank God for Christ's love and sacrifice for us. As well as, for the military personnel who served this country, and remembrance of their lives.
The United States Flag
The beautiful colors of the United States flag can help kids to not only remember our country and what this country stands for, but it can also help them remember the love Christ has for everyone.
White is a sign of purity and innocence – Christ was the only one who lived a perfect and sinless life.
Red stands for hardness and valor – it can remind them of the blood that Christ shed for them on the cross.
Blue is to signify vigilance, perseverance, and justice – it can help them remember Christ's love and His perseverance even to death on the cross. Also that He took our punishment which is God's love and mercy on us that even though justice says we deserve the punishment, Christ took our place. John 3:16 says – For God so loved the world that He gave His only son, that whoever believes in Him should not perish but have everlasting life.
Using Memorial Day to help explain Christ's love to kids is a great way to remember the sacrifice of the soldiers for the United States. It can also help your kids understand and remember the sacrifice of Jesus Christ for them because He loves everyone so much. Remind them that Christ died on the cross for their sin but He didn't stay there. He conquered death and rose again on the third day – this is the Gospel of Christ. Romans 1:16 – I am not ashamed of the gospel because it is the power of God that brings salvation to everyone who believes.