Around this time each year I like to put together a little round-up of the planning resources especially for homeschoolers. And I wrap it up with some FREE printable planning pages that I've made for my own family, and for my readers to use as well if they'd like (be sure to scroll to the end to find them). Maybe one of these years I'll get around to making a full-blown planner…. maybe.
For updated resources for 2020-2021 click here!!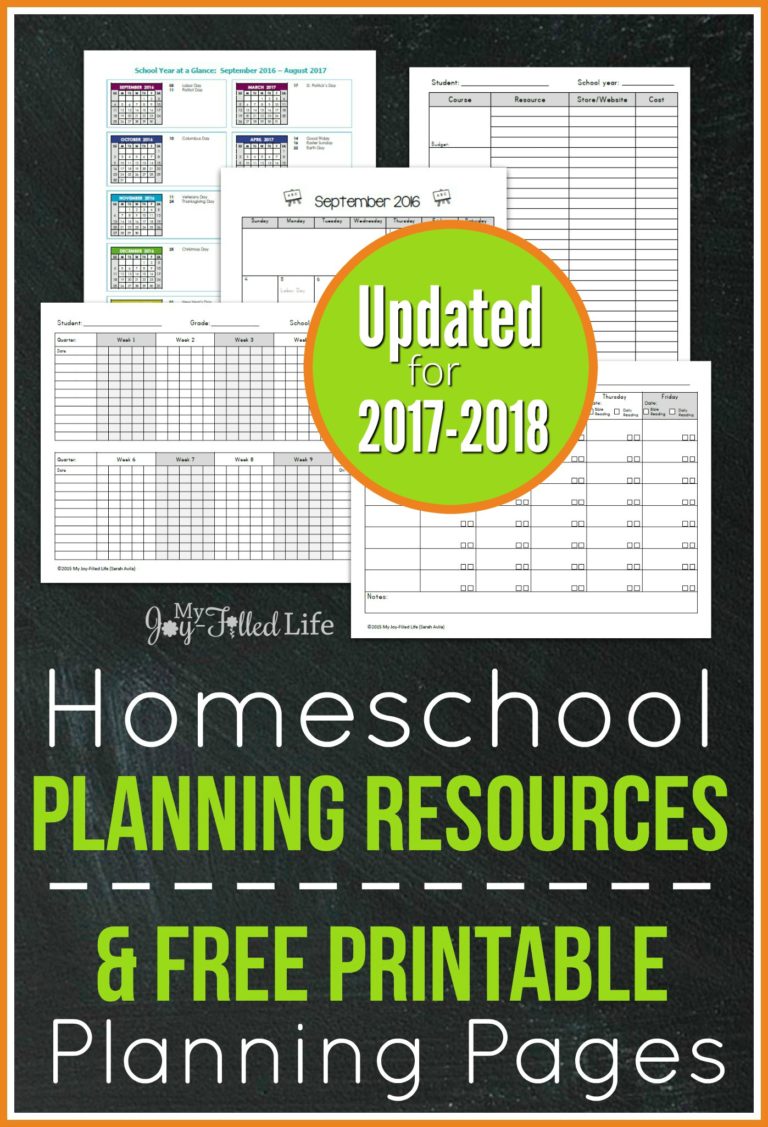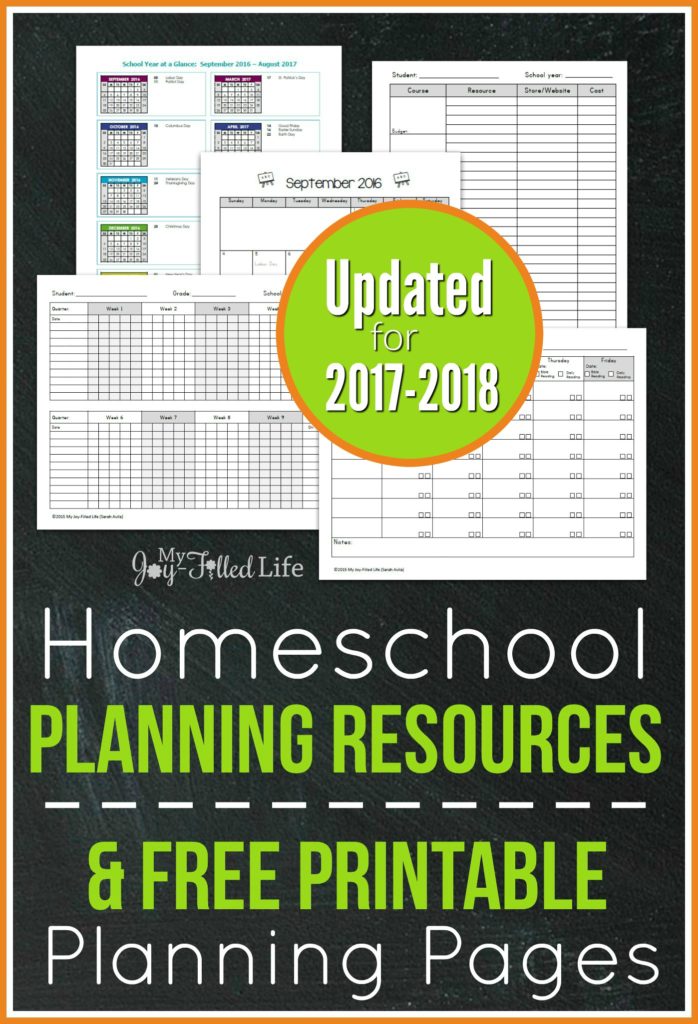 So here are some of the top planning resources out there for homeschoolers –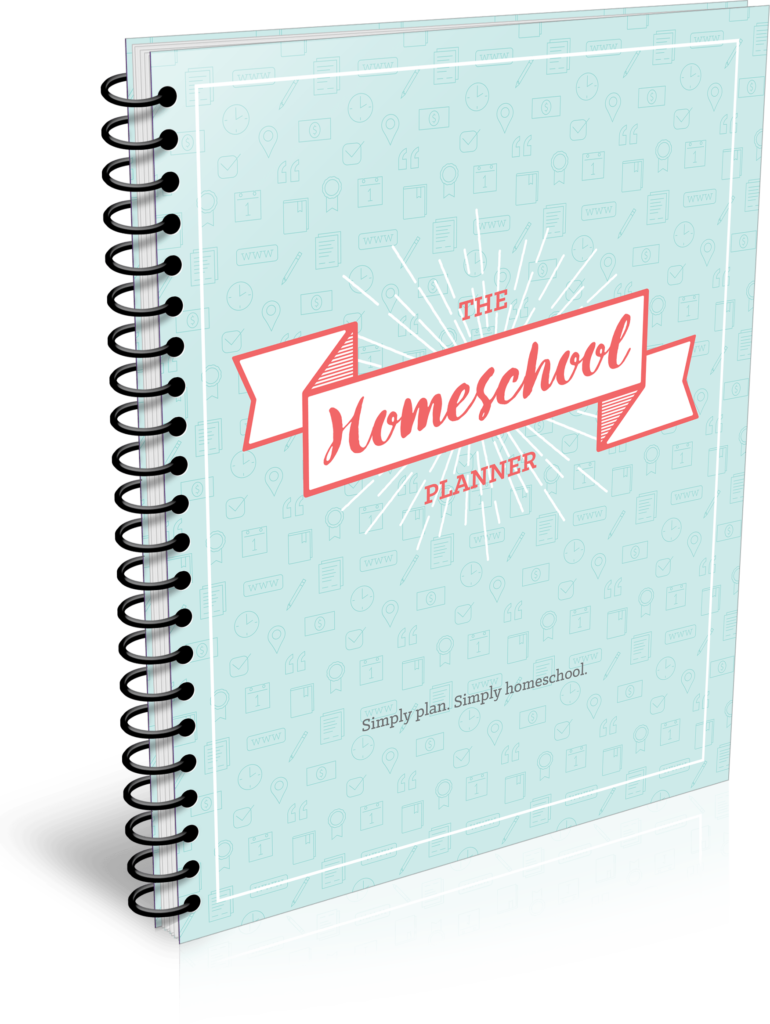 From The Modest Mom –
What is included –
Weekly planning calendar pages
Monthly Calendar
Reading List
Subject Goals
Semester Goals
To Purchase Lists
Field Trip Planning pages
Hourly Schedule (with checkboxes for your child to check when they completed the subject!)
Monthly Memorization Planning Page
Attendance Tracker
Notes
Plus 12 Monthly divider pages with inspirational quotes
$14.99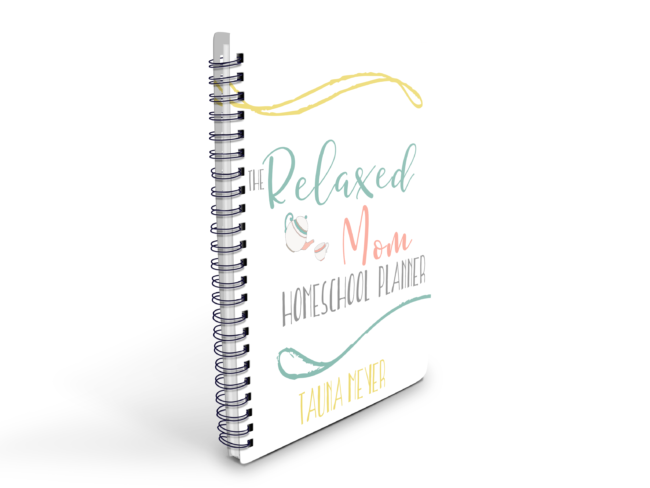 From Proverbial Homemaker –
The planner is scripture-focused and is available in KJV and ESV. There are three different weekly homeschool record styles to choose from, and many of the pages are available at the end of the planner in a customizable format so you can change things like quarter months, subjects, days of the week you homeschool, etc.
20 main pages (you'll print extra weekly record and project planning pages)
"Customizable" section where 9 of the main pages are available to customize
Capturing the big picture
Your homeschooling vision
Goals for each child
Curriculum planning
Project / Unit planning
Yearly planning pages for 2016-17
Quarterly planning pages
Weekly routine page to plan your homeschool rhythm
Weekly record pages to record tasks (3 styles available)

1-page view
2-page view
journal view
Notes pages
Daily prayers and blessings pages
Scripture memory cards
Also includes Relaxed Homeschool Mom eCourse
A step-by-step eCourse to help you set up your planning system
Includes 10 web lessons with 8 additional planning printables & 2 videos
Lifetime access to the eCourse and materials
$25.00
3. The Unorganized Homeschool Mom Planner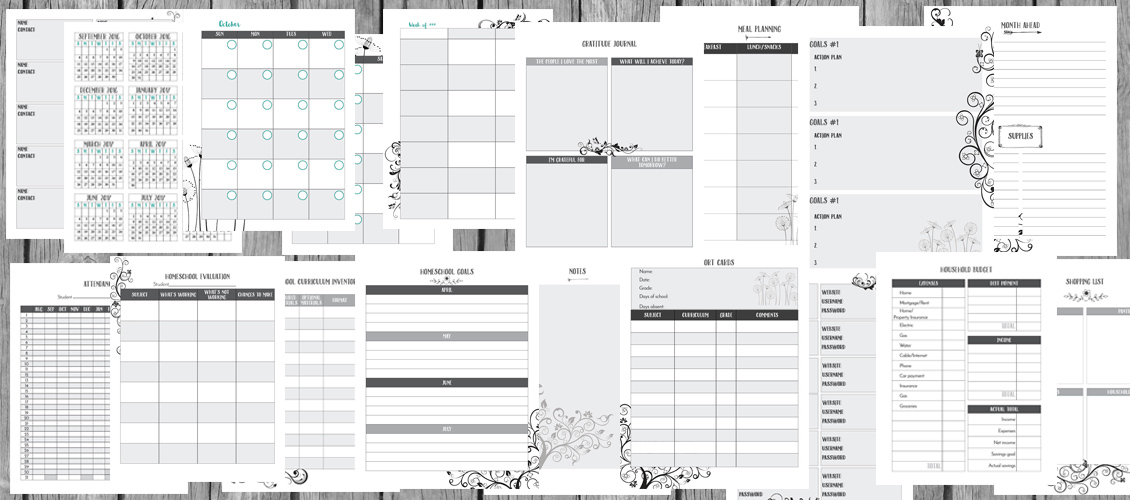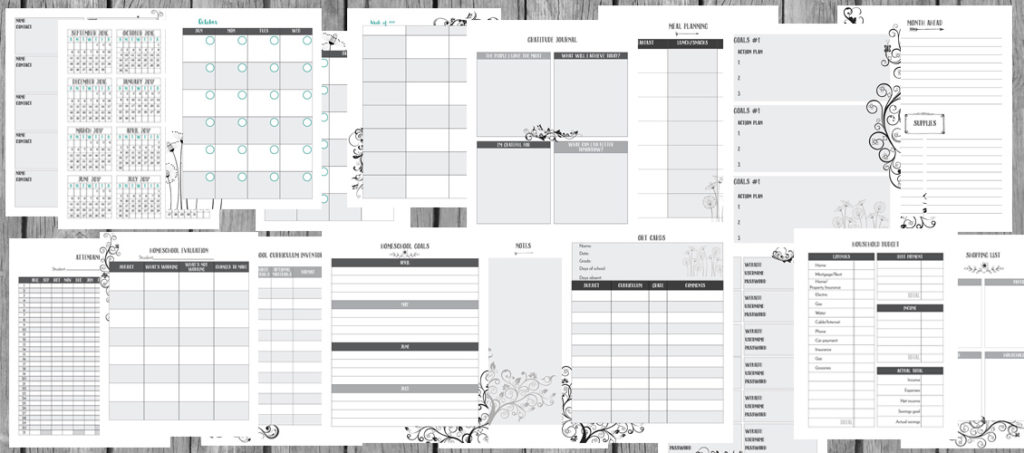 From Living Life and Learning –
The planner includes a variety of printables that will help you:
~Keep track of important dates
~Create a list of curriculum materials you want to purchase
~Keep an inventory of the curricula you own
~Plan unit studies
~Create a reading list
~Plan field trips
~Brainstorm extracurricular activities
~Create weekly and monthly homeschool plans
~Plan meals for your family
~Keep track of your household budget
~ Schedule self-care time
The goal of this planner is to help you to reduce or completely eliminate your sense of overwhelm about homeschooling. When you have a viable system in place, everyone benefits! You go into each day feeling confident and stress-free because you already have a plan for what is going to happen. You start the day with a great plan and it's easy for you to carry out because you've planned ahead. You have materials and books ready, all you need are the kids.
$8.00
From Apologia –
Count your blessings while charting your family's homeschool journey with this gorgeous day planner from best-selling author Debra Bell. The Ultimate Homeschool Planner will help you prayerfully prioritize your family's lessons, assignments, and activities as well as academic and personal growth goals for each of your children.
Student planners also available!
$29.00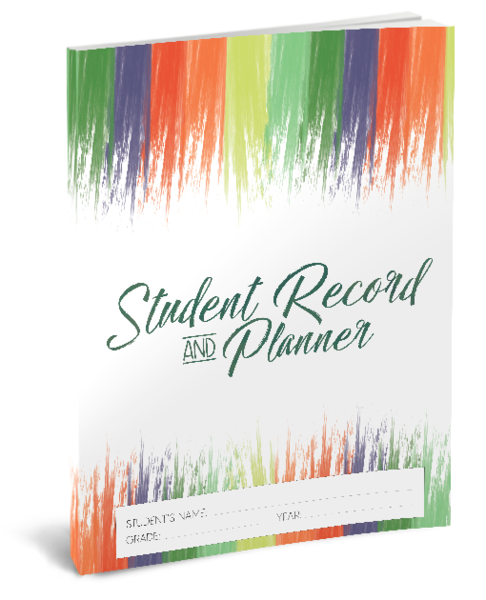 From Not Consumed –
The Student Record and Planner promises instant organization for your homeschool year and your record keeping. It's simple to use, yet priceless as the backbone of your portfolio. The digital copy is fully editable including the weekly checklist, progress reports, and attendance record make it easy to fit into any homeschooling style.
Simple record keeping such as assessment charts and progress reports provide exactly what you need to document your year. Plus the weekly checklist will help your child become more independent in his school day, while allowing you to still keep a close eye on progress.
We know this will be a perfect fit for you as it was written and created using my experience as a veteran homeschool mom and former classroom teacher- WITH much input from moms like you!
Oh, and did I mention FREE UPDATES FOREVER? Yes, we are serious. If you choose the digital option, you'll enjoy FREE updates each year by simply logging into your account and downloading the updated file!
Available in print or a digital version.
$25.00 – $35.00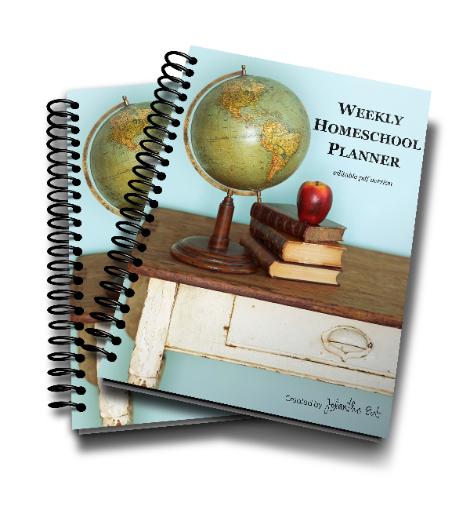 From Homeschool Creations –
The Weekly Homeschool Planner will help you organize your school day and record your daily learning ~ year after year. Additional forms help you keep track of testing results, evaluations and special events. Each of the pdf pages in the file can be typed in, edited, and saved to your own computer every time you use it. Personalize it to fit your family. It is a homeschool planner you use year after year.
Type your lesson plans into the form and print them off or simply save them to your computer, the choice is up to you! You can edit your plans any time and even save your planner to your computer to have a digital copy each year. Use the 'save as' feature in Adobe to rename the file and you will have a digital record of your lesson plans for years to come!
$20.00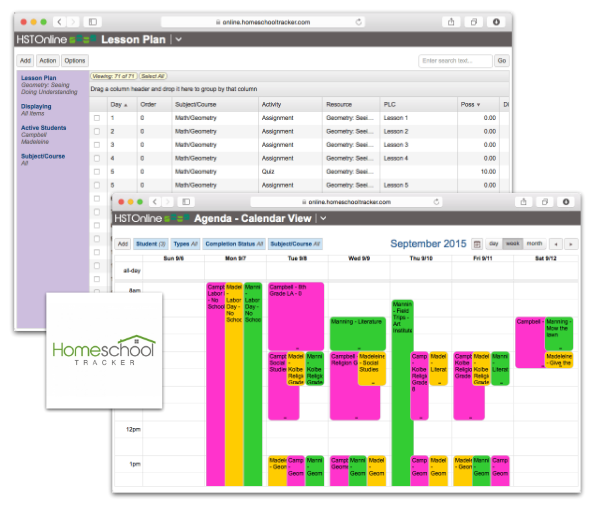 From Homeschool Tracker –
Homeschool Tracker gives you flexible record keeping, planning, and reporting online. Choose exactly how much information you want to record for each student. Quickly and easily create single or repeating assignments, appointments, chores, and more. Homeschool Tracker offers flexible workflows that match your style. Plan an entire year, or just go day-by-day.
$7.50 monthly or $59.00 annually
12. Homeschool Manager – $4.99 monthly / $39.00 annually
And here are the FREE homeschool planning pages I mentioned above. They are FREE for subscribers. Just fill out the form below to subscribe. If you are already a subscriber, just input your email address and the download link will be sent to your email (don't worry, it won't subscribe you to the list twice).
These printables include –
Year-at-a-glance page
Monthly calendar through 2017
Weekly student assignment sheets
Curriculum price comparison sheet
Course of study sheet
Attendance tracker
Grade record
Reading log
I'm offering these planning forms FREE to My Joy-Filled Life subscribers. To get yours, simply subscribe by clicking the download button below and going through the checkout process (don't worry, it's FREE).
As a subscriber to My Joy-Filled Life you will get weekly(ish) updates and occasional information about great freebies, giveaways, and offers.

Save
Save
Save
Save
Save
Save
Save
Save
Save