Books make the perfect gifts, especially for children. Books are gifts that keep on giving and they can be opened over and over again! Plus, they promote literacy, provide fun and entertainment, as well as offer many opportunities for learning and discovery.
Books make great gifts any time of the year, but with Christmas right around the corner, I've put together a list of great book gift ideas for the kids on your list.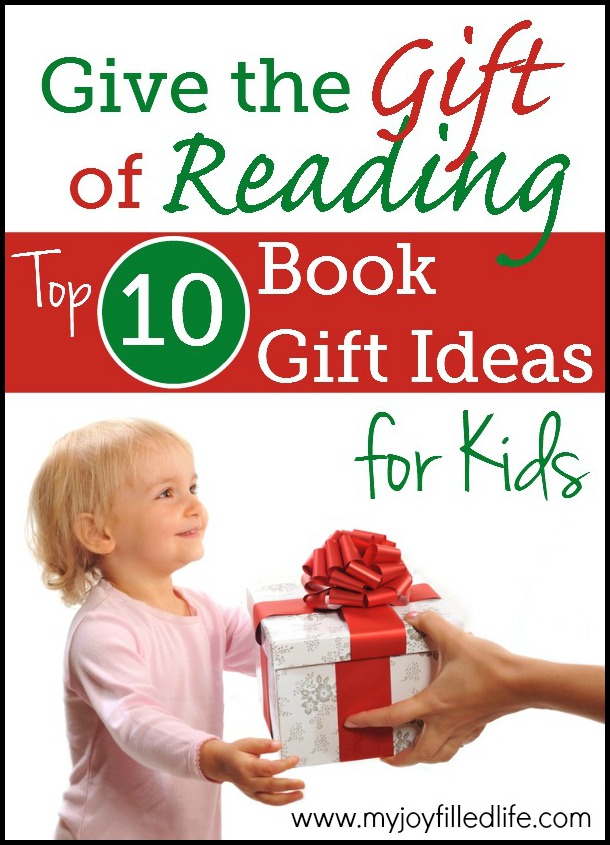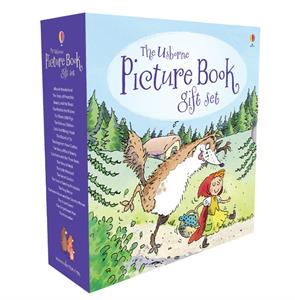 The Usborne Picture Book Gift Set is a beautiful gift box treasury including paperback versions of the popular picture books – Pinocchio, Beauty & the Beast, Wind in the Willows, Three Little Pigs, Secret Garden, Goldilocks & the Three Bears, Gingerbread Man, Alice in Wonderland, Nutcracker, Black Beauty, Little Red Riding Hood, Railway Children, Wizard of Oz, Emperor's New Clothes, Twelve Dancing Princesses, Snow Queen, Little Mermaid, Heidi, Town Mouse & the Country Mouse, and Frog Prince. Ages 3+
$69.99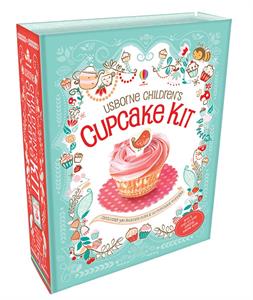 A fantastic kit containing a 64 page recipe book, enough prettily decorated cupcake cases (in two sizes) to make each recipe at least once, and delightful cupcake toppers. Ages 6+
$19.99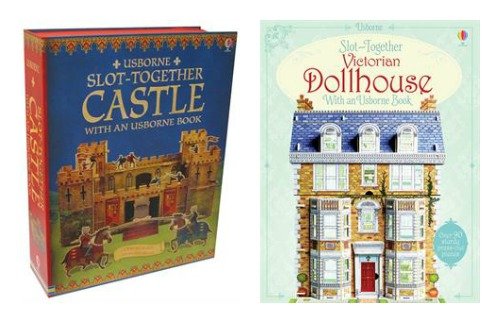 Castle – A book-shaped box containing twenty-one sheets of pre-cut EVA shapes, with 90 pieces in all. The 40-page booklet shows you how to assemble your castle, and suggests battle scenes for your two armies. Ages 6+
Dollhouse – Create your very own detailed model dollhouse, complete with furniture, home accessories and a family of dolls. Simply press out the sturdy, foam board pieces, slot together and you're ready to play. Comes with a book about dollhouses that contains ideas for games you can play with the house and the dolls. Ages 6+
$41.99 each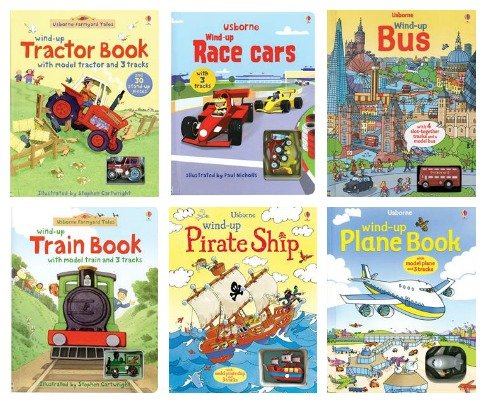 Wind up the vehicle in each of these books and watch it whiz around the tracks included in these interactive book. Choose from plane, train, race cars, bus, tractor, and pirate ship. Ages 3+
$29.99 each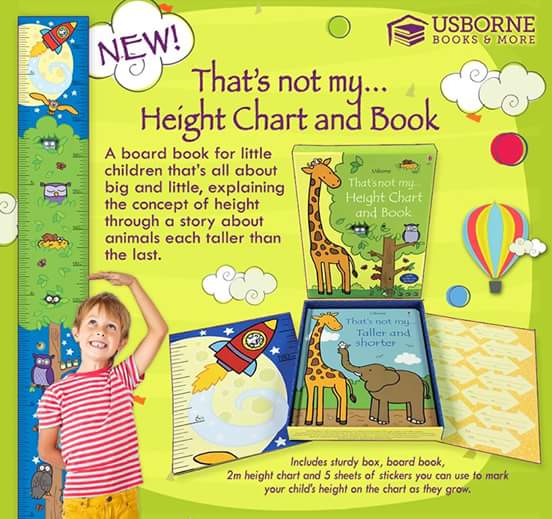 A board book for young children with cutout windows that's all about shorter and taller, explaining the concept of height through a story about animals, each taller than the last. Packaged in a sturdy box with a 6 1/2 foot laminated height chart and a sheet of stickers to mark your child's height on the chart as they grow. Packaged in a sturdy gift box. Ages 9 months+
$14.99

There are six books in this best-selling collection – Secrets of the Seashore, On the Construction Site, Secrets of Winter, Secrets of the Rain Forest, Secrets of the Apple Tree, and On the Train.
There are things hiding on the pages of these books, but you'll need your flashlight to see them. Ages 4-8
$12.99 each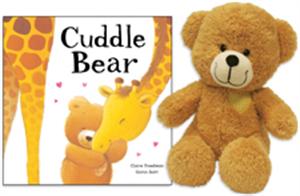 Everyone needs a hug sometimes. Help end childhood cancer and share this heartwarming huggable main character and the picture book "Cuddle Bear" with someone you love.
Usborne Books & More is proud to partner with the Scott Carter Foundation to help eliminate pediatric cancer. A portion of the proceeds from Cuddle Bear is donated to the Scott Carter Foundation. Ages 3-7
$24.99

Each of the Usborne Activity Packs comes with 4 activity books in a carrying case with handle and Velcro closure. These activity packs make great gifts and they are also perfect for throwing in your purse or car to have an activity on hand if you ever need to occupy and entertain your child(ren). There are about a dozen to choose from. Ages 4+
$14.99 – $19.99 each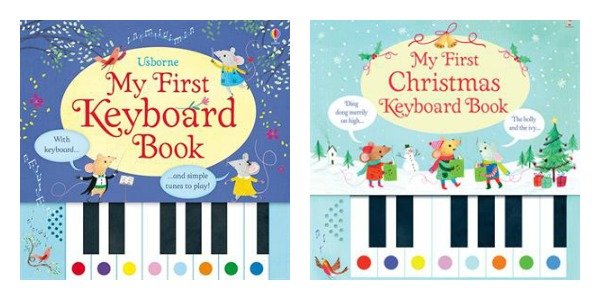 Help little fingers discover the fun of making music with the miniature keyboard and simple tunes in this enchanting book. A Christmas version is also available. Ages 3+
$18.99 each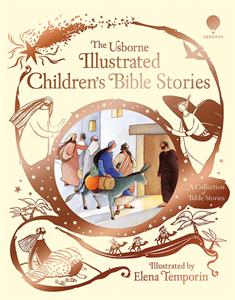 A beautiful and luxurious cloth-bound collection of Bible stories make a gift to treasure forever. Carefully written text is suitable for reading aloud to young children or for older children to read independently. Stunning, full-page illustrations bring stories from the Old and New Testament vividly to life, and a comprehensive 'Who's who in the Bible' helps children remember the characters and stories. Ages 4+
$29.99